Watching Hyde, Jekyll, Me invokes some new drama watching angles for me. I'm normally a rabid OTP shipper and rarely has there been a drama that has hooked me completely which didn't have a super swoony central romance. That makes this a rarity where I'm shipping Hyun Bin with himself. It's not hard since Han Ji Min's acting and character is soooooo insanely dull. Partly her own fault and partly the character as written, she is supposed to be the "trigger" for the narrative but functions more like a flip on light switch and all I see is the bling bling lights that is Binnie's smile as Robin or Seo Jin's glower. Not to say the central pairing can't win me over later on but four episodes in it's still not working.
What does work is how this drama is approaching the mental illness dissociative identity disorder topic. It's not delving into it as much as presenting Seo Jin-Robin really like a superhero and his real life alter ego. Except in this case the daily life cold chaebol is the real identity and the superhero smiley guy the hidden side that threatens the façade of normalcy. It doesn't hurt that Seo Jin and Robin bicker like twins with different personalities, except they do it via video messages and hand drawn notes and leaving each other with messes to clean up made by the other person. I'm also really curious about what happened 5 years ago to lead to protocol 19 and Robin's disappearance. Those bits work well while the rest continue to serve as non-intrusive filler.
Episode 4 recap:
Seo Jin learns from Robin that Ha Na is the reason Robin is back, and even more startling is that Ha Na is the reason Robin even exists in the first place as she's the girl from the bridge 15 years ago. Robin lays down the 20th protocol which is to keep Ha Na safe.
Seo Jin orders Young Chan to hurry up and find Professor Kang, doing everything he can to canvas the area around the hospital for new leads. Seo Jin sees the remnants of snacks left on the table that clearly Robin enjoyed, making him even more furious that Robin's return is no longer triggered by Seo Jin keeping his blood pressure below 150. The only way to get rid of Robin forever is finding Professor Kang and her promised final treatment.
Ha Na tells her circus troupe unni Jin Joo that she found the prince from the bridge who saved her 15 years ago. Turns out he's Goo Seo Jin's twin brother! The girls find it odd that no one knows that Goo Seo Jin has a twin but unni suggests it's typical chaebol family fighting whereby they keep the twin hidden from the world to avoid an inheritance battle. Ha Na finds that probable what with guards always chasing after Robin.
Ha Na gets a text from Robin asking if she's fine and feeling well? He explains this text is being sent as scheduled and he'll call her at a later time.
Seo Jin orders Young Chan to get rid of Jang Ha Na. He can pay for her living expenses and assign a bodyguard to protect her until she can remember the face of the assailant, but she's not to enter Wonder Land again and the circus is to be kicked out per the original plan. Seo Jin doesn't care if Ha Na agrees to this because she's the trigger for Robin's presence.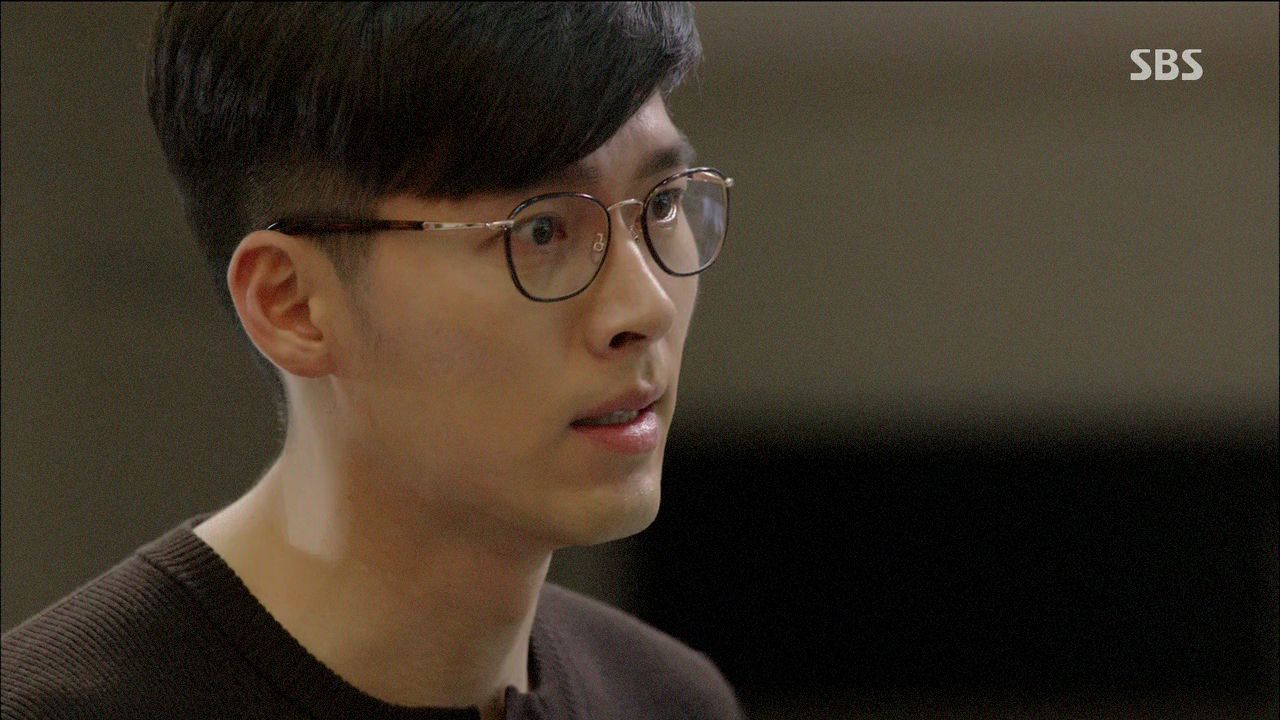 Seo Jin rails that he would have killed Robin if he was another guy but Seo Jin can't because Robin is himself! He brings up 5 years ago and vows never to have that happen again. He doesn't want another person to be injured because of him. Seo Jin finds it even scarier that Robin has no recollection of what happened 5 years ago.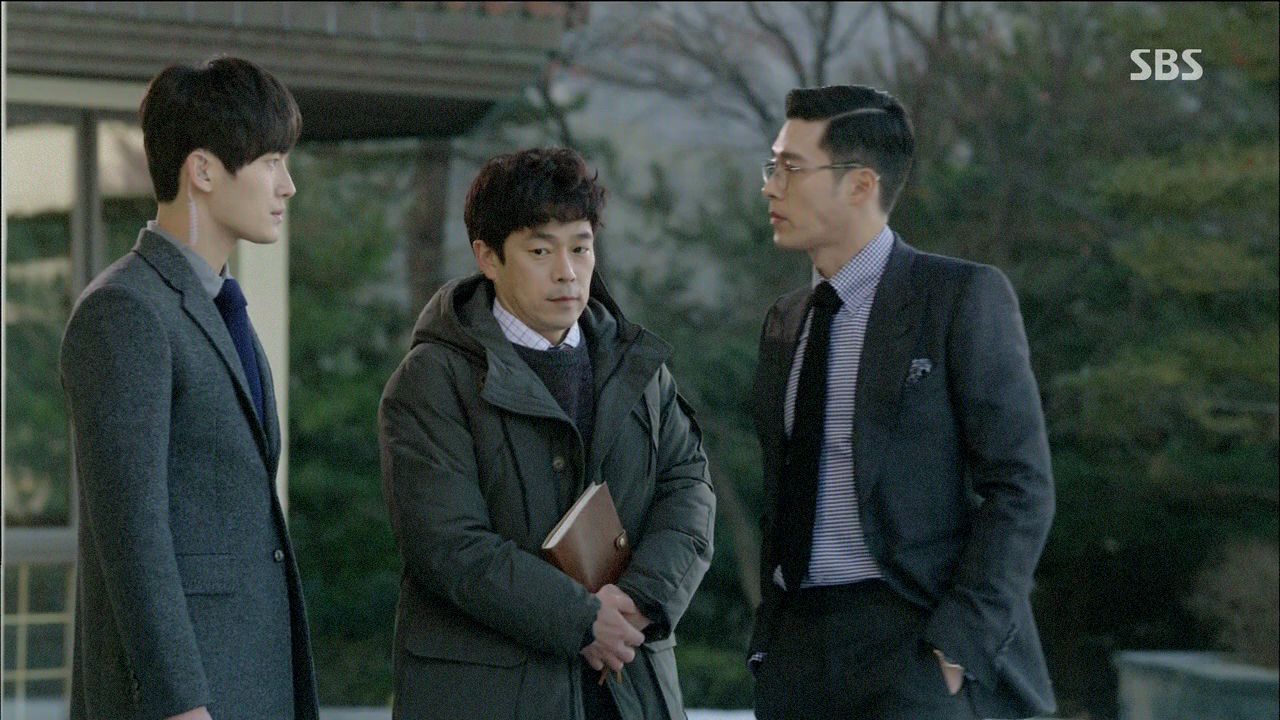 Seo Jin receives Ha Na's return text as he's heading to work and angrily deletes it while calling Robin crazy. He wants Young Chan to have Ha Na sent back to the US, erase her presence in Korea immediately. He then asks the head guard why his body hurts today? Young Chan interjects that the aches likely came from Seo Jin zip lining with Ha Na which only riles Seo Jin up even more. Ha Na and her unni watch the news report on TV covering Professor Kang's strange disappearance.
Also watching the news is the owner of the café who is friends with Robin. He's the father of young Min Woo Jung who rushes to get dressed in the morning but doesn't forget to greet a picture of her crush Robin. She shares with her dad about a dream she had where she got bitten by a giant snake. Dad teases her that it's just a dream but wonders if she's been missing someone. He checks his phone with a message from Robin that he's back and will come see him soon.
Seung Yun pays Chairman Goo a visit and is told to take some work matters off Seo Jin's plate for the time being since Seo Jin's doctor Professor Kang has gone missing. Turns out Seung Yun is sleeping with Chairman Koo's secretary and he texts her a request to find out more about Professor Kang's disappearance.
Seung Yun runs into Seo Jin on his way out and reveals Chairman Goo asked him to take some workload off Seo Jin's plate. Seo Jin isn't worried and tells Seung Yun to focus on his declining sales. Seung Yun wants to know if Seo Jin saved an employee yesterday? Seo Jin snaps that he didn't save an employee, didn't get chased by guards, and didn't slide down a zip line.
Seo Jin sits down with Chairman Goo and is ordered to immediately buy a ticket to leave the country. Seo Jin knows his dad has given up on him and doesn't intend to look for Professor Kang. Chairman Goo admits that he has once before and still will not have any qualms about giving up on Seo Jin. He views Seo Jin as his sole weakness and wishes Seo Jin could be stronger and help share in his load. He wants Seo Jin to get better so he wouldn't feel as guilty.
Seo Jin calls his dad despicable for trying to hide Seo Jin away and conceal his illness. Seo Jin refuses to be ordered around this time, threatening to reveal his mental illness to the media himself. He wants Chairman Goo to leave him alone and let him handle this current situation.
Ha Na finds out that Wonder Land has gone back on the new contract and is terminating once again and ordering Wonder Circus out immediately. Ha Na runs to talk to Seo Jin and is barred from getting close to him.
Ha Na's circus dongsaeng Eun Chang helps Ha Na find a way to talk to Seo Jin. He's touring the park aquarium and doing a media event with the press when Ha Na sidles up to him dressed in a walrus costume and threatening to announce that she will sue him for breach of contract in front of the press.
Seo Jin agrees to speak with Ha Na in private and she calls him out on the childish and unprofessional manner of terminating their contract. She asks if this has to do with yesterday and apologizes for whatever she did to upset him. Seo Jin thinks to himself that Ha Na woke up Robin and is a liability to him. He lies that he doesn't like people who don't know what they did wrong and can't change thereby causing problems for others. Seo Jin calls Ha Na bad luck and he doesn't want her around anymore.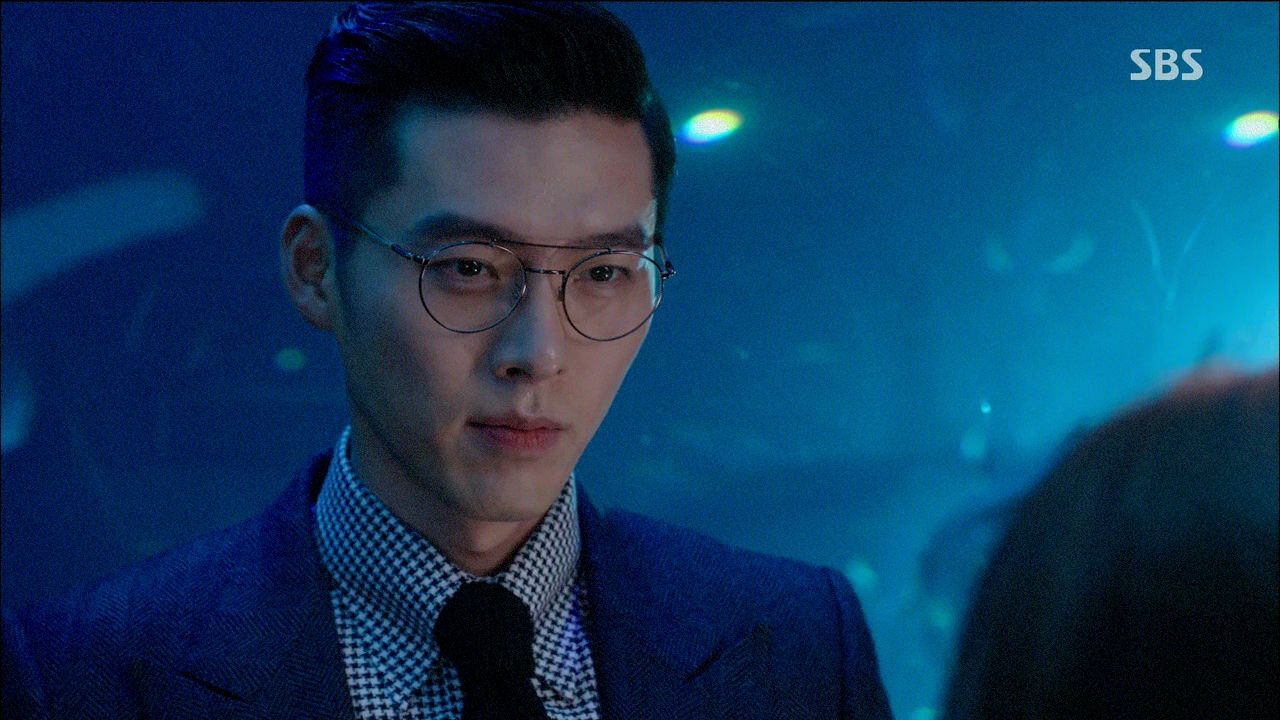 Ha Na screams at Seo Jin for being ridiculous, he could get rid of her but what about the circus. Seo Jin plans to give the circus severance and points out they would have been fired without Ha Na. He's willing to compensate Ha Na for helping be the eyewitness but after that he doesn't want anything to do with her.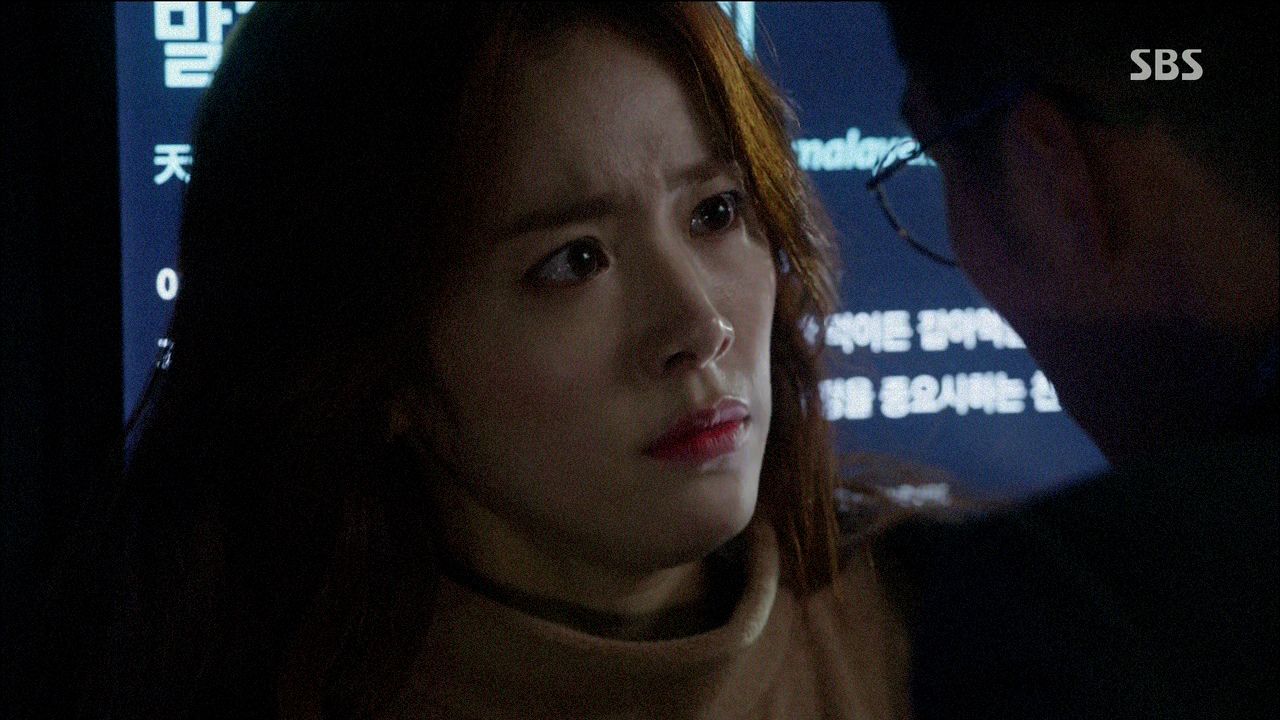 Ha Na catches up to Seo Jin to continue their conversation which is when Seo Jin notices she's wearing his necklace. He snatches it back despite Ha Na saying that Robin gave it to her. Seo Jin says nothing belongs to Robin and orders her never to mention Robin again. Ha Na refuses because Robin exists, he was there on the day Professor Kang was attacked. When Seo Jin ran away is when Robin is there.
Seo Jin angrily pushes Ha Na against the wall and orders her not to talk about Robin again! He suddenly goes into another episode and kneels down in pain while Ha Na looks on. Seo Jin gradually regains his composure as Ha Na tightly holds his head with her hands and tells him to take deep breaths. Seo Jin stabilizes and Ha Na wonders if he suffers from a phobia condition? That just earns her a hard shove from Seo Jin and Ha Na goes down and can't get back up in her mascot costume.
Seo Jin walks through the aquarium and looks at the necklace in his hands. Eventually Young Chan finds Ha Na laying on the ground and helps her up. Ha Na asks if they don't need her eyewitness memory anymore but Young Chan assures her that her help is still needed. He tries to explain that Seo Jin is acting out because he's so stressed lately and everything will go back to normal once Professor Kang is found.
Ha Na tells a concerned Eun Chang not to worry about the future of the circus nand calls Tae Joo for another consult to regain her lost memory. Tae Joo asks her to come an hour later after his consult and we see that he's talking to the assailant as his patient.
Woo Jung is leading a meeting of Robin's fan club where she chastised members for their disloyalty in liking other comic book artists since Robin hasn't been around the last 5 years. Her yelling at the fan club is interjected with Detective Lee yelling at Seung Yun for daring to bribe him for Professor Kang's file. He hilariously takes the money anyway and calls it money for insulting him. Woo Jung huffs out of her meeting and the picture of her and Robin falls out from her book where Seung Yun picks it up.
Seung Yun sits with his spy and both marvel at Seo Jin secretly leading a second life with a very young girlfriend when he acts like a monk to the world.
Ha Na passes by the assailant on her way into Tae Joo's apartment and the man turns back to stare at her all ominously. Ha Na sits down with Tae Joo and shares her suspicion that someone is targeting her. He pauses from starting the session to put her at ease seeing how tense Ha Na is. He knows her worries about not being able to help or being too late to find Professor Kang. Ha Na feels better with Tae Joo's assurance and wants to do another session.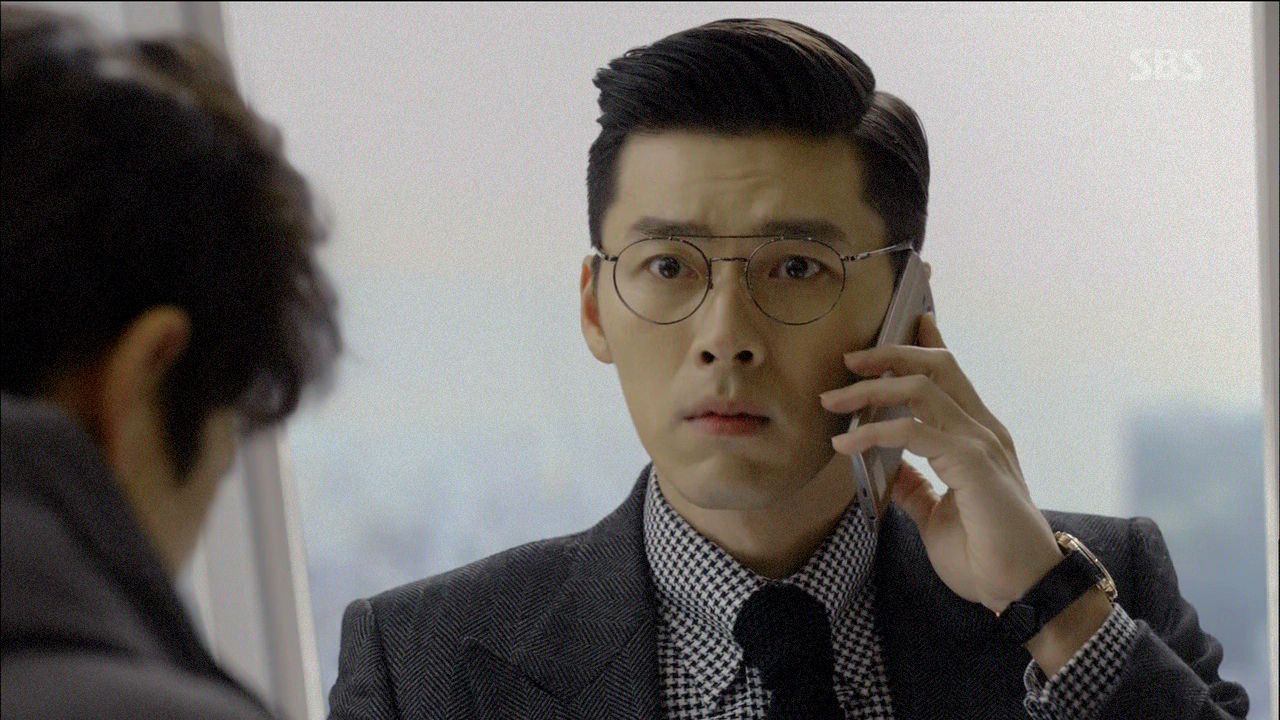 Young Chan tries to speak up for Ha Na with Seo Jin, pointing out how sad it is for the circus to be dismissed just like that. He gets a call from the detective that Professor Kang's computer files have been recovered and emailed to Tae Joo for review. Seo Jin rushes out to see Tae Joo and find out what was in her files.
Ha Na remembers the strobe light falling on her during the hypnosis session which also makes her realize that Seo Jin was there and trying to warn her. She doesn't remember seeing anyone there but Tae Joo explains her suspicion is likely right as the cops think the light was tampered with. He asks how Ha Na is sleeping these days and gives her his rope to play with if she has trouble sleeping. Ha Na knows it's hard on Tae Joo as well, on people who are worried about Professor Kang. Tae Joo thought Ha Na wouldn't come by again to help and thanks her for doing this.
Ha Na leaves Tae Joo's apartment and just misses Seo Jin heading inside. The assailant watches Ha Na leave. Seo Jin sits down with Tae Joo and asks to see just his personal file from the data recovered from Professor Kang's computer. Tae Joo reveals there are no files on Seo Jin, everything related to him are just images that appear to be used for treatment. Tae Joo offers to continue treating Seo Jin and asks what his condition is? Seo Jin lies that he suffers from insomnia and then notices Ha Na left something behind in Tae Joo's apartment and hears she was by earlier.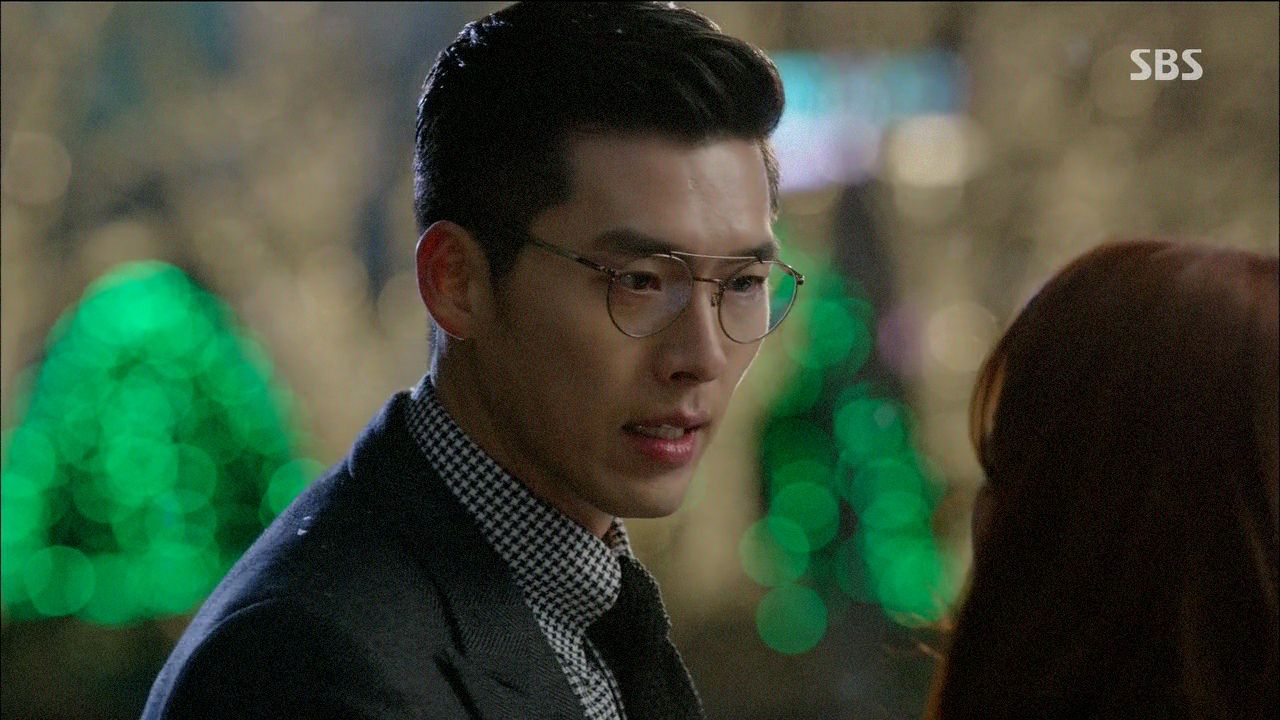 Young Chan and Seo Jin notice from the car that Ha Na walking down the street and a motorcycle appears to be driving erratically towards her. Seo Jin pulls Ha Na to safety and reminds her not to put herself in danger before handing back the scarf she left at Tae Joo's apartment. Ha Na plans to recover her memory and Seo Jin is happy about that and willing to pay anything to her as long as it's not renewing the contract with the circus.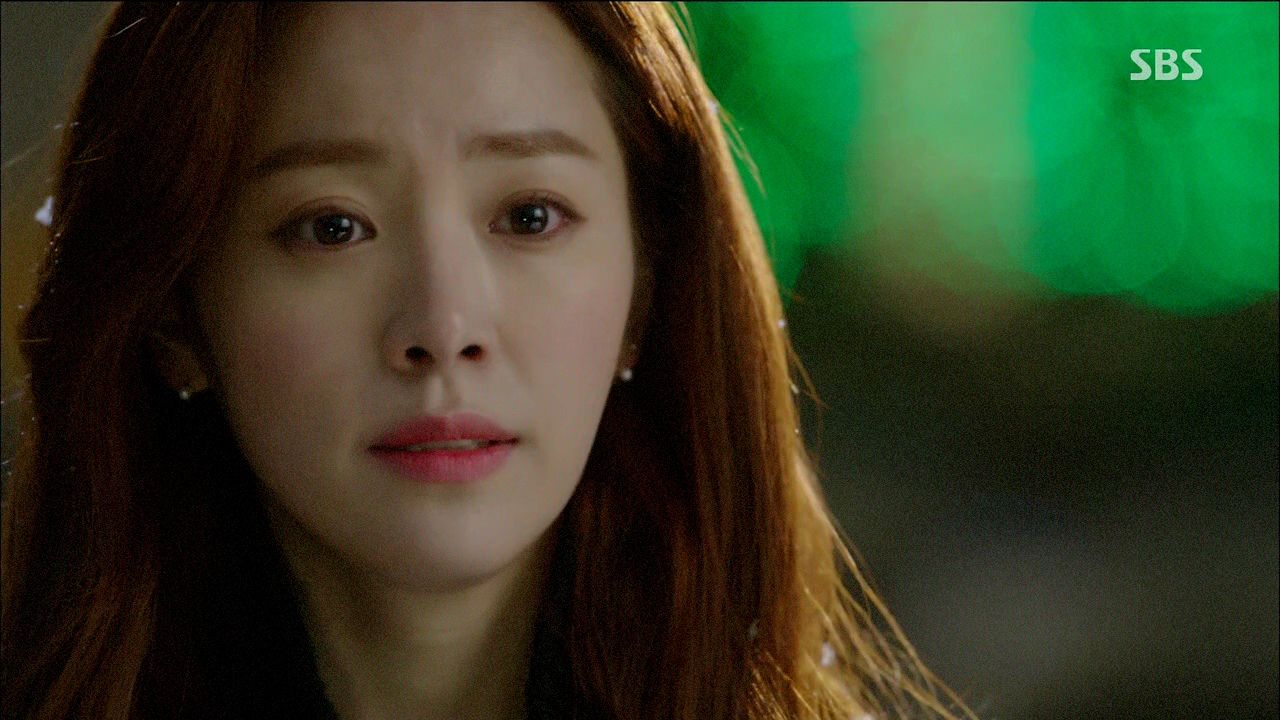 Ha Na figures there's more than just Seo Jin disliking her so she's willing to leave the circus as long as Seo Jin allows the rest of the troupe to stay. Seo Jin agrees and Ha Na thanks him before explaining that she will cooperate with recovering her memory to find Professor Kang and it's unrelated to Seo Jin. She just wants to help someone in need. Ha Na also takes back her accusation from before that Seo Jin is always running away.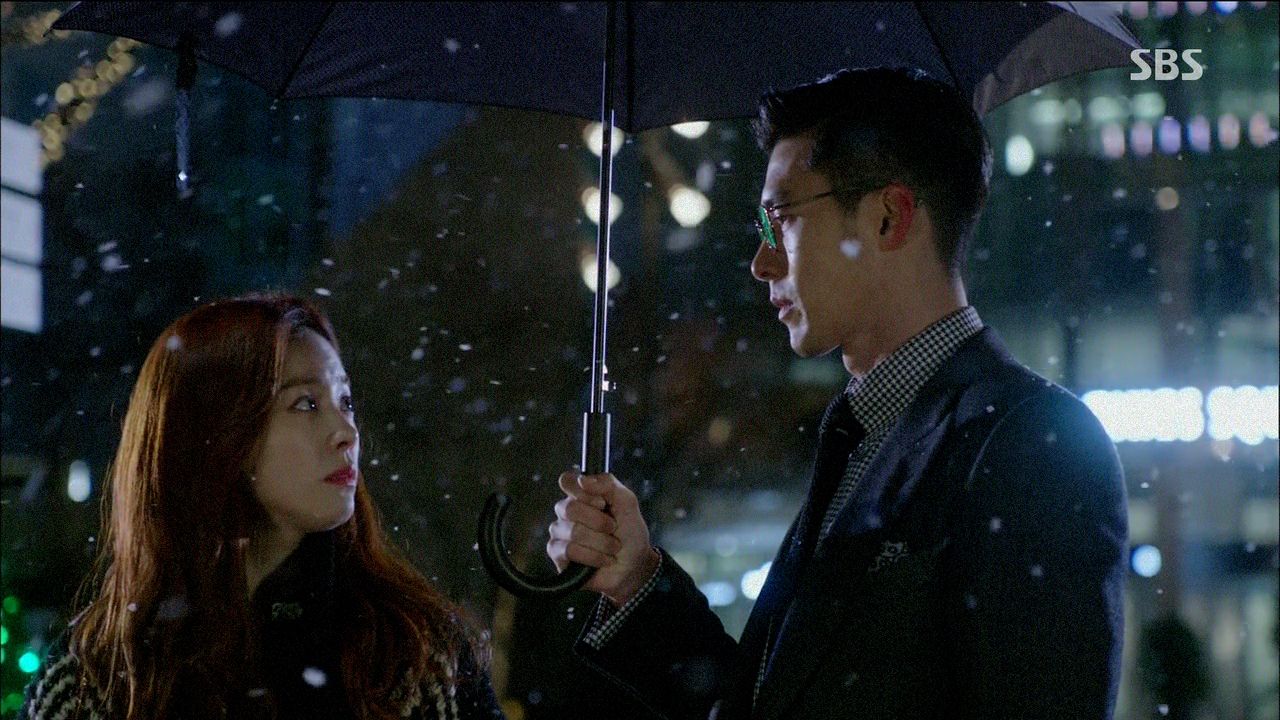 Ha Na walks away and Seo Jin follows to hand her an umbrella to shield against the falling snow. She takes the umbrella from Seo Jin who turns and walks back to the car.
The assailant goes back to his own apartment and immediately turns on the computer. He types in "The plan failed. That guy is back."
Ha Na goes to the circus to pack up her own things and take a walk down sad memory lane from all her fond recollections of growing up there. Seo Jin gets into bed but tosses and turns.
Ha Na is finishing up a bout of crying when she gets a call from Robin asking her whereabouts. He hears she's at the circus and promptly hangs up. The lights suddenly come up in the circus and Robin shows up with a smile. Either he teleported there or that call was totally pointless.
Robin notices Ha Na's tear streaked face which she claims was getting sand in her eye. Robin tries on various circus funny glasses to cheer her up and gets a laugh out of Ha Na. Robin notices the trampoline in the center and Ha Na explains that her dad made it for her when she was learning to zip line. She sees the trampoline like her dad's hand, safe and enveloping her.
Robin and Ha Na go jump on the trampoline together happily and before falling exhausted on the surface. Ha Na wonders if it's safe for Robin to be out and he asks whether Seo Jin said anything to her? Ha Na claims Seo Jin didn't say anything. Robin asks if she's not curious why he's always running away from his own family guards or why Seo Jin seems antagonistic towards him. Ha Na isn't curious so Robin promises to tell her at a later time.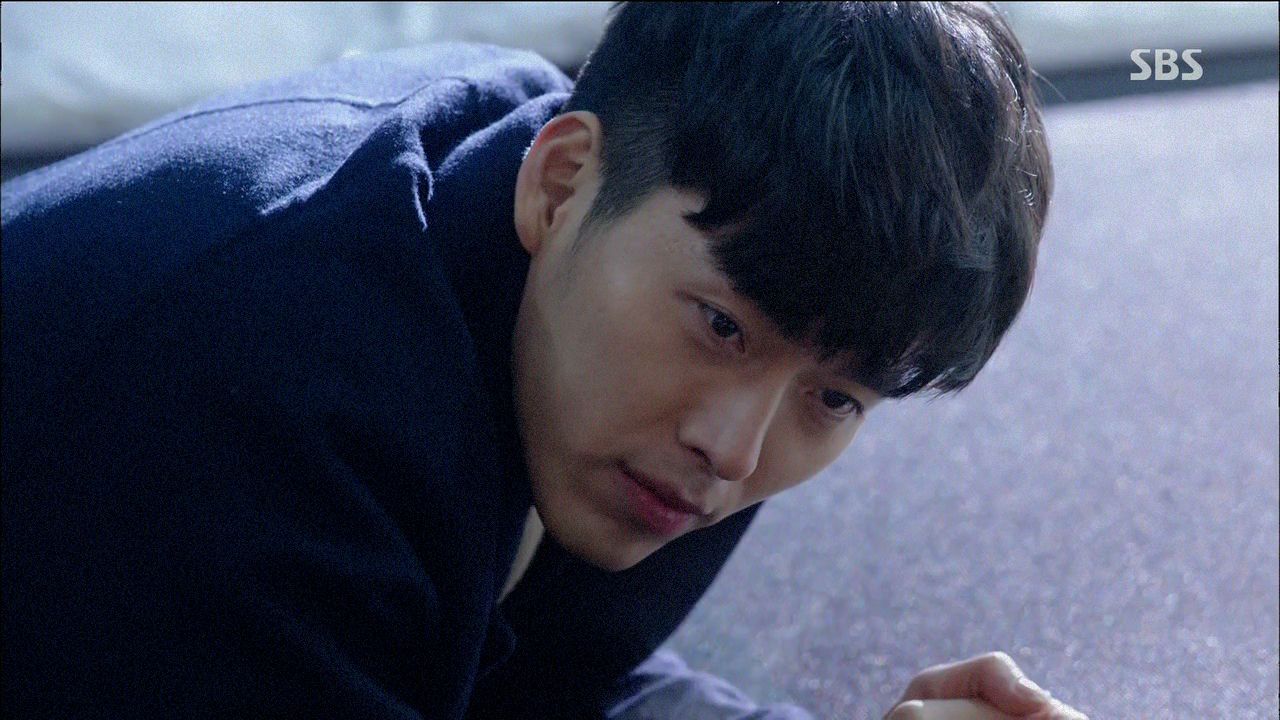 Ha Na takes that opening to reveal she's leaving soon, likely back to the US. Robin wonders why and asks if Seo Jin wants Ha Na to leave. She admits that Seo Jin insulted her circus as being outdated and her performance not wanted anymore.
Robin tells Ha Na that she should have sassed back to Seo Jin that he was the one with the outdated personality. The two of them jump on the trampoline together insulting Seo Jin left and right.
Seo Jin wakes up the next morning with his body aching yet again. He wonders what that bastard Robin did again and gets a hint with a cheeky note that says "Sorry!"
Seo Jin wanders the house looking for anything odd and enters the secret lair to place a call to Young Chan to check on what Robin could have done to apologize to him. He suddenly sees Ha Na and her circus folks walking up his driveway carrying suitcases.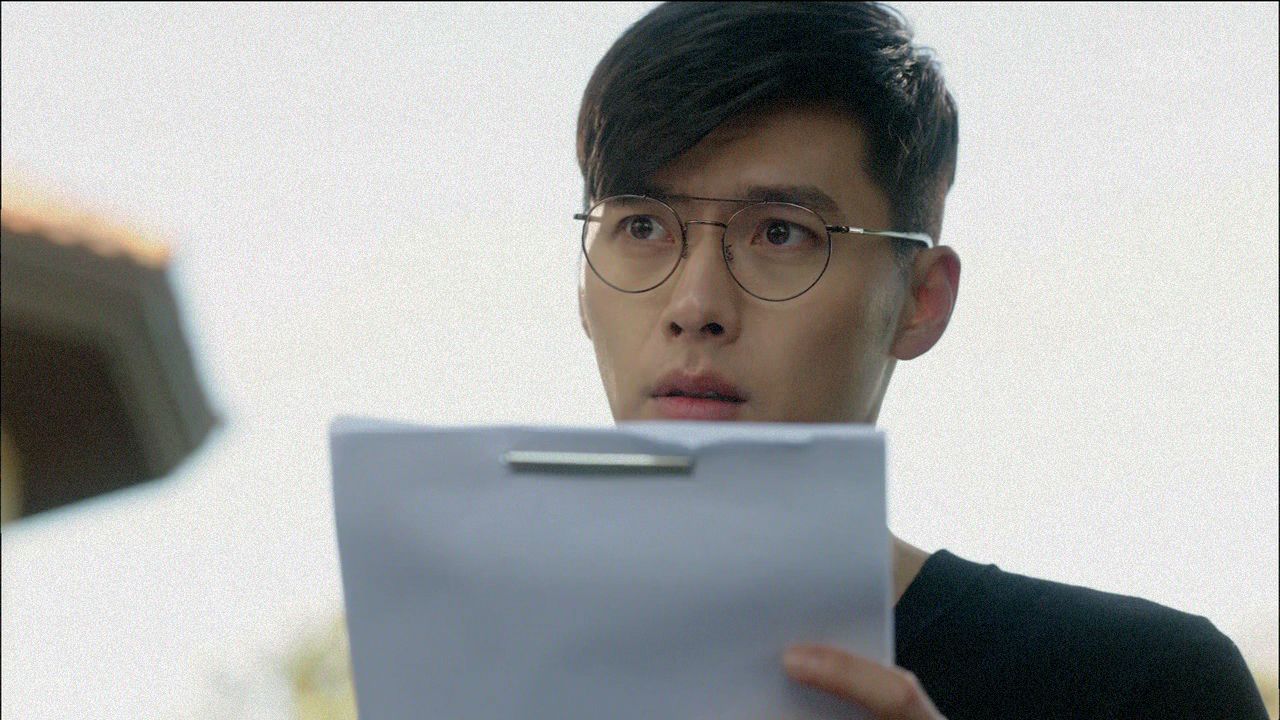 Ha Na greets Seo Jin with a polite smile and thanks him before handing over a new signed contract. Seo Jin flips to signature page where his thumb print is inked there and the telltale ink still on his thumb.
Ha Na explains that he wanted her to move in with him to keep her safe while working at the circus as well. Seo Jin looks stunned and screams at Robin inwardly as a total bastard!
Thoughts of Mine:
It's hard to swallow the overwhelming response when watching this drama that Hyun Bin is so wasted on such an underwhelming script. There are elements of interesting development swimming in a sea of pedestrian writing and directing. I think this is where I'm going to have to leave the dissatisfaction behind and go with what works. And what works is the dynamic between Seo Jin and Robin. They are presented as two different individuals, who just happen the share the same body. It's harkens back to the 40 Days set up where two leading lady souls shared the same body, one for the daylight twelve hours and the other for the nighttime twelve. In that drama the two characters both earned the viewer affection and interest and I see the same thing happening here. Robin doesn't come actress simply as Not-Seo Jin. I find his motivations and interests just as intriguing as peeling away all the hard shell around tightly wound Seo Jin.
Robin talks as if he lives to help others, yet Seo Jin's mention of what happened 5 years ago makes it seem like Robin nearly caused a catastrophe which Seo Jin had to clean up. Does Robin get in over his head with his eagerness to help, or does his very existence leave harmful remnants behind for those around him? I like Robin because he's nice and friendly, and also smiles a lot with those charming dimples. But beyond that he's actually not as the potential for Seo Jin to really shine as a character. I thought Seo Jin would cow to Chairman Goo's every demand but it was so satisfying when he threatened to reveal his condition to get his dad to back down. I think the drama is doing a disservice with keeping what happened 5 years ago from the audience, if we knew what's so scary about Robin it would help to understand why everyone feels the need to behave so dramatically to keep him squirrelled away. Of course the same goes for the assailant that attacked Professor Kang, who is clearly in cahoots with another individual and the ultimate target is looking like it involves Seo Jin.
I wish I could saw Han Ji Min is improving in her acting or chemistry but it's so negligible in making any sort of impact. She is literally just there, doing her thing and advancing the plot whether it's pushing Seo Jin to keep the circus or trying to get her memory back with Tae Joo's help. Her being a trigger and the eyewitness are the coincidences that make her the leading lady, otherwise she has so little personality I'm not sure what Robin or Seo Jin will see in her. The bit with her crying over the circus leaving made me laugh because the drama has done such a terrible job at fleshing out the circus or Ha Na until then, not to mention the directorial penchant to show such scenes way too long rather than focus on the interesting bits. I like where the drama is headed having Ha Na move in with Seo Jin, but more than that I'm dying for the battle of the wills between the two personalities when it comes to Ha Na. I thought I would be all Robin but strangely I'm not all that against Seo Jin's aversion to Ha Na for the time being.
Click here to watch Hyde, Jekyll, Me.