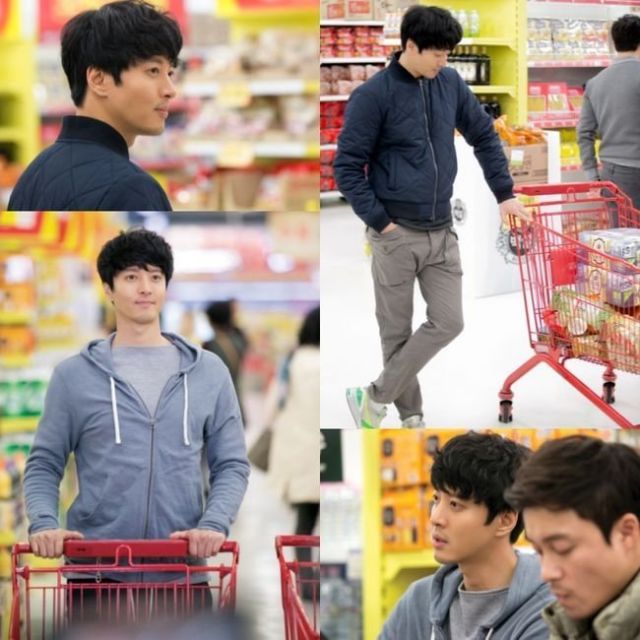 The first teasers are out for upcoming tvN drama Super Daddy Yul, which will take over the time slot from Heart to Heart in a few short weeks. It's trending a bit under the radar since neither leads Lee Dong Gun or Lee Yoo Ri have mania fandoms, but promo buzz matters not as the viewers will come and go depending on how good the final product is. Super Daddy Yul is adapted from the popular same name webtoon, which does look promising though having a good source material no longer guarantees a good story since productions are known to adapt in ways that bear no resemblance to the original deal. In this case I'm hoping just for something sweet and warm to watch.
Lee Yoo Ri plays a single mom dying of a terminal illness (eeeps) who sets out to train a perfect super daddy to raise her daughter after she's gone. Enter Lee Dong Gun as her schlubby loser ex-boyfriend who is the prime candidate to transform into super daddy. Playing second leads are Seo Joon Young and Seo Ye Ji while child actress Lee Re gains a new daddy while losing her mom. Of course the dreaded terminal illness element immediately puts a damper on all proceedings but I'm hoping tvN wants to go for laughs based on the first teaser as well as having the PD of Marriage Not Dating directing, in which case I'm in until things start getting too teary for me.
There's some funny naming coincidences going on in this drama – Lee Dong Gun's character is called Kim Yul, which immediately flashes me back to Prime Minister Kwon Yul from Prime Minister and I, while Lee Yoo Ri's name is Cha Mi Rae which is an unholy coincidence to Lee Dong Gun's last drama leading lady from Marry Him If You Dare (Mi Rae's Choice), a woman who neither dared nor made a choice in the end. Here's hoping for Super Daddy Yul washes the stink right of MHIYD for Lee Dong Gun.
First teaser for Super Daddy Yul: