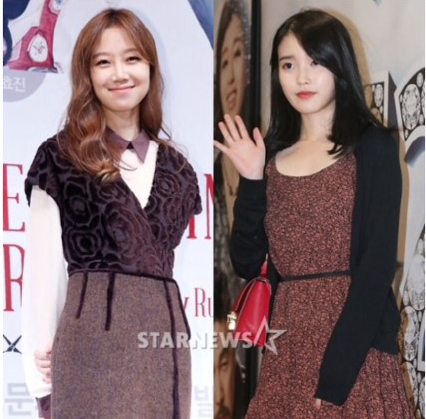 It's a good time as any to try something new in drama land, and I'm even happier the confirmed cast for this experiment include some of my faves. Gong Hyo Jin and IU have just been officially confirmed for the eclectic cast of Producer. KBS is opening up a new time slot on Friday and Saturday nights for this drama, taking over for a time slot that has been traditionally occupied by variety shows. I'm not privy to the network thought process on scheduling the drama this way as opposed to putting the heavy guns in the regular drama programming slot since all the dramas airing on weekdays are all struggling as is. The backstory is that Producer is being produced by the KBS variety show department and now the drama department, hence the time slot and the meta-storyline.
With Gong Hyo Jin and IU confirmed as the two leading ladies, they join already confirmed Cha Tae Hyun and maybe-confirmed Kim Soo Hyun as the two leading men. I posted that Kim Soo Hyun was confirmed based on articles that came out a few days ago, but mere hours after those articles came out there was backtracking that he was still considering. I'm fairly certain he'll end up doing it, which is exactly the career direction I want him to take by doing this drama, though if he ends up turning it down I would hope KBS finds a leading man for his role as a rookie producer that I also like.
Right now the confirmed cast is 3-out-of-4 hitting it out of the park for me, KBS better not crap all over this rare opportunity by throwing in a weak link. Gong Hyo Jin and Cha Tae Hyun will be playing senior television show producers while IU's role is the cold ice princess top female star. The love lines have been hinted in various articles as Gong Hyo Jin-Cha Tae Hyun and Kim Soo Hyun-IU, but nothing official yet to verify that will be the case, or that the drama will even focus on romance as opposed to doing an insightful commentary on the state of Korean television show production. The drama does have major clout with the screenwriter having done the biggest hit of the last few years in You From Another Star. Filming reportedly starts this week for an April premiere so hopefully we'll get the final lead confirmation soon.