It's going to be hard to top Producer as the biggest K-drama production and casting surprise of 2015 so far now that the final main cast member has confirmed. Kim Soo Hyun played coy for an extra week as to whether he was going to accept the Producer offer and in the end smartly said yes. If all the rumored leads ended up accepting then it might be an indicator of how promising this drama looks to those in the know. Kim Soo Hyun joins sunbaes Cha Tae Hyun and Gong Hyo Jin along with singer-actress IU to try and kickstart the flagging K-drama ratings and conquer a new time slot on Friday nights. Kim Soo Hyun plays a rookie PD who went from law school student to entertainment newbie while his love interest is likely IU as a top singer. Overseeing the fictional variety show department is Cha Tae Hyun as a veteran PD while Gong Hyo Jin is his equally veteran colleague who directs music shows.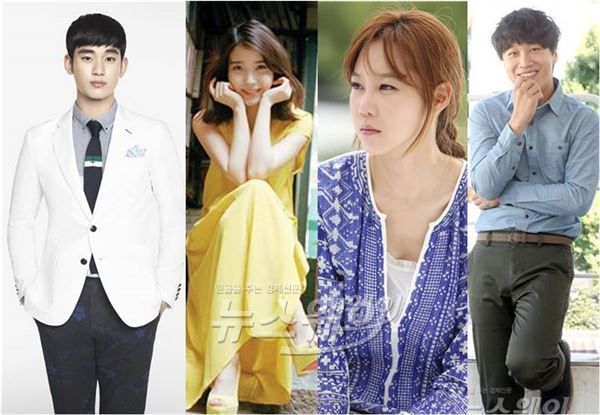 Producer will air on KBS every Friday night for a total of 11 or 12 episodes only, the entire endeavor a new experiment by the network starting from the production team behind the drama coming from the KBS variety show department rather than the traditional drama production team. It's described as fast-paced and fun, with the screenwriter behind You From Another Star working on this drama since she finished YFAS last year and wanting to do a story about the inner workings of the Korean variety show production circuit.
She reportedly wrote Producer with Cha Tae Hyun specifically in mind to play the senior PD as she's a total fangirl for him plus wanted to lure him back to drama land with a great role and story. For the role of the rookie PD, she also approached Kim Soo Hyun directly after working with him so well in YFAS. She's really got major clout to hand both the leading men of her dreams for this drama, and even luckier that the leading ladies turned out to be can-do-anything Gong Hyo Jin and rising young talent IU. I'm so excited it's not even funny!