In a drama where a rampaging gorilla makes an appearance in episode 1, which this drama will never be able to live down, it probably isn't that much of a shocker to see a woman propose marriage to an alternate personality. Whether it's legal, pretend, or just to assuage Robin's departing woes, Hyde, Jekyll, Me manages to up the crazy antics with just one episode remaining. Gotta leave on a high low note, yes? As much as this drama continues to deliver unintentional laughs with the script, the acting of Hyun Bin keeps on selling the stupid so it kinda sorta works. I was sad for Robin even as my brain was sighing at his overstayed welcome.
This drama reversed the central romance and with that dug its own grave. Ha Na being in love with alternate personality Robin first before slowly coming to care for Seo Jin renders the romance devoid of a rootable future. To care about Ha Na and Robin is to board a sinking ship, while caring about Ha Na and Seo Jin leaves little to cling to when the writing refuses to give him more than cursory interactions. Setting aside the silliness of the events of this story, the bigger disappointment is that the emotions remain so misplaced and misguided to this point, leaving me wishing for everyone, and not just Robin, to be put out of their misery.
Episode 19 recap: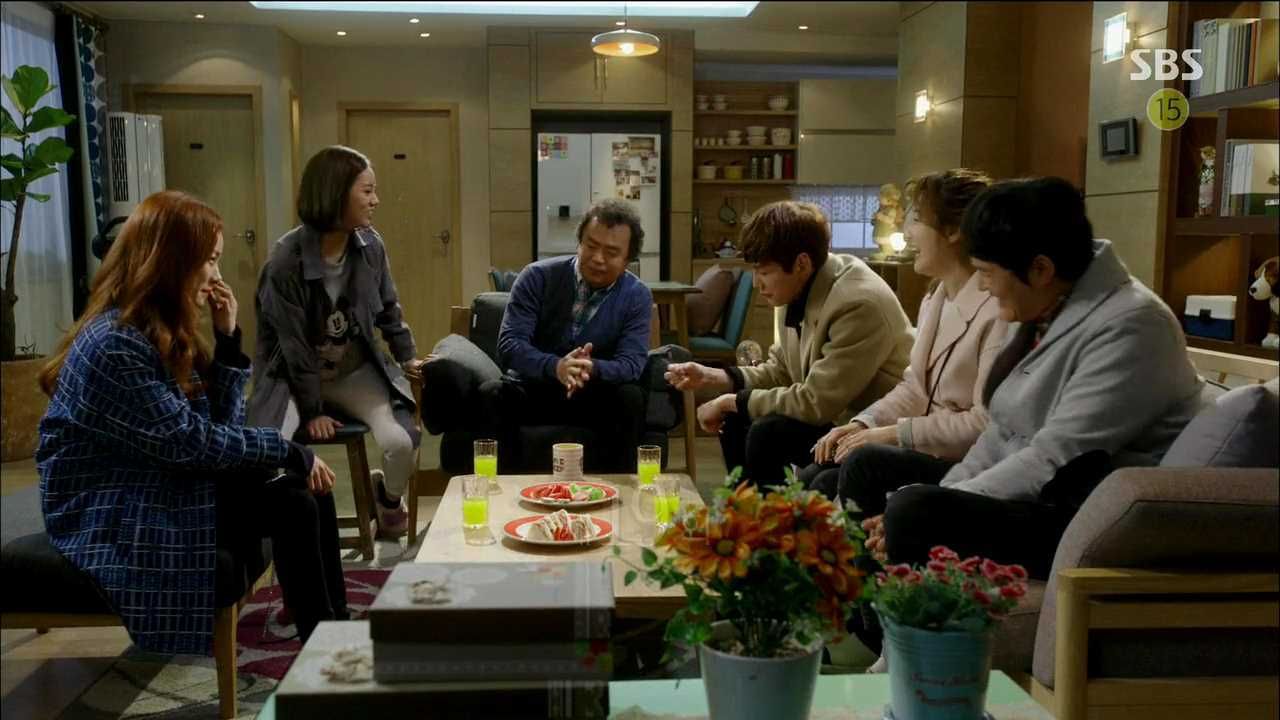 Ha Na is hanging out with her friends after the radio program birthday surprise and talk turns to what she and Robin have planned later. Woo Jung wonders why Robin left first and hears Ha Na sent him home to rest seeing as he looked tired.
Robin finishes watching video of the birthday surprise and calls out Young Chan to meet. Young Chan still thinks it's Seo Jin pretending to be Robin and gushes about Seo Jin pulling off the ruse seamlessly. He wonders if Robin isn't coming out now because of Seo Jin? Because Seo Jin is now enduring Robin and has chosen to coexist forever with Robin for Ha Na's sake, perhaps that is why Robin is leaving. Robin is stunned to hear this and asks Young Chan what Seo Jin has decided.
After talking with Young Chan, Robin gets a text from Woo Jung asking why he didn't give Ha Na her birthday present. Ha Na calls Robin to chastise him for acting upset to throw her off the birthday surprise celebration. She reminds him not to keep her out no matter what happens, they've come so far already so there is nothing they can't weather.
Robin calls Ha Na to his officetel to gift her with a birthday present portrait. Ha Na loves it and wonders how he's full of surprises lately. Ha Na wonders how he found a picture of a girl that looks so much like her? Robin asks Ha Na to remember that this picture is how Robin sees her. The two of them sit down on the sofa staring at the portrait, with Ha Na musing that Robin hasn't shown all of himself to the world. Ha Na worries that she's the only one who is happy lately and Robin confirms that Ha Na is genuinely happy as long as Robin doesn't worry her.
Ha Na reminisces about their first meeting, with her finding Robin so weird, but Robin points out that her behavior isn't all that normal either. Ha Na agrees since she went to a mansion with a stranger she just met. Robin flashes back to his slipping on the ice with Ha Na and the memory seems fragmented. Ha Na doesn't notice Robin's discomfort and jabbers on about going to the mansion with Robin for his birthday. She wants to turn the garden into a countryside farm with vegetables and farm animals. Robin just smiles and nods at her suggestion.
Robin watches the video Seo Jin left for him prior to going to the radio station. Seo Jin has been worried about Robin lately and can't believe it's come to this where Robin doesn't show up. He asks if Robin feels upset that Seo Jin is going in his stead for the birthday celebration Robin planned for Ha Na? If Robin is upset then he needs to buck up and hold onto what he wants. Seo Jin believes that Ha Na needs Robin so he has to be strong.
Robin opens up a box with Seo Jin's necklace inside that Seo Jin doesn't wear anymore. He remembers telling Ha Na that if Seo Jin also likes Ha Na then Seo Jin can endure and be patient for the time being, but Robin doesn't believe Seo Jin has the ability to do that. But now Robin knows Seo Jin is doing exactly that for Ha Na's sake and he stares at Seo Jin's face in the video. He doesn't want Seo Jin to be that self-sacrificing because if it comes to that then where does that leave Robin?
Young Chan discusses with Seo Jin about the switchback last night but Seo Jin doesn't need Young Chan to fill him in on what happened because he has all the memory and feelings that Robin experienced. Seo Jin worries about Ha Na, calling her Ha Na-shi now like Robin does instead of Jang Ha Na or Jang-shi. He hears that Ha Na doesn't know about Robin losing memories to Seo Jin.
The Wonder Group holds a board meeting to discuss the future of Wonder Land. The plan is to turn Robin's manhwa into an animated movie and promote it through the amusement park. Seung Yun can't believe this is happening while Chairman Goo has come around and is ready to milk his new cash cow son. Seung Yun can't hold himself in and interrupts the meeting to reveal that Robin isn't Seo Jin's pen name but his alter ego. He declares that Goo Seo Jin is mentally ill and suffering from DID. This turns out to be Seung Yun's imagination and he doesn't actually out Seo Jin's condition to the board.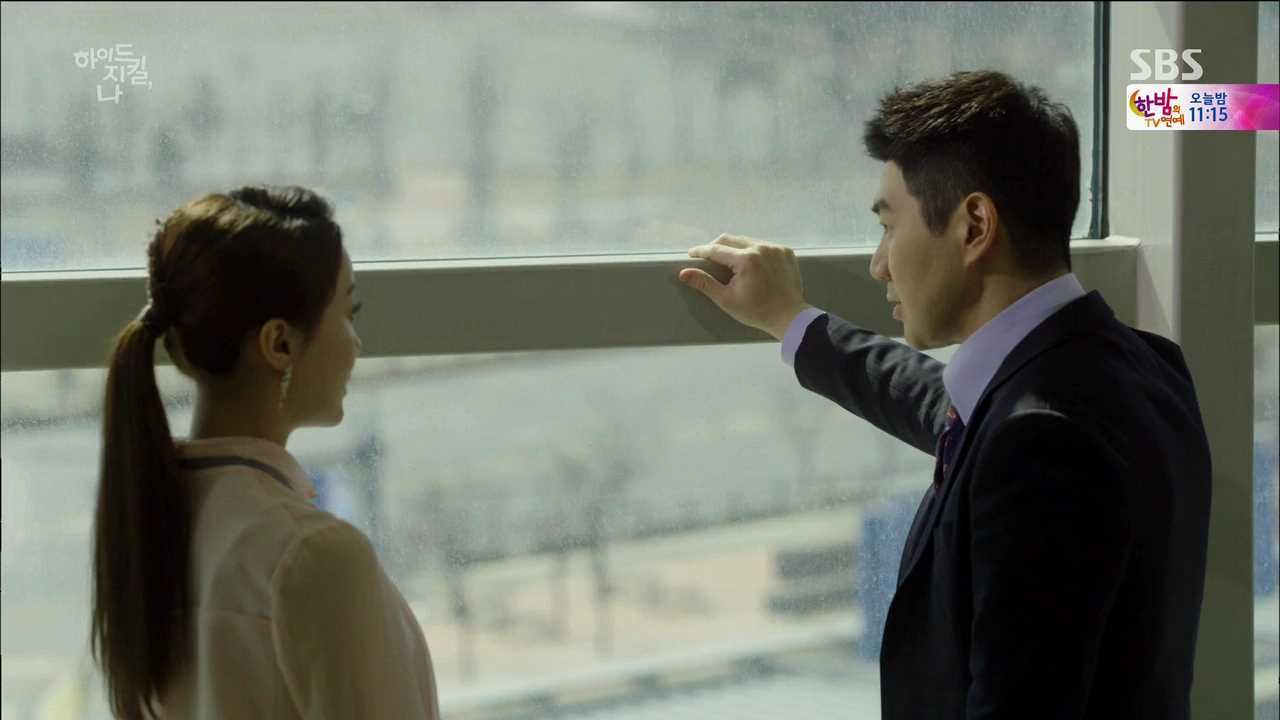 Seung Yun's ladylove tries to get Seung Yun to let his obsession go before he creates a bigger mess. Seung Yun feels like he's become a crazy expert and is the only one who can see the truth. If the board hands Wonder Group to Seo Jin then he'll destroy it. Seung Yun's ladylove doesn't think so, pointing out that both Seo Jin and Robin are very talented. She walks away leaving Seung Yun feeling all alone fighting this battle.
Ha Na shows off her birthday present portrait to her friends and everyone admires Robin's taste in art before delving into inane small talk. Robin wakes up with only fragmented memories of the night he attended the awards ceremony with Ha Na. Ha Na is hanging out with Woo Jung and going through her photo album, catching up on her shared experiences with Robin from years ago. Robin arrives to pick up Ha Na and remembers the night that Ha Na got drunk with Woo Jung, but once again that memory is fragmented.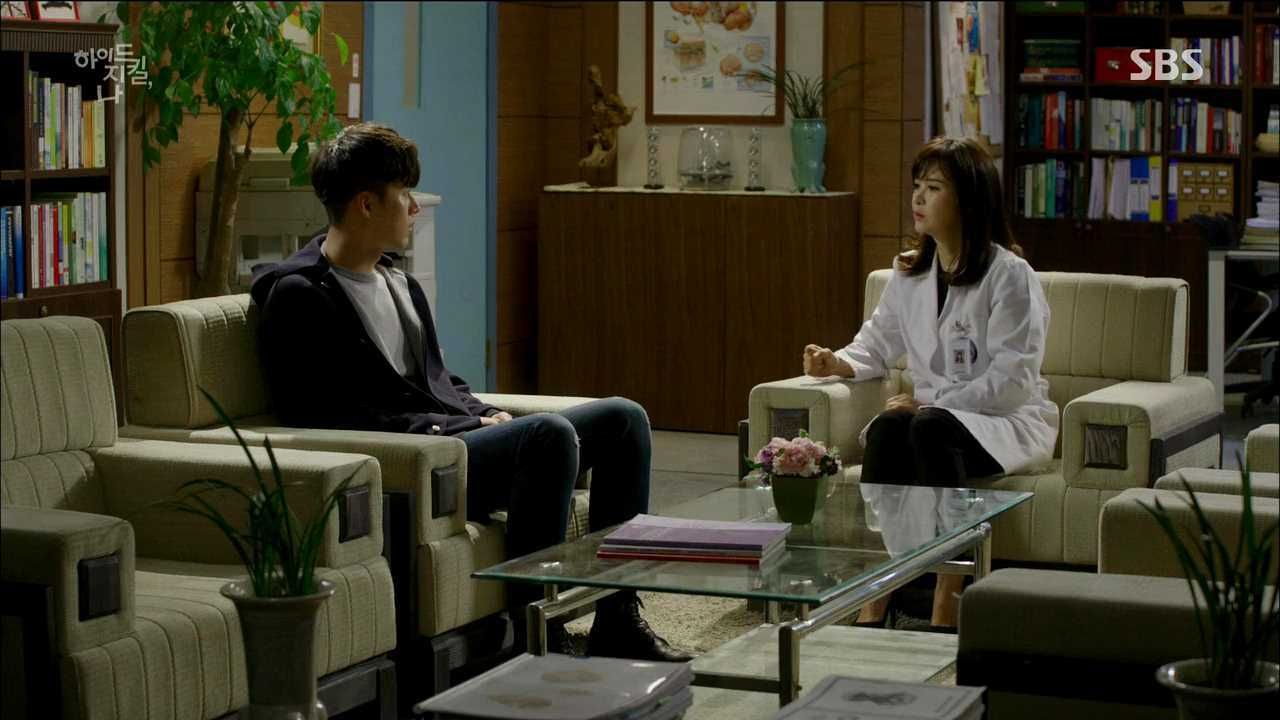 Robin pays Professor Kang a visit and believes that he's starting to disappear. The headaches and fragmented memory is becoming more frequent. Professor Kang initially thought there would be more time for Robin, another 6 months at least, but hearing this she admits that the healing process is speeding up. Soon Robin won't even remember losing memories and will eventually not even recognize people. Robin doesn't want that so asks Professor Kang to schedule a session next week to eliminate him. He asks her not to tell Seo Jin or anyone about his request.
Robin asks Ha Na to take a trip with him and apologizes for worrying her recently. Ha Na is happy to take a trip with Robin to wherever he wants to go. The two drive out of Seoul and Ha Na sits in the passenger seat rifling through the food and drinks she's packed. Ha Na hears that Robin didn't tell Seo Jin about this trip, with the reason being Robin intends to not sleep for the next few days while with Ha Na. Since this is his trip, he doesn't want the time to be shared with Seo Jin.
Robin and Ha Na arrive in the countryside and he takes her to an old residence, explaining that this is where he grew up. This place is in Robin's memory only as he lived here with his mom, hyung, and noona. His dad died when he was four years old and his mom was a school teacher. He didn't want his mom to go to school to work so she would give him a coin. Robin would bury the coin under a tree and collect it all.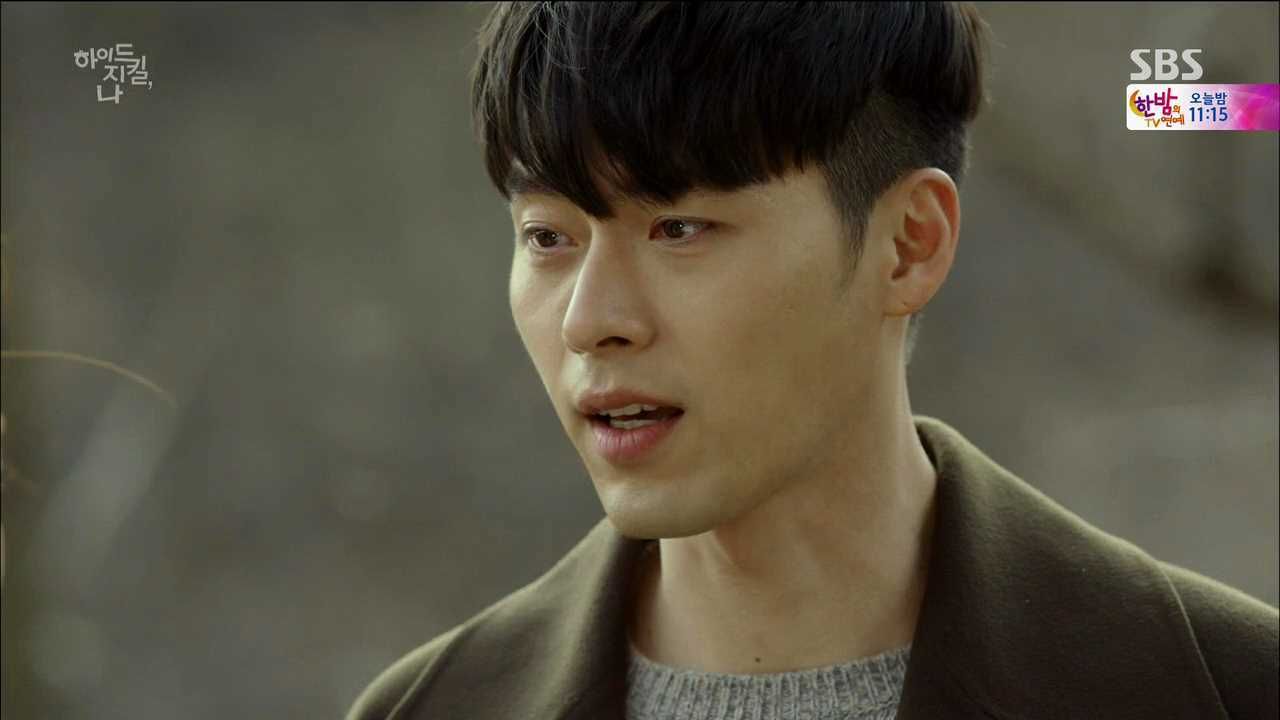 Robin was told by Professor Kang that all his memories of his childhood are false, all created by Seo Jin. Robin didn't want to accept that so came here to dig under the tree but there were no coins buried. He went to the town registrar but there was no record of the names of his parents or siblings. Robin accepted that it was make up, his existence is an illusion. Robin asks how Ha Na can love someone like him who doesn't exist?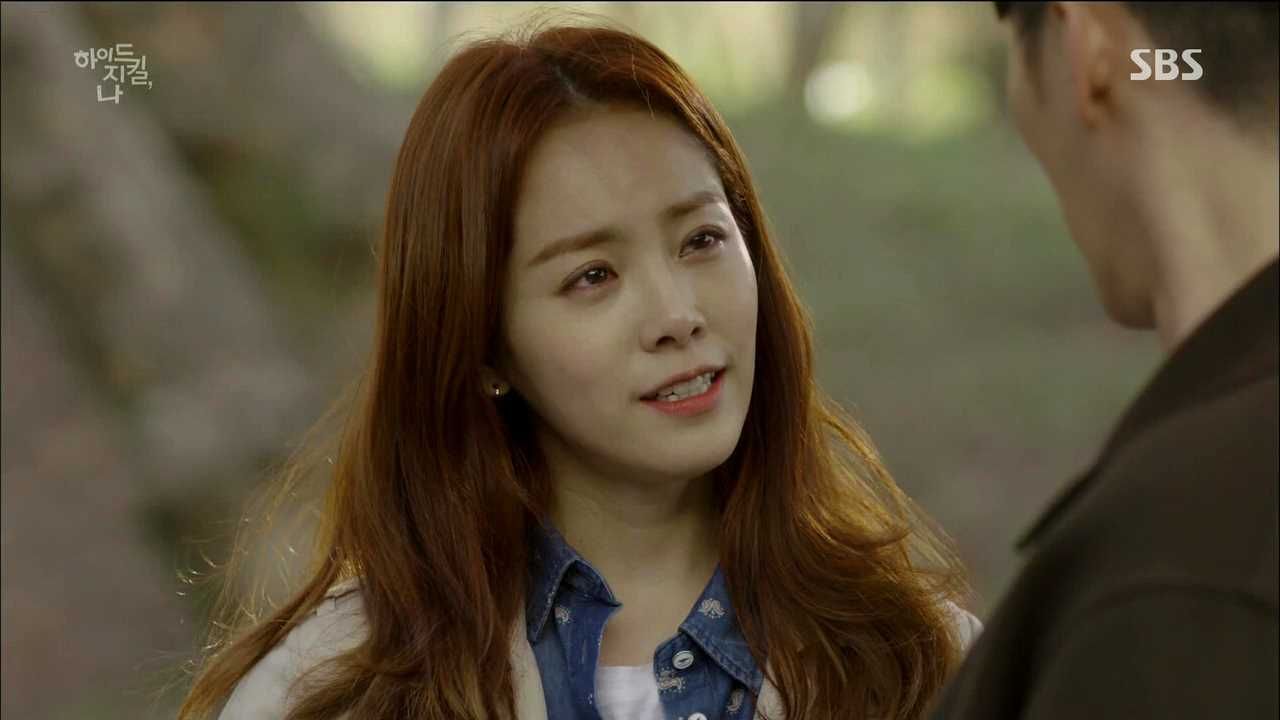 Ha Na takes Robin's hand and insists that her feelings are real so Robin is not an illusion to her. She loves Robin therefore Robin is real. *headdesk* She assures Robin that not everything is made up since she's here right now with Robin. Ha Na suggests burying a time capsule under this tree and opening it up ten years later. Robin thinks ten years is too long so Ha Na cuts it down to three years.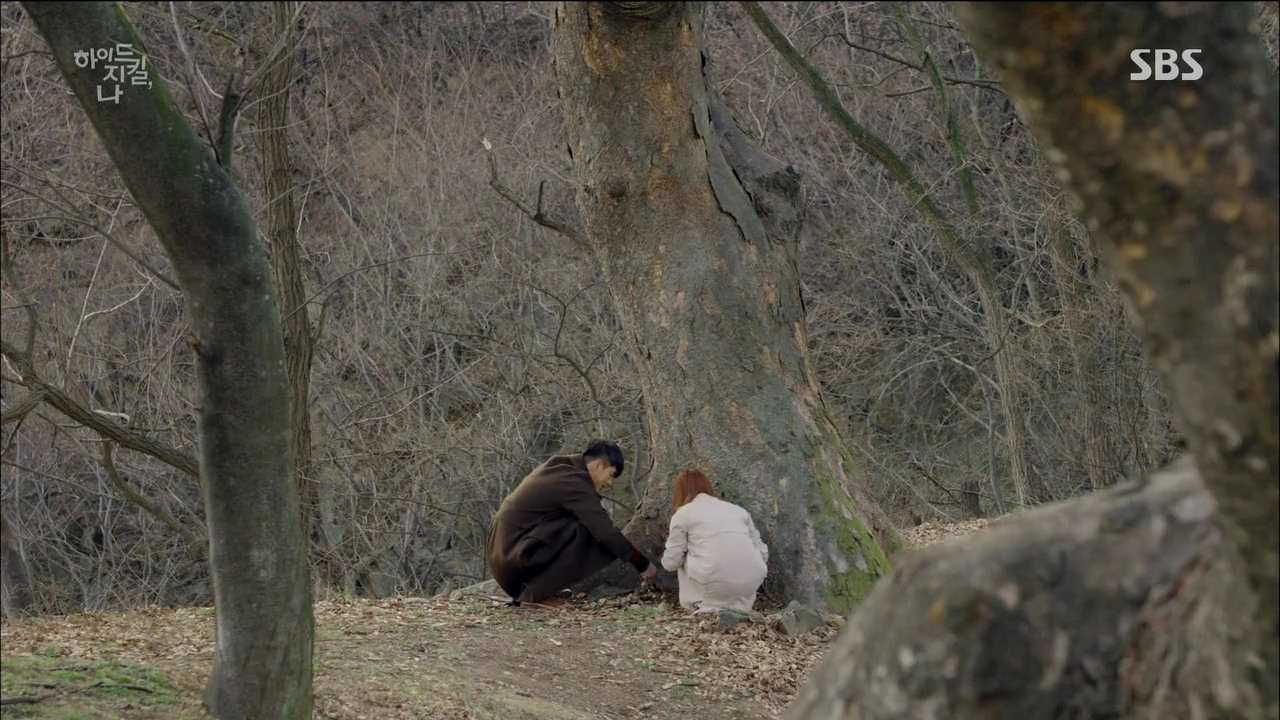 Robin and Ha Na buy supplies and write down letters to put inside a plastic capsule ball from a vending machine. They dig a hole under the tree and bury the two time capsules.
Ha Na and Robin go on a street date, taking cute pictures in front of wall paintings and generally being a lovey dovey couple. Robin stops to read a sad poem before Ha Na drags him off to go make their own lollipops. Next comes cuddling on the street while admiring a street painting of an elderly couple staring out at the sea.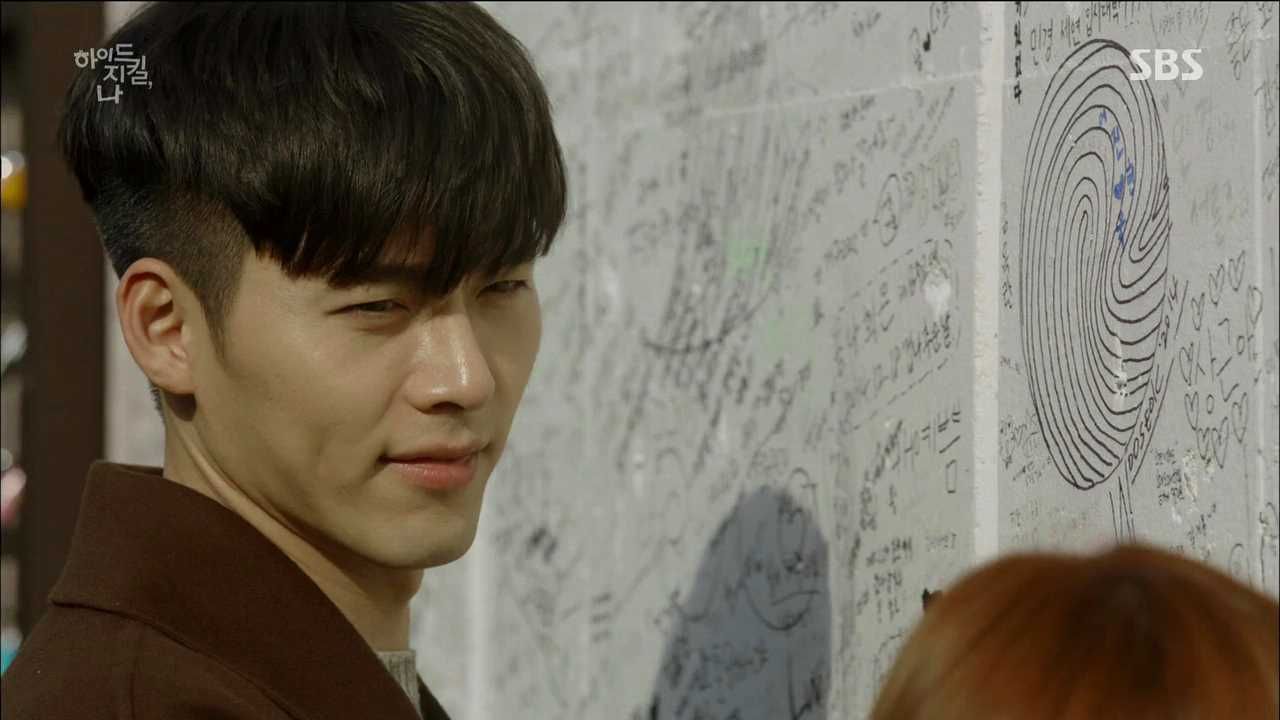 Robin and Ha Na pass by a wall filled with writing and doodles so Robin writes down "Ha Na and Robin was here" before Ha Na drags him off.
Ha Na and Robin check in at a bed-and-breakfast, with the ahjumma reminding the couple to join her for breakfast tomorrow. Robin heads out to buy some snacks while Ha Na settles in for the night after admiring her matching bags with Robin. He's finally gotten his courage to tell Ha Na what he's planning but finds her asleep already when he gets back to the room.
Robin softly asks if Ha Na is asleep and gets no response. He stares at her sleeping face and mumbles that she'll be fine without him. Ha Na hears him mumbling and asks what he's talking about but Robin immediately claims he said nothing important. He claims to be talking about how he and Ha Na doesn't need to be stuck together 24/7 all the time. Ha Na warns Robin to stop thinking about disappearing or leaving her.
Robin and Ha Na get into the car the next morning, with Robin assuring Ha Na that he's fine to drive despite not sleeping last night. He takes her to the house he grew up in, as if he didn't just take Ha Na here yesterday. He goes through the exact same story he shared with Ha Na already and her face registers her growing alarm and shock.
Ha Na excuses herself and goes outside to quickly call Professor Kang and tell her that Robin doesn't remember what they did yesterday. Professor Kang can't believe how fast this is happening and tells Ha Na what is going on. Ha Na runs to the tree and unearths Robin's time capsule to read the letter inside. Robin figures he's gone by the time Ha Na reads this letter. He feels reassured that he's left memories for Ha Na such as the radio programs and interviews he's been doing lately. He'll always remember the night Ha Na attended the awards with him. Ha Na sobs reading the letter.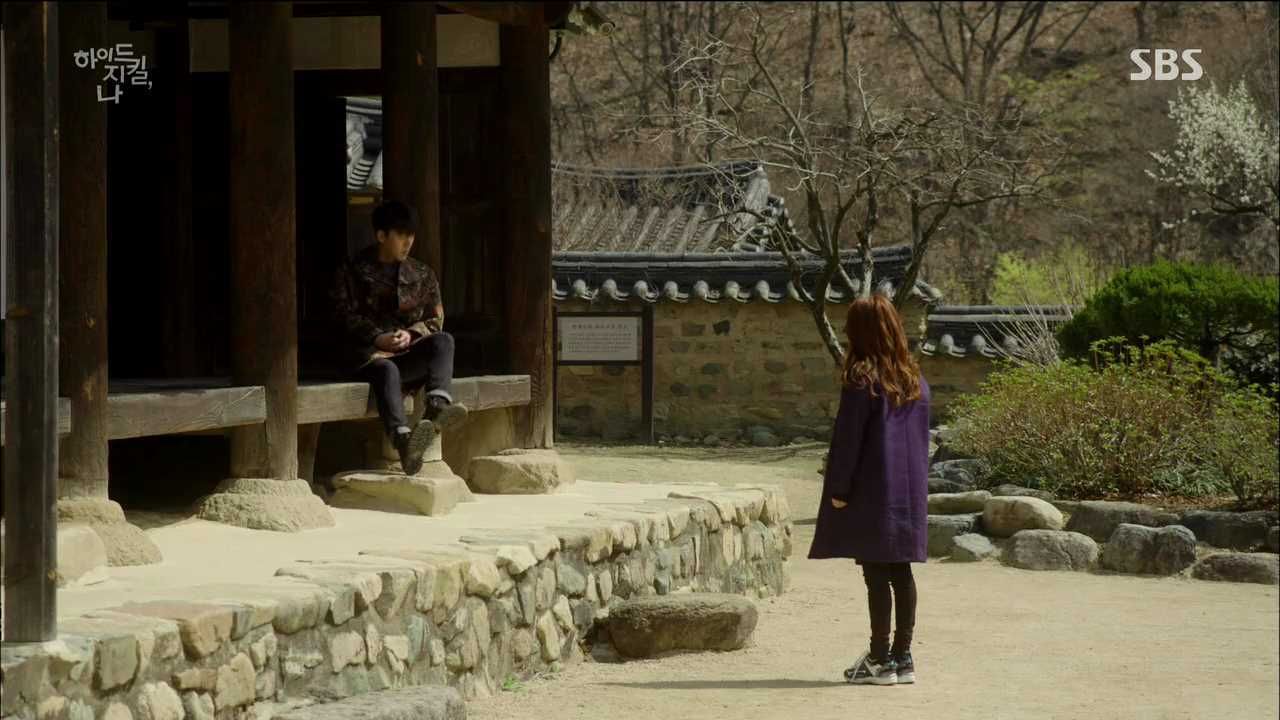 Ha Na runs back to the house and finds Robin sitting there waiting for her. He sees her frantic state and asks what's going in, and from his tone of voice this is now Seo Jin. She asks if it's happened yet? He hasn't left yet, right? Seo Jin stares at Ha Na and doesn't believe Robin has left for good yet. Ha Na can't believe both Robin and Seo Jin knows what is happening but is keeping it from her. Seo Jin admits they can't tell her because they don't know how to deal with it themselves. Ha Na cries and Seo Jin walks up to gently pat her on the shoulder.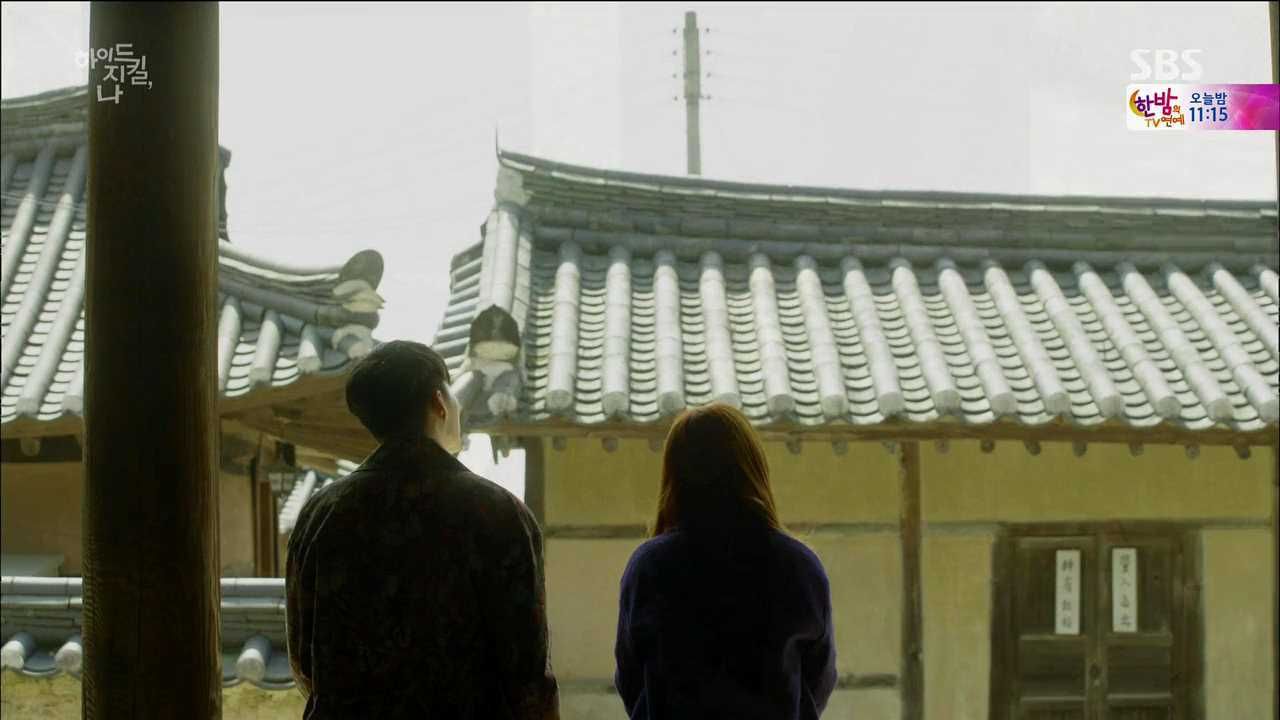 Seo Jin reads Robin's time capsule letter while Ha Na wonders if what she did is hastening Robin's departure. Seo Jin believes Ha Na is to be thanked for allowing Robin to live his final days to the fullest. She's done more for Robin that anyone else has or can do. Ha Na brings up Robin's memories of this house as his childhood home and growing up here. Seo Jin silently looks around and takes in the surroundings.
Seo Jin takes a walk alone through the town and pauses to watch a video that Robin recorded for him on his cellphone. Robin wants to see Seo Jin again but doesn't think that is possible. Just like Seo Jin unilaterally decided to carry Robin with him for the rest of his life, Robin is choosing to leave now when he still has memories of Ha Na. Robin wants to tell Seo Jin how to make Ha Na happy.
Ha Na likes guys who make her laugh so Seo Jin needs to start getting a sense of humor. Seo Jin needs to respect her job which is to bring joy to people even in the saddest times. He needs to look at Ha Na when speaking to her, hold her hand when walking, open the car door for her. Even if Seo Jin thinks this is embarrassing, he still needs to do it to assure her that he is considerate of her. The final thing Robin asks is that Seo Jin must comfort Ha Na. In one week Ha Na will be very sad so Seo Jin needs to be there for her.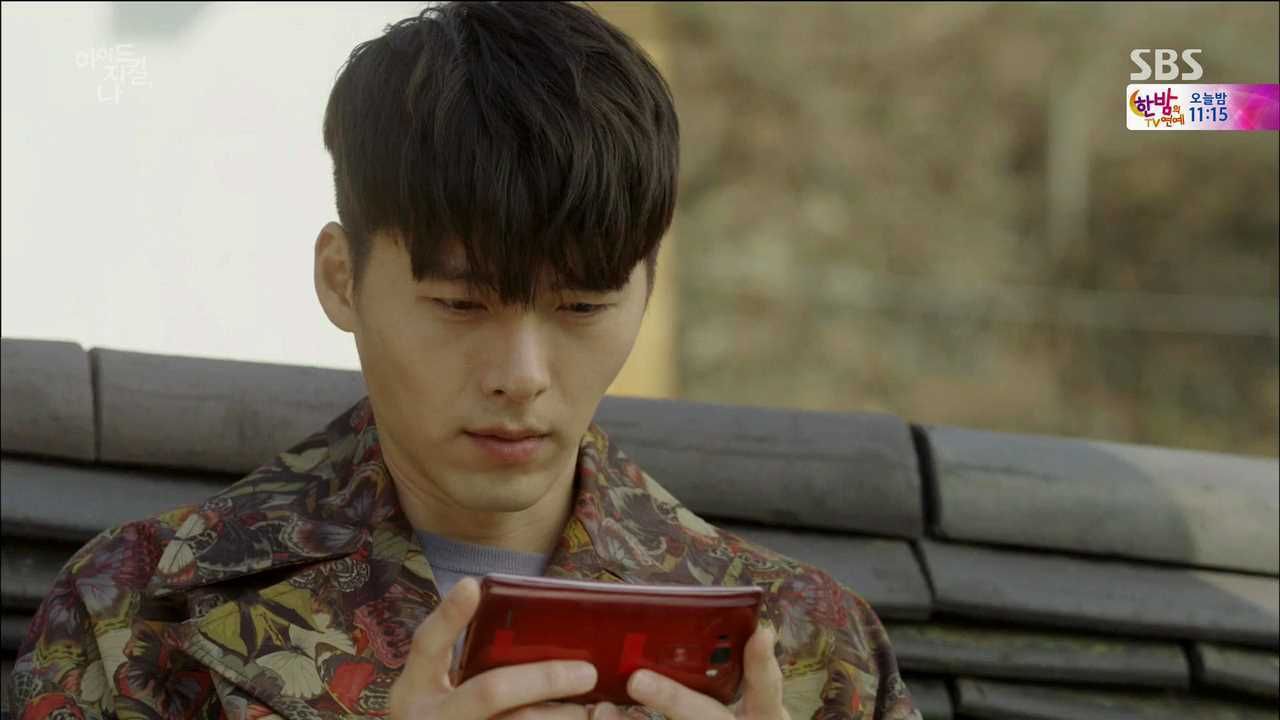 Robin knows Seo Jin is sincere about Ha Na which is why Robin is fine with leaving. Robin won't feel that pitiful leaving as long as he knows one day Ha Na will also love Seo Jin. Robin can barely contain his tears as he finishes recording the video. Seo Jin finishes watching the video and promptly records a reply to Robin. Seo Jin understands everything Robin asked of her and he knows how much Robin loves Ha Na.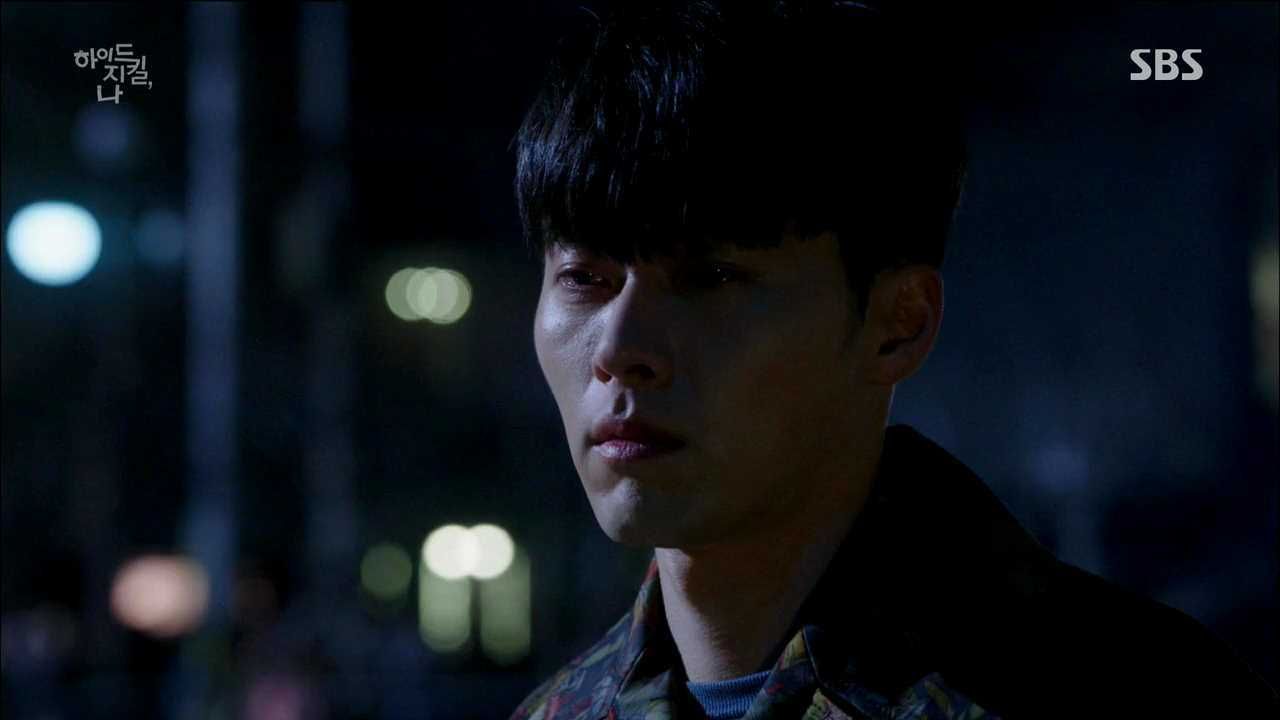 Ha Na walks through all the places she went with Robin, pausing by the doodle wall to see Robin's note that he was here with Ha Na. She gets a call from Robin's cell phone and runs to the harbor where he is waiting. She finds Robin standing in front of fireworks going off. Ha Na back hugs Robin and cries that she hasn't prepared herself yet.
Robin wipes Ha Na's tears and explains that there is no preparing for such things. Ha Na can't accept him leaving in a week so Robin explains that he'll be disappearing soon. If he loses his limbs he can still be Robin but if he loses his memory then he's no longer Robin. What he can't deal with is asking Ha Na "who are you?" before disappearing at that time. Robin wants to treasure the memories and leave like this.
Robin has another memory loss moment right in front of Ha Na, losing the memory from the awards ceremony. Ha Na can only watch as Robin loses that precious memory and has a breakdown, crying like a child in her arms.
Ha Na interrupts Eun Chang and Woo Jung's kissy time and shares what is happening with Woo Jung who is equally as devastated. Ha Na has come around to supporting Robin's decision, explaining that it's better to send him off when he still remembers them. But later she remembers Robin's devastation in losing his most precious awards ceremony memory with her and decides to do something about it.
Ha Na gets all the friends to help out and stage the awards ceremony event again. Ha Na and Robin arrive at the reenactment of the awards ceremony and she tries to get Robin to do all the same things like taking her hand because she's nervous. Ha Na and Robin arrive at the red carpet which is lined with banners but empty of fans and media this time around. They slowly walk the red carpet as Robin takes in the surroundings. Young Chan walks out and pins a boutonniere on Robin's lapel before leading the couple inside.
Robin finds the room inside decorated for a wedding and their friends are standing by the altar. Robin stares at Ha Na while she explains that his most precious memory hasn't disappeared because she's going to make it for him. Ha Na asks Robin to marry her so they can make their mutual most precious memory together.
Ha Na reaches out her hand and Robin takes it with a smile before the couple walks down the aisle together.
Thoughts of Mine:
Once this drama ends, I would highly suggest Ha Na go see a psychiatrist because she clearly has mental problems. If she thinks that her feelings for Robin makes him real, then so many kids love for Santa Claus ought to make the man in red real, too. There is a reason that reality is not based on how we perceive it and Ha Na clearly failed to learn that cognitive ability. I understand that Ha Na, and to the same degree Seo Jin, care about Robin and feel sad and bad about what Robin is dealing with. Robin thinks he's real because he has his own memories and emotions so right now Robin is sad. Ha Na should cry about it but she needs to accept the inevitability of Robin's departure without making it seem like he is a real person dying. Marrying Robin, or even giving him a pretend wedding ceremony, is just bizarrely inane and pushing my patience for this protracted goodbye to the breaking point. Or maybe I've already gone past the breaking point and don't even know it yet.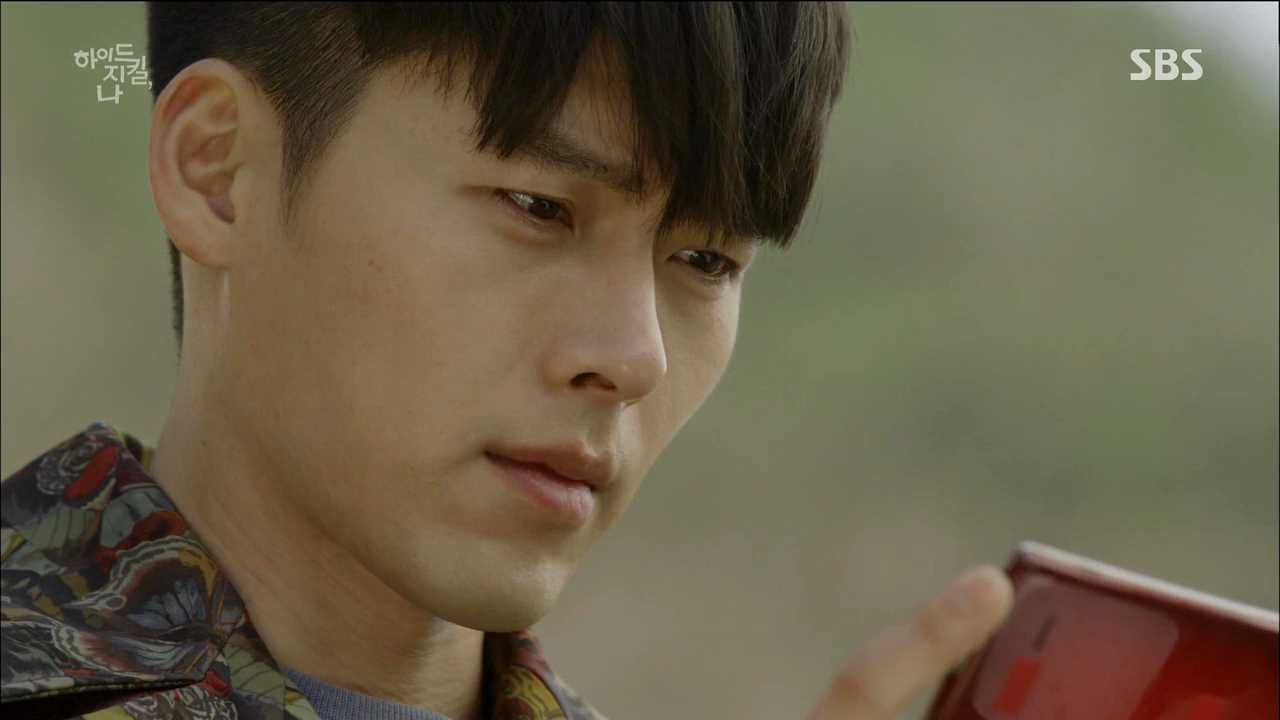 I really didn't need to see so many scenes of Robin losing memory after memory. It's odd how the scriptwriter seems to think the audience cares about Robin as much as she appears to like him. She's given this alternate personality character so much more care and consideration than her male lead Seo Jin, who has been reduced to waiting around for Robin to bite the dust before he starts living his life. He's also getting Ha Na after she's done moping about Robin, which frankly isn't worth it. New and improved Seo Jin can get any girl and should get one who loves him rather than in the future always looking for Robin's shadow within Seo Jin. I still can't stand Ha Na, whether she's an emotionless tree or now a crying wreck for Robin, there is nothing remotely likeable about her personality or thought process. Her so-called kindness I can find in any nun who serves the poor, and her intelligence is at the level between a bright kindergartener and a psych ward patient. I wish she was the personality who was disappearing soon in this story.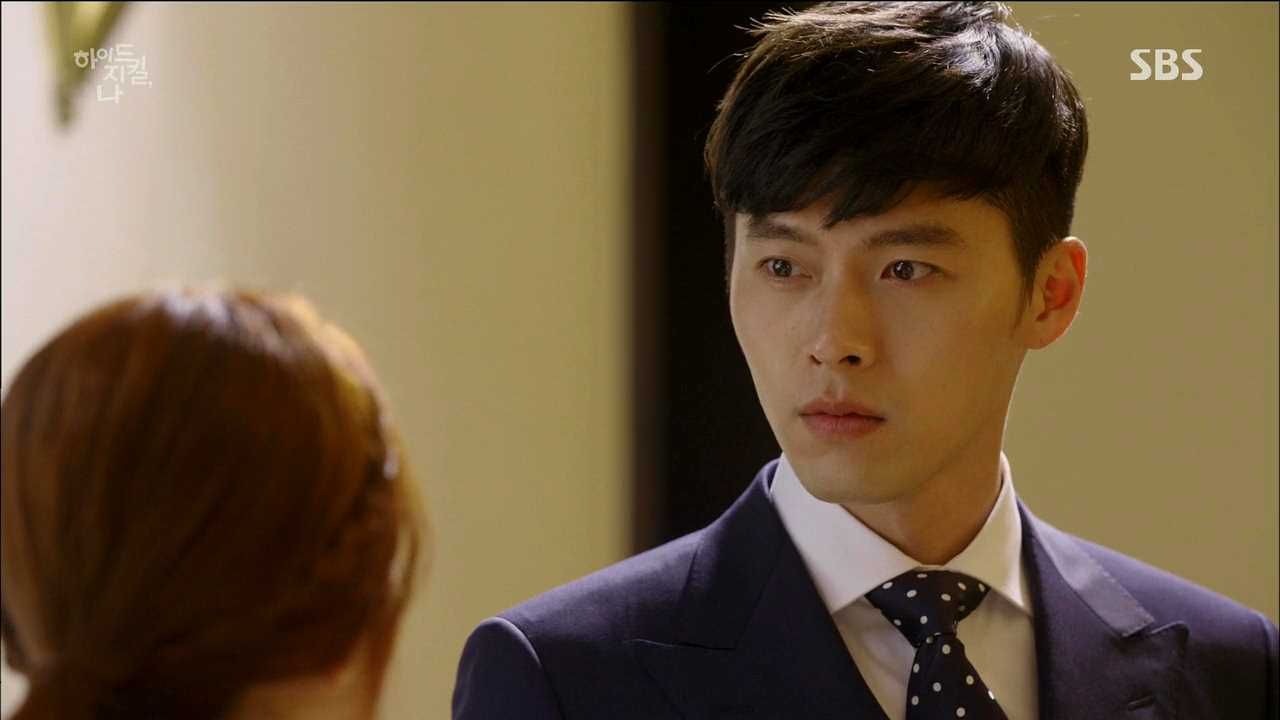 The only redeeming part of this episode was yet again the scenes with Seo Jin. I loved the mutual video message scenes where Robin shares his Ha Na knowledge with Seo Jin and truly comes to terms with leaving for good. I never expected the writer to handle DID remotely plausibly but she really fails extra hard with how much Robin doesn't appear to understand that he exists for Seo Jin's mental and emotional survival. Now that Seo Jin is healing, Robin ought to have more to say to him aside from handing Ha Na off like passing the baton. Robin has helped Seo Jin do good when the real Seo Jin feels like a locked up coward, now Seo Jin has the courage to live normally so Robin should feel relieved and reassured about it. I wish I could see more of their interactions because Robin's feelings for Ha Na, and vice-versa, don't feel nearly as compelling as the merging of Robin back into Seo Jin. I get that Robin feels the process wipes out his existence, but shouldn't he leave comforted that the reason for his existence is gone because Seo Jin is mentally healthy again? Romance seems so weak a reason for all the tears and woe at this point. Thank god it's all over tomorrow.
Click here to watch Hyde, Jekyll, Me.