Love (or lust, or a combination of both) is in the waters of K-ent and I'm just waiting to see which other star couples get outed this week alone. So far the confirmed Korean celebrity couples since the week started include globetrotting young Hallyu superstar lovebirds Lee Min Ho with Suzy along with actress Park Ha Sun and Ryu Soo Young putting a real life happy ending to their thwarted onscreen romance in Two Weeks.
Now we can add the newly minted acting couple of Oh Joo Wan and Jo Boa to the list as the two were outed by a tabloid newspaper today as dating in real life and subsequently confirmed the purported relationship. They met on the set of kooky cable drama Surplus Princess (The Mermaid) and became good friends, with the friendship turning into romance only recently a month ago. There is an 8-year age difference between them but love that goes from friendship to romance is usually less impetuous and hopefully these two will enjoy the relationship whether it lasts or not. Congrats!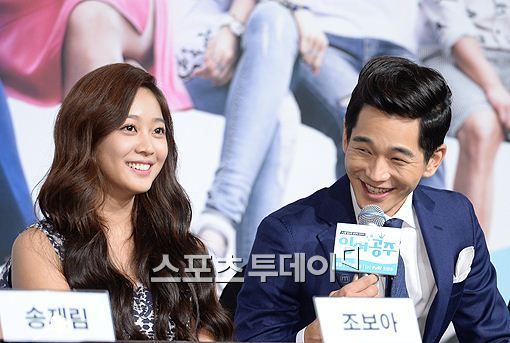 Surplus Princess was pretty adorable when it started but never hooked me that much. Then I heard it sorta went off the rails, not to mention more viewers seemed to ship Jo Boa's mermaid with Song Jae Rim's chef second male lead. In the end her character hastily got together with Oh Joo Wan's male lead but that happy ending didn't seem to come with the requisite audience satisfaction. Maybe this will assuage the SP disappointed crowd and add one notch to something good coming out of that drama.