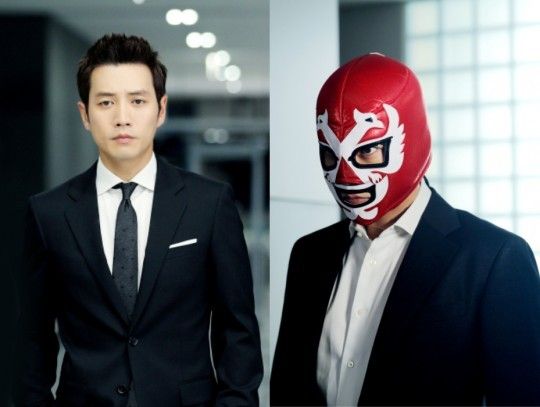 The promotions for upcoming KBS Wed-Thurs drama Masked Prosecutor feel so lackadaisical, like the person doing the job goes home everyday at noon. The drama is premiering next week but the network hasn't really packaged it that well, with a sense of building flow and rolling energy. Instead there are random stills and two perfunctory trailers about a cop, a prosecutor, and a glimpse at the mask. With that said, maybe the mask will bring in the viewers curious to see how male lead Joo Sang Wook pulls it off without busting a gut.
The production released an official still of Joo Sang Wook in his masked prosecutor incarnation, looking exactly the same suited look from the neck down but blindingly distracting with one very red wrestling mask covering his entire face. I think the lack of hair is my biggest gripe, it's such a waste of smexy Joo Sang Wook to give him a red egg for a noggin every time he's undercover as the vigilante. I'm trying to stare at the mask often from now until the drama premiere so that I can get used to it, maybe in a week I'll be so immune to the look I can just concentrate on the story line.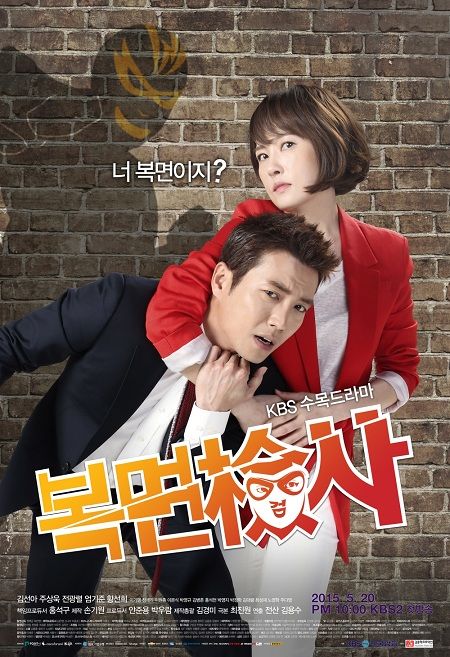 Do you guys like the two official drama posters? The OTP one with Kim Sun Ah putting Joo Sang Wook in a headlock is the more interesting of the two, especially with his shadow being the masked prosecutor. But overall it's pretty perfunctory with so much untapped potential to really think outside the box in showcasing this drama. Oh wells, onward to waiting for the long preview.