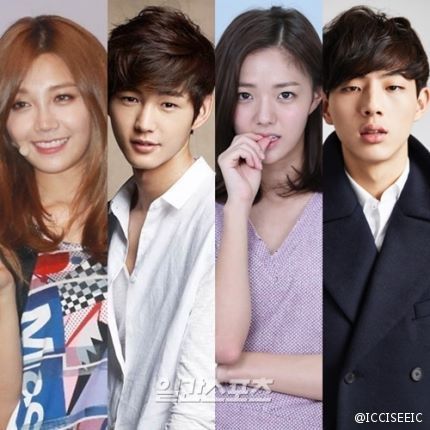 KBS is getting the cast together fast for upcoming Mon-Tues drama Sassy Go Go (formerly called Cheer Up), which makes sense since the drama is scheduled to air at the end of September following Eccentric Daughter-in-law (The Virtual Bride). With Kim Yoo Jung passing on the title role, Jung Eun Ji has stepped in as a perfect choice to play the perky upbeat high school cheerleader.
Now the remaining cast has joined Jung Eun Ji as students at the fictional high school – Hyde, Jekyll, Me's circus cutie Lee Won Geun gets his first male lead role, rebellious broody Ji Soo of Angry Mom is returning to drama land as the second male lead, and completing the quartet is Chae Soo Bin most recently of Spy. Writing will be the scriptwriter of Fugitive of Joseon (Mandate of Heaven) while directing is the PD of Trot Lover (Lovers of Music).
I super duper love this fresh-faced cast, though I would personally switch up the two male actors so that Ji Soo is the male lead and Lee Won Geun the second male lead. But then again, I want Ji Soo to get whichever of the two male characters is better written and more interesting, and if that turns out to be the second male lead then it's fine by me. I LOVE HIM SO MUCH! I also like that the drama is set in high school so that it's probably going to be a niche hit as much and that's fine by me. Low expectations will likely yield a greater surprise satisfaction if Sassy Go Go turns out a super fun ride.