There's another long-awaited novel to movie adaptation officially in the works that'll make fans of the source novel very happy. Readers of the of fantasy period C-novel Three Lives Three Worlds, Ten Miles Peach Blossoms (三生三世,十里桃花) will finally see their beloved story moved to the screens, and in big screen format as a movie rather than the expected small screen drama route. The novel is by writer Tang Qi Gong Zi (pen name means Tang Dynasty 7th Gentleman) and is described as an epic fantasy love spanning multiple lifetimes and whatnot.
Truth be told I couldn't finish the novel, his writing style is too florid for me, but this is definitely one of the more popular C-novels out there still waiting for an official screen version. The production held a commencement press conference to kick things off, revealing that casting is still underway for the main cast but the leading lady has been confirmed to be popular C-actress Crystal Liu, who basically looks like every Chinese person's ideal image of a period beauty. Over the years the two sets of previous onscreen pairings that have been bandied about the most for the role of male lead Ye Hua and female lead Bai Cian have been Hu Ge–Crystal Liu or Wallace Huo–Tang Yan so Crystal's casting is halfway to fandom ideal already.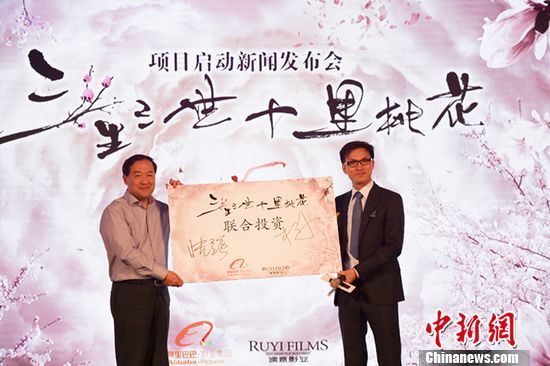 Word on the street has it that Feng Shao Feng may be the male lead to play Ye Hua. If it pans out then that would reunite Crystal and Feng Shao Feng after they played the star-crossed OTP of Yu Ji and Xiang Yu in the movie White Vengeance.