C-dramas do everything fast and that includes casting and spoilers. Hot on the heels of news that Hallyu actor Lee Jong Seok was going to headline upcoming Korean-Chinese co-production C-drama Emerald Jade Lover, now comes the spoiler leak that his leading lady will be C-actress Zheng Shuang. I have a hard time finishing any Zheng Shuang drama, but honestly I don't dislike her. Love Through a Millennium was probably her only work I liked but her debut in the C-version of Hana Yori Dango that was Let's Go Watch Meteor Shower wasn't all that bad.
She's admitted to full on plastic surgery two years ago, which was hard to deny since her entire face changed, but that's not my problem with her. I just need her to really dig deeper and sell me on her acting more than just be perky and cute. She has two already filmed big C-dramas coming up in college modern drama One Smile is Very Alluring with Yang Yang and Qing dynasty period drama Lonely Court in Late Spring with Hawick Lau, and if either hits huge before Emerald Jade Lover airs then it's only going to work in Lee Jong Seok's favor. Both dramas are based on super popular C-novels so it's possible that Zheng Shuang's star will skyrocket next year.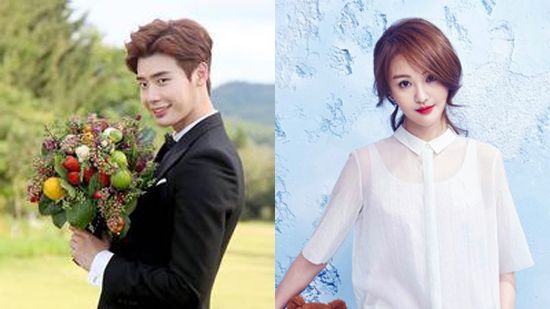 Emerald Jade Lover is set in the 1930's and 40's Shanghai, and Lee Jong Seok plays a returning overseas executive with mysterious background birth secret, while Zheng Shuang's female lead is a girl who's life has been cruel to the hands of fate but changes once she crosses paths with the male lead. Filming begins in the January 2016 and the drama will film for three months.