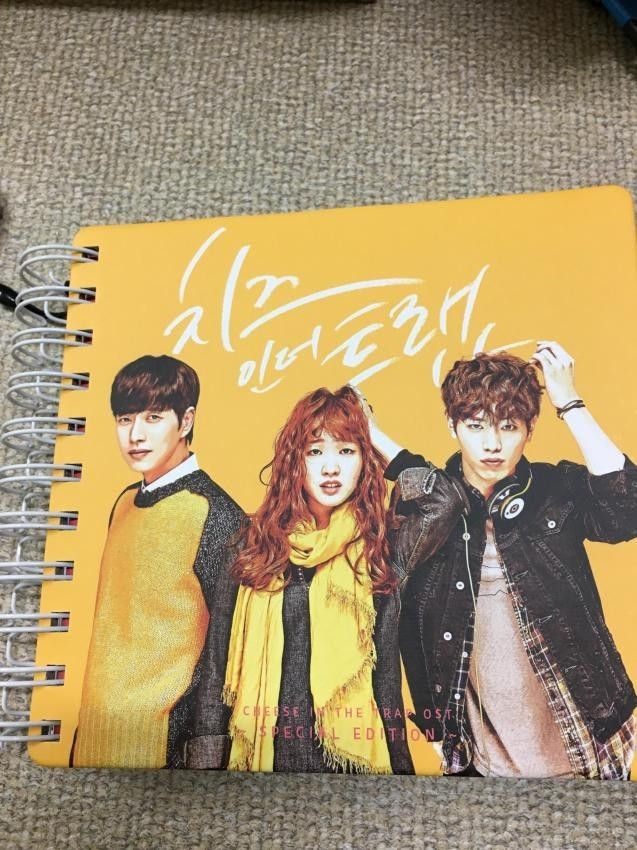 The WTF-ery of the Cheese in the Trap production team apparently refuses to stop even after the drama's finished airing. One would think the production would do everything possible to avoid further uproar with anything involving male lead Park Hae Jin, but alas that line of thinking appears to be wishful and completely out of reach of an increasingly bizarre and deranged Cheese production team. The official OST was released recently and included a collector's edition photo book that normally would make die hard fans who shelled out money to buy the OST super happy. In this case it led to reopening the can of worms that was still squiggling around Park Hae Jin's male lead role getting significantly downgraded in screen time and story line.
Aside from appearing on the drama poster that is used on the cover of the photo book, Park Hae Jin is missing completely from the entire collection. The books includes tons of filming stills of cast members Kim Go Eun, Seo Kang Joon, and Lee Sung Kyung but zero pictures of Park Hae Jin inside. The Cheese production claimed Park Hae Jin's team only gave permission to use the cover photo, but Park Hae Jin's side immediately shot back that the Cheese production only asked for permission on that one photo. I'm fairly certain who I believe in this he said-she said contradiction – it doesn't rhyme with Cheese and supports the side that is not a raging collection of douchebags. I genuinely wished this wasn't still happening because as much as it was a shitty thing that happened to Park Hae Jin his popularity and name recognition rose because of it, but the continued dismissal and disrespect for his hard work in this drama is still a bitter pill to swallow.
Park Hae Jin was standing behind Kim Go Eun in the original of the picture above but has been photoshopped out.
In the original script reading pictures, Park Hae Jin is on the far right of the frame, but in the picture that made it into the photo book he's been cropped out in the collage.