This was one perfunctory episode of Descendants of the Sun and it came so unexpectedly, an hour that felt more like a crawl at really no fault of any particular element. The story line was pushed forward in ways that seemed to check off boxes – contain viral outbreak, check; little girl in peril, check; bad guy makes his move, check; guys worried about their girlfriends, check; mopey doctor gets absolution, check. Don't get me wrong, the drama is still hella sleek and entertaining to watch but too much went on in episode 11 that came across as staidly plotted and with nary a well crafted twist in the mix.
Shi Jin and Mo Yeon either got less interesting now that they are dating, or their sizzle is predicated on flirting and banter and there was very little of that in this episode. Myung Joo and Dae Young missing each other was nicely played even if the odds of her dying from the M3 viral was next to none. Maybe Argus is the negative x-factor, anytime he's got more screen time everything just comes across stilted and forced, and it's not because everyone needs to speak English for those scenes. If the soldiers were able to thwart him that would help but he's so brazen it's hilarious how he's always one step ahead even when people should be on guard against him. I really hope this is a mid-series hump and the next episode gets back to business.
Episode 11 recap:
Mo Yeon and Myung Joo stare at the bloody diamonds retrieved from the Manager's stomach and teases that they should each take one since only they know how many were in there. Myung Joo gets serious and brings up how she said that she's not scared of anything as long as she's under the same sky as Dae Young.
Their talk is interrupted by Dae Young and Shi Jin returning, and based on Dae Young immediately grabbing Myung Joo for a tight hug, it's clear to the doctors what the test results are. Of the two doctors exposed to the M3 virus, Myung Joo is the unfortunate one who tests positive and Mo Yeon dodges this virulent bullet.
Shi Jin and Mo Yeon look devastated as Dae Young numbly hugs Myung Joo tightly. She asks that Dae Young be taken out of the room but he won't go anywhere and wants to stay with Myung Joo. Both are crying and Myung Joo is the first to pull apart from the hug, ordering Dae Young to do as she says. Next scene shows that Myung Joo is now isolated in the same room as the Manager.
Mo Yeon takes Dae Young's blood to test and explains to him about the M3 virus – it's even more deadly than Ebola with no known cure, but the chances of death are lower for younger people with stronger immune systems. Dae Young thanks her for the explanation.
Shi Jin and Mo Yeon discuss how certain people can have an adverse reaction to immunizations, and maybe Myung Joo's strong immune system might become a problem.
Mo Yeon directs the medical staff to set up the case as ground zero for the M3 virus spread, preparing quarantine zones and taking the blood sample of every person to check for exposure. Shi Jin mobilizes the soldiers to stay healthy by keeping sanitary while reminding them that their mission here remains unchanged.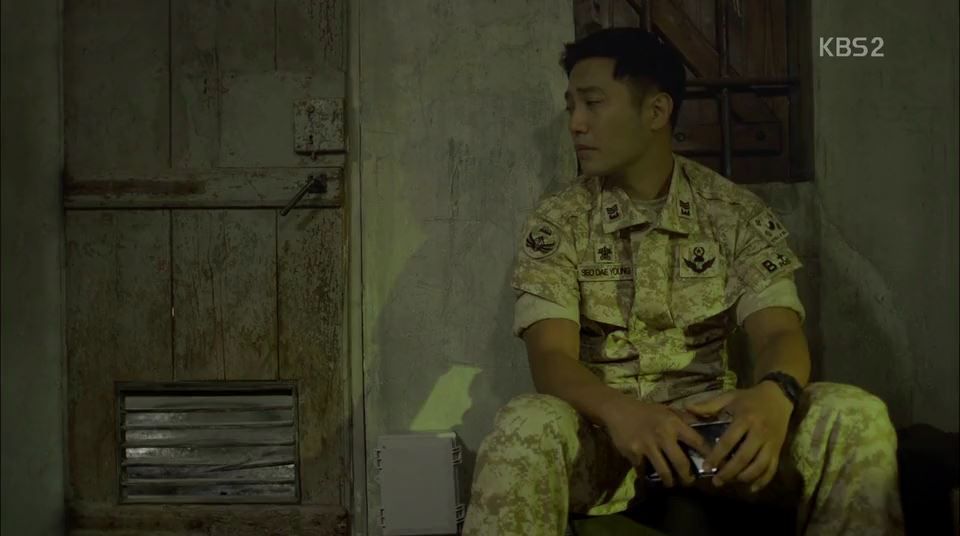 Dae Young is now in quarantine in the storage room and Shi Jin pays him a visit. Dae Young is apologetic for being out of commission during such a critical time but Shi Jin just wants him to buck up. He hands Dae Young a walkie talkie so he can communicate with Myung Joo in the hospital quarantine.
Dae Young calls Myung Joo with her own walkie talkie and two basically try to cheer each other on but end up crying with how much they miss each other.
Nurse Ha tends to still sick Dr. Song but he's well enough to flirt with her, teasing her about the much improved blood drawing skills, which she reluctantly admits is thanks to Dr. Song. He whines about missing her and she promises to be back before that thought crosses his mind.
Mo Yeon calls Daniel to confirm that the requested vaccines are being sent to the base. He also hears that the UN is tracking all the people who may have come in contact with patient zero the Manager.
Shi Jin updates Colonel Park on the situation on the base and the Colonel wants Shi Jin to take a big step back. Colonel Park wants the Manager and Myung Joo sent to the US hospital for treatment but Shi Jin refuses because patients can't be moved. Shi Jin insists on sticking to protocol and doing the right thing in this battle with an unseen enemy that is the M3 virus, otherwise there is greater risk to everyone. Colonel Park warns Shi Jin not to let any of the soldiers get sick otherwise none of them are going back to Korea.
The doctors in Seoul see on the news about the M3 outbreak in Urk and try to call their colleagues there but no one is picking up.
The hospital Managing Director is freaking out but not as much as Chi Hoon's mom who grabs him by the suit lapel to order his son back and he promises to do that when she threatens to pull funding on the hospital.
Ji Soo gets a text from Dr. Song asking for her to do research and send it to him, so they work in tandem to get the latest medical updates on the M3 virus. Ji Soo sends texts of the research while Dr. Song works in his quarantine hospital room. Cool beans.
Min Jae and Ki Bum visit Dr. Song and are wowed by how hard he's working even though he's sick as well. He likens this to sick soldiers still going to battle. Min Jae and Ki Bum deliver items to Myung Joo and the Manager and hear that he's stable but appears to have difficulty breathing. Talks goes to the diamonds taken from his stomach and Min Jae is shocked to hear how much its worth, and how much a person could risk life and death for that much money.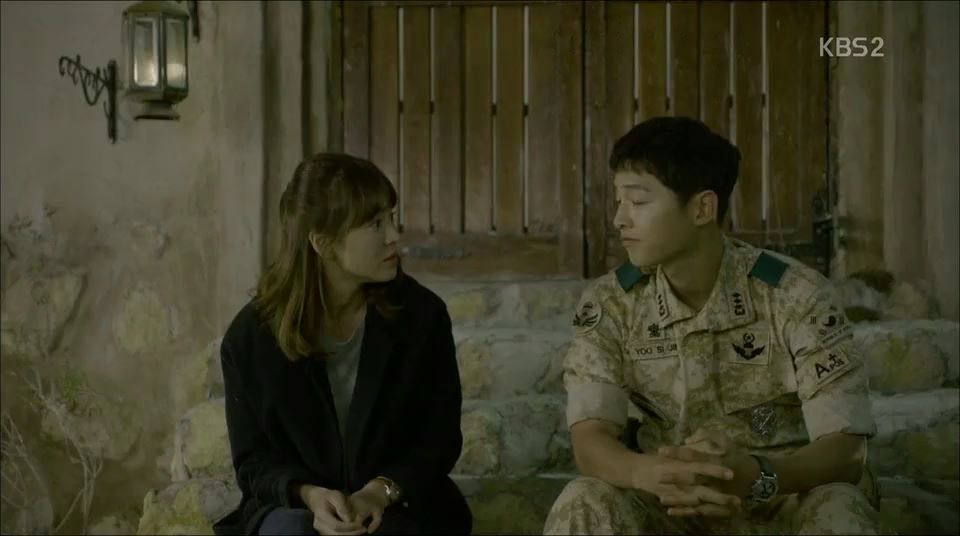 Shi Jin joins Mo Yeon outside to update her on the shipment of vaccines coming tomorrow. She's relieved so he lightens the mood by asking her blood type. Mo Yeon answers matter of factly "your ideal type" which gets a huge grin out of him. He tells her to be serious so she says the pretty type, or the doll type. They chuckle with each other and she promises to win this battle. He wants her to win it soon because he wants to be able to take her hand and hug her.
Mo Yeon checks on the remaining kids from the smugglers village and confirm the measles outbreak is over. The electricity goes out and Mo Yeon realizes that the machine helping the Manager breath won't work.
The Manager is foaming at the mouth and Chi Hoon goes to hold him down so that he can be sedated. Chi Hoon holds him down and orders Sargent Choi not to come in otherwise he will be exposed. The Manger bites Chi Hoon on the arm in his struggles and both Ki Bum and Min Jae cowering in the corner see that. Myung Joo sedates the Manager but his heart stops so Chi Hoon starts doing chest compresses. Chi Hoon keeps doing chest compresses and revives the Manager.
The electricity comes back on the Mo Yeon tends to Chi Hoon's arm bite. She tells him that he saved the Manager's life and is a real doctor now. Ki Bum and Min Jae leave after cleaning up and Min Jae locks eyes with Chi Hoon. He asks if Chi Hoon is infected now and hears that he needs to be quarantined to check. Min Jae says to Chi Hoon before walking out that "you looked like a real doctor back there" and Chi Hoon starts to cry. Chi Hoon assures Mo Yeon that he's not upset and is very happy because now he can finally make a phone call.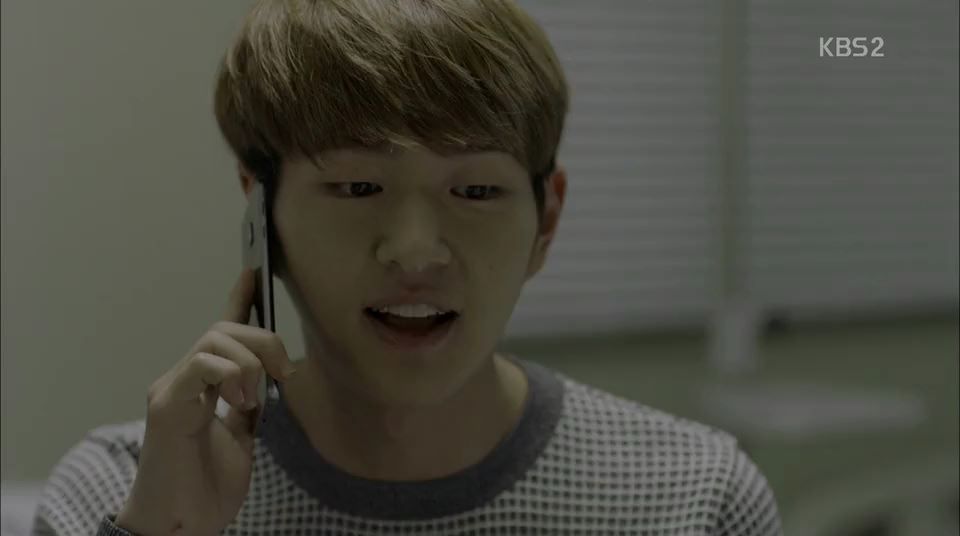 Chi Hoon is back to being happy go lucky and calls his pregnant fiancée too assure her that he's fine. She chews him out for a month of phone silence and was worried she would be a widow. Chi Hoon tells her many times how much he loves her.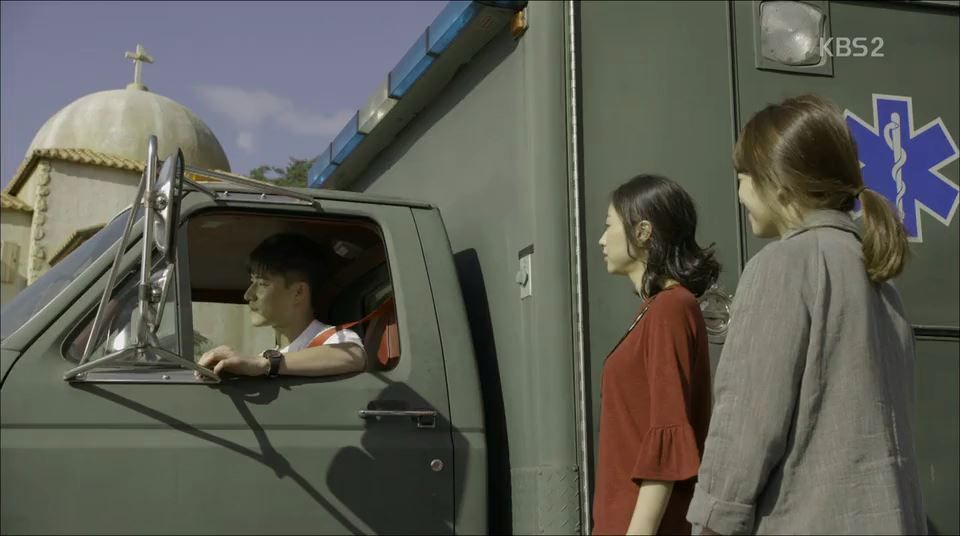 Mo Yeon sends the kids off with Daniel who is transporting them to safety.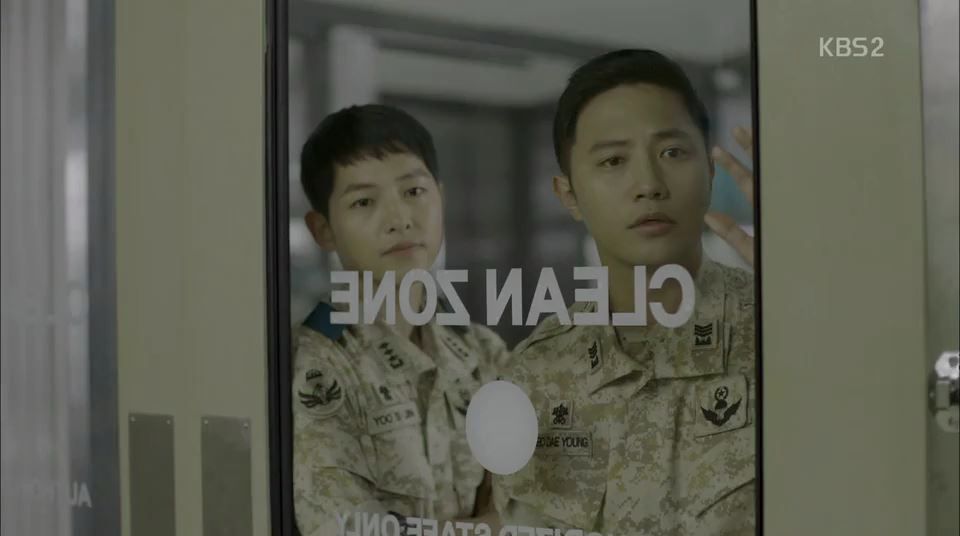 Min Ji brings great news that all the blood test results are back and everyone tested negative. Dae Young is released from the storage room quarantine and he immediately runs to check on Myung Joo who is sleeping. Shi Jin has even better news that there are no further outbreaks in the public, and after everyone gets vaccinated then the level alert can be lowered.
Shi Jin and Dae Young are called away to the dining room to tend to a situation. After they leave Myung Joo sits up and checks her phone but it hurts her eyes and looks blurry.
Shi Jin arrives at the dining hall to see Argus and his men there with the people from town here to get blood tests. He greets Shi Jin and the little girl and assures them that he's been tested negative for the M3 virus already by the US army who has been watching out for him lately. He wants to see his old friend the Manager who he hears is very sick. Shi Jin declines the request and tells him to scram.
Argus is willing to leave but leaves word that he has something very expensive and shiny being kept here and asks to check on it. Shi Jin won't since this isn't a lost and found and tells Argus to leave in ten seconds. He starts counting down and Argus reaches inside his suit jacket which makes all the soldiers grab their guns.
Argus pulls out two vials of vaccine to leave as gifts, asking the doctors to save his friend the Manager because he has a lot of things to discuss with him.
Argus saunters off and Dae Young can tell that Argus knows the US army is using him and also knows the capabilities on this base. Mo Yeon tells Nurse Ha that the results of the M3 blood test are back and she worriedly asks about Dr. Song's test results.
Nurse Ha pays Dr. Song and visit and he's all ready to leave because he knows his result must be negative, he just got a regular cold. Nurse Ha grabs him for a hug for worrying her and for that gets a wrist grab and hug back from Dr. Song. She gruffly orders him to let go but he has something he most wants to do since he was quarantined. He hands Nurse Ha a note which turns out to be a medical research he wants to quickly discuss with Mo Yeon.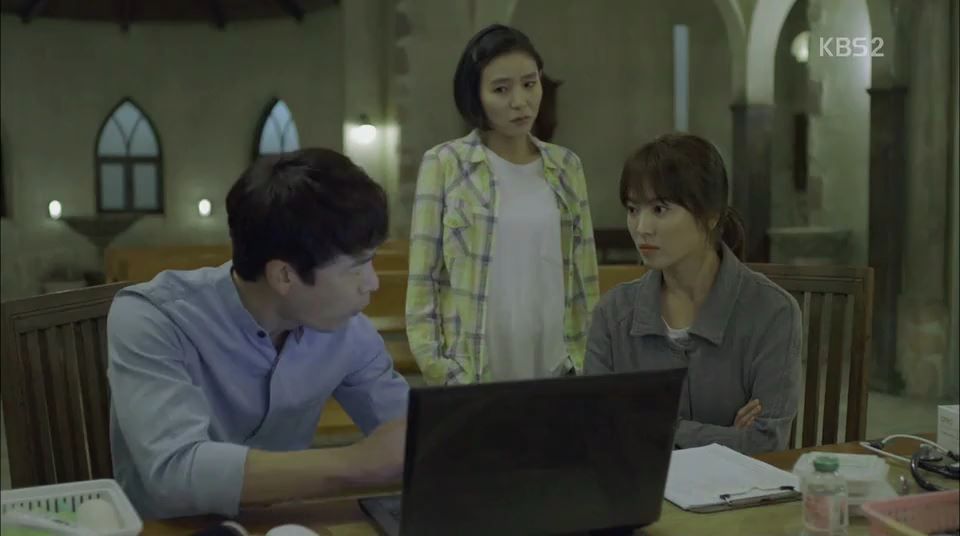 Dr. Song sits with Mo Yeon discuss how this experimental drug has been used in West Africa with the M3 outbreaks with a high success rate. He wants Nurse Ha to contact Daniel to ask for the drug which she already did before walking away annoyed at him.
Myung Joo is getting sicker in quarantine and places a call to her dad to tell him that she's sick. He's gotten the report so she asks why he hasn't called her. He knows that the survival rate is only 50% and there is nothing he can do as either a dad or a superior officer so he can only wait for her to call. Wait helpless as his daughter fights the battle.
Myung Joo vows not to lose the fight and asks for two things from her dad. She apologizes for saying that he was going to lose her as a daughter before she deployed. She also tells him not to ask Dae Young to change jobs if she survives and gets better. She heard what he said to Dae Young, turns out she hid outside to eavesdrop.
Myung Joo pretended not to know but she ended up crying when she was alone because she knows what he had to agree to to be with her. She knows her dad cares about her, but in the same way she cares about Dae Young. Her dad is happy that she's acting like his daughter because she's making him worry about her. Myung Joo hangs up the call and then passes out.
All the doctors convene to treat Myung Joo by putting her into an ice bath to lower her body temperature. Dae Young and Shi Jin are all worried and here that a new experimental drug is arriving soon from Daniel. She then gets a call that the Daniel was carjacked with all the medicine.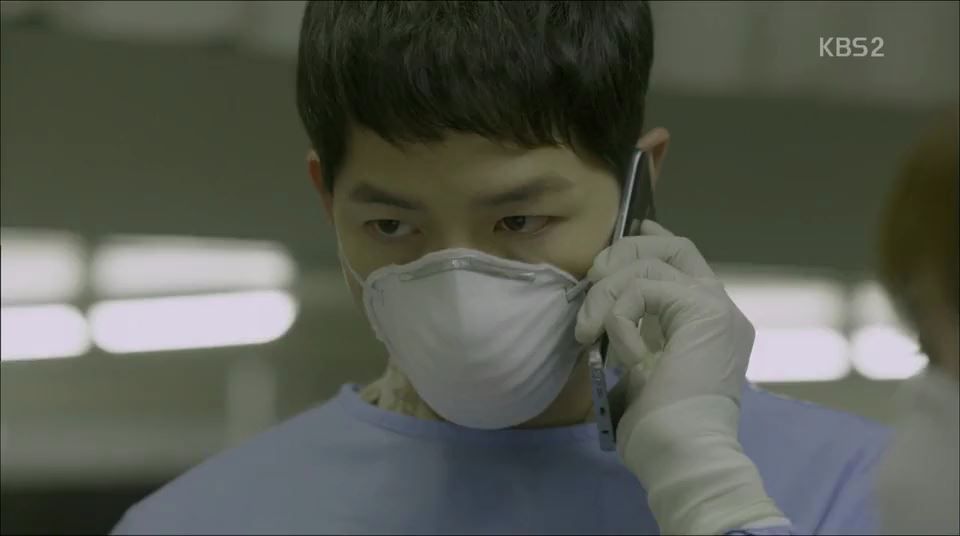 Argus calls Shi Jin to make a deal, the medicine for the diamonds. Shi Jin and Dae Young go to meet with Argus's henchman to exchange the diamonds for the medicine. Daniel goes to check on the truck to make sure the medicines are accounted for before driving it to the base.
Dae Young is in a pissed off mood and beats up Argus's henchman.
Myung Joo is suffering in the ice bath when Mo Yeon is called outside because the little girl is being taken away by local authorities for stealing medicine after being outed by the guy she was going to see. Mo Yeon says they gave it to her but the local authorities still want to take her in for attempting to sell it on the black market, including Mo Yeon for giving it to her.
Ye Hwa is talking with Ki Bum as she prepares Oriental medicine to help Myung Joo, even if it's not proven they need to do anything they can to help. Min Ji and Nurse Ha help Daniel unload the medicine and start treatment on Myung Joo and the Manager.
Shi Jin and Dae Young return to base and Dae Young immediately goes to check on Myung Joo. He takes her cold hand in the ice bath reassuringly and keeps her company until her temperature drops by the next morning. Dae Young plucks Myung Joo from the bath to move back to her bed.
Shi Jin is looking around for Mo Yeon and hear that she went to the local police station. Shi Jin rushes to the local police station and along the way pass the little girl with her mouth and hands taped together walking on the side of the road. She suddenly falls to the ground with a gunshot wound to the knee.
Argus's henchman walk out with Mo Yeon also bound and gagged and Shi Jin puts his gun down. Argus pulls up and feigns concern for the little girl as he tourniquets her leg. Argus asks if Shi Jin wants to die or wants his woman to die? Now is Argus's turn to call the shots so Shi Jin asks what he wants.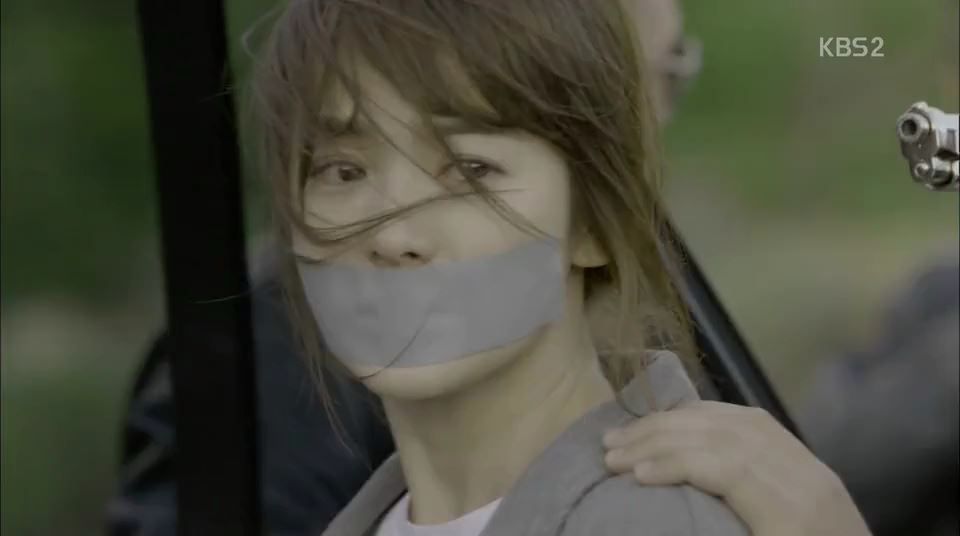 Shi Jin watches as Mo Yeon is shoved into a car. Argus explains that there is an arms delivery tonight and he knows that afterwards the US will kill him because he's of no use anymore. He wants Shi Jin to guarantee his safe departure from Urk and he'll keep Mo Yeon to make sure Shi Jin delivers. Shi Jin says in Korean that he promises Argus will die in his hands and Argus laughs that he is considering learning Korean because of Shi Jin.
Argus tells Mo Yeon in the car that he has a lot of good memories in Urk and Mo Yeon is the perfect woman to spend his last night in the country with. Shi Jin uses his walkie talkie to assure Mo Yeon that he will save her. He's a very capable man of his word so she needs to be brave and not cry and wait for him. Argus takes the walkie talkie and radios to Shi Jin that he's also waiting for him. Mo Yeon tearfully stares at Argus throwing the walkie talkie out the car window.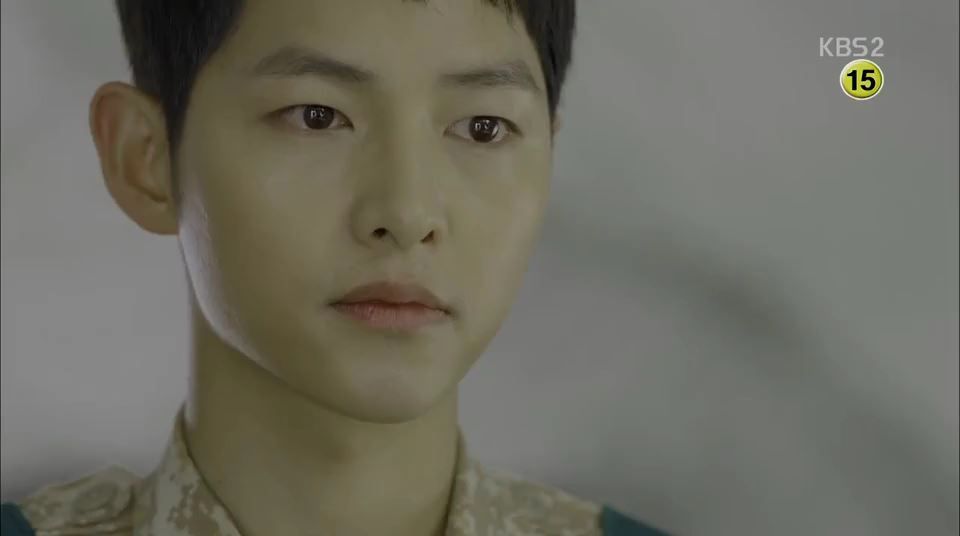 Shi Jin's eyes are red rimmed and filled with tears as he reports to Colonel Park that he needs to rescue a hostage. Colonel Park reports to the Blue House who has heard about the kidnapping. Colonel Park tries to deescalate the situation but Shi Jin says it's for sure a kidnapping. The aide wants Shi Jin to do nothing until things are verified but Shi Jin yells back that there is no time!
Shi Jin insists that he's going on a hostage rescue mission but he's told to put the interests of the country first and stop acting on his own accord. Shi Jin says "if it's a country that doesn't care about the life or death of its citizen then it's not a country that matters to me". He storms out of the tent but is prevented by soldiers from leaving the main base.
Shi Jin is ready to bust down the army gate door to drive off and takes a call from Colonel Park that he has three hours. In this three hours Shi Jin will not be Captain Yoo or a member of Alpha Team or even a Korean citizen, so he has three hours to be off the grid.
Shi Jin gets an update from Dae Young that Myung Joo is still unconscious but her fever has broken. Shi Jin tells Dae Young that he's heading out for a bit. Shi Jin puts on his all black incognito outfit and buys arms from the waitress at the bar. She wishes him luck on the mission.
Argus takes off the tape on Mo Yeon's mouth and she tells him in Korean that he's not going to get anything from her. He hits her with the butt of the gun and orders her to speak English, he's a scary man and she should be aware of that since he warned her of the dangers of being around men who carry guns.
Argus says Big Boss is a funny capable man but also a man of many secrets. He often disappears and can't be reached, and one day he'll just poof never come back. She should break up with him, this isn't a warning so consider it advice. Mo Yeon keeps speaking in Korean, calling in trash who doesn't need to know what she's saying to him.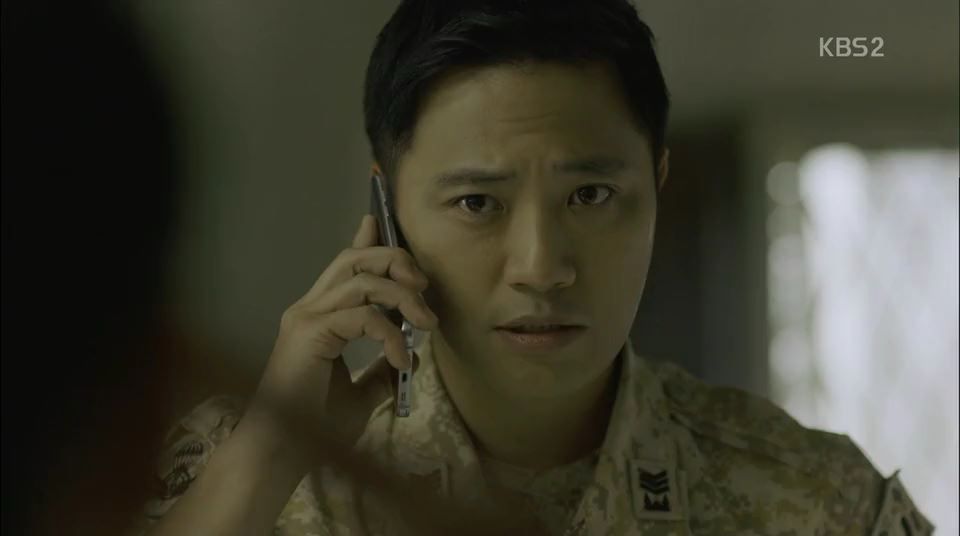 Dae Young tries to contact Shi Jin but gets no response. He hears from Sargent Choi that Shi Jin left the base and Mo Yeon hasn't been seen since last night when she went to the local police station. Dae Young knows something bad has happened as he sees Shi Jin's army uniform and dog tag on the bed.
Shi Jin places a call to the bodyguard of the VIP patient they rescued asking to use the other card now to ask for a helicopter. Shi Jin drives towards the sunset.
Thoughts of Mine:
This was the first episode of DotS that I'm not too keen on but even that decreased affection doesn't have a significant impact on how much I'm still enjoying this drama. The doctors response to the M3 outbreak felt so low key, and the quarantine appeared so grade school in safety. How the heck does Chi Hoon think running inside without gear on to help stabilize the coding patient makes ANY sense? Even in life and death situations the doctor would take a minute to put on necessary gear especially if it's available in the facility. I'm glad Chi Hoon is a happy puppy again but his redemption story was poorly executed and Min Jae being around was so awkwardly shoehorned since he has no reason to be helping with either the soldier or medical duties around the base. At least that puts an end to scenes of Chi Hoon crying, which juxtaposed with awesome Dr. Song being sick but still all around professionally doing his job makes me wish the medical mission just sent senior docs on the trip and leave the green ones back in safe Seoul.
Mo Yeon is capable as a doctor, no doubt, but she is totally idiotic as a person making non-medical related decisions. Why why why would she go with the local police when they tried to take the little girl, and do so without bringing soldiers along for protection. It's so ridiculous I almost couldn't make it through her kidnapping scene because I wanted to tell Argus to scare some sense into her. If she was just doing her job and Argus barged in to kidnap her then so be it, but to deliver herself to blaring danger makes me want Shi Jin to break up with her and date a less impetuous type. I don't know why Argus needs Shi Jin to guarantee his safe departure from Urk after the weapons deal goes down, he must have resources in his means to handle his own logistics, and involving Shi Jin seems so risky since it's always a bad idea to force people to do one's bidding. This whole thing went down like Kim Eun Sook was writing a rescue plot from her romance novel tower.
The good parts of the episode were the down time to see characters doing things, like Dr. Song and Nurse Ha interacting, or Myung Joo's call with her dad when they hashed things out. Perhaps her brush with death killed two birds with one stone, making Dae Young understand just how deeply he loves her, and forces her dad to see the bigger picture that his concerns over Dae Young are not that important. Since Mo Yeon escaped getting infected with M3, the kidnapping story line puts her in a different kind of danger and the type that special forces soldier Shi Jin can try to resolve with his own ability. I hate solo rescue story lines because it's inherently unrealistic, only in small doses does it skate by my snark meter but a long scene shakes up the rhythm too much. Shi Jin does look ahhhhhmazing in all black with that cap on his head, going rogue and even buying black market weapons. Mo Yeon's defiant attitude with Argus is pretty pointless and I wish she would just refuse to speak with him and wait quietly to be rescued. But then again, that wouldn't be as dramatic, and goodness this drama needs a steady stream of stuff to happen like on an IV drip schedule.
This might be my first less than enthusiastic recap but I still love the drama overall and this episode really wasn't all that. It also served as a stark reminder that this drama hasn't hooked me completely on the characterizations and interactions, to the point where I am viscerally engaged even when the going gets bumpy. There are plenty of lesser quality dramas that have me in a gut hold hostage so that anything happening would send my blood boiling, but I remain a sane and sensible watcher with DotS, and this episode was mostly all sorts of nonsensical. The things I liked took a backseat to narrative progression, sadly it progressed to the very plot point that remains weakest in the story, namely Argus and his band o' gang of mercenaries. He's such a larger than life caricature of a villain, even his tanked bromance with Shi Jin doesn't mean anything because we never feel for him as a person with feelings and complexities. The drama remains solid in execution but I want more of the plot elements that go to the heartstrings, like the earthquake aftermath and the romantic posturing. If ever there is a side character that should die in this drama, whether deservingly or not, it's gotta be Argus just so his arc doesn't need to get rehashed yet again. I'll suspend my disbelief further in the next episode so that Shi Jin going all Rambo on Argus and his men will feel thrilling rather than fantastical.
Click here to watch Descendants of the Sun.