Descendants of the Sun has been all about the fictional developing country of Urk for the last ten episodes but the action moves back to Seoul in episode 13 just in time for a lovely breather. It starts to tie up ends left loose while the medical team was overseas, but not in too tidy of ways just yet. I wonder just how long the volunteer mission was for as time wasn't tracked all that tightly, it could have been a few weeks or a few months, but many volunteers have come back changed internally but still acting the same outwardly. It's hard to transform inside and out but for Mo Yeon the most obvious change has been the gap bridging journey to pick Shi Jin.
Life back at Hae Sung hospital isn't what Mo Yeon expected but follows believably with her tendency to do things and then try to scramble about it afterwards. Her big "I quit" speech to the Managing Director takes an unexpected turn for her but I'm sure everyone who knows her were fully expecting she'll mess it up. Shi Jin seems less dangerous and deadly back in Seoul, expertly toggling that wide schism because playful young man and scary competent soldier. As a boyfriend in the real world environs of Seoul, he is as doting as possible but finding that last minute date mishaps basically need to be built into every single moment he spends with Mo Yeon. Talk about needing a Plan B from the start.
Episode 13 recap:
Mo Yeon returns to Seoul with her medical team and the gang head into Hae Sung hospital together. Everyone stops in their tracks to see the Managing Director waiting for them in the lobby, along with all the doctors toting a welcome home banner. Dr. Song immediately reverts to brown nosing the Managing Director while Chi Hoon exchanges a beaming smile with his fiancée.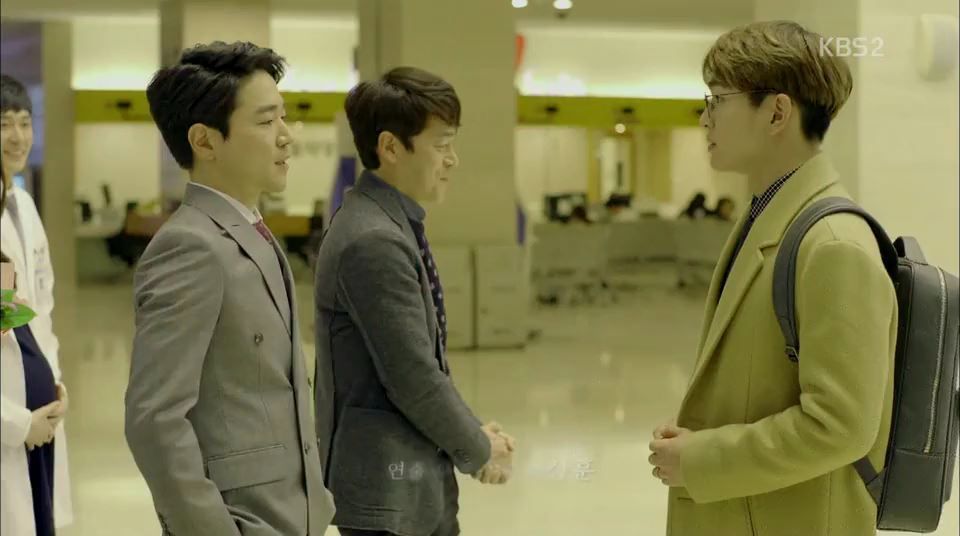 The Managing Director wants Chi Hoon to tell him mom that everything is fine now that he's back. He also informs the returnees that there is a bonus waiting for them for a job well done.
The Managing Director reluctantly walks up to Mo Yeon and shoves a bouquet of roses in her arms. He starts to berate her for not coming back as he sent that airplane specifically to retrieve her, and he was so upset when she elected to stay in Urk longer. Wow, he's such a considerate lover boy. NOT.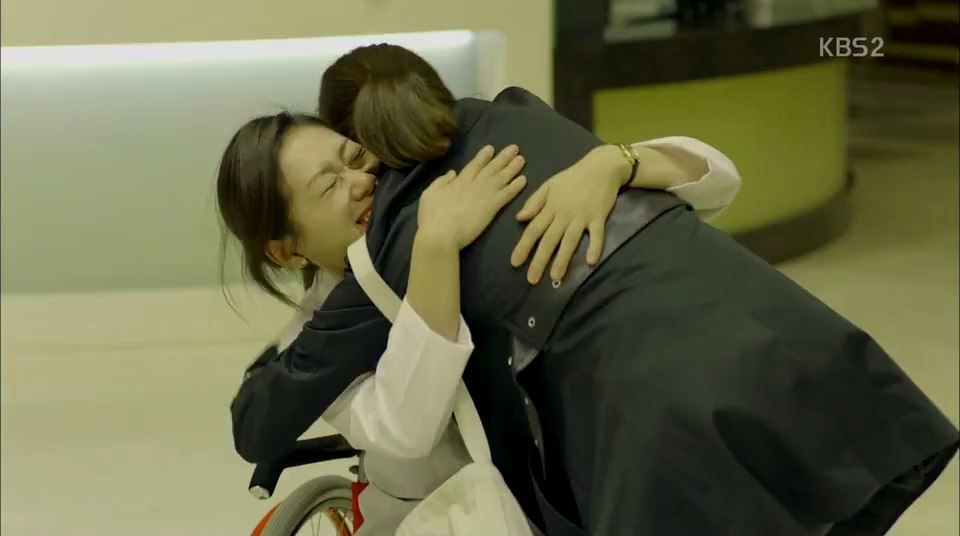 Ji Soo wheels herself out to greet Mo Yeon and the two besties hug enthusiastically. Awwww, this was so worth a reunion scene.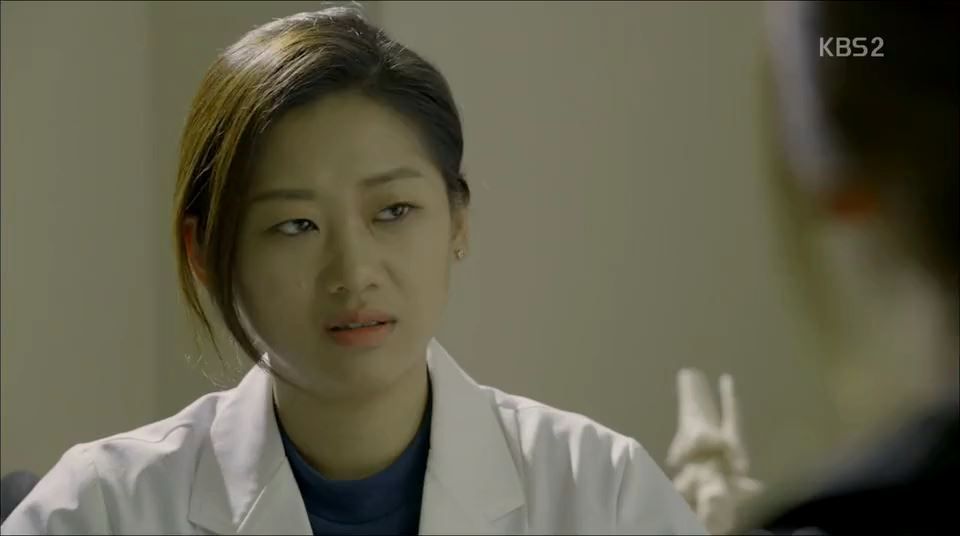 Mo Yeon regales Ji Soo with the exciting tales of Urk thinking Ji Soo wants to hear about the earthquake while Ji Soo wants to hear about Mo Yeon's wild romance. Mo Yeon asks if one of her junior doctors who came back early told everyone at the hospital about her Urk soldier boy but he pleads innocence as news spread already before he got back.
Ji Soo is super excited to hear what it's like to date a special forces soldier and Mo Yeon nonchalantly brings up having a truck stuck on a cliff and wearing a bomb vest and escaping death. All stuff she never though would happen to her, that's all.
Mo Yeon calls Shi Jin in Urk and misses being back there. Mo Yeon asks how much Shi Jin makes and he pretends the connection is going bad. He assures Mo Yeon that if she loses her job then Alpha Team will find her a position with them which makes Mo Yeon smile. She assures him that she won't lose her job.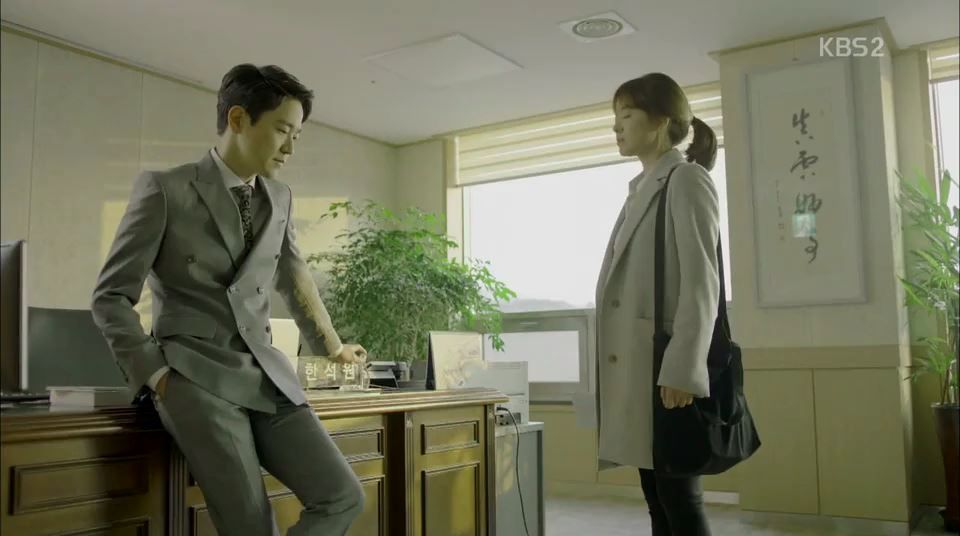 The Managing Director apologizes to Mo Yeon for that night in the hotel room, he was wrong for assuming he could treat her that way. Mo Yeon figures she was the first to slap him and then apologizes for quitting her job on the first day back in Seoul. The Managing Director doesn't want to give up on Mo Yeon and asks what he needs to do. Mo Yeon says he can quit his job and demands that he process her resignation within the week.
Mo Yeon meets with her banker on getting a practice loan and is shocked to hear that she's been turned down. Her conditional acceptance was when she was a star doctor at Hae Sung and without that job she's not approved for the loan now.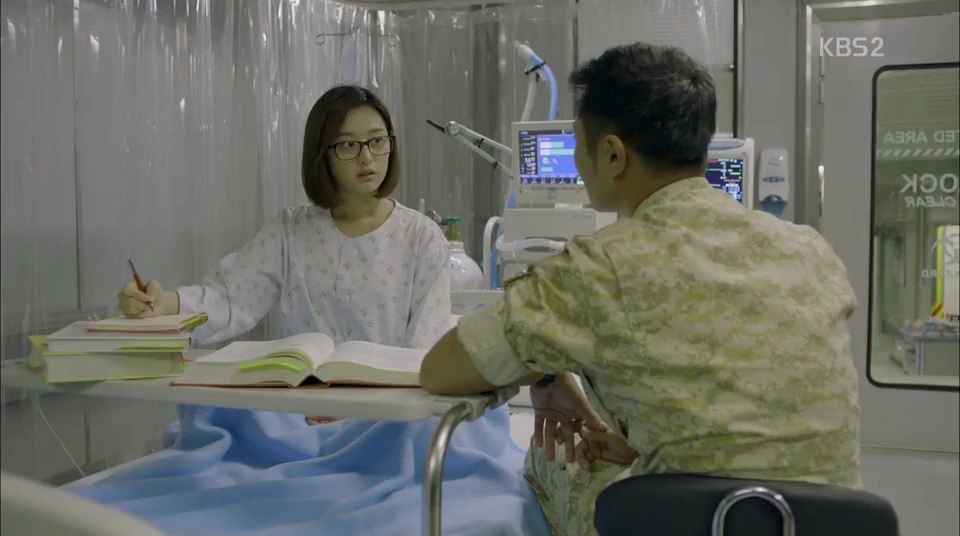 Dae Young is keeping Myung Joo company in her recovery room as she does continuing medical studies. He asks if she wants to just be a doctor from now on but she sees herself as being good at both, a doctor who provides diagnosis and a soldier who provides care and protection.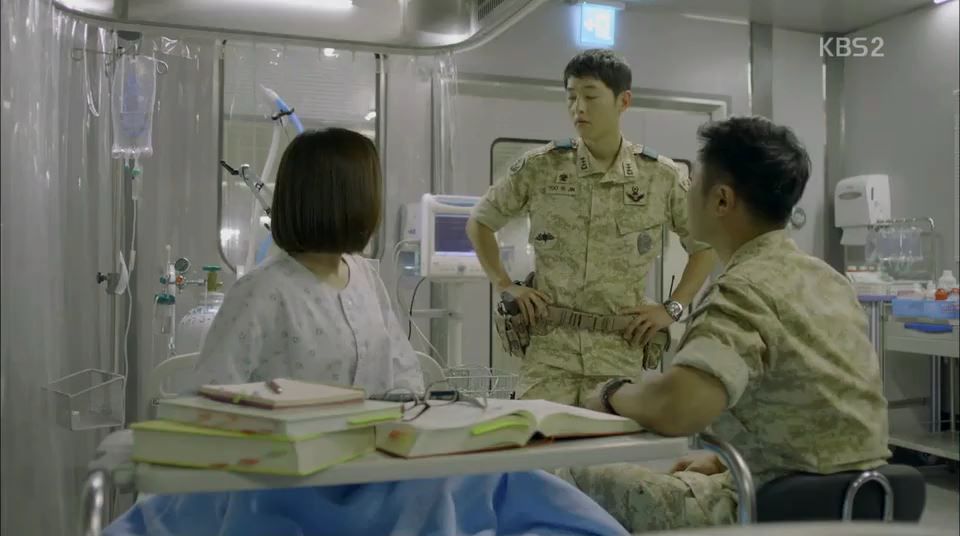 Shi Jin interrupts bearing transfer papers for Myung Joo which allows her to return to Korea with Alpha Team. She wonders if her dad pulled strings but Shi Jin takes credit for this transfer. Dae Young and Myung Joo are both curious how Shi Jin pulled it off.
Shi Jin went to Colonel Park to ask that Myung Joo be transferred back to Korea with them, reminding Colonel Park that he suggested sending Myung Joo to the US army hospital when she was sick. He must feel so bad about that now, right? Colonel Park asks if Shi Jin is blackmailing him but Shi Jin just wants to help Colonel Park be caring of his subordinates. Shi Jin really would be general material at how good he is at sly manipulation.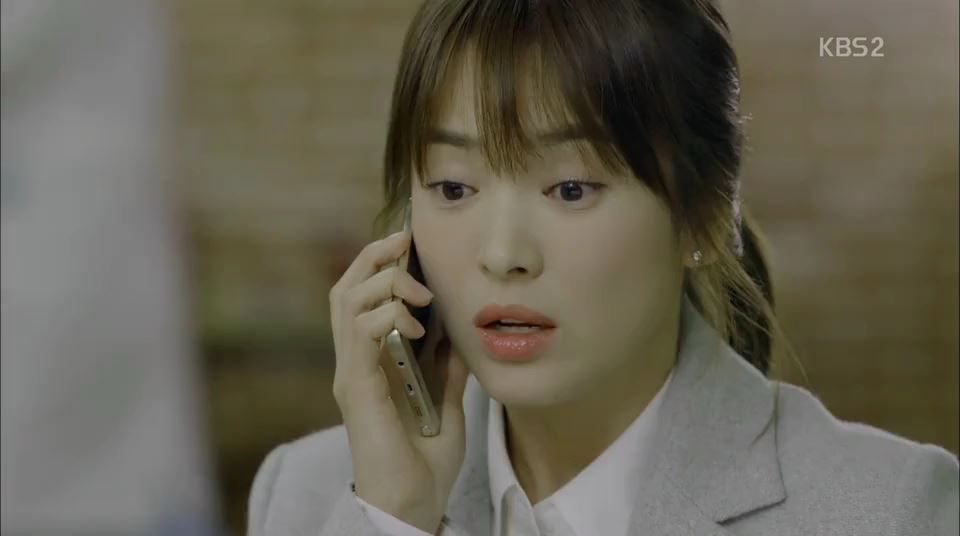 Shi Jin takes a call from Mo Yeon where she frets about not being able to get a loan now. Shi Jin wonders why she resigned first before getting a loan, shouldn't it be the other way around? How could she be so short sighted? Mo Yeon angrily tells him to stay in Urk and not come back to Seoul to such a short sighted girlfriend!
Mo Yeon is sitting with her medical team who witnessed this conversation. They suggest she ask the Managing Director to reconsider but Mo Yeon is too prideful to do that. The table starts to shake and everyone dodges underneath only to realize there is construction going on outside.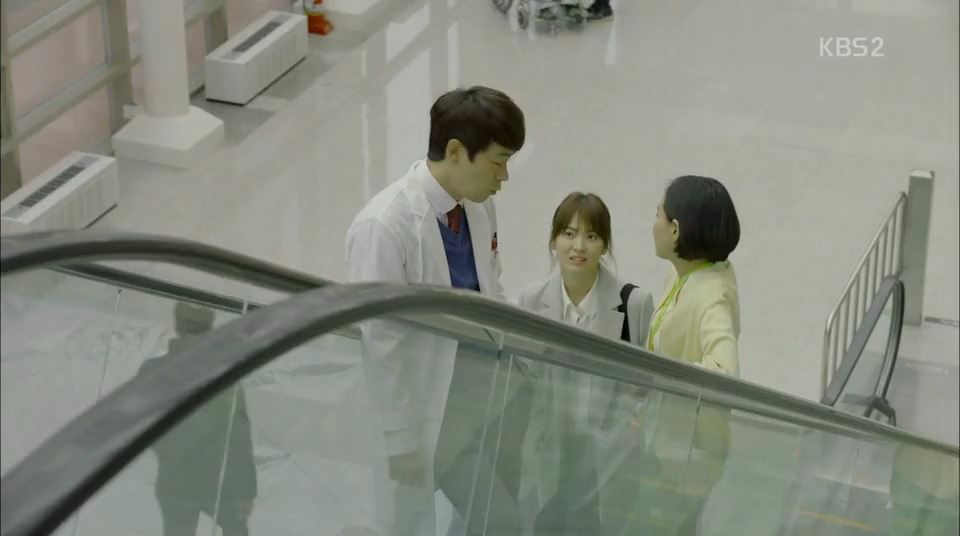 Dr. Song wonders if the Urk team needs some psychological evaluation now but Nurse Ha thinks Dr. Song was mentally odd to begin with.
Mo Yeon brings a basket of flowers to the Managing Director along with a sincere attitude that she wants to stay because she's been at Hae Sung for eight years since she was a resident. The Managing Director takes her back but assigns her to the ER, starting with night shifts. Mo Yeon adopts a conciliatory attitude and agrees to work the ER which is the face of the hospital. He hands back her resignation letter and asks her to come to him if she can't handle it in the ER anymore, he'll make her a VIP even over working the VIP rooms as the doctor. Ugh, he's beyond gross.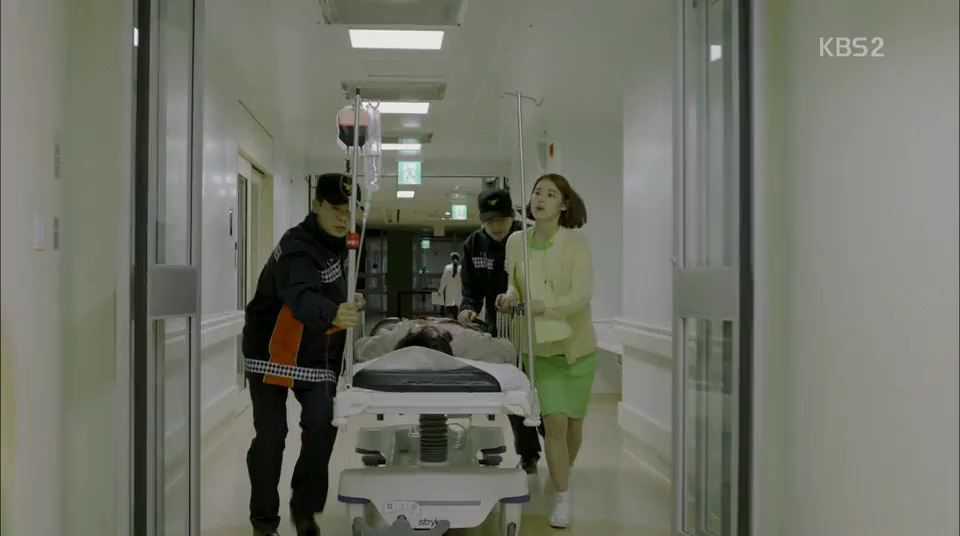 Mo Yeon starts her shift in the ER which is probably a step down from the crazy work load in Urk. She's ready to work hard again and get through this period.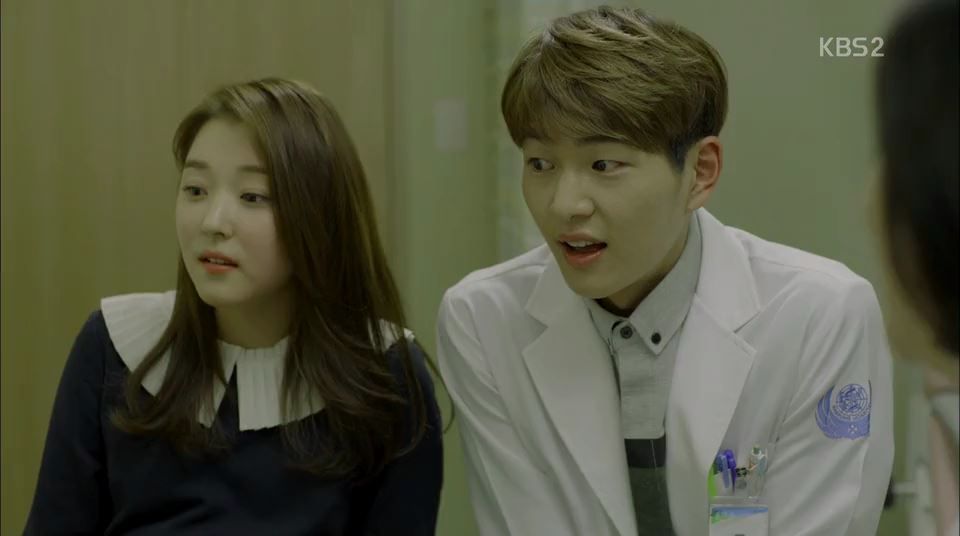 Chi Hoon and his fiancée get an ultrasound to check on the baby and is told to abstain from sex for now until the baby's arrival shortly. Their awkward expressions are adorable.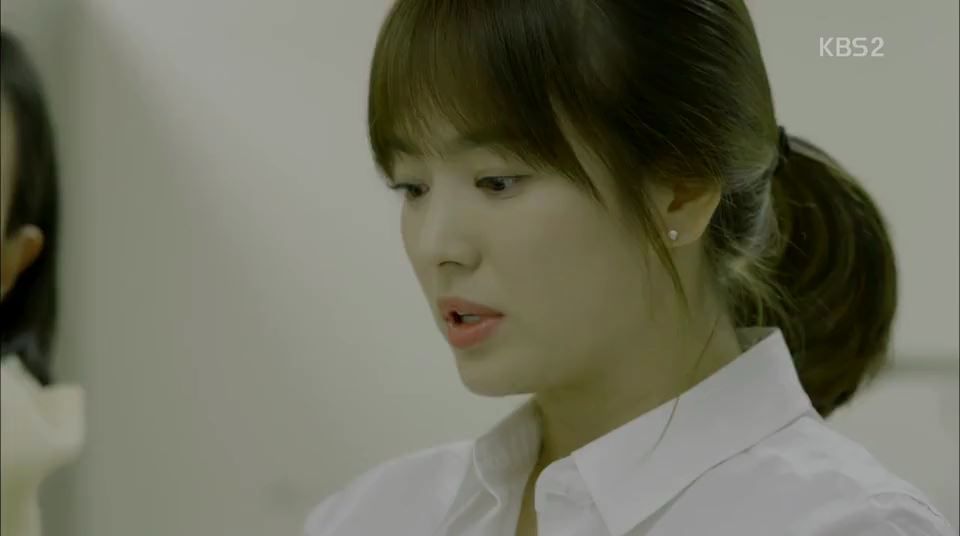 Snarky Dr. Kim runs into Mo Yeon in the commissary and starts to snerk about how Mo Yeon went to volunteer and instead spent her time falling in love with a soldier. Mo Yeon snerks back asking if Dr. Kim went into the wrong OR while she was away or ruined any surgeries? Mo Yeon takes the high road first, explaining that she doesn't want to bicker with Dr. Kim anymore as she learned a lot while volunteering and just wants everyone to live happily.
Dr. Kim follows Mo Yeon to the table where her medical team are sitting and tells her not to feel all superior for going to administer some shots and take some pictures. Everyone is so pissed they are ready to tear into Dr. Kim for being so flippant about what they endured in Urk.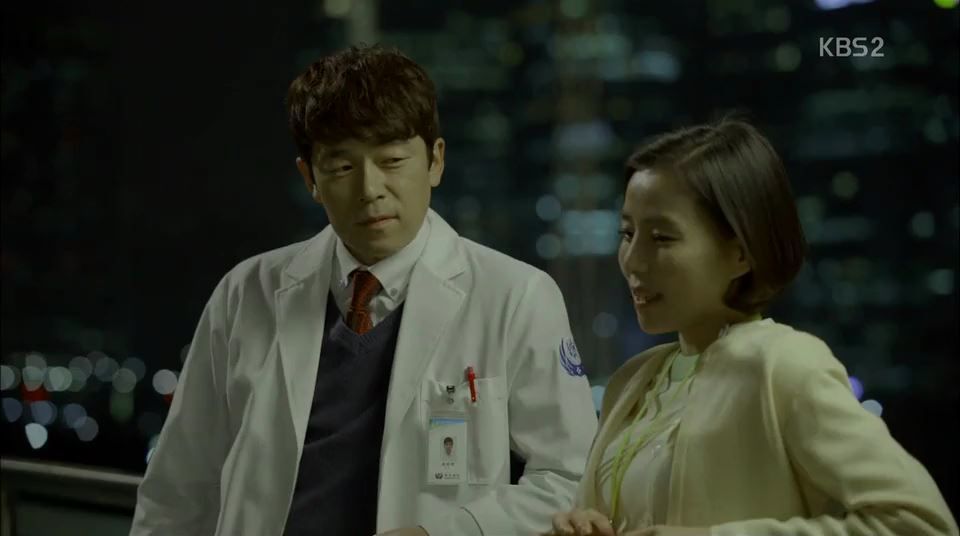 Up on the rooftop, Nurse Ha chats with Dr. Song about Dr. Kim's attitude, if Nurse Ha could live again she would choose to be as full of it and clueless as Dr. Kim because it's an easy way to live. Nurse Ha is using her bonus to help pay for her little sister's tuition and tells Dr. Song not to butt in when he offers to help.
Sargent Choi finds the soldiers laying around doing face masks in the barracks. Dae Young tells him to join them since he's about to see his wife for the first time in six months. Sargent Choi thinks it'll be fine, he'll just turn off the lights at home, lol. Dae Young puts his mask on Sargent Choi before heading out.
Dae Young goes outside to brood over General Yoon's request that he quit the army after he gets back and goes to work at Myung Joo's grandmother's company. Myung Joo joins him to get out of the hospital room for some fresh air. Dae Young picks her up and set her down on a rock, noting that she's lost weight in the recent illness. He blocks the sun for her before saying "I love you, Myung Joo." She's worried why he's so open and asks if he wants to break up.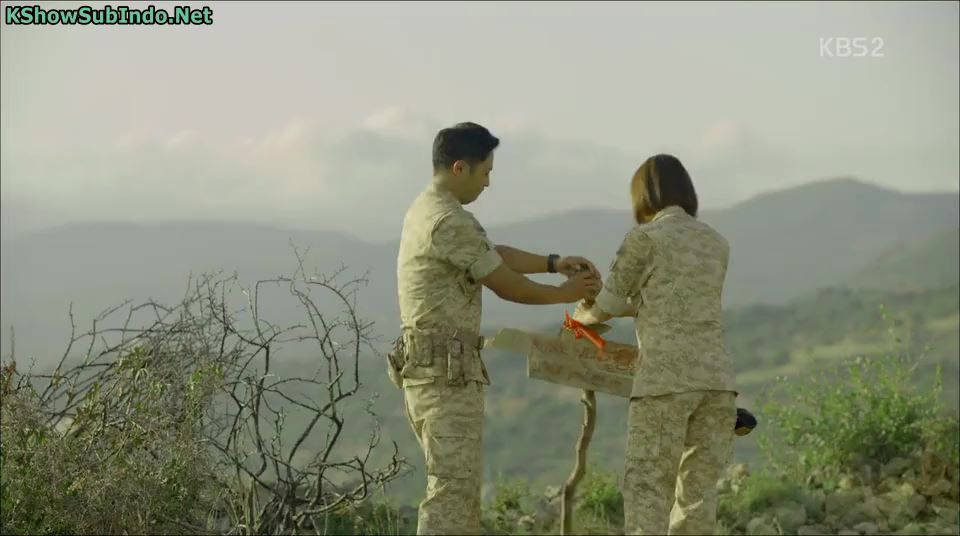 Dae Young doesn't want to break up and plans to love Myung Joo forever. She starts to cry and smile as he keeps blocking the sun for her. Dae Young and Myung Joo go to remove the landmine sign from the area that's been cleared and he takes her hand as they walk off.
The soldiers arrive back in Seoul and Alpha Team checks into their barracks before giving an official report to their superior officer. They are given a three day three night vacation and told not to stay on base.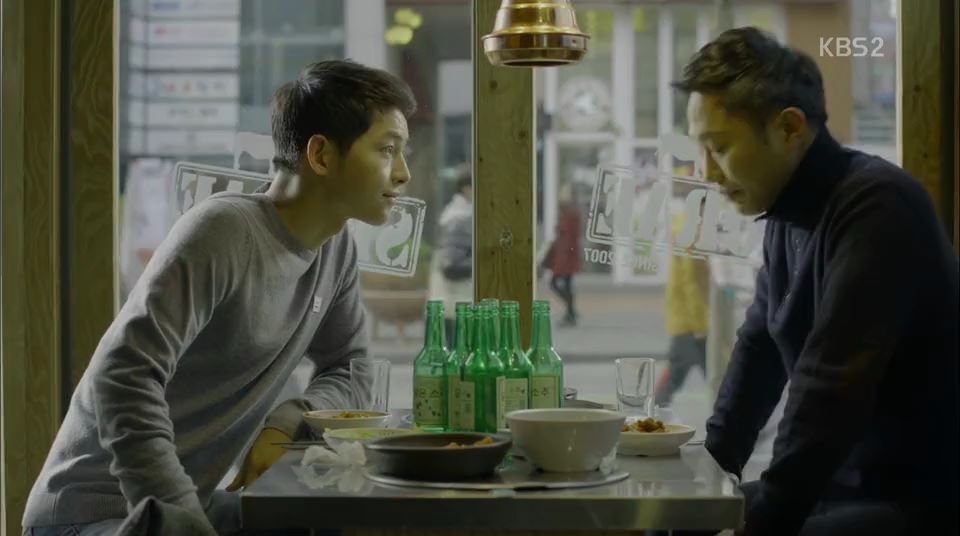 Dae Young fills out a transfer application and hesitates for a long time before starting to write. Afterwards Dae Young and Shi Jin sit down at a restaurant and start drinking for their promised three day three night bender.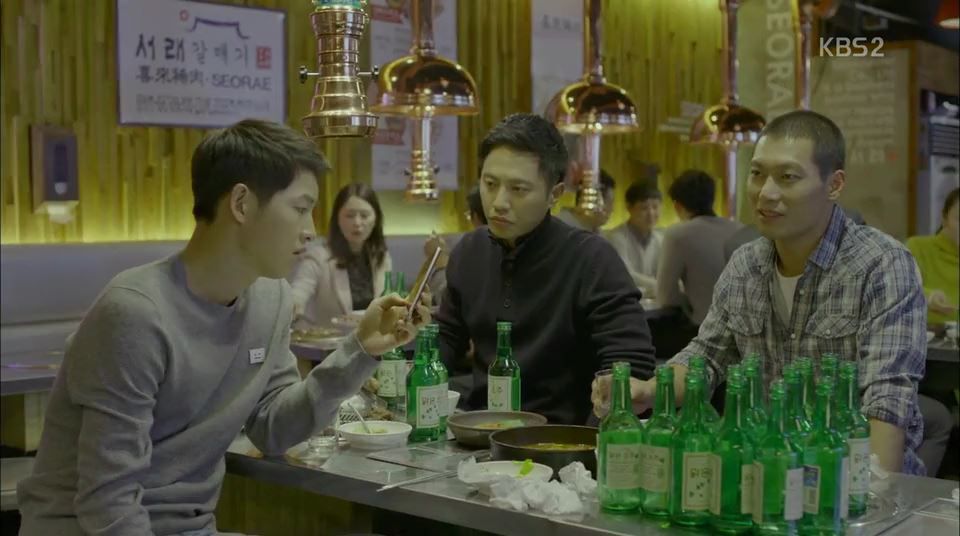 Shi Jin starts calling around and mutters about people not picking up the phone. Dae Young points out that the one who shouldn't pick up did and we see Sargent Choi has joined in. He explains that he turned the lights off and was lucky he wasn't nearly beaten to death.
Mo Yeon rushes to the restaurant in the morning after her night shift is done and finds a bunch of drunken soldiers with Myung Joo. Mo Yeon is upset that Shi Jin is seeing her for the first time all drunk since she got all dolled up to welcome him back to Korea. Myung Joo hands off the drunk soldiers to Mo Yeon so she can return to base since she's not on leave. Mo Yeon wants Myung Joo to take Dae Young with her but hears that it's going to be three days three nights here.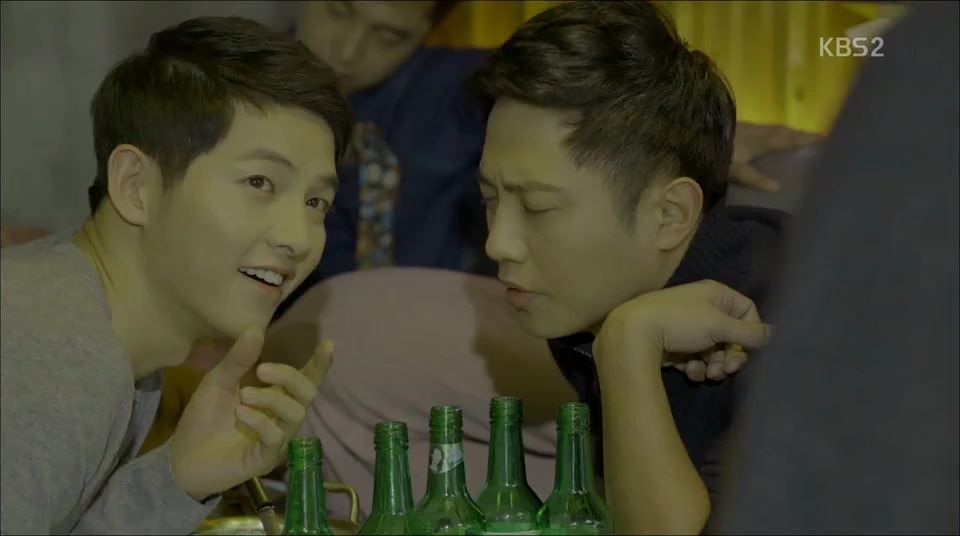 Drunken Shi Jin and Dae Young discuss which girl is prettier, the one who just left or the one who just arrived.
The drinking continues as more soldiers arrive that night, and by the morning it's just Shi Jin and Dae Young again. She Jin tells a sleeping Dae Young to wake up before he starts to pass out. They continue drinking and ask the owner for more soju.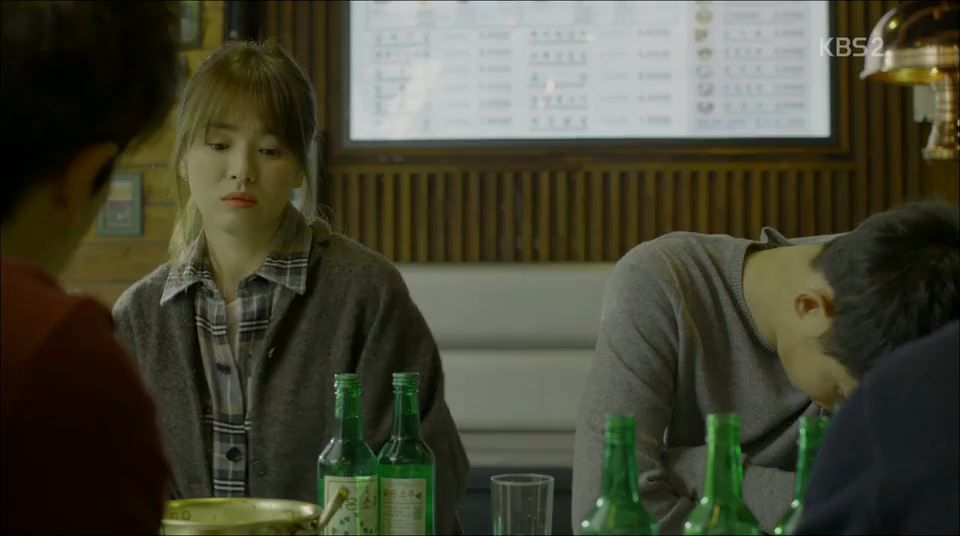 Mo Yeon returns to find Dr. Song has joined Shi Jin and Dae Young. Shi Jin calls her the pretty girl from yesterday and vows to talk to her. He asks if Mo Yeon knows him? Dr. Song says the girl is Shi Jin's girlfriend and he's super excited. Mo Yeon starts to drink as Shi Jin passes out next to her.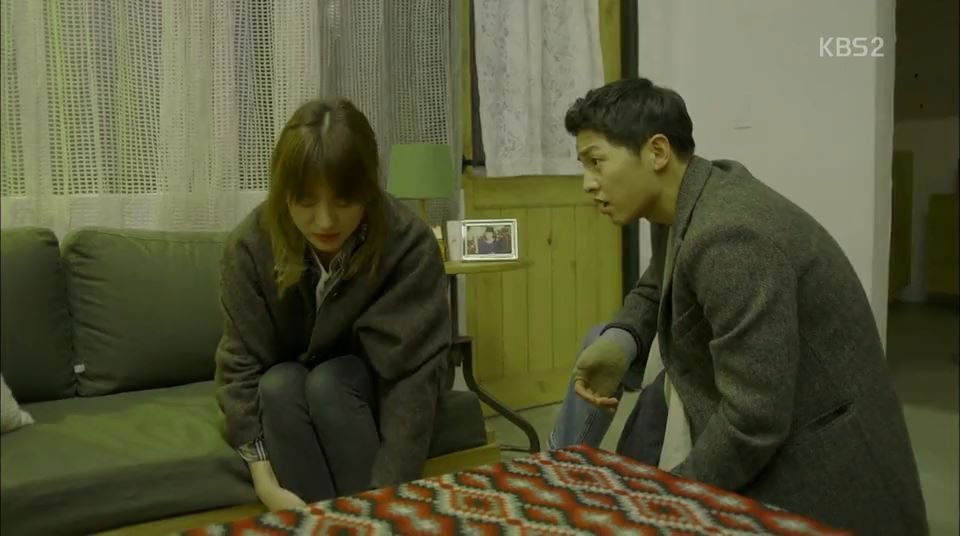 Shi Jin takes a drunk Mo Yeon home and asks her to take off her shoes and rest. Mo Yeon won't take off her shoes at someone else's home and gets all excited thinking Shi Jin said they should have fried chicken and beer.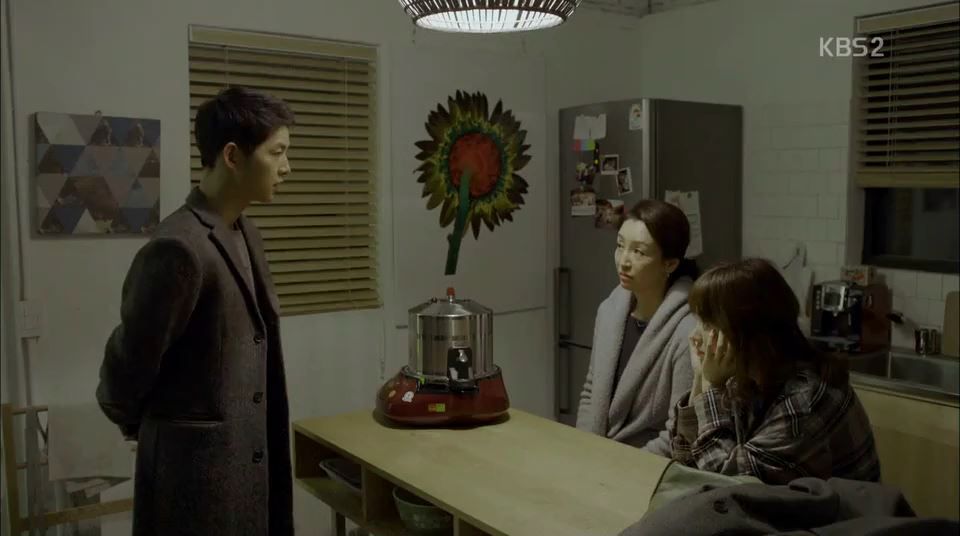 Shi Jin snaps to soldier mode after hearing a noise and his investigation unearths Mo Yeon's mom's things laying around the kitchen. Oh snap! Mo Yeon's mom reveals herself with a smile and proceeds to ask who this man is?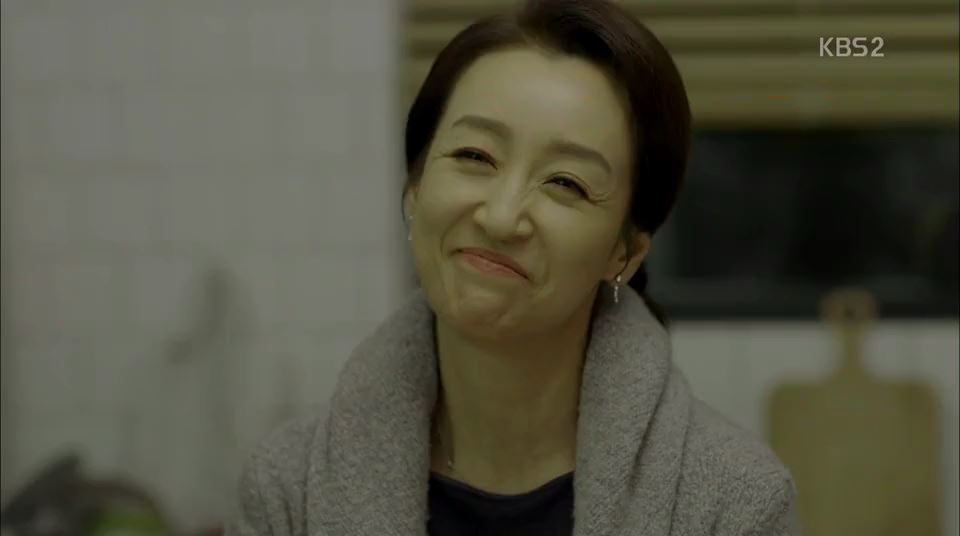 Mo Yeon is super drunk and says this good looking man is her boyfriend. Mom apologizes for Mo Yeon's drunken state which Shi Jin finds really cute. She asks his profession and hears that he is a soldier, and says its good to gets a regular salary but is not regularly at home. He thinks she's referring to him but Mom is referring to her Mo Yeon who lives at the hospital.
Mom wonders why he's just standing there, did he do something wrong? Shi Jin is all tongue tied and says he didn't. Mom wonders why not and Shi Jin says he's ready to…..and then stop himself because that sounds wrong, Mom totally likes his innocent boy style. Her Mo Yeon is the same, all she knows to do is study and has only held a guy's hand at most. Mo Yeon drunkenly brings up her medical school sunbae and the Managing Director, telling Mom that Shi Jin knows about those guys already. Mom takes her leave and tells Shi Jin to stay since she's not that conservative. Awesome Mom! Shi Jin tells her to stay with Mo Yeon because he's that conservative and takes his leave.
Shi Jin goes to Subway and gets a text from Mo Yeon to order first. He shows the order to the employee and then pays with his cell phone. PPL fighting!
Shi Jin asks Mo Yeon as they sit down to eat what her mom thinks of him? She wonders when he met her mom and that gets him so jealous, warning her to never drink again. Mo Yeon laughs at riling him up but then Shi Jin gets a call and tells Mo Yeon that he needs to go to the department store, their code for a mission. He apologizes and Mo Yeon says that's fine, asking him to watch a movie with her when he gets back. She wishes him a successful mission.
Dae Young and Shi Jin are at NIS and have exchanged their soldier uniforms for bodyguard all black suits. Colonel Park is there as this mission 1029's commanding officer.
The bodyguard team is assigned their weapons and their mission is to guard a high level North-South Korean talk in Pyeongyang. They are even assigned pens that they can use to commit suicide by stabbing their carotid artery. Ouch. On the North Korean bodyguard team is the commander from the beginning of episode 1 who sparred with Shi Jin. They discuss having another sparring session but Shi Jin isn't going to go easy. Instead he asks the commander as host for traditional North Korean naengmyun (cold noodles). During lunch he hears that the commander will not be leading the bodyguard team going to Seoul for the next round of talks as the commander will be on furlough then.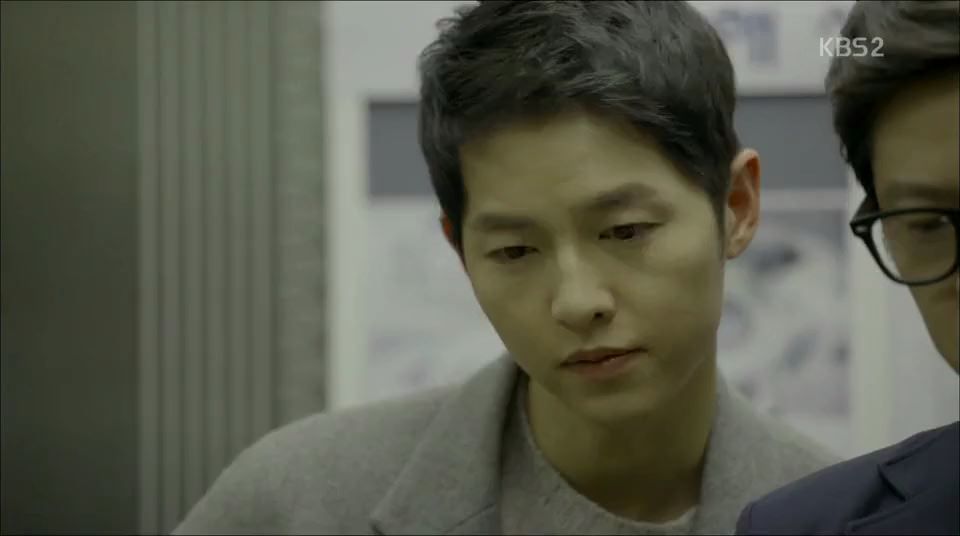 Shi Jin is at the hospital and gets into the elevator with the Managing Director who starts asking his minion for an update on Mo Yeon. He hears that she's working hard in the ER and the flowers are still being sent daily to her but she isn't accepting it. He asks about Mo Yeon's reported soldier boyfriend but the minion can't get any information on the guy. All he has is a picture and it's the one of the soldiers and medical team all together.
The Managing Director is all pissed since he can't tell which of the soldiers is the boyfriend. Shi Jin interrupts and points to himself in the picture and says the boyfriend is this guy – Captain Yoo Shi Jin. The Managing Director and minion are excited until they realize the guy in the picture is standing right there.
Shi Jin gets off the elevator first and the Managing Director follows to stop him to talk. He checks out Shi Jin and tries to bluster, asking if Shi Jin is good at fighting and really all that. Shi Jin is all smiles and brings up the Managing Director taking Mo Yeon to a hotel on their first date. Shi Jin warns him to be careful, Shi Jin is really good at fighting.
Dr. Kim wants Mo Yeon to cover her night shift but Mo Yeon refuses, even if she's covering night shifts now she'll do it for everyone except for Dr. Kim. Shi Jin walks up after finishing his department store shift and Dr. Kim asks for an introduction. Shi Jin says nice to meet you and introduces himself as Mo Yeon's boyfriend Yoo Shi Jin. Mo Yeon heads off with him as Dr. Kim pouts about why a soldier can be that handsome.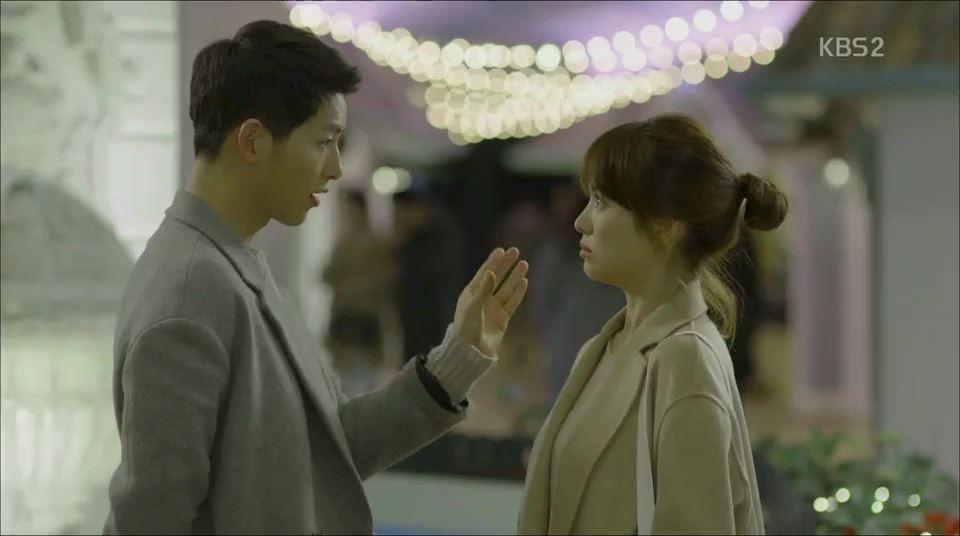 Mo Yeon is upset that Shi Jin said nice to meet you to that sly fox at the hospital even after Mo Yeon made it so clear with her attitude that she didn't like Dr. Kim. Shi Jin tells her to not be upset if she knew who he just ran into. She realizes it was the Managing Director and decides to change the subject to buying him dinner and randomly admiring the water fountain.
Shi Jin teases about wanting to talk about the Managing Director and then puts his hand around her neck. She thinks he wants to strangle her but in truth he's brought her a present and wanted to make sure it fits. Shi Jin puts a sun shaped diamond necklace around Mo Yeon's neck and they walk off hand-in-hand, though she still claims to be the type of woman who can't get bought by baubles.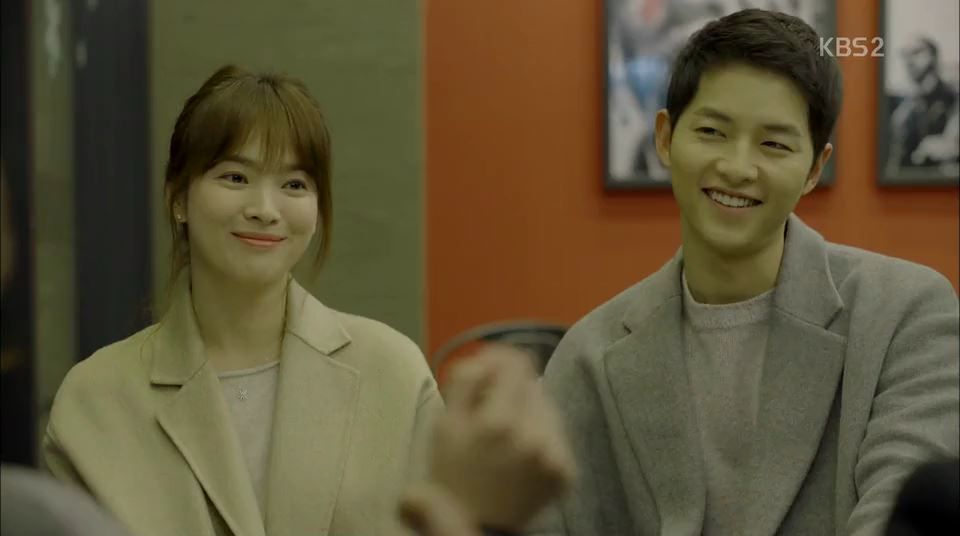 Shi Jin and Mo Yeon join Dae Young and Myung Joo at the coffee shop from the first episode. The waiter remembers them, telling the two men they had different girlfriends last time. A rabbit and a bear, right? Dae Young points to Myung Joo as his real girlfriend while Shi Jin calls Mo Yeon his comrade. Myung Joo wonders why they came with stuffed animals and hears about the attempt to get the phone back.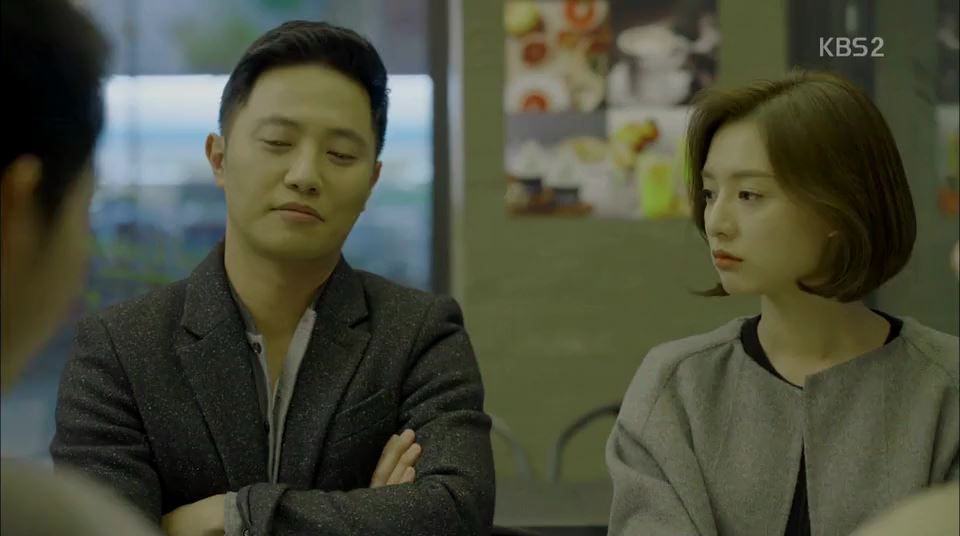 Mo Yeon realizes that it was the day they met and they exchange fist bumps. Dae Young shows Myung Joo the pictures from his phone that he wanted to get back. She doesn't see any pictures of her, just pictures of cars with license plates. Dae Young says it's all pictures of Myung Joo because all those time they would go drink and he couldn't drive her home so he snapped those pictures of the car service he would call for her. Myung Joo swoons over her loving boyfriend and even Mo Yeon finds Dae Young really cool.
Mo Yeon brings up how Myung Joo knows the swipe password to Dae Young's phone and hears that Myung Joo set it up for him. Shi Jin is upset and tells Dae Young that his phone comes with an instruction manual to set it up. Dae Young is happy with it because it's one of a kind. Mo Yeon and Shi Jin want to leave this too lovey dovey couple but is told to stay.
Myung Joo is still in a great mood as Dae Young drives her home until she realizes he's driving her straight home. She reminds them that they are adults in a relationship and he doesn't want to take her home that early as well. Myung Joo sees a call that she wants to decline and asks who it is, is it that medical school sunbae. Myung Joo assures him that it's not so Dae Young puts his car on auto pilot before leaning over to glance at the call. He puts the call on speaker and hears his subordinate reporting to on his daily activity to Myung Joo. He orders the subordinate to make ramyun and wait for him to get home.
After the next light, Dae Young puts the car on auto pilot again before leaning over to kiss Myung Joo. She's all ready so he pauses and claims he's not going to kiss her a punishment, before leaning in to kiss her deeply.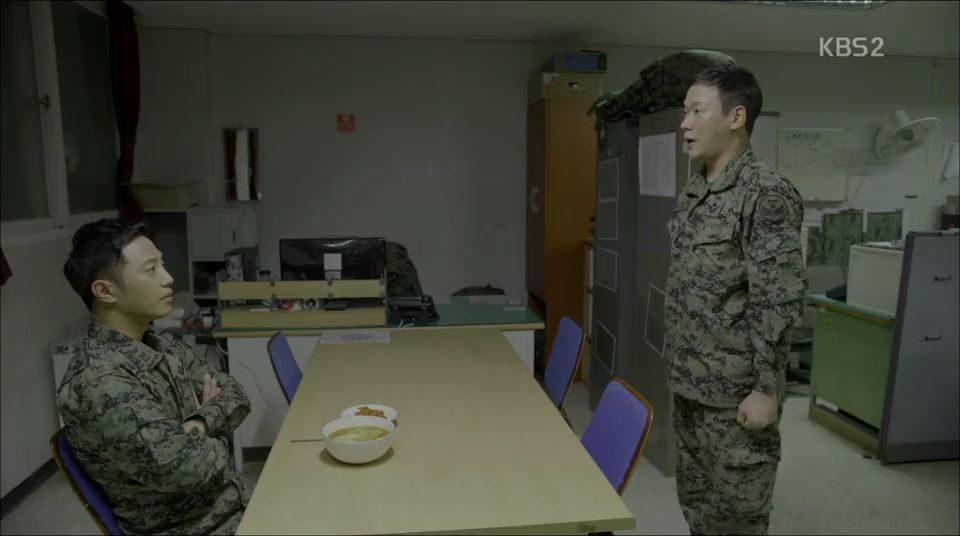 Dae Young is eating ramyun while the subordinate calls Myung Joo to report that Dae Young is back on base and as handsome as ever. Dae Young pauses when he hears that General Yoon is going to be on base tomorrow.
Dae Young is summoned to meet with General Yoon and Myung Joo. He's handed a dossier on his transfer request out of the military. Myung Joo begs her dad not to force Dae Young to quit the military. General Yoon tells Dae Young that Myung Joo asked her dad not to make Dae Young quit if she survived her illness. To Dae Young that is a decision between Myung Joo and her dad and unrelated to the promise he made to quit the military.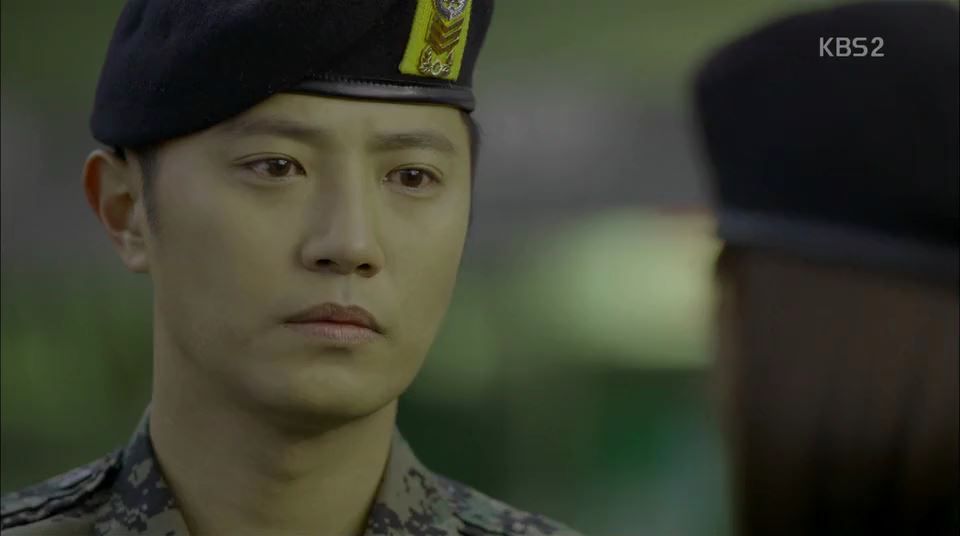 Myung Joo orders Dae Young outside to talk and she's upset at hearing this news like this. Dae Young wants to be with her forever and that's most important. Myung Joo brings up how she used her life to get that promise out of her dad but that makes Dae Young even more upset that she did it. Myung Joo asks that he should have discussed it with her. Dae Young did, all the time he was avoiding her it was a discussion of their future.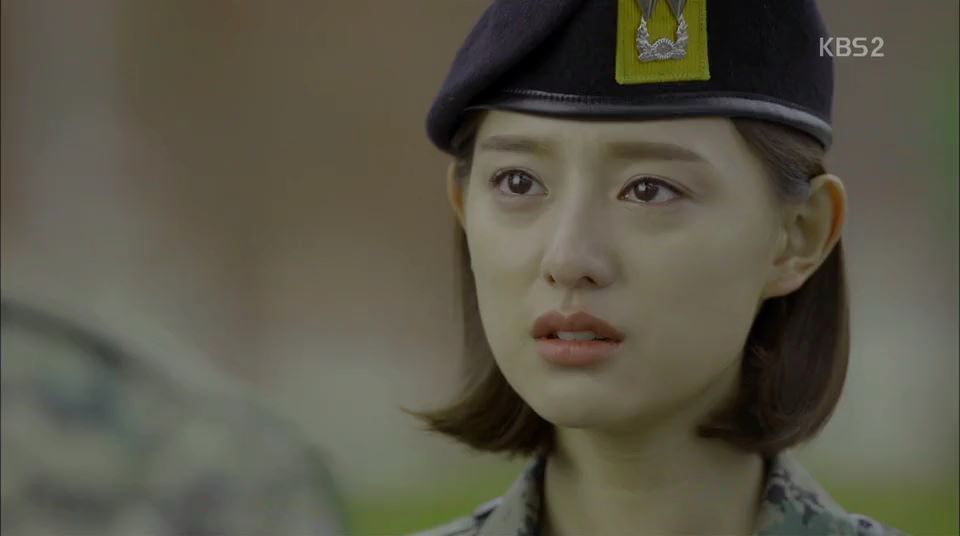 Dae Young doesn't want a future with Myung Joo if it's based on General Yoon relenting with her life on the line. Myung Joo tells Dae Young she doesn't want to start with him then, if his life is worse because of her then she doesn't want that. She wants him to be happy. Myung Joo turns and walks away from Dae Young.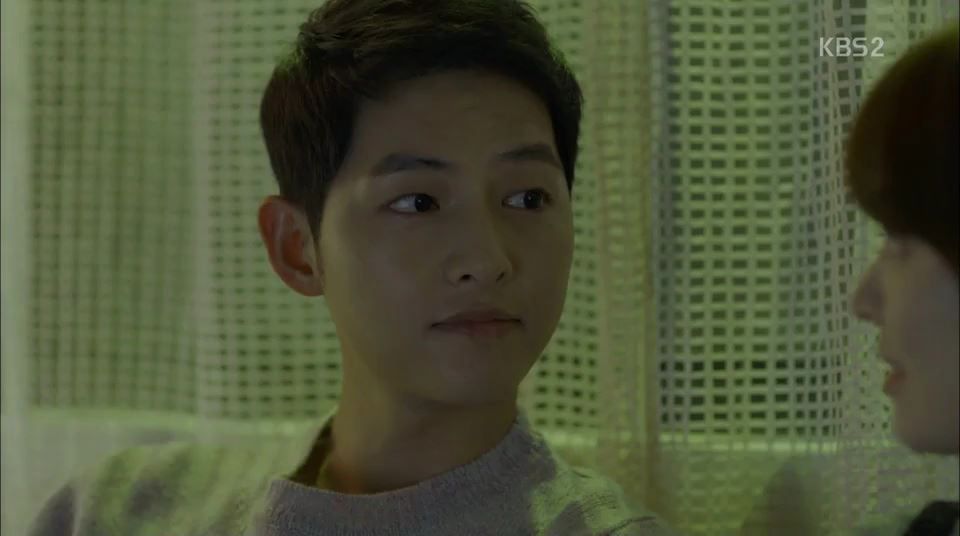 Shi Jin and Mo Yeon sit down in her apartment to watch a movie and he's happy to be back to the start. Mo Yeon says they need to go back to the start, that beach where they picked up the rock. Shi Jin promise that they will go back.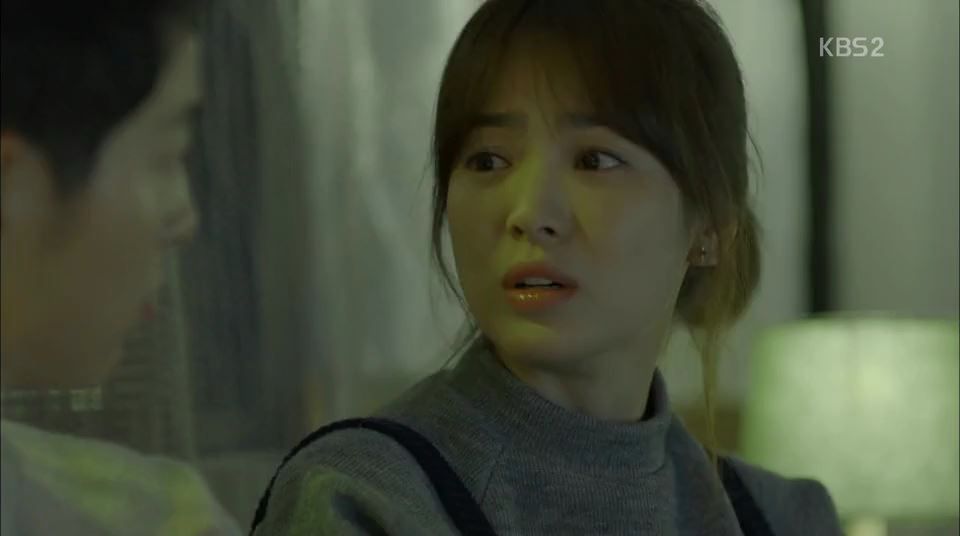 This time it's Mo Yeon who get a call to go to the ER. She apologizes and Shi Jin tells her to go, he'll stay and finish the movie. Mo Yeon knows he's using her earlier words again and tells him no go. Shi Jin sighs at missing a movie yet again.
Shi Jin and his team are on the mission starting with a run through exercise. He notices Dae Young munching on a candy bar and asks why he's not sharing. Dae Young says it's not enough to share and even though he bought two he ate both. Shi Jin is shocked to hear about a break up but before they can talk further they are interrupted by the arrival of the North Korean commander from the first episode.
An ambulance arrives at the Hae Sung ER and the first patient wheeled out is the North Korean commander who is all bloody suffering from gunshot wounds. Mo Yeon expertly sends him to the OR before she covers her mouth in shock at seeing the second patient laying on the gurney – it's a bloody and unconscious Shi Jin. This scene is intercut with scenes of Shi Jin seemingly getting shot in the parking garage multiple times before falling dramatically on the ground.
Thoughts of Mine: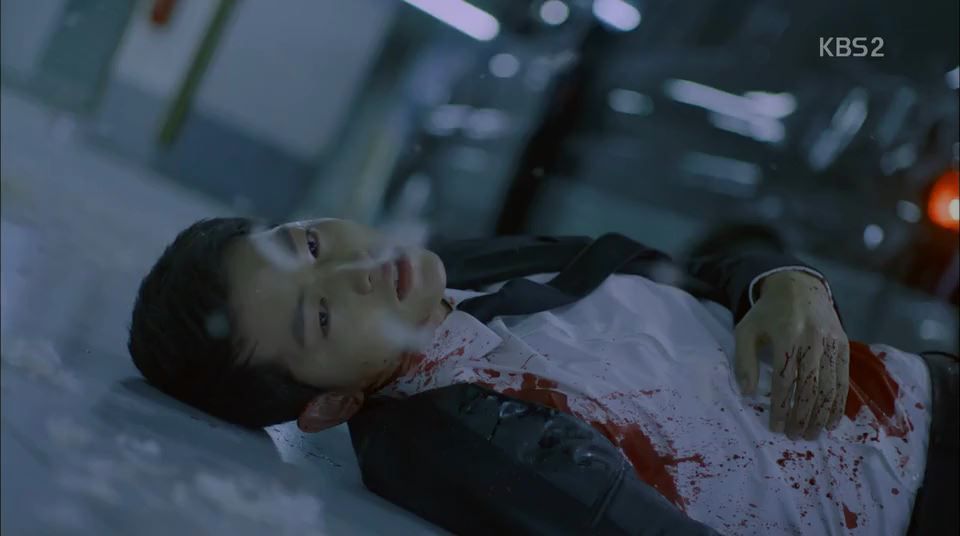 I'm going out on a limb here and saying that there is a high chance the ending to episode 13 is a feint. Neither Shi Jin nor the North Korean commander is injured, this might be a rehearsal ending point to see how well the hospital reacts to trauma patients. I just feel like it happened so abruptly and using a plot point that I expect to close out the last arc of the drama, namely Shi Jin at the edge of death. I fully expect Shi Jin to be always on the brink of perilous danger but the drama can't milk the same emotions twice, and so far Mo Yeon was almost killed and Myung Joo close to dying of an infectious disease. There is still Dae Young to put in dangers way, and for a main character like Shi Jin it has to be saving the most intense for last. I also like that North Korean commander and am hoping his storming back into this drama in this episode. Plus Dae Young is nowhere it be seen, how could the two men be injured that severely and he's fine? Shi Jin has seemed superhuman up until now, I hope he's not felled this easily.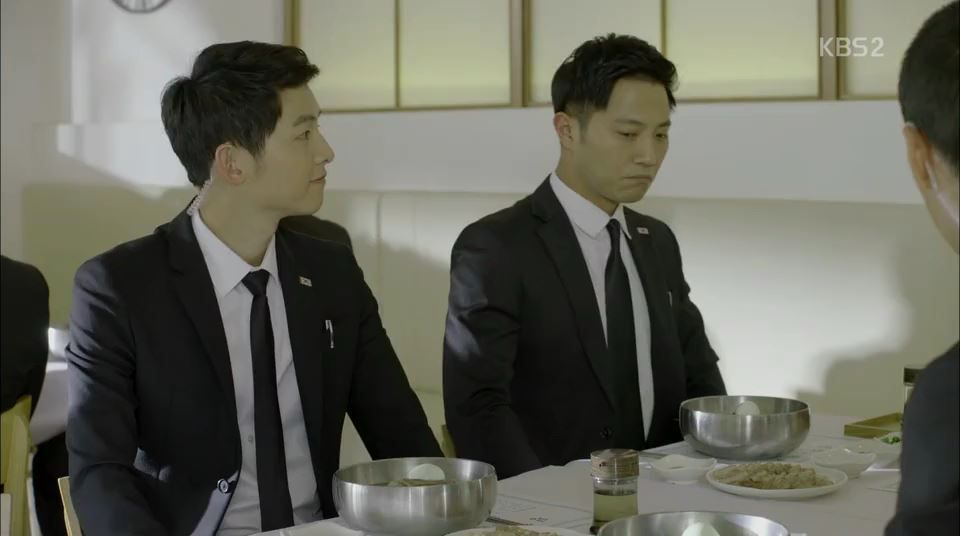 I like seeing Shi Jin and Dae Young as black bodyguard types, just for the visual eye candy, but they are so wasted just doing protective detail if that's the direction of their career in the future. The drama isn't honestly presenting the next step options, which is Shi Jin and Dae Young getting promoted out of positions of leading dangerous ops missions. Eventually they can be colonels, or commanders, or even generals, and in those high ranks they are safely orchestrating missions after earning that right. This makes Dae Young and Myung Joo's big breakup at the end of the episode even more head scratching, after their vow to be together thanks to a new realization at how short life can be, they suddenly break up because of the same old conflict? Seriously? If Dae Young wants to give things up for Myung Joo, or Myung Joo gives things up for Dae Young, they should both be appreciative and then decide together which is the better option rather than still reacting by their pride or frustration with the situation. I was all awwwwwing over their interactions in this episode until the last scene rolled like a splash of cold water.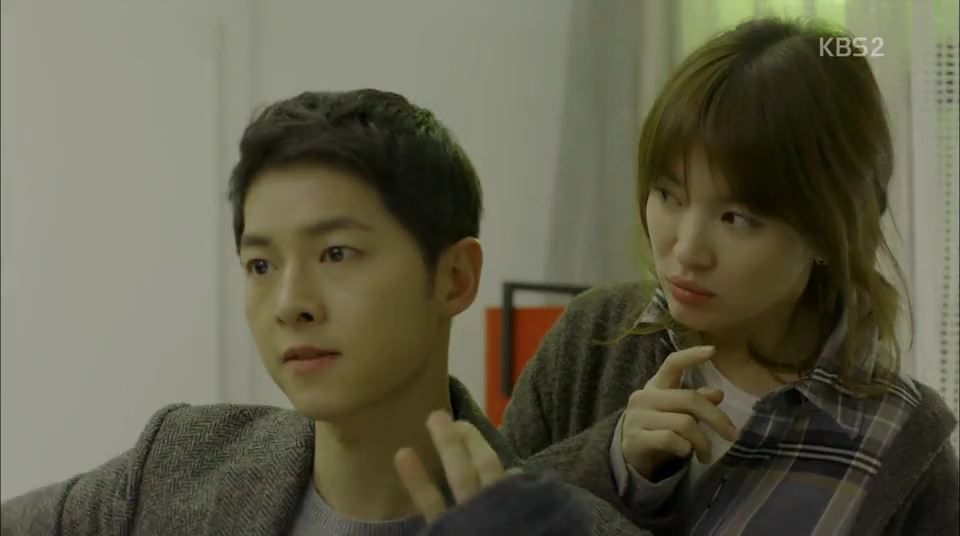 Overall episode 13 was excellent in both the change of pace and bringing back the issues from the first two episodes set in Seoul. The Managing Director was around more than I liked but did his part, namely giving Mo Yeon a reason to stay at Hae Sung hospital and moving her to the ER. I think her year as the VIP doctors with a television job was too superficial for her, though I do wonder what her specialty is if she can be moved from departments like surgery to consultations to now ER. I want Mo Yeon to return to Seoul and continue her growth as a doctor, and to avoid all the politics of the hospital that plagued her so before she left. Dr. Kim continues to be as annoying and bitchy but she's now seen as an inconsequential fly after what the medical team lived through on Urk. Coming back should be about creating a new normal, one that integrates the reminder of the bigger picture with the daily stresses of professional life in the city. Mo Yeon not getting that practice loan is probably best for her career, the administrative frustrations of running her own practice doesn't seem suited for her tendency to act first.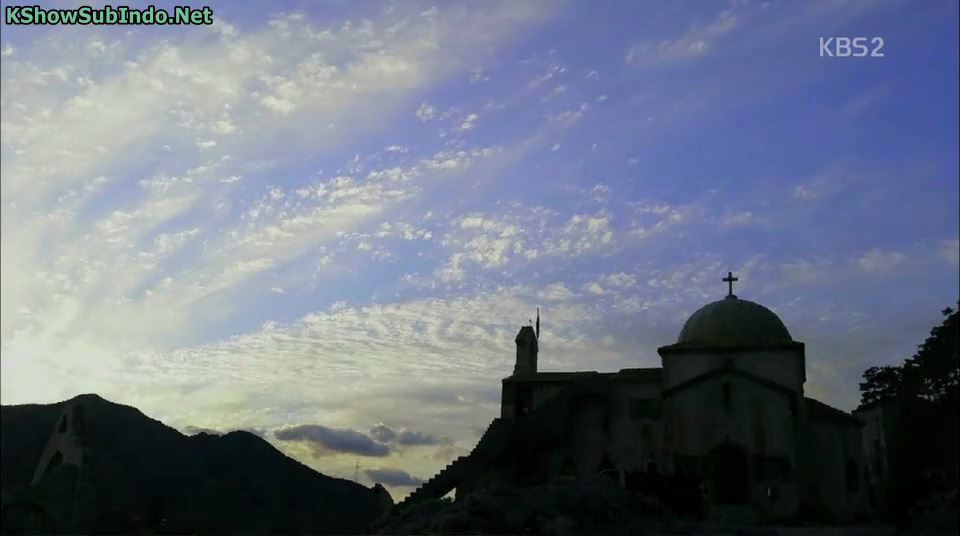 The playful parts of this episode captured a lot of the fun and flirty vibe from the drama start, and did a great job of recalling those scenes. Shi Jin and Mo Yeon still can't catch a movie but took it in stride like they promised each other they would do. Mo Yeon's mom is majorly cool and Shi Jin made as good an impression as he could, though I'm still shocked that Mo Yeon's mom isn't fielding calls left and right to set up her daughter with eligible successful men. The three days three nights drinking session did happen as promised and I'm just worried about liver damage more than finding the scene cute. I enjoyed the café double date with references to the stuffed animal girlfriends as how the drama took off thanks to a stolen phone. The pictures of Myung Joo via car license plates was so perfectly Dae Young, his character may be less dynamic than the other three leads in terms of emotional expression but it's not for lack of having such feelings and only keeping it tightly guarded. Too bad the drama milked a breakup scene that felt inconsistent with everything that went before it, but hopefully it's just a little blip before everyone goes back to acting confident and considerate.
Click here to watch Descendants of the Sun.