Waaaaaaaaa, this is the best J-dorama casting news for nostalgia fans, and highly promising news for those wanting a dorama rom-com. Twelve years after their hit dorama collaboration in Nobuta wo Produce, Yamashita Tomohisa and Kamenashi Kazuya is reuniting for a spring romance on NTV called Boku, Unmei no Hito desu (I, Am Your Destined One or I, Am Your Soulmate). Yamapi and Kame isn't braving new ground as the destined ones for each other as Kimura Fumino is the leading lady but the reunion of the two male leads is certainly the biggest selling point of this dorama.
Kame and Fumino are the destined lovers – he's a man who believes in destiny and constantly confesses to woman be believes to be his soulmate and gets rejected each time, while she's a practical woman who doesn't believe fate and rejects Kame in search of the safe romance – while Yamapi is playing a mysterious character calling himself God that offers love advice to Kame. Yamapi and Kame will also be forming a unit called Kame to YamaP to sing the theme song for this dorama. OMG if it's anything as insanely addictive as "Seishun Amigo" I'm going to wallow in nostalgia happiness for two months come April.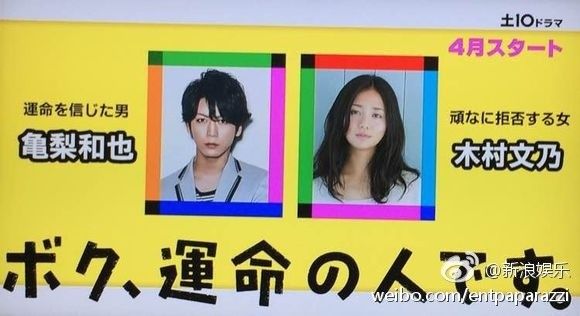 Aside from loving Yamapi and Kame, I also adore Fumino after watching her solid and serious turn in Siren even if Nanao stole the show. Best news EVAR!!!
Shuunji to Akira "Seishun Amigo":