When a time in your life comes when you behave in a way that is screwing up so bad, the only way forward is to own up to it completely. Apologize, reflect, learn, grow, and don't ever repeat. K-actor Kim Jung Hyun's career in the last four years has been such a rollercoaster and while I really like him as an actor for his performances it's clear as a person he has much to take responsibility for when it comes to his professional conduct as an actor. He broke out first with School 2017, then headlining MBC drama Time, dropped out midway, took a year off, returned with the mega hit Crash Landing on You as the memorable second male lead, and followed that up with the big hit Queen Cheorin (Mr. Queen) as the male lead. It's as wild a drama script and turns out his behavior on the set of Time was indeed that, like a boyfriend willing to do anything his girlfriend asked of him including attitude and actions which ended up tanking a drama. He has now come out with his response to the revelations this week that his misbehavior on Time was due to his then girlfriend Seo Ye Ji demanding no skinship scenes with his costar or interactions with female staff. His full apology, handwritten, is translated below. He basically took full responsibility for his actions, did not mention Seo Ye Ji at all, and every other word is contrition and acknowledgment that he did what he is being called out for. It's the right step, no clue how his career will go from here.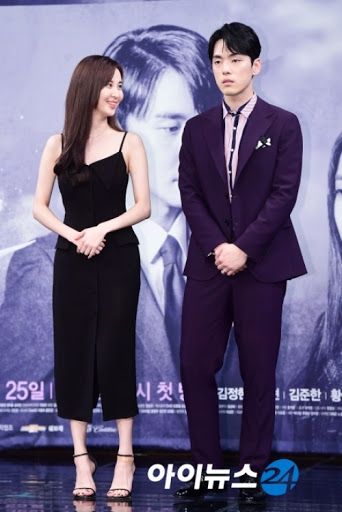 "Hello. This is Kim Jung Hyun
The drama "Time" was the first work I played a leading role in as an actor, so it was also a very meaningful project to me. But I brought deep disappointment and pain upon the director, screenwriter, fellow actors, and staff. I apologize for that.
My memories of the "Time" press conference remain in my head like thorns. Even I cannot forgive my attitude at that time. I have so much regret that I wish I could turn back time.
I brought the shameful incident upon myself due to personal issues. I was not able to fulfill my responsibility as the drama's protagonist and an actor. I apologize without making any excuses.
The process in which I dropped out of the drama "Time" and the behavior I showed at the press conference were all wrong. I sincerely apologize to actress Seohyun who was hurt because of it as well as all other related personnel who worked hard at the time.
I believe I should pay a visit to each of the "Time" staff members and those who were hurt by me and personally apologize to them. Even if it takes a long time, I will go to the director and screenwriter of "Time," the actors, and all of the staff members who worked [on "Time"] and ask for forgiveness.
I apologize to my agency O& Entertainment as morally right, and I also apologize to Culture Depot for causing them to be mentioned in a disgraceful way. I also genuinely apologize to my fans who always supported me, believed in me, and waited for me.
I bow my head in apology to everyone I caused discomfort to. As I was writing this letter, I was able to reflect on my mistakes and wrong behavior. If I am given the opportunity, I will take nothing for granted and work hard to become a healthy actor who reflects on and manages himself. I am sorry."