In nearly two decades of K-drama watching, the rom-com genre has the most unique Korean flavor (other genres can be similar to non-Korean shows) but is also the one most frequently and easily messed up. It's the souffle of K-dramas if you well. I feel like most K-drama rom-coms follow the "Don't F*&k This Up" mentality as I see the screenwriter writing new episodes as the drama live airs and mumbling to herself "don'tf*&Kthisupdon'tf*&kthisup" as she subsists on instant coffee and ramyun. That accounts for so many rom-coms starting strong and then falling off a cliff in the second half, which is why KBS rom-com Dali and the Cocky Prince (Dal Ri and Gamjatang) is close to being one of the success stories with two more episodes to go. At this point through episodes 13-14 it's one of my favorite K-dramas of 2021 bar none and I rewatched often already.
This drama feels secure in the writer having a cohesive script so there are tons of romantic moment call-backs to earlier events/actions and also the Big Bad conspiracy is unfurling to connect completely with what we glimpsed starting in episode 1. So instead of the script veering off course it's stayed the course and the question is whether this dish is for you because it's executed perfectly. It's nearly 50% romance and 50% comedy which may be too much comedy for some if what I'm guessing but really livens up my watch. These latest two episodes cemented Moo Hak as one of the new gen swoony male leads with plenty of dork hidden inside but total MAN when he wants to be, and Dali is just a true Queen in being true to the man she loves and being point blank firm with the man she no longer loves. But of course I'm hiding the lede in my write up for episodes 13-14 as it has the best boating I've seen in rom-com land in years with a genuinely heart stirring make out session and morning after that I am remiss not to promote more because it's not to be missed.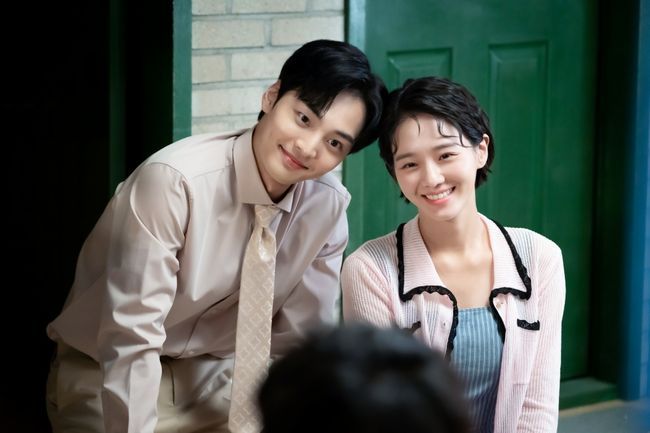 Where to start, ottokke? So much to say lol. I was fully prepared for noble idiocy in episode 13 but thought it would be fleeting but the writer stayed true to the characterization of Dali and only used scene cuts to make the audience think she was even remotely considering Tae Jin's demand to get back together. Tae Jin continues to confuse me because if he's that cold and ruthless to dump Dali for being adopted and now orchestrate the downfall of the art museum why would he want Dali back so much. It feels like his emotional side would not be that needy for her if he's that much of a calculating bastard. But he could be both, and genuinely loved Dali and regretted losing her. To which I say "SUCK ON IT, ASSHOLE!"
I love Moo Hak for keeping a clear mind this entire time, he's not intimidated in the least by Tae Jin and he remains incisive in trying to figure out what is going on behind the conspiracy. Yet he's still emotional, his id is strong and his actions in these episodes continue to balance both his capable side and his heart led directness. I would say Dali is lucky to have him but he's just as lucky to have her, she's the soul to his heart and their complementary compatibility has been laid forth through the entire drama so it's not just about opposites attract. We see them grow and evolve by getting to know each other.
Of course I can't finish my episode write up without devoting an entire paragraph to how beautifully this couple consummated their relationship. From the mutual "I love yous" to the unspoken "spend the night with me" look Moo Hak conveyed to their eager fumbling to the tender kissing, it was all so wonderfully romantic and done with the right balance between sexy and sweet. But I loved the morning after even more, the way Moo Hak was just glowing when he made breakfast, to Dali's shyness under the covers, to the way he pounced on her with that mile wide grin and then round two, this is the stuff of rom-com dreams.