When I watched previous incarnations of Itazura na Kiss, I never really felt that Kotoko/Xiang Qin had any distinctive qualities, except for an insane level of obsession with Naoki/Zhi Shu, and a willingness to do anything for/because of him.
Watching Playful Kiss (Mischievous Kiss) episode 10, I finally discovered a deeper understanding of the central relationship in this story. Rather than a pot and lid analogy, what really makes it clear that Seung Jo and Ha Ni are meant for each other is when we see one person as a dreamer and the other as a do-er (i.e. a pragmatist).
Ha Ni can barely tie her shoelaces, but she has a sparkling joie de vivre in the things she loves, a creativity that we've seen since the first never-ending unicorn fantasy. Seung Jo can do anything and everything perfectly, but he has no dreams, no impetus to paint his world in anything other than "is".
Ha Ni's wishful thinking creates the dreams and goals by which Seung Jo can make come true. Sure, Ha Ni thinks and then acts without ever planning, but that is where Seung Jo creates the reality check for her. And Seung Jo has already conceded that because of Ha Ni, his reality is no longer so drab and predictable.
This is the first ItaKiss couple that feels so complementary of each other, as opposed to the perfect man settling with the imperfect woman because he just fell in love with her, i.e love makes us blind. I can see that Seung Jo is proud of Ha Ni, of any time she succeeds.
I no longer feel guilty that liking the ItaKiss story means that I condone setting feminism back 100 years. Both Ha Ni and Seung Jo are works-in-progress, and the drama is progressing in a cohesive and meaningful way in sculpting their journey into adulthood alongside one another.
Episode 10 Recap:
Seung Jo is moving out, and Mom reminds him to remember to eat, to take care of himself, etc., which doesn't seem all that necessary since the person in question is I-Live-By-The-Book Seung Jo. Eun Jo looks increasingly distressed, as does Ha Ni standing further back. Seung Jo says goodbye to Eun Jo, all the while looking at a dejected Ha Ni, clearly with concern that he doesn't act on. Seung Jo leaves.
After Seung Jo moves out, Ha Ni rarely if ever sees him anymore. She's like a zombie around her friends. Joon Gu, on the other hand, is in a good mood because he's still working hard and doing his best in his pursuit of Ha Ni. In Joon Gu's mind, Seung Jo moving out is like Seung Jo has given up Ha Ni because he cannot compete with Joon Gu's devotion to her.
Everyone can tell Ha Ni is depressed and listless. Tennis sunbae takes her out to dinner, to the very restaurant where Seung Jo is working as a waiter. Seung Jo is rarely around because the boy has a part-time job. Seung Jo is all professional and strictly taking their dinner order, but Ha Ni can't help but be affected by his presence.
She starts tearing up after he takes her order and leaves, telling tennis sunbae that it's been so long since she spoke with Seung Jo. Tennis sunbae doesn't think she just did that, as it appears Seung Jo took her order and left. Seung Jo brings their food, and tells Ha Ni not to reveal his job to the family. Ha Ni asks if he's upset to see her, but he says he expected she'd come sooner or later.
She sees a help wanted ad in the restaurant, and immediately wants to apply to work with Seung Jo. When she is applying for the job, she discovers that Hye Ra is also already working there and has filled the wanted position. In terms of stalking Seung Jo goes, Hye Ra pretty much takes second only to Ha Ni, and it's a pretty darn close second if you ask me.
Hye Ra revels in the change of positions. Now that Seung Jo has moved out, it appears he rarely sees Ha Ni, whereas he sees Hye Ra all the time since they are in the same classes and also work at the same part-time job. Hye Ra says she feels like she's taking candy from a baby. Oh Hye Ra, you may not be uber-bitchy, but you sure need to throw in a few digs here and there.
Ha Ni wants to save her complimentary iced tea for tomorrow, but is told she can't do that. Seung Jo warns her again NOT to tell the parents about his situation, which of course Ha Ni immediately fails to do. Both Mom and Eun Jo want to see Seung Jo dressed like a waiter.
Ha Ni brings Mom and Eun Jo (all three are mildly undercover with glasses and caps), and they go back to eat at the restaurant. They witness Seung Jo's genius brain at work, as he takes a large group's dinner order once and memorizes the complex order on the spot. Seung Jo spots them immediately and gets annoyed. Hye Ra comes over to say hi to Mom, which alerts Mom to the presence of Ha Ni's rival so close to Seung Jo.
Mom warns Seung Jo not to be mesmerized by Hye Ra. After Seung Jo goes back to work, Mom reminds Ha Ni that she has to stick to Seung Jo like gum, no matter what Seung Jo says about her being annoying or a bother. Eun Jo, the only sane one in the trio of undercover diners, says that would make Ha Ni no better than a stalker. He ends by saying, in English, "Poor Seung Jo." Oh Eun Jo, you've just redeemed all your previous whiny ways.
Ha Ni goes back to the restaurant, but instead of being served by Seung Jo, her waitress is Hye Ra for the night. Rather than ordering, she tells Hye Ra to just bring her something to eat. Hye Ra shows up with the special of the night, an entire chicken! Mwahahaha, Lee Shi Young, in this scene alone, with the flapping of the hands and the je nais se quoi attitude, you are comic gold. Hye Ra tells Ha Ni to enjoy, and bounces away.
She keeps eating in order to prolong her stay. She waits for Seung Jo to leave work, and she follows him and Hye Ra until she sees them entering into an apartment building together. Ha Ni is crestfallen to discover that Seung Jo and Hye Ra are living together!
She walks home in a daze, making it back to her room only to picture Seung Jo and Hye Ra making out in their apartment. Ha Ni breaks down in tears, utterly heartbroken. She cries all night, which leads her to welcome the morning looking like a wreck. At breakfast, Mom is worried about her, and asks whether she stayed up late studying, to which Eun Jo replies that is not possible. Mom tells Ha Ni to let Seung Jo know if she's not feeling well, and Eun Jo interjects that if Seung Jo saw the current wraith-like Ha Ni he would faint.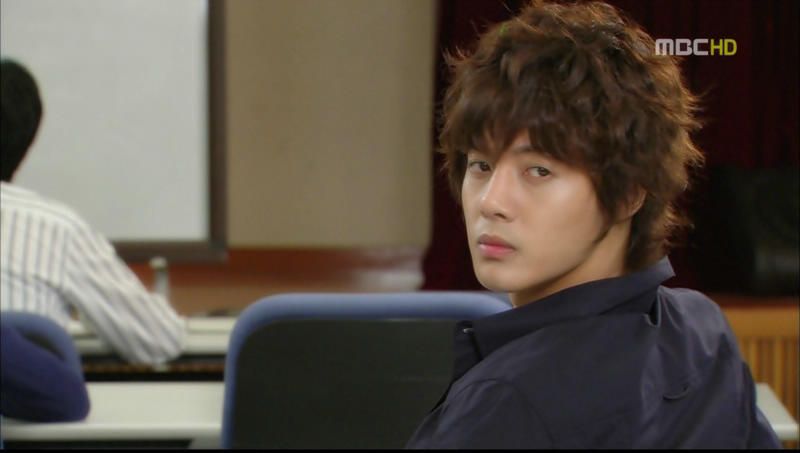 Ha Ni to tell her friends of the latest development, which finally compels her to give up on Seung Jo. She stops going to Seung Jo's classes and the restaurant. The clueless one actually looks around class and the restaurant, both times wondering why his personal stalker isn't stalking him suddenly.
Ha Ni tells her friends about her discovery, and they are absolutely devoted to her because they immediately track Seung Jo down to give him a piece of their mind. They tell him to just stop mind-screwing with Ha Ni. Since Seung Jo is living with Hye Ra now, he should have made it clear to Ha Ni first that there can be nothing between them. Her friends want Seung Jo to tell her the truth so that she can move on.
Seung Jo is shocked to hear that Ha Ni thinks he is living with Hye Ra. Afterwards, he smiles in understanding of why Ha Ni is suddenly avoiding him. Ha Ni's friends, together with darling Joon Gu, have prepared a delicious meal to cheer her up. Ha Ni remains uninterested in being cheered up.
Seung Jo finds Ha Ni at their usual bench. He approaches her first, telling her he doesn't see her much anymore. Ha Ni tries to leave, and Seung Jo tells her to be more solicitous and keep him company him while he waits for someone. They chat about his life. Seung Jo says that he eat meals at the restaurant or else someone prepares it for him (of course Ha Ni thinks its Hye Ra). He further says that it's not lonely living by himself since he's usually with Hye Ra
A young girl comes over, and it turns out she is being tutored by both Seung Jo and Hye Ra. What is she, the dumbest girl in Korea that she needs the double whammy of icy brains? She reveals that her mom cooks food for her tutors Hye Ra and Seung Jo, which is how Seung Jo gets some of his meals and why he spends a lot of time with Hye Ra.
Ha Ni is re-energized by the clarification of the misunderstanding. She makes chocolates for Seung Jo, which leads to the return of her long-dormant daydream tendencies. She fantasizes that Seung Jo will take a look at her chocolates and offer her a glittering diamond ring in response. Well, at least she's dreaming big, and in concrete terms.
Ha Ni takes a cab to Seung Jo's restaurant, but the combination of pouring rain and an unexpected cab breakdown leads Ha Ni to arrive soaking wet. Seung Jo actually looks taken aback at this sopping wet girl clinging on to a gift box. Yeah, I would have been totally "it's raining, oops, I guess this means I'm staying home all warm and cozy and eating my chocolates, next time Seung Jo!"
Hye Ra brings Ha Ni a cup of coffee, and Seung Jo brings her a towel to dry off. Seung Jo tells her she doesn't look so well and to go home. When Ha Ni gets up she collapses, likely from the stomach pain she's been experiencing from not eating and drinking coffee on an empty stomach. After Ha Ni awakens in the restaurant office, Seung Jo tries to take her home. They can't catch a cab in the rain, so Seung Jo takes her back to his place since it's within walking distance.
Back at his apartment, Seung tells Ha Ni she is the first person to visit his place. He asks whether she's feeling better, and tells her to stop drinking coffee on an empty stomach. Seung Jo then calls Mom to explain the situation. Rather than coming to pick up Ha Ni, Mom tells Seung Jo it's raining too hard and she doesn't feel like coming. She hangs up the phone. LOL, I love you, Mom!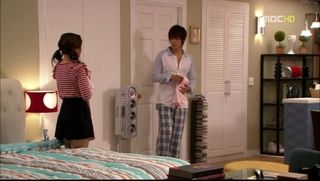 Seung Jo goes to take a shower first (what! Dude, ladies first), and comes out looking all perfectly mussed (lordy, I so want to jump that – oops, did I just say that out loud?). He asks Ha Ni whether she's going to take a shower, which leads our girl to get all nervous and fidgety. He smirks and asks whether she is nervous, and Ha Ni nervously says no. Heh.
Of course, who else needs to get involved at this moment other than Joon Gu, who finds out Ha Ni's whereabouts this night when he hears from Ha Ni's dad that Ha Ni and Seung Jo are spending the night together. Joon Gu frantically rushes off to "save" Ha Ni. Of course, by the time he tracks down Seung Jo's boss at the restaurant, he's collapsed from the exertion in the pouring rain.
Ha Ni comes out of the shower and Seung Jo is coolly reading a book in bed. Seung Jo then tells Ha Ni he's going to bed. Ha Ni says she'll sleep on the floor, and Seung Jo tells her to grab a coat from his closet if she gets cold. Way to end your chivalrous streak, guy. Ha Ni finally speaks up and says that most guys under these circumstances would offer the girl the bed and sleep on the floor.
Seung Jo doesn't feel like saying those words to her, and Ha Ni calls him a cold-blooded animal. Clearly her words worked, because Seung Jo ends up sleeping on the floor, giving Ha Ni the bed. Ha Ni then tells Seung Jo that she needs to sleep with the lights on because she's scared of the dark. After the lights are on, she tells Seung Jo that is must be cold and uncomfortable on the floor, and that maybe she ought to sleep on the floor instead.
Seung Jo gets fed up with her yammering and gets into that darn bed and tells her he'll sleep on the bed if that'll get her to stop talking. Not only are they now on the same bed, they are literally pressing against each other because there is only one pillow and they are sharing it.
He asks whether she is feeling nervous, and Ha Ni of course demurs. Seung Jo, being the evil thing he can be, tells Ha Ni that since they are sleeping together tonight, things can happen. Oh, like kissing, and other such stuffs. Seung Jo then bolts upright on the bed, followed by Ha Ni, and they stare at each other.
Contrary to her expectation, Seung Jo tells Ha Ni that nothing will happen. Ha Ni is relieved, but wonders if Seung Jo isn't interested in women, or she doesn't have any allure for him. Seung doesn't just have photographic memory, he also has mind reading skills, because he asks Ha Ni whether she is feeling deficient about herself at the very moment Ha Ni is feeling deficient about her attractiveness.
He states that he won't let anything happen because he doesn't want to play into Mom's hands and allow Mom to hold this over him for the rest of his life. That is the only reason, so Ha Ni should go to sleep now. Ha Ni doesn't want to fall asleep, for fear this moment of happiness will pass. It's clear from Seung Jo's expression that this isn't a cake walk for him either, this self-control. Ha Ni looks at Seung Jo's back with a blissful and content expression.
[Bonus: there was no preview for episode 11, but there was a snippet at the end showing Ha Ni practicing hitting a tennis racket in her room at home, yelling out the names of Baek Seung Jo and Yoon Hye Ra. She turns around to see Seung Jo and Eun Jo sitting outside in identical poses watching her. Both brothers clap at her tennis antics, and Seung Jo tells her it's quite amusing and for her to continue. A totally random scene, but absolutely hilarious.]
Thoughts of Mine:
I think PK's failure to connect with the Korean audience has a variety of factors, one of which is that it lacks the overarching dramatic narrative expected of a K-drama. I can safely say that PK is pretty much a J-dorama. For example, each episode of a J-dorama is self-contained, and each episode has its own header. PK totally fits the bill.
Let me create a PK episode title montage:
Episode 1: Where a girl crushes on a boy who thinks she's dumber than a sack of bricks.
Episode 2: Where living together with your crush has academic and pervert-thwarting benefits.
Episode 3: Where trying hard still can't overcome losing your mind when your crush smiles at you.
Episode 4: Where a beach vacation and a failed attempt at cooking lead to a heart-pumping moment in bed.
Episode 5: Where a snail gains acceptance, a genius find direction, and boys will always posture in front of a girl.
Episode 6: Where graduating means the end of one crush and the beginning of another one, to the same guy.
Episode 7: Where an ice prince finds that being mean has its consequences.
Episode 8: Where tennis brings everyone together, and a piggyback ride is worth a thousand words.
Episode 9: Where a dip in the lake is the perfect way to end a date, and a hospital turns out to be a romantic setting.
Episode 10: Where a guy can't do his own thang without being misunderstood, and an inconvenient rain ends with chaste rainbows in bed.
With that said, I can't fault the K-audience for not loving PK the way I do. I think us international viewers sample more dramas from various countries and have developed a taste for different types of dramas. Perhaps in the wake of the Boys Before Flowers phenomenon, if PK was filmed and released thereafter, it would have likely been better received.
Anyways, back to the story at hand. Episode 10 was a transition episode, paving the way for the next big and final challenge in the pre-marriage lives of Ha Ni and Seung Jo. Those familiar with the story know what I am talking about. It also means that the lack of screen time for Joon Gu in these last two episodes will be rectified shortly. And he'll break my heart for realz.
And I can't not discuss the bed scene, right? I mean, c'mon, Seung Jo! Give in to your human boy tendencies and kiss the girl, will ya? Mom is going to make you marry her anyways, you do know that, right? Actually, the entire sequence in Seung Jo's apartment was lovely in its natural rhythm.
Their conversation was adorably real, and based on totally believable behavior. Their interaction reflected their personalities and their relationship at that moment in time. Frankly, once Ha Ni falls asleep she'll be out like a log, whereas Seung Jo is not going to be getting a good night sleep regardless of what principles he's trying to hold on to. Pretending to be all cool and unaffected, pfft, someone needs a cold shower in the morning.
I know I haven't talk about the acting in PK for a long time now, but that's because there is nothing further to critique. My initial assessment remain unchanged: Jung So Min is a delight in every scene and a masterful actress for so young an age, Kim Hyun Joong has settled into his character and made it his own, taking huge strides forward from his debut performance and I enjoy watching him onscreen, both Lees (Tae Sung and Shi Young) are excellent character actors that, frankly, deserve leading roles in the near future.
On a very shallow note, as for the fandom preference battle royale between straight-haired vs curly-haired Seung Jo, I've made my choice. My choice is wet curly-haired Seung Jo! The Seung Jo that came out of the lake, and the Seung Jo that came out of the shower. Meowr, me wants that!
Finally, I have to take Seung Jo's side on this episode, in the sense that he was not being purposely cruel, mean, or ignoring Ha Ni the way he did in episode 7. The behavior of Seung Jo in this episode is actually a natural development from episode 9, where he told Ha Ni he didn't dislike her, and wanted to solve her as a problem.
To Seung Jo, he's made his feelings clear to Ha Ni, and now he's off doing his own thing – working, studying, taking steps in shaping his own future. Yes, he could be more sensitive to Ha Ni's feeling, and explain things to her like you would to a two year old, rather than allow Ha Ni to constantly jump to the wrong conclusions first. But then, that wouldn't be our Seung Jo, the man with the high I.Q. and the low E.Q. Also, Seung Jo likes to torment Ha Ni like a boy torments the girl he likes, it's a thing he can't help doing. Too bad Ha Ni keeps falling for it.
The drama in PK is really in the passing of time and events that bring Ha Ni and Seung Jo closer together emotionally, and the small misunderstandings that stem from their personalities being so starkly different. Too bad it couldn't be more "one of us must die for the other one to live". 😛
(Add on: today's episode hit 7.5%, the highest rated episode for PK since it started its run).
[Credit for screen caps goes to soompi.com PK forum and hyunniespexers.wordpress.com]