Thank god that evil pinchy-faced wench from the last episode was shipped back to the US and far far away from our Ha Ni and Seung Jo. I didn't intend to have my claws out for her in my last recap, since she's such an insignificant annoyance, but she appeared to have activated the ultra-bitch-smackdown button on my keyboard. Blame my keyboard for those extraneous comments yesterday.
Thankfully, episode 5 of the Playful Kiss Youtube Special Edition brings us back to the warm cozy confines of Ha Ni and Seung Jo's professional and personal lives, minus a third-wheel.
This episode gave us a good look at Dr. Baek Seung Jo (rocking the neon-green scrubs and white coat, natch), and Nurse Oh Ha Ni (all professional in her nurse uniform and comfy nurse shoes). I feel so proud of how far Ha Ni has come in her nursing career, even though some of her professional decisions in this episode reeked of typical act-before-thinking Oh Ha Ni teenage behavior. Thank god Dr. Baek is around to clean up her mess and give her a kiss.
Youtube Episode 5 Recap:
We open the episode with Ha Ni, dressed in her nurse uniform, praying in the waning daylight. The title card reads: Protect Patient Baek Seung Jo. We cut to Ha Ni walking somewhere, and she voiceovers that Seung Jo has become a doctor, and she has become a nurse, her dream has come true. However, she rarely sees Seung Jo even though they are working in the same small hospital, because Seung Jo is simply too busy.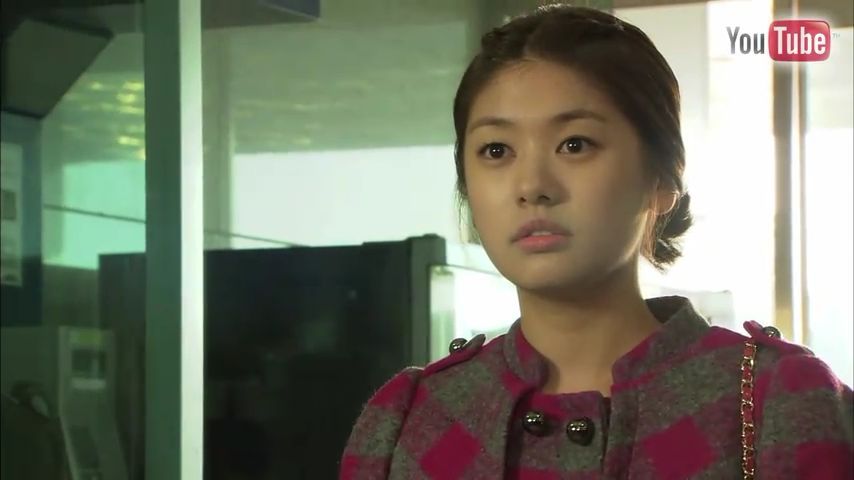 Ha Ni walks into the hospital, and excitedly calls out to Seung Jo when she sees him. Seung Jo glances at her in passing, but continues walking with the other doctors. Ha Ni worries that Seung Jo hasn't come home in five days now, working and sleeping at the hospital.
At the nurses' station, a couple of nurses are discussing how Dr. Baek was in the OR (operating room) for 10 straight hours yesterday. He's been requested to attend all the major surgeries, and all the senior doctors want him to be their mentee. One nurse looks at Ha Ni and says that her husband has been stolen by the hospital. Another nurse mentions that Dr. Baek has got dark circles under his eyes like a panda, yet he's still so handsome.
Ha Ni humphs at hearing her fellow nurses mooning over her husband, but does worry when one says that he's gotten so skinny lately. When a nurse suggests that Ha Ni doesn't even care about the welfare of her overworked Dr. Baek, Ha Ni stands up and produces her giant lunchbox of love and affection. She announces to the nurses that it contains all types of nutritious foods for Dr. Baek. Ha Ni takes off looking for her hubby to feed him the food.
She can't find him at the doctors' lunchroom, and no one appears to know where he's at. She heads outside, and finally sees Seung Jo at the foot of a set of stairs. Seung Jo is rubbing his neck, likely all the stress is catching up to him. Ha Ni calls out to Seung Jo, and is about to hurry down to meet him when her foot slips and she tumbles down the stairs. Seung Jo grabs her and breaks her fall, causing him to lose consciousness when he strikes the hard ground. Ha Ni is in hysterics when she realizes Seung Jo may be really hurt.
Seung Jo is wheeled back into the hospital, and Ha Ni trails after him, crying for him not to die (seriously, babycakes, die? – how many dramas are you watching?), and that she loves him so much. The other nurses and doctors titter at her dramatics. Seung Jo is resting in the room, and Ha Ni holds his hands and prays to god that he will be alright.
Two doctors come in to check on Seung Jo. Ha Ni worriedly asks whether Seung Jo's life is in any danger, and the senior physician laughs that no one could die from a broken leg. Ha Ni wonders why Seung Jo hasn't woken up yet, and is told that Seung Jo is likely sleeping soundly because he's simply exhausted from days of overwork.
The doctor leaves, but not before telling Nurse Oh Ha Ni to take good care of overworked and exhausted, and now injured, Dr. Baek Seung Jo. Nurse Oh jumps to attention at this wonderful task she's been handed, and excitedly promises to do her best to nurse Dr. Baek back to health. With all her gibbering and squealing, Seung Jo has been woken up. He grumbles at his wifey's antics, and asks that she please just let him sleep, fersakes.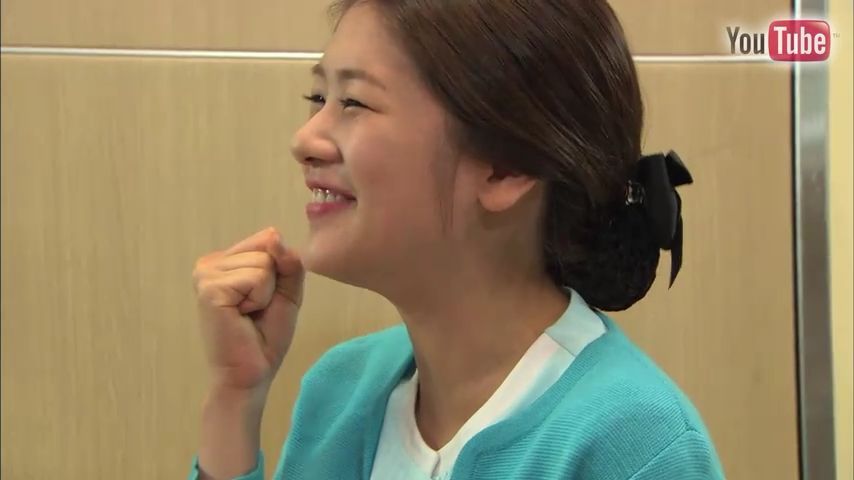 The nurses are gossiping again, this time about how Dr. Baek has been admitted as a patient after breaking his leg. He's scheduled to be admitted for two weeks, and the nurses all want to be assigned to his room. Nurse Oh Ha Ni comes by and drops a pile of paperwork in a huff, proudly telling her other nurses that SHE is Dr. Baek's personal nurse. The other nurses think she's not being professional, but Ha Ni says that she's gotten the approval of the senior treating physician already. She flounces off in victory.
Ha Ni the nurse pops by Seung Jo's room constantly – to measure his temperature, give him a shot, changed his bandages. The poor man gets no reprieve from his ministering wife/nurse.
Ha Ni promises to stick to Seung 24/7, and act as his hands and legs during his stay at the hospital. Seung Jo grouches at Ha Ni's constant attention, but lets her continue her cosplay in real life as his nursemaid.
Ha Ni insists on feeding Seung Jo his meal, even though the poor man has full use of his functioning arms and hands. He finally gives up and lets her feed him to her heart's content. He really does indulge her – even though he grumbles and is brusque with her, when push comes to shove he always lets her get her way in the littlest of things that make her happy.
Nurse Oh Ha Ni runs into another doctor coming into Seung Jo's room. The doctor is carrying a pile of patient files, which belong to Seung Jo and need him to complete. Ha Ni tries to say that Seung Jo can't work on them, but the other doctor points out that he only has a broken leg and can clearly review patient files. Ha Ni takes them from the doctor and ushers him out of there.
Rather than give them to Seung Jo, she actually tries to complete them. She works all night, and struggles to understand all the medical terms. (She is thisclose to committing malpractice, so I hope Seung Jo fixes this debacle soon enough.) In the morning, the other doctor comes to see Seung Jo huffing and puffing. He accuses Seung Jo of being negligent now that he is himself a patient.
The other doctor plops all the Ha Ni-completed patient files in front of Seung Jo, telling him that NOTHING is correctly written on these files, except for Seung Jo's name. Oh god, this just makes me want to curl up and die laughing at Ha Ni. Both doctors realize the truth immediately, and Seung Jo has no choice but to smile at the lengths his wife will go to for him.
The doctor tells Seung Jo that when he was wheeled into the hospital, Ha Ni was crying that if Seung Jo died she wouldn't be able to live without him. She would die, too. Seung Jo smiles at his wifey's silly antics, but takes the patient files so that he can clean up her handiwork. Ha Ni innocently comes to visit her patient/husband, and is astonished to see him working on the patient files.
Seung Jo admonishes Ha Ni for doing something so potentially damaging – the patients' lives are at risk with her completing the charts for him. Ha Ni defends herself by saying that she asked her nurse leader for help, and she was only doing it to keep Seung Jo from working too hard when he needed rest. She's sorry that she keeps causing trouble for him, even if all she wanted to do was take care of him.
Ha Ni's tears start to fall, and she confesses that no matter how hard she tries, she can't become a perfect wife to Seung Jo. Our Seung Jo can't withstand the onslaught of his beloved Ha Ni's tears, and quickly grabs her hands. He confesses that he's not a perfect husband either, what with being unable to properly protect Ha Ni when she fell off the stairs, and breaking his own leg in the process.
Ha Ni shakes her head at hearing this, but melts when Seung Jo quietly thanks her for all she has done.
He leans in to kiss her, and the camera stays with this soft, gentle, but intimate kiss until it ends and the couple embraces tenderly.
Thoughts of Mine:
As much as I think Ha Ni is adorable (and ridiculous at times), and Seung Jo is pretty awesomesauce (and infuriating at times), it's together as a couple that they push all my right buttons. The ending of this episode was lovely, an honest attempt at communication and resolution of a marital (plus professional) conflict.
I love this kiss because it was so intimate, a moment between a husband and a wife, in the privacy of their hospital room. Regardless of how many times Ha Ni screws up, Seung Jo's reaction is simply to push her to acknowledge her mistake and learn from it, but never to punish her or put her down. He appreciates everything she does for him, and only wants to remind her not to let her love for him cause her to make bad judgment calls.
I hope PKissers the world over, whether married or unmarried, watch these episodes and really take away something substantive about how hard marriage can be, and how two people need to work at understanding and appreciating each other.
[Credit: all screencaps from Baidu Playful Kiss bar]