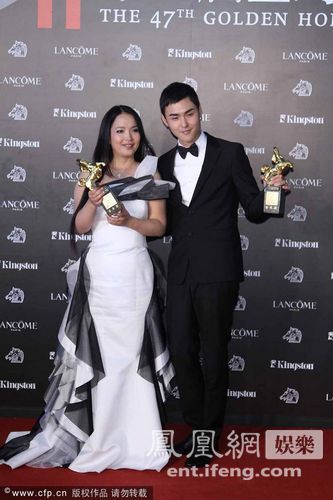 At the least the Taiwanese awards shows these past few years are consistent – consistently making my jaw drop. I think this has been trending since Mark Chao won the Best Actor award to the Golden Bell Awards in 2009 over co-star Vic Zhou. Followed by Rainie Yang winning best actress in the same drama awards in 2010. And now they both just got PWNED by Ethan Ruan, who is Taiwan's newly crowned Best Actor at the Golden Horse Awards. K-ent fans, winning Best Actor at the Golden Horse Awards is equivalent to winning the Baeksang.
Ethan was so overwhelmed that he brought his new BFF Mark Chao on stage with him in the form of a cardboard cut out. His long (suffering) girlfriend Tiffany Hsu could only watch as Ethan mooned over his just-acquired statue and cardboard Mark on stage. Mark co-starred with Ethan in the movie Monga, which was both a critical and box-office success. And this was the movie Ethan was nominated for and won (he played a high school delinquent gangmember/possibly gay guy who was in love with his onscreen BFF played by Mark).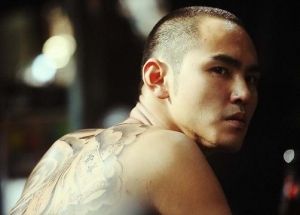 I never thought the day would come that I would have to introduce Ethan Ruan as a Golden Horse Best Actor Winner, especially not before either Joe Cheng or Vic Zhou won first. Nonetheless, congrats to Ethan! He's certainly come a long way since Fated to Love You. This win will likely cement Ethan's already expressed desire to stick with a movie career and not do any more idol dramas. Ladies and gentlemen, let's end this post with an expression of sheer dorky joy Ethan is showing us below. He's seriously adorkable.