Sorry to have to do this to all the M3-fans, but I've got more bad news. The news is not that I'm jumping ship based on the screen cap above I chose to top this post. Nope, the bad news is that I will not be here to steer the Holiday Couple ship to its glorious and sweet conclusion next week. Never fret, I'll finish the recaps! I always finish what I start, and still have a hankering to continue to recap Mary Stayed Out All Night (Marry Me, Mary!) other than out of duty and obligation.
I am going on vacation for 10 days to a place with lots of onsens and insane amounts of snow, and I have no desire to be blogging while I am vegging. Also, my family will have an aneurysm and confiscate my computer. As such, the recaps for episodes 15 and 16 of M3 will be up after the New Year. In fact, I'm doubtful I'll be posting anything during that time, so consider AKP to be on hiatus while I pretend that I am on vacation but is in actuality stalking my Yamapi.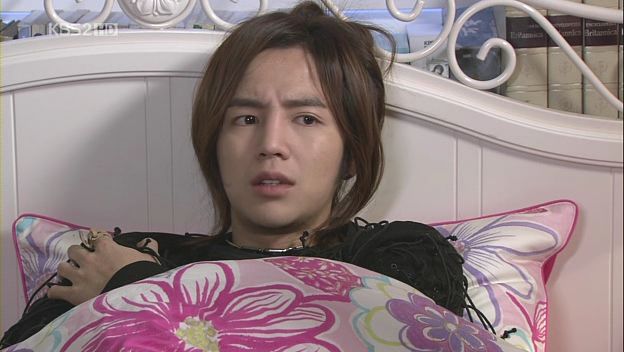 As for M3, today's episode 14 proves one final corollary about mid-drama writer switches – it's impossible to make lemonade out of lemons when the lemons were never ripe to begin with. M3 is frankly a scattered, under-developed, and tonally bipolar drama in terms of writing. There wasn't enough proper story to begin, but now in a haste to wrap things up and get to a satisfactory conclusion, the drama is barreling towards crazy pointless angst-ville.
I may sound like I'm pissed, but I'm not. I love M3, but I never could stand anyone else in this drama other than Mu Gyul and Mae Ri. Now that we're almost at the end, I wish I could spend 60 minutes an episode with them. If the original writer had spent some time creating viable conflicts outside of the devil daddy forced marriage machinations, we'd be in a much better shape.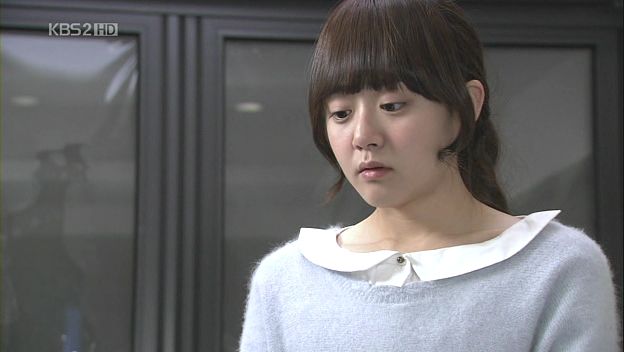 Mu Gyul's music career (Hongdae indie vs. corporate rock), Mae Ri's writing talent and desire for schooling, Jung In's drama production, Seo Jun's acting career – any and all of these substantive plots could have added weight and purpose to the story, but still created the adorable MM pairing that we so adore. It's long past the time for recriminations. I simply love M3 so much I wish the original writer had laid the ground work better, so that this little adorable drama would get bashed less.
It appears my passing reference to You're Beautiful in the previous recap started a flurry of discussion of M3 vs. YB. I was merely stating my preference for the former, but perhaps didn't make it clear that writing and directing-wise, YB is by far the superior drama in every way. Acting is the only one where M3 has an advantage. But at the end of the day, my reference was simply a barometer of how much I personally enjoyed M3 over YB.
Episode 14 Recap:
Mu Gyul gets shoved into the car by three men in black, while Mae Ri looks on and tries to stop the car from speeding away. Luckily (deux et machina is on her side!), a police car drives by and Mae Ri flags down the policeman to report the kidnapping. She gets into the police car, and chases after the kidnappers.
Mu Gyul and Mae Ri yell for each other through the open windows as the cars travel parallel to each other, but the kidnap car is quicker and speeds away. A second bout of luck hits when the kidnap goons realize that perhaps it's not the best idea to attempt a kidnapping when the police is on its tail, so they shove Mu Gyul out of the car and take off.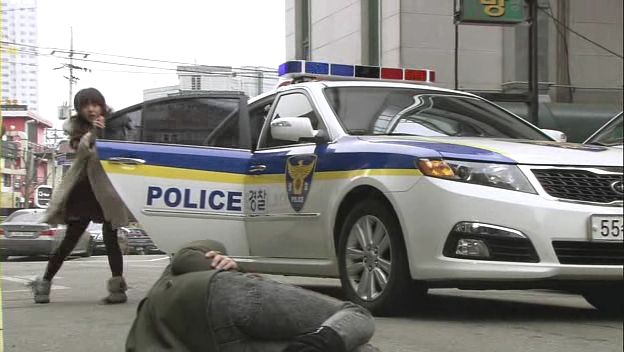 The police car stops when Mae Ri sees a crumpled up Mu Gyul on the side of the street. Hey, it's a redux of the traffic accident of love moment from episode 1, which does make me wonder why Mu Gyul is such a car accident magnet. She goes to help him, and the poor guy is looking worse for wear. His already injured hand is not exactly in the best shape.
Back at the showcase, everyone is worried and wondering where the heck Mu Gyul is, and why he's not there yet. Seo Jun reassures Jung In that Mu Gyul will be here, he's not the type to miss a commitment like a performance. The band goes on stage, and the MC makes the introductions, noting that lead singer Kang Mu Gyul has not yet arrived.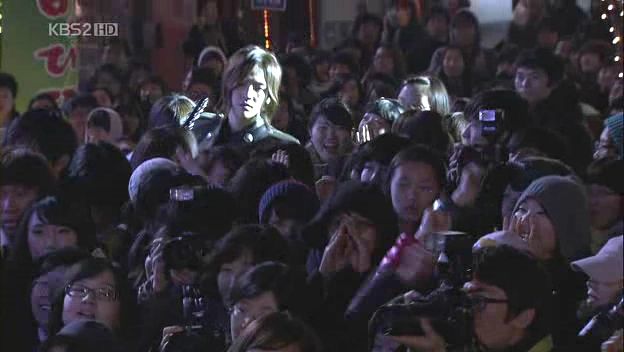 The crowd starts to get angsty, and the band, Seo Jun, and Jung In are all racked with worry that the showcase will not be able to take place. Suddenly, a roar goes through the crowd, as Mu Gyul, with Mae Ri in tow, walk through the crowd which has parted for them. Mae Ri's friends pull her to stand beside them, as Mu Gyul continues his way onto the stage.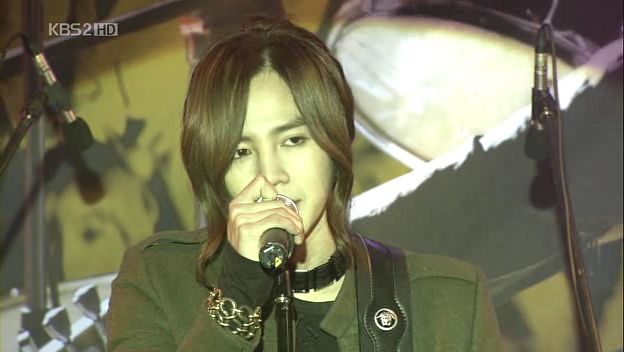 After the MC introduces him, Mu Gyul grabs the microphone and makes his declaration. "This song is dedicated to the person who turned the cold Winter of my heart into the warmth of Spring. Merry Christmas….I LOVE YOU!" Oh my heart, can you beat a little slower, I'm afraid I'll need a visit to the ER for heart palpitations.
Mae Ri's friends go crazy on her behalf for that very public love speech, and Mae Ri covers her face but can't hide her smile and how happy she is.
Seo Jun's mouth is gaping wide open, shocked at how this is nothing like the Kang Mu Gyul she knew and dated. Yup, lady, the sooner you accept that, the sooner you can move along your merry way. Mae Ri stares at her hot-as-hell boyfriend performing on stage, and the stars in her eyes mirror mine. The showcase performance finishes in a flourish of cheers.
Mu Gyul has a bad dream about his kidnapping, one where he was tied up and had to escape his captors. He wakes up in Mae Ri's bed in Jung In's house, and she's watching over him, along with Jung In. Turns out that he passed out after the showcase ended, and they brought him back home. He's rather bruised and battered from struggling with the kidnappers earlier.
Jung In, who has an inkling about who is involved because of an earlier call with loser daddy, asks whether Mu Gyul anything. My Gyul has never made any enemies, so perhaps it was to prevent him from going to the showcase? Mae Ri wonders if it could be the bitchy manager since she made such a ruckus yesterday at the MV shoot. Jung In says that he will investigate.
Lee An is having drinks with Seo Jun, and even this dim little Hallyu star can tell the truth. Lee An says that everyone who watched the showcase can see the real affection, why is Seo Jun still hung up on Mu Gyul? Seo Jun, whose name is now synonymous with denial, says that Mu Gyul feels sorry for Mae Ri, and that it's not love. Yo, crazy delusional diva, he just publically told his girlfriend he LOVED her. He said the word L.O.V.E., and you still can't wrap your head around that?
Lee An refuses to support her delusion, and asks her why she is so fixated on Mu Gyul? Seo Jun snaps at him to just leave if he refuses to subscribe to her crazy talk. Lee An is in a bad mood as well, having ended his managerial relationship with the bitchy manager. Seo Jun compliments Lee An for being quite cool on stage today, but doesn't give him any other reason to think she returns his still unrequited crush.
Mu Gyul, Mae Ri, and Jung In are sitting in his living room discuss their next steps, now that loser daddy has pretty much sussed out the truth. Jung In suggests coming clean, but Mu Gyul doesn't think that will change anything. Jung In says they need to try, since there are only 10 days left. The writer clearly doesn't want to waste any time, as loser daddy conveniently walks in at that very moment.
He loses his marbles, yelling at Mu Gyul to leave, and berating Mae Ri for allowing him to come to Jung In's house. Jung In confesses that it was all his idea, and explains the dual living arrangements to loser daddy, who is understandably pissed that his daughter is shared between two guys.
Jung In confesses that he needs Mae Ri to retain the drama investment, and that he has no intention of really marrying her. But he honestly tells loser daddy that he wants to help Mae Ri find happiness. He wants to help Mae Ri choose the life she wants to lead. OH THANK YOU! Jung In, that sentiment rocks big time!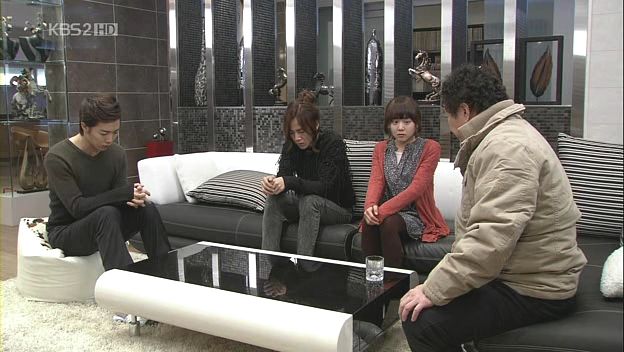 Loser daddy says that he will never approve, even as Mu Gyul asks him for his approval to just accept him as his real son-in-law. Mae Ri begs her father to please understand her wishes, and her father gives her an ultimatum – if she picks Mu Gyul then she won't have a father anymore. Oh shit, I love this choice. In fact, both devil daddy and Mu Gyul's mom should offer the same choice to their kids, and then all three can be rid of their toxic parents for life. Loser daddy informs devil daddy of this latest twist.
Mu Gyul is laying on his bed as Mae Ri applies medicine for his bruised shoulder. This totally is a flashback to episode one when Mae Ri reluctantly ministered to Mu Gyul's bruised hip. I love wink wink moments like this in a drama. Mae Ri apologizes for her dad, and Mu Gyul responds that he's worried that she will be too tired from all this.
Mu Gyul hopes his (financial) situation will get better soon, for Mae Ri's sake, so that loser daddy will accept him. He then starts moaning about his injury, asking Mae Ri to blow on it. He then asks her to blow on his injured forehead, and then points to his lips as the next injury. Mae Ri grabs his lips and tells him to stop joking around all the time.
The mood turns sentimental, and Mu Gyul confesses to Mae Ri how happy he was when she went to the ice skating rink to find him that one time. When she grabbed his hand, he felt all the coldness melt away in his heart. Mae Ri tells him how happy she feels to hear him say this. Mu Gyul rolls to lay his head on her lap, and tells her that Santa Claus will bring her a present for being so good.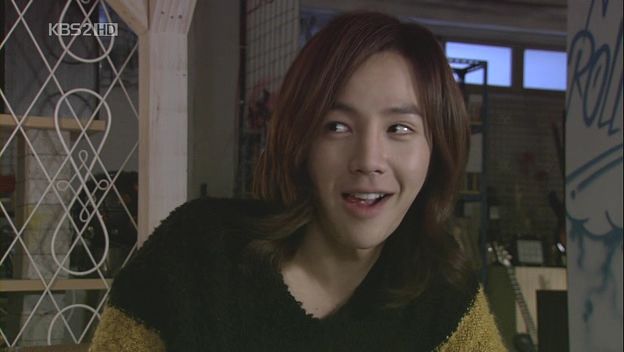 Mae Ri reminds Mu Gyul that Christmas Eve is his birthday, and asks him what present he wants? He sits up and points to the curtain, saying he wants to take the curtain down as his present. Mae Ri wonders what's wrong with a perfectly good curtain, and then she understands exactly what Mu Gyul is asking for. ROFL, hot-blooded Kang Mu Gyul, you are too direct for your own good.
Jung In has a dream about his parents fighting over the picture of Mae Ri's mom which devil daddy kept in his wallet. Jung In wakes up in tears, and its clear this boy has lots and lots of repressed memories in his life. And nobody can do silent brooding like Kim Jae Wook.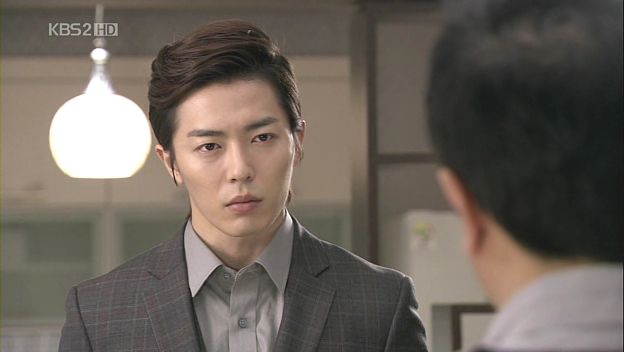 The next day Jung In goes to see devil daddy, and letting devil daddy know that his Mu Gyul kidnapping plot was never going to work. He confronts devil daddy about using him and Mae Ri for his own personal satisfaction, and gets a slap in return.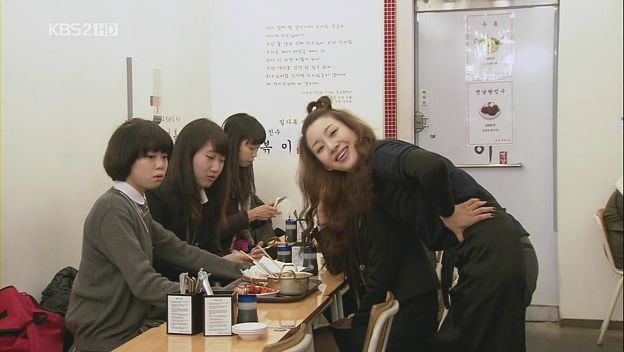 Mu Gyul's sudden rise in popularity means that female fans are watching his showcase performance at the dukbokkgi store. Mu Gyul's mom is basking in the fame of being a famous singer's mom, and using the opportunity to remind loser daddy that her son is now successful.
Mae Ri leaves a message for Mu Gyul, saying that its been hard to reach him, and that she misses him since he's so busy. Mu Gyul's at home working when his mom pops by, pretending that everything is fine in her usual way. She confesses to working at loser daddy's restaurant to earn money to buy back the ring. She also reveals that she heard loser daddy on the phone asking whether Mu Gyul was injured. This leads Mu Gyul to put two and two together.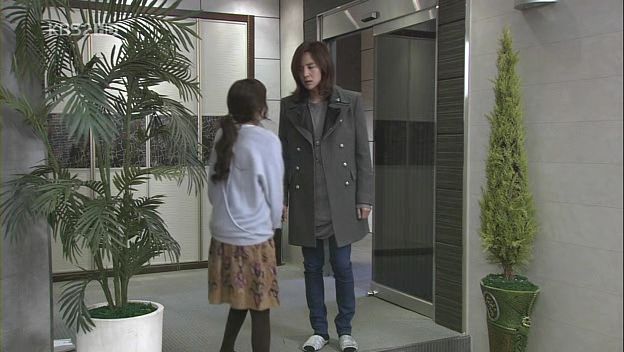 Mae Ri goes to Jung In's room and sees all the wedding invitations on the bed. Jung In confirms that their wedding is still under preparation. The doorbell rings (OMG, the first time this has ever happened in this drama, it's a miracle!!!), and Mu Gyul comes in to see Jung In, brushing past Mae Ri. When confronted, Jung In confesses that he also spoke to his father about it earlier today. Mu Gyul cannot understand why devil daddy is forcing Jung In to marry Mae Ri, and going to such lengths to make it happen. Yes, you, me, and the entire world, Mu Gyul. Let me know when you get an answer to your question.
Jung In says that devil daddy regards Mae Ri highly, and thinks this is the best way for her happiness. Mu Gyul asks whether devil daddy is Mae Ri's father, otherwise why is he so fixated on controlling her life. Jung In tells Mu Gyul to use this showcase opportunity to become so successful that no one can ever look down on him, and that he can control his own destiny.
Mu Gyul tells Jung In to pass along this to his father – he will see this through to the very end, to see who will make Mae Ri happy, who will make Mae Ri smile. Mu Gyul walks out, and passes by Mae Ri in the kitchen getting cooking lessons from the housekeeper. Mu Gyul leaves without saying goodbye, clearly having lots of issues he needs to think through.
Ji Entertainment is busy due to the newfounded interest in Mu Gyul, who had been booked for programs and commercial shoots. He's interviewed on the radio about the song "Hello, Hello" being written for his girlfriend, and everyone assumes its for Seo Jun. Mae Ri has to get accustomed to her boyfriend suddenly being so popular.
Loser daddy calls Mae Ri home to ask her to pick her hanbok for the wedding, and lets slip that devil daddy will force her to get married the same way he's tried to get rid of Mu Gyul. Mae Ri goes to see Jung In, and overhears from Mu Gyul that devil daddy was in fact behind the kidnapping. She goes to see devil daddy to resolve the situation.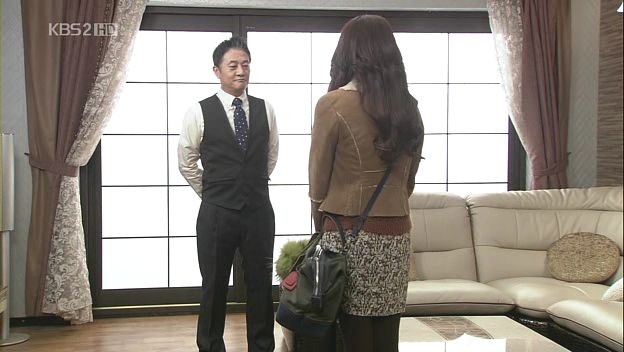 Devil daddy tells Mae Ri that he doesn't want her to live an unhappy life because of one mistaken decision. She tells him that she's not unhappy now, and will not be unhappy in the future. She confesses that she and Jung In are pretending to live together to retain the investment, and she will take all the blame for lying. Devil daddy is not surprised in the least, but tells her that it's all in the past now, as long as going forward she is with Jung In, that's all that matters.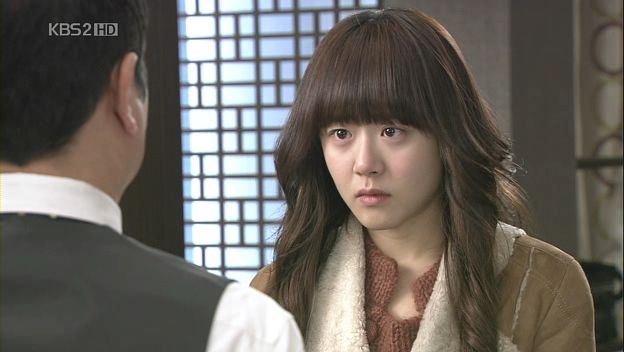 Mae Ri tearfully tells him that she cannot marry Jung In, but devil daddy reminds her that she made a promise to him. He not so subtly ends the conversation there. Mu Gyul is shooting a Christmas couple CF with Seo Jun, and she remarks that he's so cooperative all of a sudden. He just wants the shoot to end so he can leave, which is why he's cooperating. Seo Jun remarks that Mr. too cool Kang Mu Gyul, formerly the type who refuses to be manipulated, is now willing to jump through corporate hoops for Mae Ri.
She succeeds in ruining his mood, and dragging the photo shoot on longer. Mae Ri is nodding off on her side of the bed, waiting for Mu Gyul to come home. She awakens to see Mu Gyul sitting at the side of the bed, just gazing at her. She asks him to sleep now, since he must be tired. He declines, saying he has to be off again, but he just came home to take a look at her. Geez, my eyes instantaneously misted up when he said that.
Mu Gyul asks about how her talk with devil daddy went, and Mae Ri truthfully says that she told him the truth, but omits the part where devil daddy refuses to accept it or alter his warped thinking. Mae Ri says that now her fake relationship with Jung In is revealed, she won't need to go to his place anymore. This makes Mu Gyul happy, and he says that after a few more performances, he'll have the money to buy back the pawned engagement ring, and this will all end.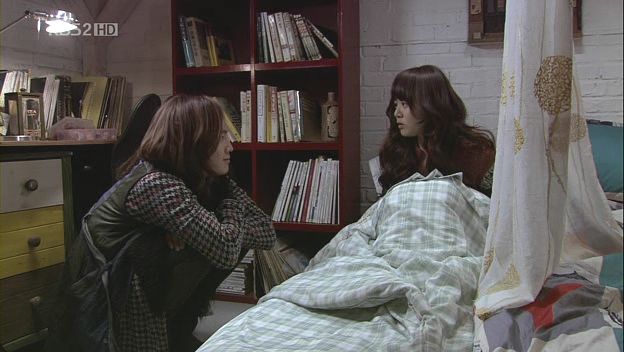 Mae Ri asks if he has to work until Christmas Eve, which unfortunately Mu Gyul is booked for a performance. She wants to spend their first Christmas Eve, and his birthday, together. She tells him that she won't go anywhere that day, she'll be waiting for him at home, so he needs to hurry back. He promises that he will rush home right when the performance ends.
Mu Gyul stops by a jewelry store, and buys a necklace shaped like the M3 cat of the logo we so love. He performs on a variety show, and runs into the bitchy manager asking to rep him again. Man, she's as annoying as a blood sucking leech. Jung In comes home to find the house empty, even though it's technically his night with Mae Ri.
Mae Ri is busy decorating Mu Gyul's apartment with every conceivable Christmas geegaw. Jung In calls, the poor man is lonely to pieces, and dude his plight makes my heart and head hurt.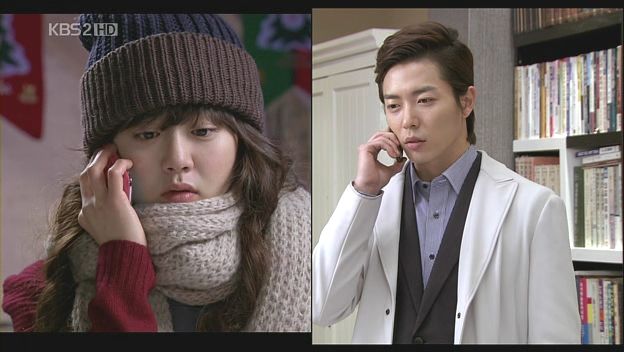 She tells him that she won't be going back to his place anymore, because she's told devil daddy the truth. Jung In tries to stall the inevitable, saying that the contract isn't up yet. But Mae Ri firmly ends the conversation. Jung In sadly sits down on Mae Ri's bed, looking around the now empty room, and his continued empty life.
Mae Ri gets called out by her friends, saying that she needs to hang out more even though she has a boyfriend now. They plan a Christmas Eve party. Mae Ri goes home and makes a cake, and I want to inhale the cream frosting directly from the piper. Nom Nom Nom, Koalas love frosting. Mae Ri doesn't forget the most important thing, moving that dang dividing curtain aside.
The phone rings and Mae Ri picks up and asks Mu Gyul when he's coming home. Turns out its Jung In calling, who is sitting all alone on Christmas Eve, with platters of fruit and cakes, and his reindeer sweater. Only Kim Jae Wook can wear a bookish reindeer sweater and still make me want to paw paw at him. He asks Mae Ri to come over one last time, there is something he never got to say to her. She refuses again, but after hanging up her face falls at being so cold.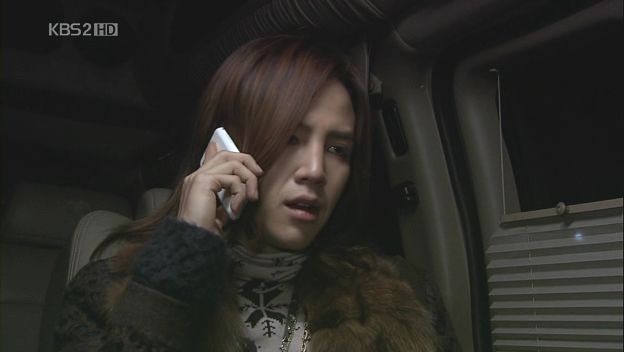 Mu Gyul calls Jung In, pissed that he's stuck in traffic having had to perform at a ski resort. Jung In is equally PO'd, and asks Mu Gyul why everything needs to be accordingly to his whims. Mu Gyul's even more incensed, and tells Jung In that once he makes enough to buy back the engagement ring, he's going to quit.
Jung In looks at the empty chair next to him and thinks about Mae Ri. Mae Ri is sitting at home waiting when she gets a call from Mu Gyul. He lies that he's stuck in traffic and tells her to go to sleep first, likely so that he can arrive early and surprise her. Mae Ri gets a text from Jung In, telling her that 100 days is not yet up, and that he will wait until he can tell her what he wants to say to her.
Mu Gyul picks up a box that looks like it contains a ring. Hhhhhmmm, wonder what the boy is thinking. Mae Ri goes to see Jung In. He notes that Christmas gives one a desire to have cake, and that it must be nice to be able to spend Christmas with another person.
Mu Gyul is happily walking to Jung In's place, and I'm like what-the-what on that disconnect. Let's assume he went home first, didn't see Mae Ri, and then headed over to Jung In's place, okay? Or maybe Mae Ri left him a note that she needed to pop by Jung In's place. I don't know anymore – the lack of any sense in plot development in this drama is slowly making me insane. [Edit: eagle-eyed M3-fans have pointed out that Mu Gyul already bought back the pawned ring, and was specifically headed back to Jung In's place to return it before heading home to his Merry Christmas. Okay, that totally makes sense now. He was *not* expecting to see a certain moppy-haired girlfriend of his at Jung In's place at that moment, that's for sure!]
Mae Ri tells Jung In that she has something to ask him – she asks him for a divorce. She says that only then can things end for good. Mae Ri gets up to leave, and Jung In follows and grabs her for a back hug that momentarily made me stop breathing. Wow, was not expecting that. She tries to break free, but he asks her to please just stay like this for a minute longer.
It wouldn't be the M3 we love and love to make fun of, if at that moment Mr. Kang Mu Gyul didn't just walk in the front door, locks be damned, and see his girlfriend getting her back hugged by another dude. On his birthday. Yup, I think this calls for make-up sex in the next episode! Oh wait, they haven't even had non-make-up sex yet. Whatever, this is the exact misunderstanding that calls for boating to resolve.
Thoughts of Mine:
Really!?! What is this? The 896th time Mu Gyul has seen Jung In in close proximity to Mae Ri and has/will get upset? The first time was squee, the second time was ho-hum, and by now even Mu Gyul must be wondering why the heck he even needs to blink an eye since technically the other guy is Mae Ri's lawfully wedded husband, and its always a misunderstanding anyways. You know what angst would work better to end this episode? Anything else, that's what!
Okay, rant out of the way – now that was one HOT HOT HOT back hug. Damn you, Jung In, for always making me feel bad for your lonely woobie ways and wishing you'd get a warm embrace from Mae Ri even though she's not in any position to give you one. Let me also foretell that this is the same non-event as Seo Jun's kiss to Mu Gyul, which Mae Ri saw and let it go for the pointless moment that it was.
If the only point of this interlude was to (1) end things for good between Mae Ri and Jung In, and (2) provide a little heightened emotions between Mu Gyul and Mae Ri so that we get a Christmas Eve boating scene when those two head back to his apartment – then I am all good with it! See, I am so easy to please. Remember that we were SUPPOSED to get a Christmas boat at the end of Playful Kiss episode 16, but we didn't. Yeah, I am still bitter about that. M3 can redeem itself by going that route.
The scene where Mu Gyul and Mae Ri arrive at the Wonderful Day showcase, and Mu Gyul goes on stage and makes his freaking awesome public declaration of love for his Merry Christmas? Yeah, that scene made my toes curl it was so good. Do you realize that Mu Gyul told Mae Ri that he loved her first! The significance of that declaration becomes manifold when we assess their relationship histories and what it means for each one to commit to something.
Mae Ri is too quick to commit, one word on loyalty and she's got her can-do spirit up for grabs. Mu Gyul refuses to commit, a day beyond one month and he's itching to get out and move on. A nomad and a woman longing for stability – their love story make me swoon because I can both rationally understand why they would be a perfect fit, and emotionally connect with why they love each other. That's why the central OTP works in M3 (heh, and is the only thing that works), because the relationship is dramatically believable.
I also find the Winter backdrop of this drama perfectly suited to the love story. All the scarves, ear muffs, and coats lend itself to a feeling of finding warmth in the coldest of times. Mu Gyul met Mae Ri when she had pretty much hit a low point in her life. Witness that she didn't become happy when she got a chance to marry a rich guy, she found happiness when she discovered in Mu Gyul the man she wanted to share all the good and the bad times with.
Being with Mu Gyul may be harder, financially and emotionally, than being with Jung In. Unless Mu Gyul becomes an established musician, his career will have ups and downs. He'll always be popular with the ladies. But this is the love and life that Mae Ri wants, with a man that she wants to spend the rest of her life with. I love how developed the love story is in M3, making me feel like I understand the crux of the relationship between the OTP.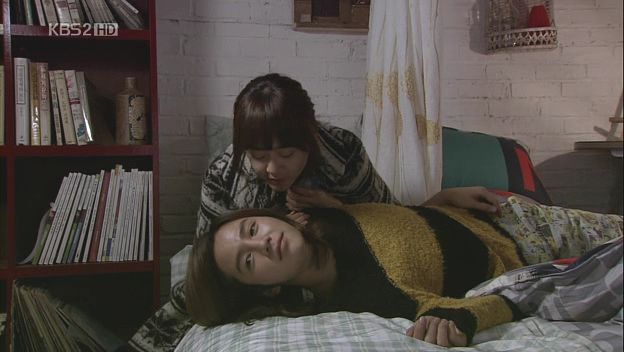 Too bad everything else was so bad that this drama will likely never be enjoyed except by a small group of fans out there. I would recommend it, to certain people who I think may like it. Right now, I'm coasting on a cresting wave of goodwill I've built up for M3, happy to see this drama to the end, but am glad that it will be over soon. It's hard to watch a drama that is so choppy and bipolar, and try to enjoy the good when the bad drives you batty. I'm really looking forward to the final two episodes. Hopefully we'll get a glimpse of where Mae Ri and Mu Gyul end up further down the line.
I will leave you all with a quote by Elizabeth Barrett Browning, which feels like what Mu Gyul would say when one day Mae Ri asks him "why do you love me so?":
I love you not only for what you are, but for what I am when I am with you. I love you not only for what you have made of yourself, but for what you are making of me. I love you for the part of me that you bring out.