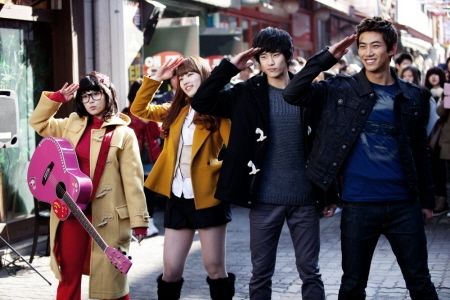 The leads of Dream High were captured on fan cam on the streets of Seoul, filming a scene for the upcoming episode. The students of Kirin High's loser class, Hye Mi, Jin Gook, Sam Dong, and Pil Suk, performed a cover of SNSD's "Genie". All I know is – Kim Soo Hyun is dancing to an idol cover, and shaking his money maker. This I gotta see!
Fan cam of the Dream High cast dancing to Genie:
[youtube=http://www.youtube.com/watch?v=nb_XN1mmXNA]
I don't what is it about DH, but I find the impending love triangle deliciously my cup of tea. I think it's because both guys are amazing, yet are so wholly dissimilar and offer completely different emotional outlets for Hye Mi. I'm reserving my decision for which ship gets my vote, but I consider it a bonus if DH toggles the love triangle so that I remain unable to pick a side until the very end.