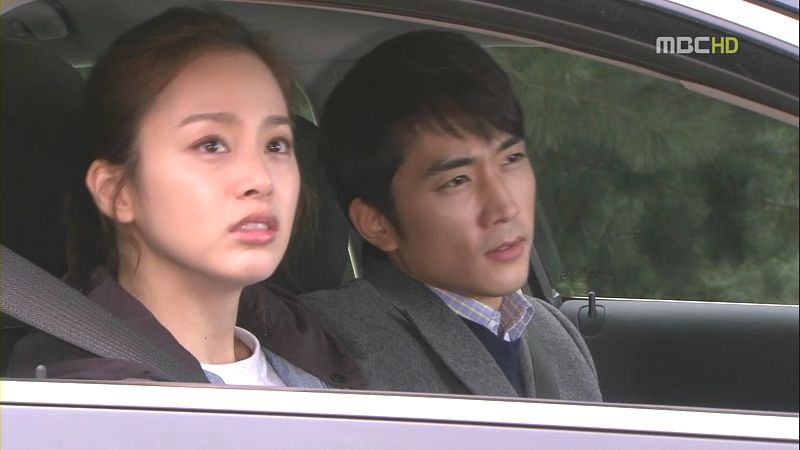 I need some help people. If you are enjoying My Princess, or enjoying my recaps of it, or hopefully both, can you leave a comment telling me? I need something positive to motivate me to finish recapping this drama, which I vow to do. I'm thisclose to tearing my hair out having to suffer through another interminable episode of "The Yoon Joo Fug-Face Show", and want to know that what I'm suffering for actually brings enjoyment to people. MP episode 12 didn't restore the last shred of hope I had that this drama would somehow regain its momentum and/or sanity. But at least I survived watching and recapping it.
I can't even compare MP's downward trajectory (created by gaping plot holes and character behaviors that are not logical) to the other two dramas that I have recapped (Playful Kiss and Mary Stayed Out All Night). PK had the fluffiest of all fluff plots, and M3 went turbo on the insanity train. But through it all, it remained entertaining for me to watch and recap. Okay, it was also fun to gripe about the things going wrong in it (see my PK ep 15 and M3 ep 15 recaps – hey, ep 15 seems to the universal crazy-of-all-crazy episodes).
But MP is not fun anymore, either on a pure watch level, nor on a snark level. Episode 12 had zero energy, and worse yet, it had no point. It was deader than road kill. I watched all the actors sleepwalk through this episode, and then spit out their lines on cue. Don't get me wrong, I still love Seol, Hae Young and Jung Woo, but I'm shaking my head at how this peppy adorable little drama became this….dreadfully boring mind suck. Read on, and tell me if you agree with me, or I should shut my trap.
Episode 12 Recap: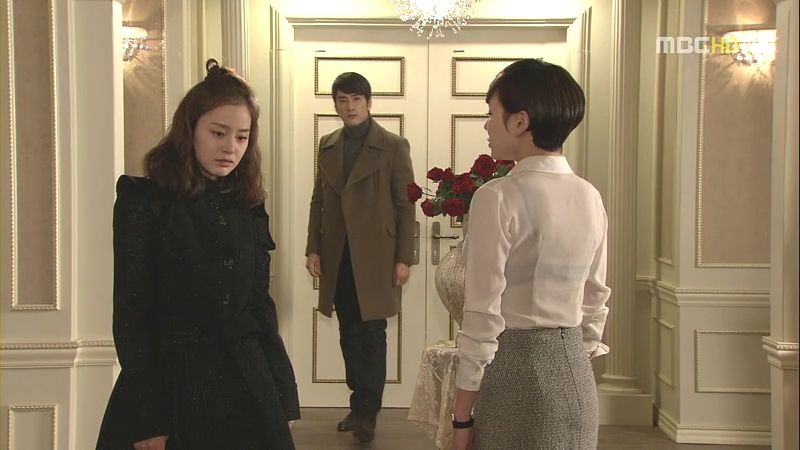 OMG, what is this insanity!?! Episode 12 started with almost 8 whole minutes of scenes from episode 11! That amount of filler redundancy is unacceptable, I call foul and lameness all around. If you haven't written or filmed enough new material, then keep the episode short and shove more commercials beforehand. End of rant.
Hae Young walks into the bedroom, asking Yoon Joo what happened since he can see that something is wrong with Seol. Yoon Joo says that she was just comforting Seol (by stabbing her with a thousand needles and pouring acid in the wound), who appears to be in shock after finding out the satchel does not belong to her.
Hae Young grabs Seol, turning her around, and telling her urgently that she needs to trust him, and tell him everything she heard. Only then can he protect her. Yoon Joo is all "yeah, go ahead and tell oppa what you just heard", and Hae Young asks her again what Yoon Joo told her. Seol decides not to tell Hae Young, and goes along with the pretense that she was just shocked about the satchel.
I am so frustrated with these people, ugh, just tell him, Seol! Yoon Joo leaves, and Hae Young presses Seol again to tell him what happened. She keeps insisting that her shock was caused by Dan having the satchel, and tries to go rest. Hae Young stops her and tells her that he has something he wants to tell her.
She stops him, and tells him with a smile that she doesn't believe what her sister said. Dan likes to make up stories, so neither of them should believe the crock of baloney Dan concocted. Hae Young looks grim, but turns and walks out of the room. Seol watches Hae Young leave, and breaks down in tears at all the crap she's just found out. Hae Young walks outside, but he can hear Seol sobbing in her room. (Hae Young-ahhh, can you come and comfort me, too. I'm sobbing tears of blood in my heart for how indescribably stupid the plot of MP is spiraling towards. Please save me, too……)
Seol sits in her room and reads the notes that Hae Young left for her in the previous episodes. Rather than, I dunno, be productive and start thinking about ways to disprove backstabbity bitch-face Dan's usurper pack of lies.
The next morning, Yoon Joo is drinking coffee in the courtyard and smirking, lest her face resemble a human beings. Seol comes up to her, and Yoon Joo is all smarmy and asks her whether she feels better, and is prepared to run away now. Seol says that Yoon Joo is a horrible person, even more horrible than she realized. She's using two people against Seol, two important people that Seol cannot hurt, i.e. her sister and Hae Young.
Yoon Joo's cruel gloating expression during this scene is so vile that I had this genuine uncontrollable rage to punch her in the face. Yoon Joo asks Seol whether she is planning to leave or not. Seol says that she will leave, as Yoon Joo smiles and says that it's a wise decision. Seol tells her that leaving is not because she will not be the princess or will not return.
She's leaving for now, and she plans to come back as the princess. At that time, Yoon Joo will be DEAD. Oh Seol, them is big words, but that doesn't scare this hag. Yoon Joo asks her how she expects to come back? There is nothing Seol can do to come back here. However Seol gets back to the palace, everyone will know the truth about Hae Young's dad.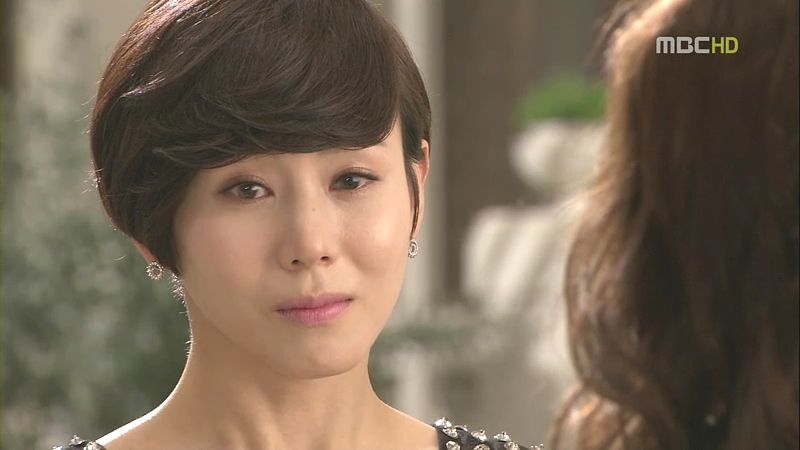 Seol becoming a princess will ruin many people's lives, especially Hae Young and his father's lives. Yoon Joo tells Seol to just leave. You know what more I hate about Yoon Joo – how she doesn't care a whit about Hae Young's life or the dirty deeds of his father getting out, she just gloms on to that excuse to keep sticking a needle into Seol to make it hurt. It's not just about winning for Yoon Joo, it's a personal vendetta against Seol, and she wants Seol to hurt as much as possible.
Hae Young looks at the envelope his sunbae gave him in the last episode, containing the contact information for his father in New York. After some hesitation, he calls and leaves a message. It's clear Hae Young misses his father, but there are more pressing matters at hand. Seol mopes her way back to her room.
Hae Young comes to see her, asking if she slept well. She protests that she never said he could come in, and he laughs and tells her that next time she can come into his room anytime she wants to. Oooooh, invitation for booty call, you sly dog Hae Young! On a more serious note, he asks Seol to make public the picture of her and her father that was given by the old couple by the seaside.
That picture will prove that she is the real daughter of Lee Han, and not having a satchel is not important to her identity. Seol objects – the picture is not enough, people can still cast doubt, and will ask for a DNA test, which means exhuming her dad's remains. This can go on infinitely as long as people want to keep suspecting.
Seol says she will consider it, but she is tired and wants to rest. Hae Young gets up to leave, and Seol stops him, asking if he believes that she is the real princess. He says yes with a certainty, that until the day he died, he will believe that she is the princess who stole his inheritance. He tells her not to worry, he'll handle everything. Seol watches him leave with a wistful expression on her face.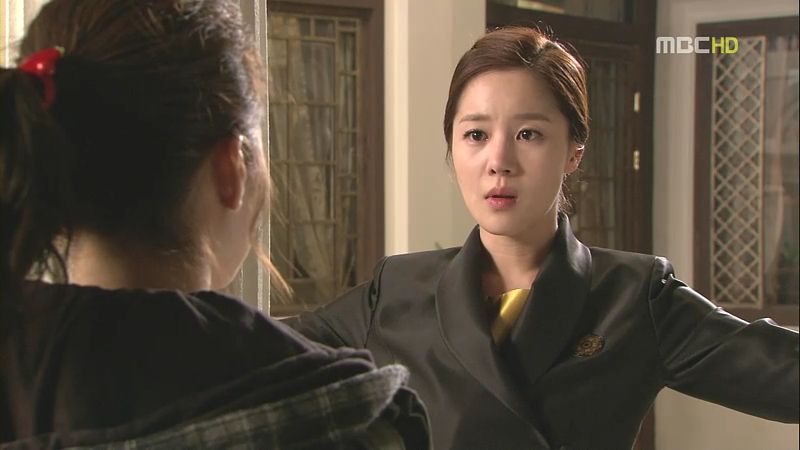 She packs her going-to-Egypt red suitcase to prepare for her departure from the palace. She looks over all her materials, including the picture of her and her dad. She uses the red strawberry hair band from her childhood and ties up her hair. A lady in waiting tries to stop her, but Seol says that Yoon Joo has given her permission already.
Yoon Joo and the older lady in waiting watch her leave, and Yoon Joo asks that someone keep an eye on her. Dan calls Yoon Joo, complaining that she has been cooped up all day. Yoon Joo tells her to stop being so stupid and let her handle things. Dan suddenly hears a pounding at the door, and its Hae Young.
Yoon Joo tells her not to open the door, and she will install Dan in a safe hotel. Yoon Joo seethes at the older lady in waiting, demanding to know how Hae Young found Dan. Hae Young tells Dan through the door, that even if Seol finds evidence, she won't reveal it because she doesn't want to hurt Dan. Instead of feeling ashamed, Dan mutters that Seol is just pretending to be kind. Hae Young offers to help Dan, and asks that she contact him.
Hae Young asks Secretary Oh how he verified that Seol was the princess in the beginning. What was the reason? Secretary Oh tries to leave, but Hae Young wants to know the truth, since it's becoming clear that Secretary Oh has concealed even more information about his father's wrongdoings. Secretary Oh asks Hae Young to stop trying to find out the truth.
Hae Young also puts two and two together, asking Secretary Oh if Yoon Joo also knows about the truth regarding his father. This time Secretary Oh tries to protect his daughter, asking if Hae Young is suspecting her. Secretary Oh tries to convince him that they are all one family, but Hae Young tells him that he doesn't trust ANYONE at this point. Hallelujah, Hae Young!
The lady in waiting informs Hae Young that the princess has left the palace, with the permission of Yoon Joo. She tells Hae Young that the princess looked like she had been kicked out. Hae Young scrambles to find where the princess is. At the guest house, Hae Young is trailed by reporters, as he asks her mom where Seol could have gone.
Her mom asks if Seol disappeared because of the satchel situation? He leaves two lackey to protect her, and asks that she call him if Seol comes home. He promise to protect Seol and make sure she's alright. Mom looks very upset at the turn of events. Hae Young's calls to Seol all end up in her voicemail. He goes to her father's grave, and sees a bouquet of flowers there already. Clearly Seol had been by earlier.
He promises to visit the grave again after he finds Seol. At this time, Seol is at the police station looking for criminal records about her father's car accident. The police tell her that since her father's accident was not deemed a crime but an accident, the records are deleted after 5 years. Seol goes to visit her father's seaside friends.
They ask how she is doing? She wants to know if her father and her were being chased when they arrived in this village. The husband says that something did seem off, especially since her father ran away one night without saying anything. Afterwards, a rich man came by asking the whereabouts of her father.
Seol wants to know if anyone could have known her father. They explain that it took them a long time to even reach Seol last time. They called the number on the ad repeatedly, and reached someone, who brushed them aside and never passed along the information on how to reach Seol.
Seol calls the number on the newspaper, reading the front desk of the Daehan Group. She identifies herself, asking to see the list of people who called the number to respond to the ad. She is initially refused, on the orders that Secretary Oh had told them no one could see it. Seol threatens to go straight to Grandpa, and is given the list.
Seol calls everyone on the list, scratching off one lead after another. Hae Young is back in his swanky apartment, recalling the first night he brought Seol here and she had a tummy ache, and also when she got sick and he took care of her. He calls Seol's friend, and finds out that she may have spent last night in the professor's office. She promises to call Hae Young if she sees Seol.
Hae Young calls his father again, leaving another voicemail message. In this message, Hae Young asks his father if his father killed Lee Han? Not exactly the cuddliest of messages, especially since Hae Young ends up yelling into his cellphone of angst. Seol is still calling everyone under the sun. She sees a call listing from a James Park, who called from the US. Gee, I wonder who that can be.
She calls that number back, and it's of course Hae Young's dad's voicemail. She leaves a message identifying herself, and asking for him to call her back. Hae Young is still moping in his apartment. He types in a message on the princess's website, saying that a public servant can't sleep because of her, signing off as P-kun.
Yoon Joo comes by, at the request of Hae Young. He cuts to the chase, and asks her whether she knows where Seol is right now. He feels bad towards Yoon Joo, but he knows that she likely asked that Seol be followed. He understands her motivations, but nothing matters now except finding Seol. She agrees to tell him where Seol is, but she can't come back to the palace. Hae Young is all like "shut your trap and tell me where she is, I can't hear another word you are saying" (okay, I'm paraphrasing just a tad here). Yoon Joo looks more bitter than ever.
Seol has fallen asleep at the restaurant and is recognized by the patrons. She tries to leave, but spills another customer's coffee all over that person. She tries to apologize but that chick asks for coffee and cleaning money. Except Seol doesn't have any money, so she keeps apologizing. Hae Young comes up to her and acts all upset with her.
Hae Young gives her money and drags Seol out of there. In the car, he asks if she's alright? Will she run away again? She says that she will not go back to the palace unless she finds her father's trail from when he was alive. Hae Young asks if she believes that his father hurt her father. He tells her to believe what she wishes, but he'll go with her to find the truth.
Hae Young confesses that believing in his father's innocence is the only thing keeping him going. Hae Young takes Seol to Jung Woo's apartment, and barges in, saying that they are here to crash with him temporarily. Hae Young makes himself at home, and drags Jung Woo out to go grocery shopping. Yoon Joo is informed that Seol and Hae Young are staying with Jung Woo, and she is not happy.
Grandpa arrives at the palace, yelling at Yoon Joo and Secretary Oh about why the princess left the palace and nothing was done to stop her. Yoon Joo says that she will go bring the princess back. Secretary Oh asks his daughter privately whether this is all her doing? He tells her that Hae Young questioned him about whether he told Yoon Joo about Hae Young's father.
Yoon Joo asks whether her father covered for her, and her response makes it clear to her dad that his daughter has been the mastermind behind this entire situation. She thanks her father for protecting her. Jung Woo wants to know why Hae Young dragged him out, and Hae Young says that he wants to let Seol wash up without feeling awkward.
Jung Woo picks the most expensive cut of meat for their dinner, leading Hae Young to gripe that he sure picks the most expensive stuff when someone else is paying. The younger lady in waiting and Gun are online, trying to stop all the princess antis and protect their princess.
Hae Young and Jung Woo come home to find Seol asleep on the sofa. Jung Woo covers Seol up, and Hae Young gets upset that he was so tender and careful in covering her up. Jung Woo wonders why he brought Seol here. Hae Young tells Jung Woo that he thinks this is a place that Yoon Joo won't come to find Seol, even if she knows that Seol is here.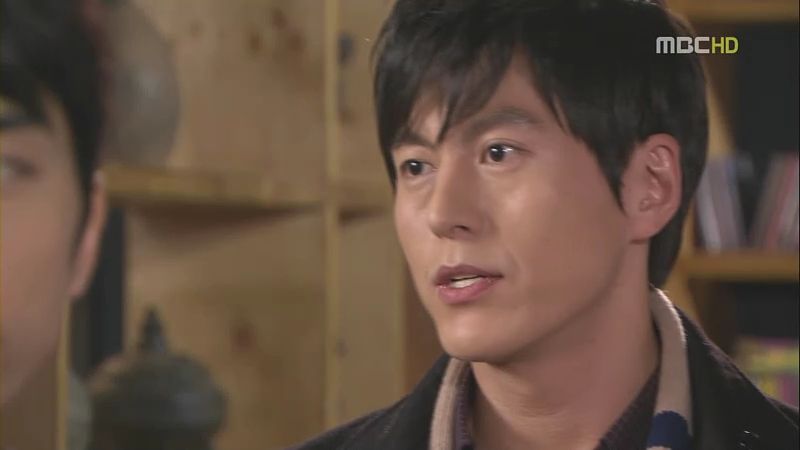 Jung Woo says that Hae Young is wrong about Yoon Joo, and then turns and tells Seol to get up since the guys are done talking. Seol gets up from her feigned sleep. The doorbell rings, and Jung Woo says that it's likely Yoon Joo. Seol tells him to open the door, there is no reason not to see her. The demon lady walks inside asking to see Seol.
She wants to talk with Seol outside alone. Seol agrees, and they walk outside. Yoon Joo asks whether Seol ran away only as far as Jung Woo's house. Seol says that she is currently with the two men that Yoon Joo claims that she (Yoon Joo) will never let go of. Is Yoon Joo jealous? Yoon Joo tells her to shut up, and Seol tells her that this ugly attitude is clearly her true self.
Seol says they should get along, now that she knows Yoon Joo's real self. Yoon Joo says that they are getting along, she came all the way to see Seol in person to convey something that could have been done over the phone. Seol tells her to cut to the chase. Yoon Joo tells her to go see Grandpa, and tell him personally that she does not want to be the princess.
Seol asks her how Yoon Joo knew that that Hae Young's father caused her father's death. Yoon Joo tells her to confirm it with Grandpa, if he faints, it clearly must be the truth. God, she is such a disgusting human being. Hae Young comes to take Seol away, and Yoon Joo tells him that she has been ordered by Grandpa to take her back.
He tells Yoon Joo to inform Grandpa that he is forcibly taking the princess away. In the car, Hae Young tells Seol not to speak with Yoon Joo alone anymore. He tells Seol that he is taking her somewhere private, just the two of them. He just wants to spend time with her. Oooh, I hope he's taking her to his secret love shack!
They drive up to a country cottage, and Seol stops in her steps as they approach the front door. Hae Young turns and looks at her expectantly, wondering why she stopped and has a look of recognition on her face. Seol sees Hae Young's father walk out the front door.
Thoughts of Mine:
Alrighty, let's just call a radish a radish and not dress it up in finery and pass it off as a turnip. This episode sucked. Big time. It was boring, had zero plot movement, and no real cute moments to speak of. I had to get talked off the ledge this morning by friends who huggled me and told me not to consider quitting the recaps. They all promised me stiff drinks as my compensation, so I shall soldier on.
First off, Hae Young's dad clearly did not just magically arrive in Korea (where he is barred from returning) and walk out of a country cottage looking not a day older. It's clear that Seol is having a flash back memory triggered by having been to this place in her childhood, likely with or to see Hae Young's dad. What that all means I won't bother to conjecture about at this point.
Seol also did the dumbest thing possible by trying to protect Hae Young and Dan. NO. Hae Young is a big boy and can handle whatever his dad did or did not do. Tell him, and you two work through it. Dan is a grade-A waste of a human being, who should be reincarnated as a ferret in her next life time, and promptly captured by trappers and skinned alive. Yes, I am a bloodthirsty wench. Why Seol feels the need to protect Dan from a lie she concocted voluntarily is baffling to me.
Dan has shown no love, affection, or consideration for Seol, during what looks like their entire lives together living as adopted sisters. Seol can treat her well for all I care if Dan was simply just a bitch, but Dan has now stepped over the line by doing something so reprehensible and criminal, I cannot support Seol's continued compassion for her. Enough is enough, and I hate it when a drama character refuses to cut the cord on a lost cause. What's worse, Seol is putting the country at jeopardy by allowing Dan to muddle up the legitimacy of Seol's claim as the princess.
Hae Young, on the other hand, is the only person left that I can relate to as behaving like a rational, intelligent human being. He's pretty much cut Yoon Joo off, having figured out and accused her of masterminding this entire debacle, and has no qualms about telling her to go fug off. He asked his father point blank if he killed Seol's father. He continues to look out for Seol's best interest, regardless of how it will affect his best interest. He's not doing it mindlessly either, he's aware of the potential consequences, and made his choice.
I….have lost the will power to discuss Yoon Joo anymore. She's a waste of my breath, truly one of the vilest drama characters ever created. I'm not sure what the writer intended when she wrote Yoon Joo, but turning off entire swathes of your drama–viewing audience clearly was not her intent. And yet Yoon Joo has taken over the entire drama, her presence infecting the proceedings like an odorless poison gas that permeates the atmosphere. It's suffocating for me to watch her, and she's a major reason why MP has lost all enjoyment for me.
If I could airlift Seol and Hae Young out of that hell hole and install them in my personal island paradise, where my perfect couple could frolick in the sun and roll around the beach, I would happily do so. Sadly, both Hae Young and Seol looked exhausted in this episode, so the pretty was dialed down significantly as well. Sigh. For now, I'm counting down to the end. Four more episodes left. You are all in it with me to the end, right?