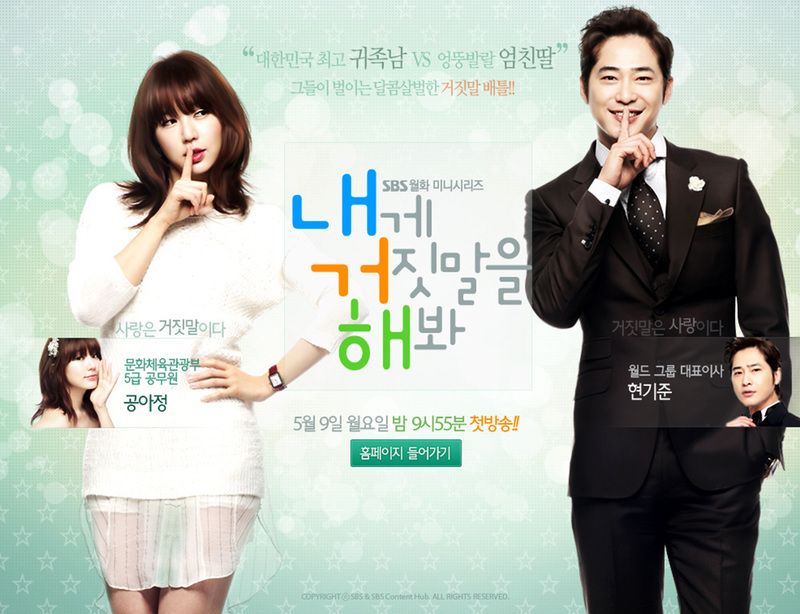 I can't believe we have another week before Lie to Me premieres. I am so ready for this drama. I've translated the character descriptions for the main four leads. Frankly, everything reads so simplistic, predictable, and trite (with elements of every single rom-com in existence). YET, I cannot wait to watch it. I think this drama will live and die on the chemistry between the leads, with the plot simply filler elements to bring everyone from one point to another and so forth. I'll be hanging in there for every Kang Ji Hwan–Yoon Eun Hye scene.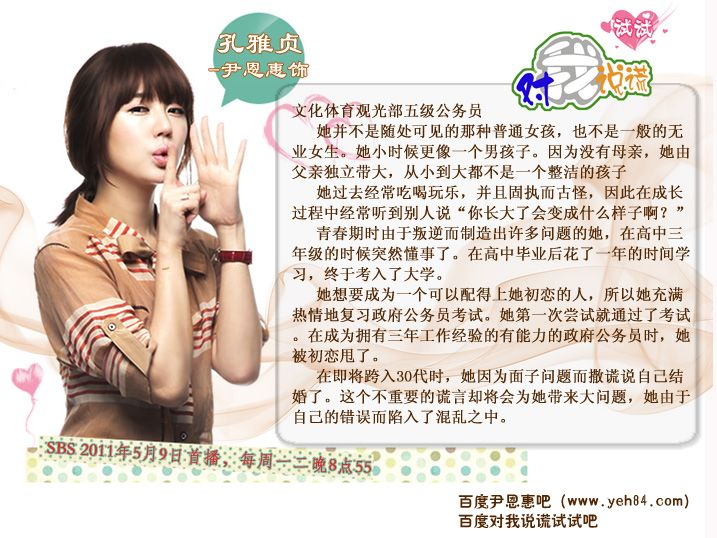 Yoon Eun Hye is Gong Ah Jung, a 5th Level civil servant in the Culture, Sports, and Tourism Bureau:
She's not your ordinary girl that is a dime a dozen. Nor is she your average unemployed girl. When she was young, she was a tomboy. Because she hasn't a mother and was raised by her single-parent dad, she was never a neat and tidy child. In the past, she played hard and goofed off, with a stubborn and eccentric personality. When she was growing up, she constantly heard people wonder "what's going to happen to you when you grow up?"
As a teenager, her rebelliousness resulted in a slew of trouble, but in her final year of high school she suddenly wised up. After graduating from high school, she studied for an entire year and got into college. She finally became someone who can match up to her first love. She passionately studied for the civil service entrance exams, and passed on her first try. After working for three years as a civil servant, she's dumped by her first love. About to enter into her 30s, she tells a lie that she is married because of her pride. This insignificant lie will cause her enormous problems, and for her own mistake she will be swept up into a maelstrom.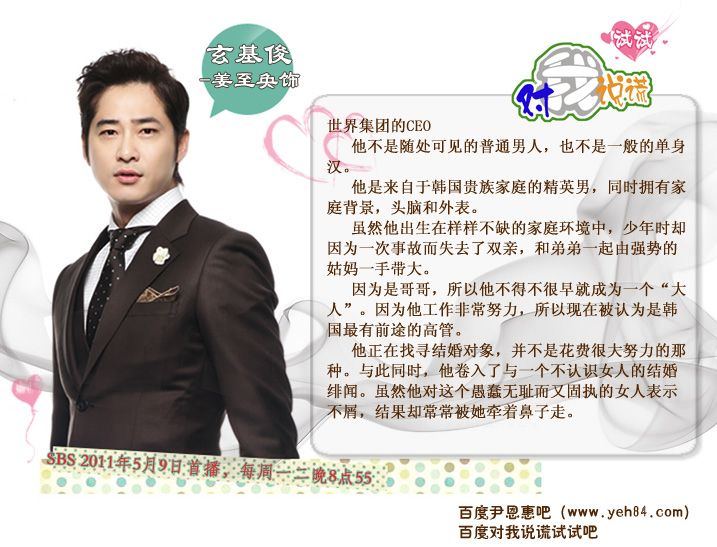 Kang Ji Hwan is Hyun Ki Joon, CEO of World Group:
He's not the kind of average man one can find anywhere, and he's not a typical bachelor. He's an accomplished son of a Korean aristocractic family, having looks, background, and intelligence. Even though he comes from a family where he lacks for nothing, he lost his parents when he was young. He and his younger brother were raised by his career-woman aunt. As the older brother, he had no choice but to become a "man" quite young. Because he worked hard at his job, he's considered one of the most promising young executives in Korea.
He's looking for a marriage candidate, though not putting in too much effort. Right around that time, he's embroiled in a scandal surrounding a woman he doesn't even know. Even though he disdains this stupid, shameless, and stubborn woman, he can't help but be constantly led around by the nose by her.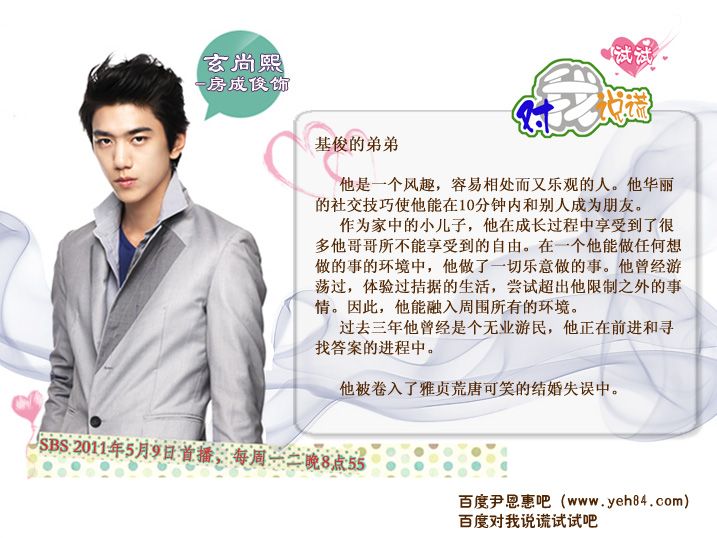 Sung Joon as Hyun Sang Hee, Ki Joon's younger brother:
He's a charming, easy to get along with, and warm person. His socializing skills allow him to become friends with anyone in less than 10 minutes. As the youngest of the family, he had a lot more freedom than his brother growing up. He does what he feels like doing. He was once dissolute, tried living simply, tried to do things beyond his capabilities. Because of that, he can easily adapt into any enviroment. For the last three years he has been unemployed, and he is currently in the process of looking for answers. Somehow, he get swept into Ah Jung's ridiculous marriage mistake.
Jo Yoon Hee is Oh Yoon Joo, a display designer and Sang Hee's friend:
She was Sang Hee's high school friend, growing up in a very comfortable family, receiving a lot of love. She is like a piece of glass without a single blemish, but at the same time gentle. She's the very personification of an angelic girl, with lots of charisma, without any need to purposely make herself stand out. Simply put, she's not only beautiful and kind, she's also the type to make other ladies feel demoralized around. She's loved Sang Hee's brother Ki Joon, but after the engagement was cancelled, she left for Paris. She has returned to Korea from Paris after three years.
[Credit: all pictures from Baidu Lie to Me bar]