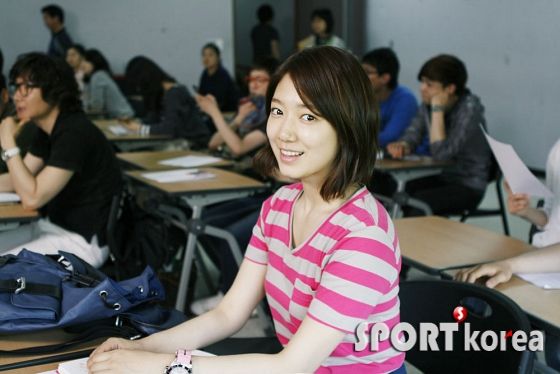 The upcoming MBC college-set music-themed K-drama You've Fallen for Me (formerly known as Festival), has selected the fan-voted title Heartstrings for it's English title (while the Korean title remains You've Fallen for Me). I know, it's totally weird, but I do like the title Heartstrings, which alludes to both the romance and the music elements of this drama.
The drama commenced filming today, as it has only 7 weeks to go until its premiere following the end of Best Love. The first stills of leading lady Park Shin Hye have been released, and it looks like it was a day of shooting on campus as her character attends classes.
I like this hairtsyle on Shin Hye, it looks effortless and perfectly suited for a down-to-earth college girl, which is what her character seems like based on how she dresses simply and casually, and has such minimal makeup on. Now I'm just jonesing for a first look at her co-star Jung Yong Hwa, him with his wooden acting and adorable snaggle-tooth. Why do I have a feeling the sparks will keep flying between these two on screen?
[Credit: Sports Korea news]