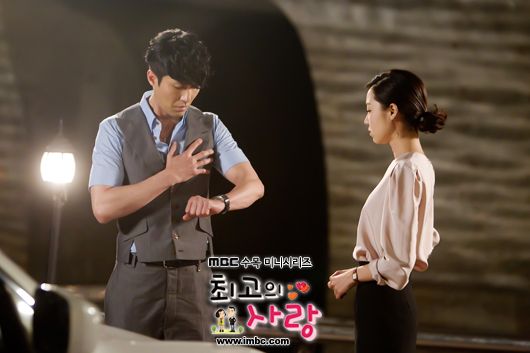 Drama gods, what did I do to deserve (or be punished for) the back-to-back-to-back awesome of three dramas in a row? Thank god getting to Best Love means saving the best for last, in terms of the best plot and writing, and also means I can take a break for a couple of days before the insanity repeats itself on Sunday.
I love how Jin, the man in total control, relies on a little watch to confirm the most human of emotions – I like you. I'm sure we're in for more pain this week. I don't know how many tears I have left, after going on a dehydration and food-less binge yesterday. Ae Jung and Jin, please be strong in love, my darlings.
Written preview for episode 10:
Pil Joo tightly grips Ae Jung's hand, suggesting that she come over to the calm and unmoveable Team Pil Joo. Jin anxiously goes to Ae Jung's house, telling the excited Ding Dong, who is going on a picnic tomorrow, about Jin's confused feelings.
Ae Jung and Pil Joo's romance sends the ratings for Couple Making Season 3 to new daily heights. Se Ri, facing the scrutiny of the public, Pil Joo's sincere heart, and her jealousy at Ae Jung, is consumed by the burning in her heart. On the other hand, Jin receives another invitation to go to Hollywood for an audtion.
[Credit: written preview released by MBC, translated into Chinese by Best Love Baidu bar, translated into English by me]