Almost every single relationship in Bu Bu Jing Xin is well-developed, sometimes using very little to explain quite a lot. What's extraordinary is how well the writer manages to create two equally devastating and viable love stories for the heroine Ruo Xi. As a viewer, both Ruo Xi's relationship with 4th Prince and 8th Prince are unforgettable, even if in the end I felt it was her love story with 4th Prince that was the kind to span lifetimes and multiple destinies.
Early on in the story, 8th Prince joins Ruo Xi on a walk in the snow that goes down as one of the most beautiful scenes in the drama. There are no words spoken, and none are needed. It's evident in that moment that 8th Prince and Ruo Xi cannot be just platonic friends. And for those who think "but he's her brother-in-law!", Ruo Lan would be thrilled if her husband sent her 3000 miles away to live and never bothered her again. But the devastating unrequited love story between 8th Prince and Ruo Lan is a post for another day.
It's snowing outside, the changing of the seasons in Beijing signal for Ruo Xi that her life continues in the Qing Dynasty, the days turning into months and finally into years. She wakes up in her lovely room, her life really quite comfortable, except with the pampered existence comes worries that commoners would never understand: politics, power, and the acquisition thereof. It's all between the men, but sadly the women are caught in the middle, ultimately victims and pawns.
Ruo Xi walks out of her room and looks at the falling snow. She reaches out her hand to catch the delicate flakes, the cold a stark reminder that this is all real. It's not a dream.
She starts walking, likely to visit her sister Ruo Lan, to sit around a warm stove and chat.
8th Prince appears out of the corner of her eye, his quiet footsteps in the snow joining hers until they are walking side-by-side in silence.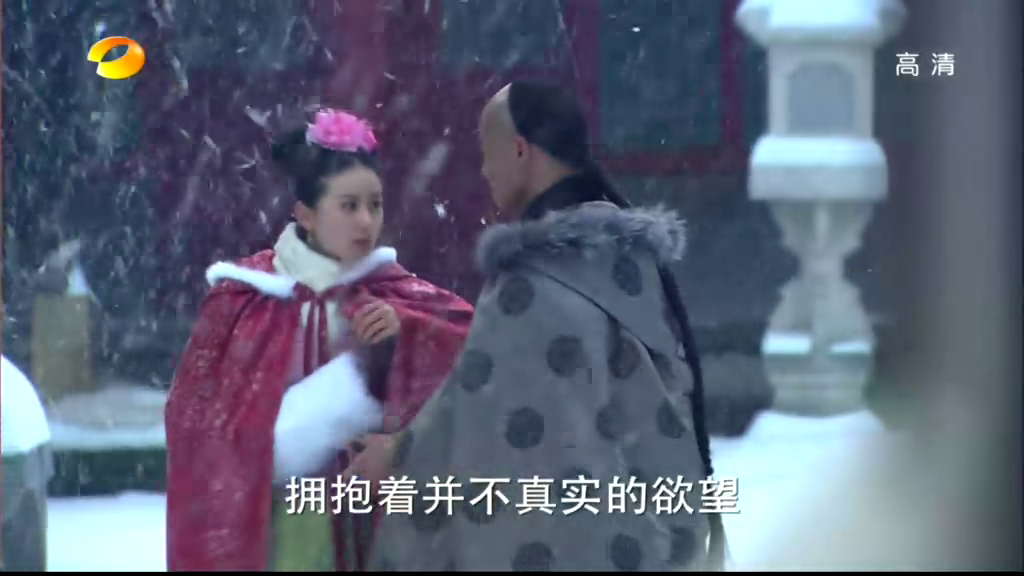 Ruo Xi steps on an uneven bundle of snow and almost trips, but 8th Prince's quick reflexes catches her, holding her elbow tightly. She rights herself and turns to look at him directly in the eyes, and he looks back at her, both of them still in silence.
She moves to pull her elbow back but instead his hand reaches for hers. He grasps her hand in his and turns to continue walking.
Ruo Xi looks at him but doesn't pull her hand out of his.
8th Prince and Ruo Xi enter his study. He removes his cloak, and then turns to see she's still standing there not making any move.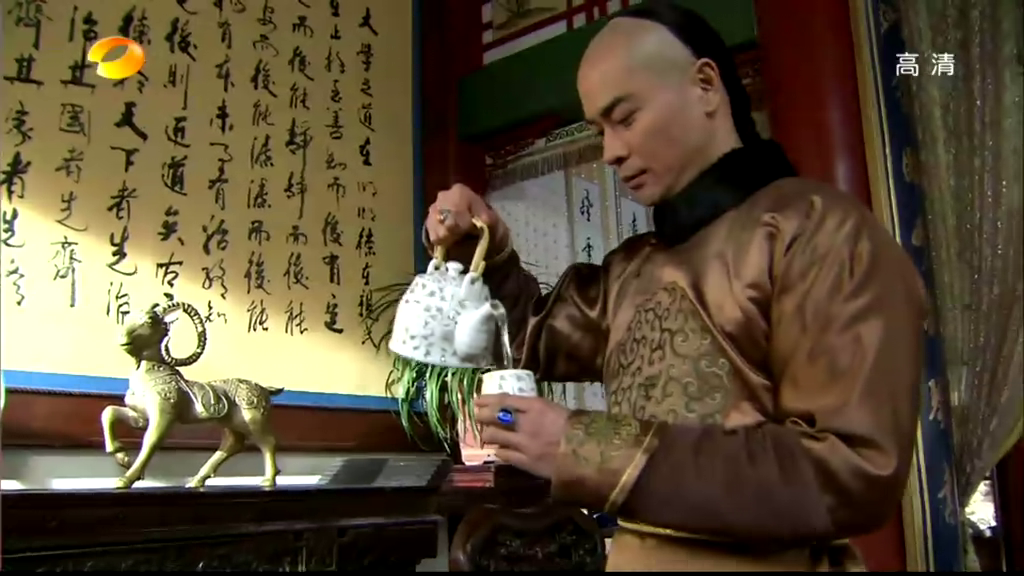 He reaches for her cloak string but she draws back, saying she can remove it herself. He smiles and walks over to pour her a cup of hot tea.
8th Prince then walks over to his desk, sits down and opens a letter to read. He asks Ruo Xi if she happens to like standing up? Ruo Xi scurries over to the table on the other side and sits down.
She drinks her tea and looks at 8th Prince sitting behind his desk reading. She thinks to herself "this man, so full of sophistication and depth, the prince coined by all the court officials as the wise 8th Prince, yet for the price of a throne, he ends his life jailed in a dank cell." It's clear that no matter what could possibly develop between Ruo Xi and 8th Prince, knowing his ultimate fate as the loser of the 9-Prince-Battle will forever loom over her, the spectre of his defeat a steep price that anyone associated with him would suffer when the time came.
But for now, Ruo Xi is still young, the battle still somehow vague and far away. She stands up and tells the 8th Prince that she should head back or else her sister will grow worried. 8th Prince rubs his head for a moment, and then asks his servant to please walk the 2nd miss back.
He smiles as he watches Ruo Xi scurry out of his study like fire ants are after her, when only it's just the piercing gaze of 8th Prince that so unnerves her.