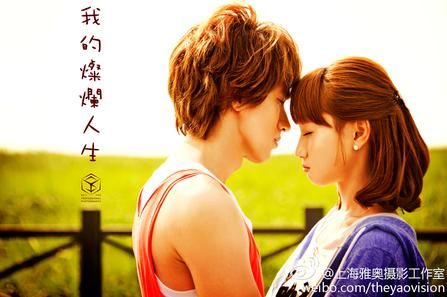 Jerry Yan, probably the most reluctant A-list leading man in Taiwan what with one project every few years, is finally coming back to the small screen two years after Down with Love. The C-drama My Wonderful Life co-starring Yedda Chen is probably more notable for it being a straight up remake of the hit K-drama Brilliant Legacy/Shining Inheritance. The production recently released two official OST MVs, which double as trailers since it pretty much gives away the entire plot.
In this case, that's really not a big deal since the plot is readily available if anyone deigned to check out the original drama starring Han Hyo Joo and Lee Seung Gi. The two OST songs are quite lovely, with Jerry and Yedda each singing one. The drama premieres in 3 weeks, so for those of you missing Jerry or hoping for a more mature take on the story, check it out. I'll probably pass, unless I hear it's the shiz niz. The drama doesn't look bad actually, but I've seen BL/SI and once was enough for me. While it was addicting, ultimately it's not a story I care to watch with a completely different cast.
Official MV1 – Jerry Yan's "My Brilliant":
Official MV2 – Yedda Chen's "The Meaning of Sunshine":
© 2011, ockoala. All rights reserved.