Four of Taiwan's leading actors are getting together for an upcoming 2012 blockbuster period TW-movie. Jerry Yan and Joe Cheng will pair up with Ivy Chen and Michelle Chen for the rare star-studded lavish Hua Yang, a movie set in the waning days of the Ming Dynasty. Ivy and Michelle will play a pair of theatrical performing sisters, and Joe is learning a bevy of traditional instruments while Jerry is doing martial arts training for their roles. Directing will be one of the few female Taiwanese movie directors Chou Mei Ling, who did the well-received indie film Spider Lilies with Rainie Yang.
The cast held a media day to announce the commencement of filming, but all everyone noticed was how exceedingly surly Jerry looked the entire time. It was't just a few frowns, the man positively glowered and bristled through the press conference, though he did crack a smile at the very end when he made a joke to Joe. Oh Jerry, would it have killed you to at least pretend to be pleased to be there? Though his manager did later claim Jerry was sick and not feeling well. I dunno, but in the end all that really matters is the movie turns out to be good and the cast have great chemistry and deliver solid performances.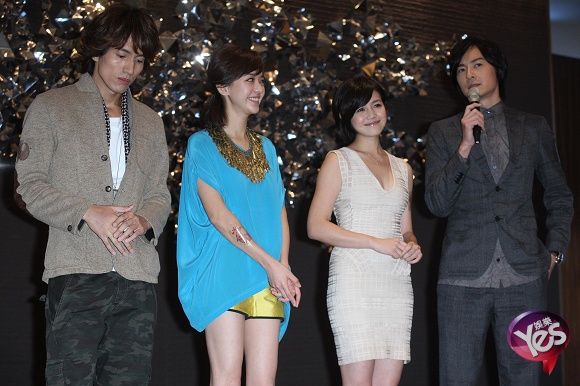 This is the second time Joe and Michelle have worked together, as earlier this year they did the dreadful Channel X together. Though Michelle was thankfully offed in the first two episodes, so lucky for her she got out early. She's currently one of THE hottest actresses in Taiwan, with her movie You Are the Apple of My Eye one of the highest grossing movies of the year, and she's up for a Best Actress award at this week's Golden Horse Awards (Taiwan's Oscars). I have to confess not liking what little I saw of her in Channel X, so I need to see that Apple movie to understand why she's so popular. And I don't even think she's pretty, so this is one actress I don't get the hype as of right now.
So Jerry can smile. I guess he saves it for around Joe. Everyone else gets his pout. All teasing aside, I have no clue how this movie will turn out, but I'm totally looking forward to it. The cast is an intriguing combination of actors, and I love period movies that have an artistic moody bent to it.