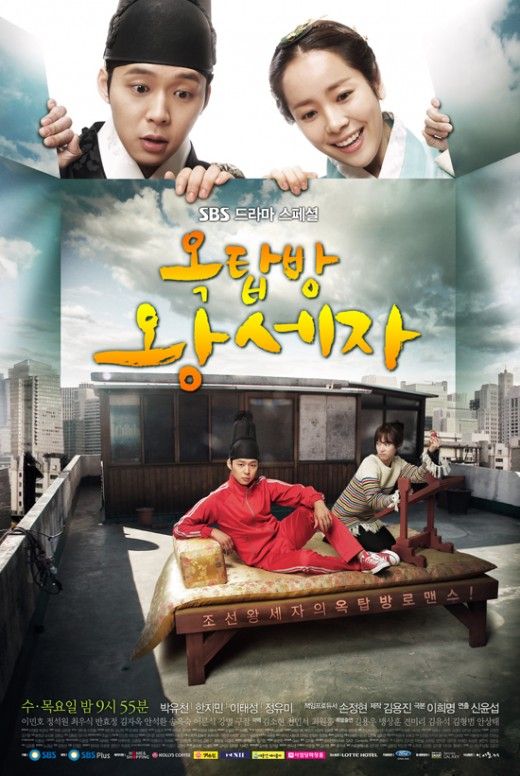 You all know how excited I was for Rooftop Prince, so it's with a heavy heart that I have to share my first impression that episode 1 was derivative and lackluster. The characterizations were painted in painfully broad and extreme strokes, the narrative was choppy, and the acting was overall pretty flat. The story actually reminds me of a mash up of The Moon Embraces the Sun (fate!, wrong girl becomes Crown Princess!, Prince is sad the woman he loves dies!) tossed in an reincarnation and time-travel bender. Throw in makjang modern drama elements of evil stepsisters and cousins vying for chaebol heir succession, I'm really taken aback at how all the previews just cherry picked the cute scenes which so far don't combine together to create a compelling broader picture.
On one hand we have super evil sociopathic second leads, and on the other hand we're supposed to laugh over the fish-out-of-water Joseon foursome in modern day Seoul. So far the juxtaposition of the two is jarring. The only upside is that this drama has nowhere to go but up, and I'll stayed tuned for a few more episodes to see if it settles into something palatable. I wanted the drama to be cute and fluffy, but so far its odd and boring. Episode 1 of RP premiered with ABG 9.8% nationwide, while The King 2 Hearts came out ahead with 16.2%. I actually like episode 1 of TK2H much better, and I'll write about it later.
When I say episode 1 of RP disappointed me, I'm taking into account even more than writing, acting, and directing. I thought the sets and costumes were pretty chintzy, especially when the recent spate of sageuks like Tree with Deep Roots and The Princess's Man were just glorious to behold as a visual treat. In RP, everything feels tinny and slightly second hand. Don't even get me started on the supposed "New York City" sequence, in which they didn't even bother to go to NYC to film. At least the risible Fashion King did, but here I was cringing at the entire sequence from story to set piece.
The musical score so far is also rather uninspired. Nothing jumps out to amp up a scene and heighten the emotion. Since I feel the directing and editing is pedestrian and ham-handed, not having a stellar musical score makes it hard to hide those flaws. I do have to say that Micky Yoochun delivered a decent performance so far, and he's the only main character I like. I might even spend the drama enjoying the antics of his three lackeys who are adorable and fun to watch. But already Han Ji Min's character annoys me with her pluckiness crossed with sad-sack life story.
As for the two second leads, I want to roast them over a fire already. I wonder why the writers chose to write such EVIL and HEARTLESS and SELFISH second leads rather than write them as plausible human beings. The adjectives above are written in all-caps because that is exactly how over-the-top they are portrayed as. How the heck can this overall story even be compelling when there appears nothing else to be invested in other than the main leads falling in love and getting together? I wish writers would write second leads not as plot drivers or obstacles, but as normal people who generate conflict in an organic situational way.
Enough with my critique, read on and see for yourself.
Dark of the night, a cat prowls on a rooftop. Must portend a bad omen.
Crown Prince Lee Gak wakes up and finds he's alone. Where is zee wifey?
Anytime a crying eunuch comes to deliver a message, it does not bode well.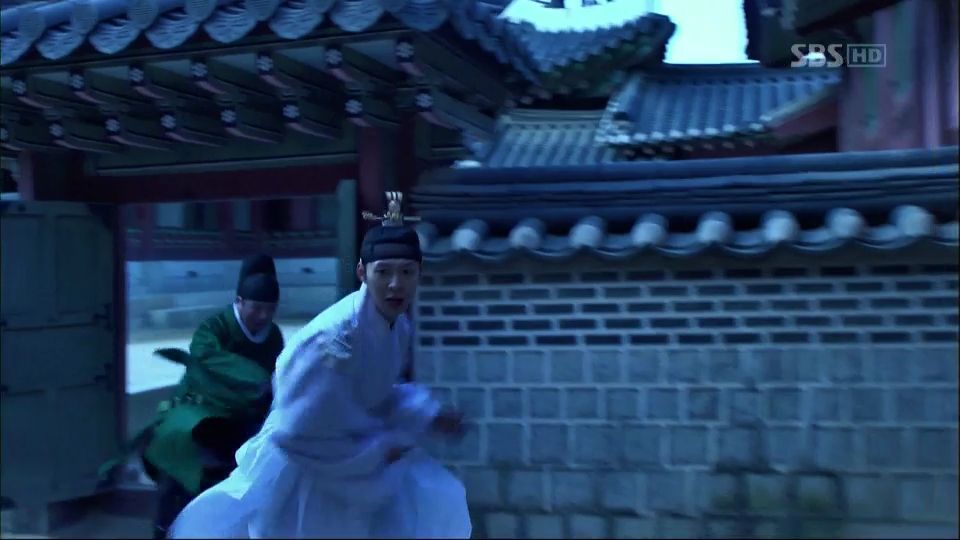 Run, Crown Prince, run!
Oops, Crown Prince, you're too late. Zee wifey is floating face down in the middle of a pond in the Palace. We don't see the dead Crown Princess's face, so clearly that will be important later on.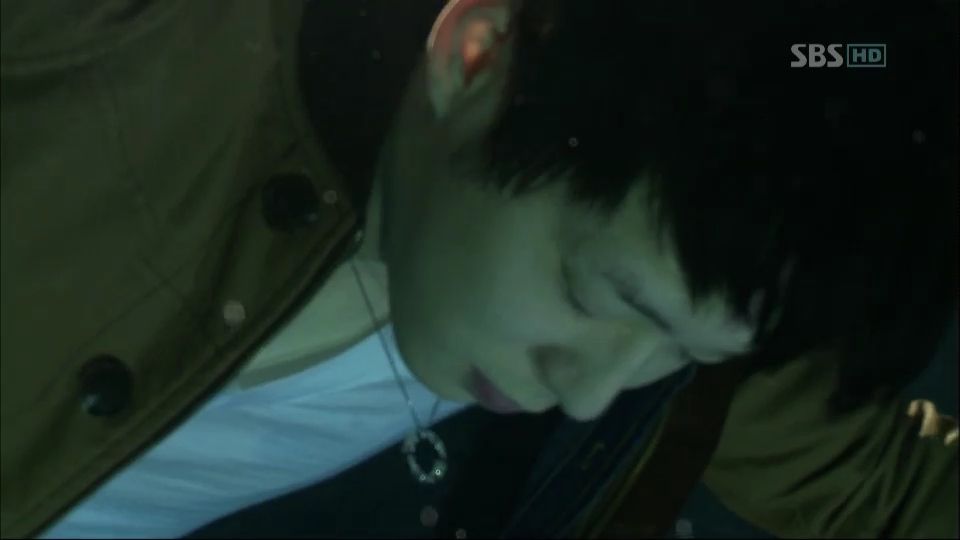 But wait, why does the camera suddenly cut away to our Crown Prince, dressed in modern attire, also floating face down in water? Does this mean something Very Important?
Cut to scene from earlier, where the King is deciding a Crown Princess for his son.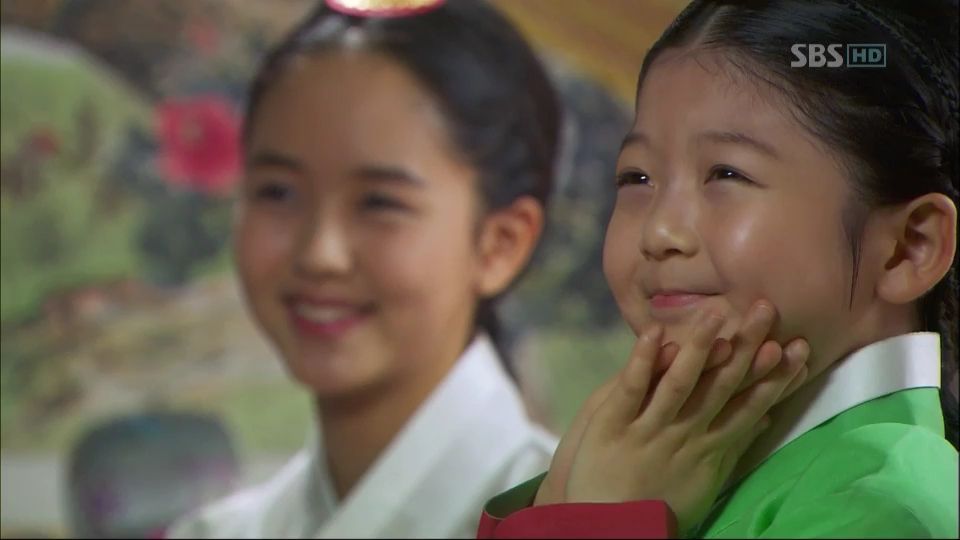 A pair of pretty sisters. Which one will be chosen?
Daddy is sending his younger daughter, much to the dismay and bitterness of the older one. See her face? That is apparently the face of pure and unadulterated EVIL.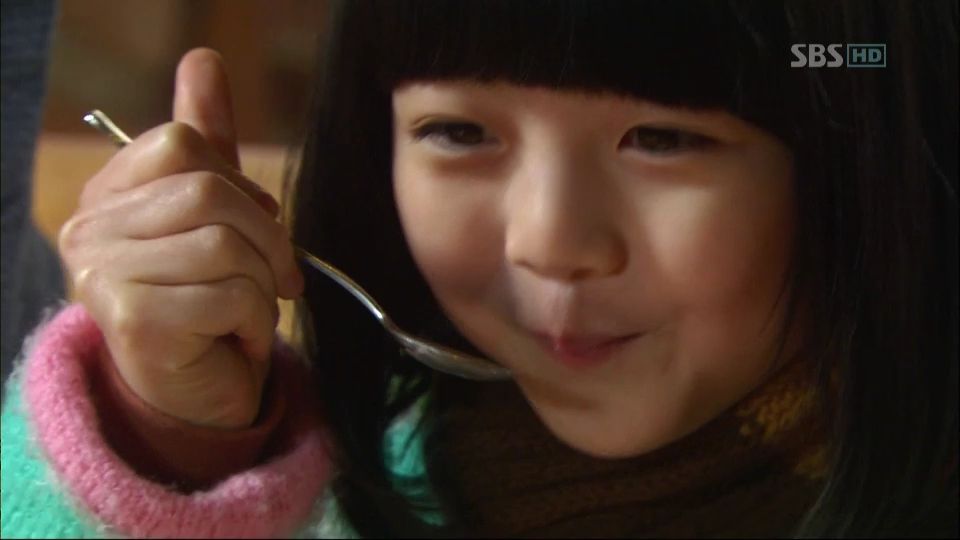 Younger daughter is adorable, and clearly of the innocent, kind, and sweet temperament variety, whether in her Joseon or modern era incarnation. Clearly she's too cute so she must Suffer (with a capital S) first before she can have her happily ever after with her prince charming.
In modern times, these two girls are about to become a blended family, with their parents getting hitched. The older one does not look happy in the slightest. She appears incapable of showing any emotion other than disgruntled scheming petulance.
Turns out older sister is sneaky, devious, and sociopathic, always finding ways to set up little sister to get in trouble.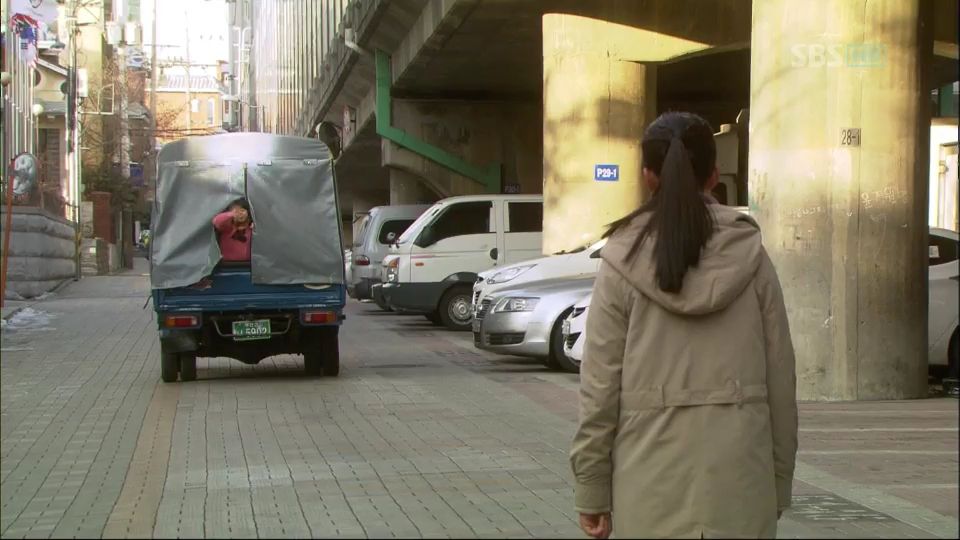 Finally older sister just decides "to heck with it" and lets little sister get carted off in the back of a delivery trucks. Like, seriously? I might have to beat older sister senseless if I ever get my hands on her.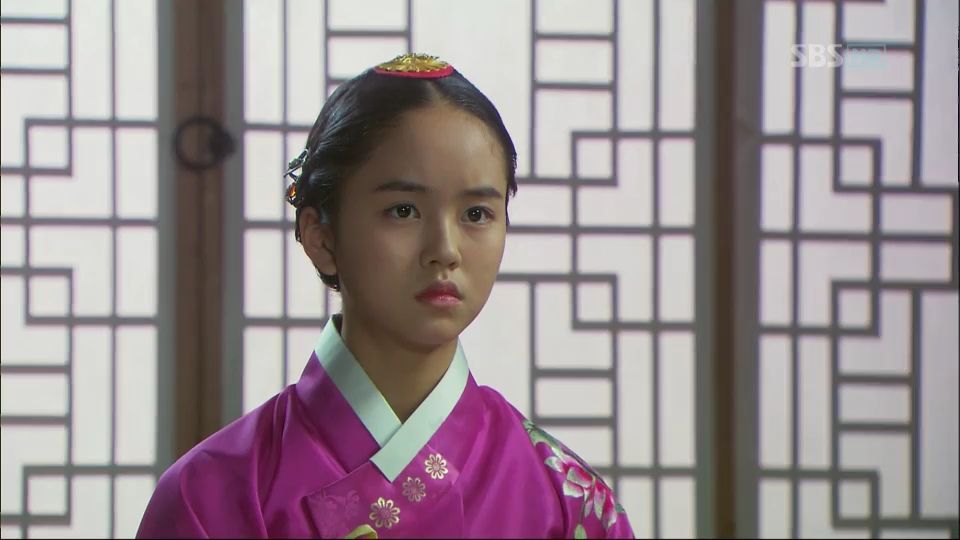 But wait, the modern incarnation of older sister is actually kinder than the Joseon-era one, if that was even possible.
The Joseon-era older sister "accidentally" trips and presses a red hot poker iron on little sister's face. Double whoops. Oh well, now little sister is facially scarred for life, and older sister gets to take her place as Crown Princess. Older sister is the Korean drama equivalent of The Bad Seed.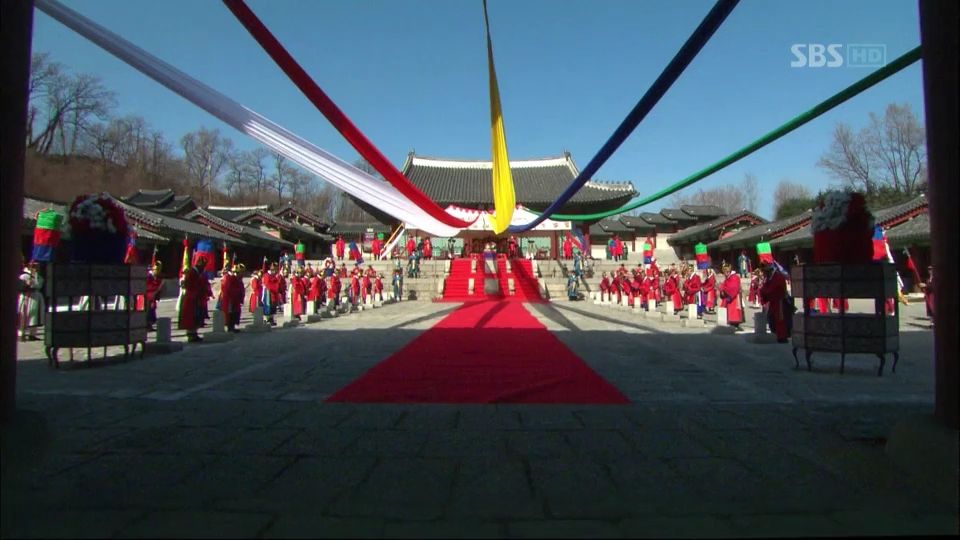 Little sister, wearing a face veil, cries as she watches the Crown Prince marry her sister. Nothing to cry about, girl, he doesn't seem the brightest bulb in the deck thus far.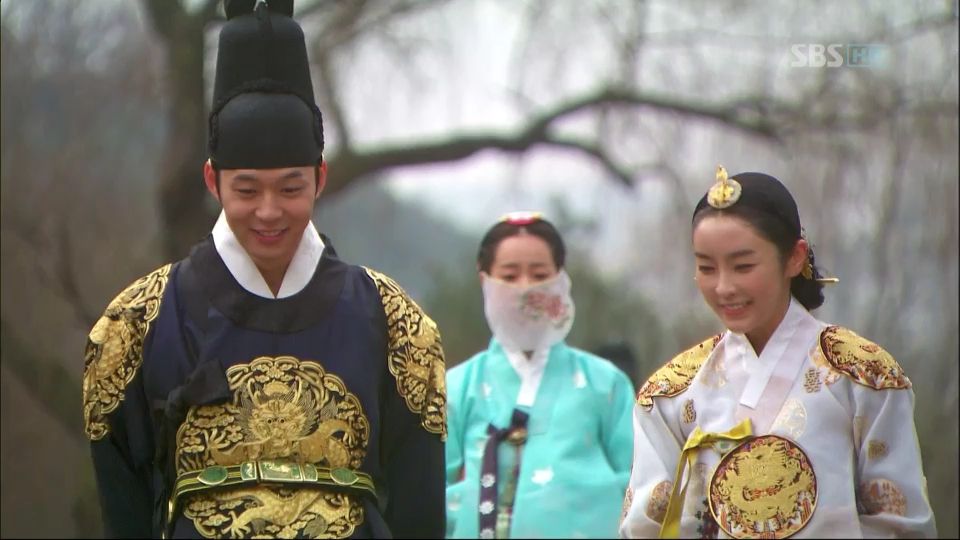 Everyone has grown up now, and little sister still wears a veil and appears to have no life except for tagging along with the Crown Prince and Crown Princess. The Crown Prince appears to like his wife very much, so clearly her evil only extends to maiming her own sister.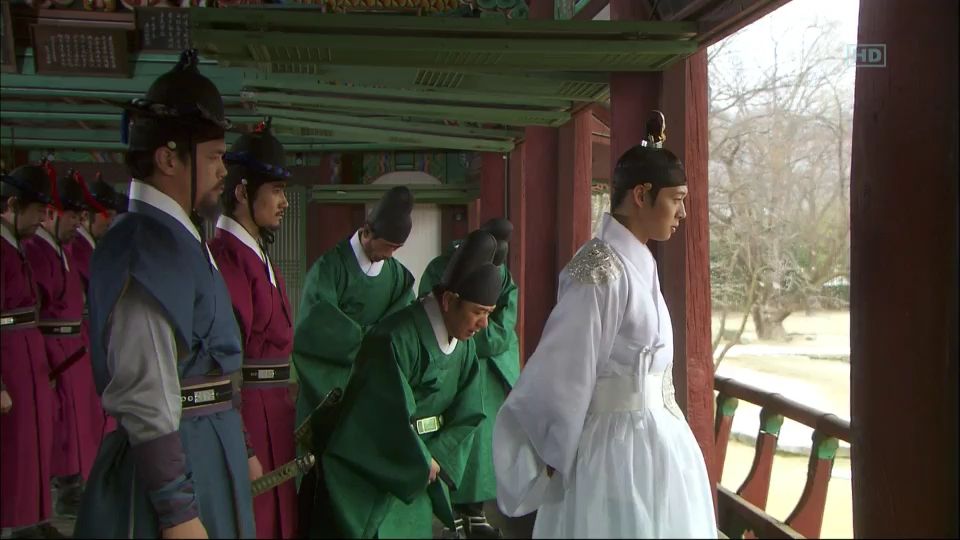 Crown Prince doesn't believe his Crown Princess tripped during an early morning walk and drowned in the pond. He's going to get to the bottom of this tragedy!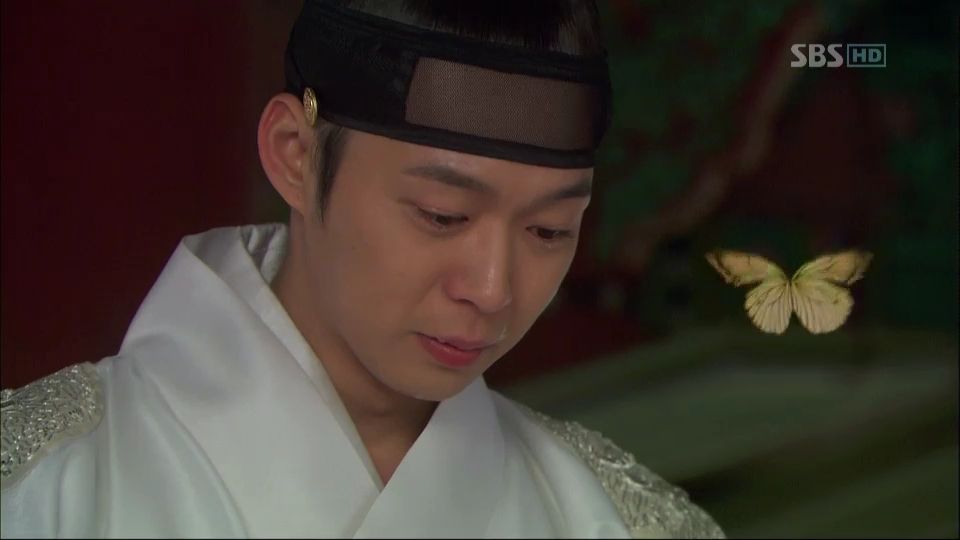 A butterfly of fate hovers over the Crown Prince, and then flies off……… apparently across time and distance, landing in NYC of the 21st century.
Modern incarnation of Crown Prince is a budding artist, who likes sitting in bustling NYC and sketching. His interest is drawn to the smiling, plucky fruit seller. (Seriously? She sells fruit? In the middle of what is supposed to be Times Square? Manhattan might have conniptions). The butterfly of fate, which wandered over to the set of Rooftop Prince from the set of MoonSun, flutters around the OTP. Next time I better see something different. Like the buffalo of fate, or the tarantula of fate. Cuz if I see this butterfly one more time, imma gonna squash it.
A Caucasian and an African-American child steals fruit from our plucky Korean fruit-seller. Apparently there must be a set of politically correct teenagers playing fruit thieves. This is also hilarious because the kids stole FRUIT. In the States these days, you can't even pay kids to eat fruit. Now if she were selling bags of Oreos and Doritos, then it would be more believable. Anyhoo, no one messes with this agasshi. She tosses an apple at the delinquents, which knocks our modern prince over instead.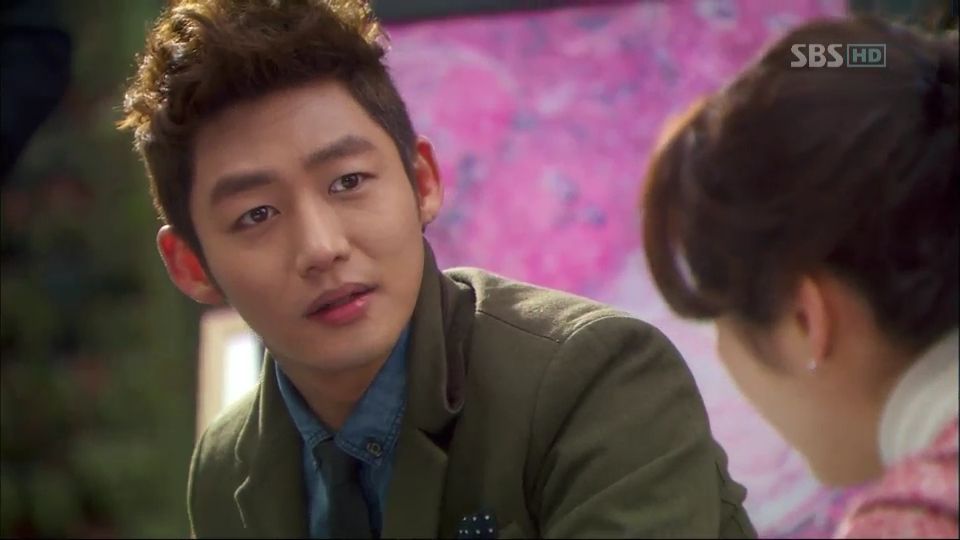 Plucky fruitseller, named Park Ha, goes to see if her poor accidental apple victim is fine. The cousin of said victim also arrives to help, his name is Yong Tae Moo.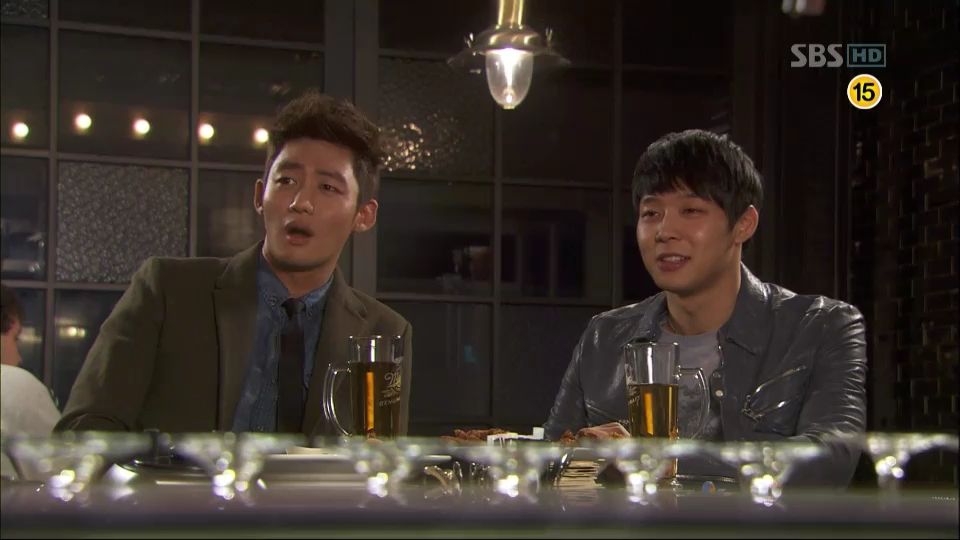 Cousin and modern version of Prince, named Tae Young, gets along, but cousin is the serious business man type who is wholeheartedly devoted to the family enterprise, while Prince just wants to draw and live his life as he wishes.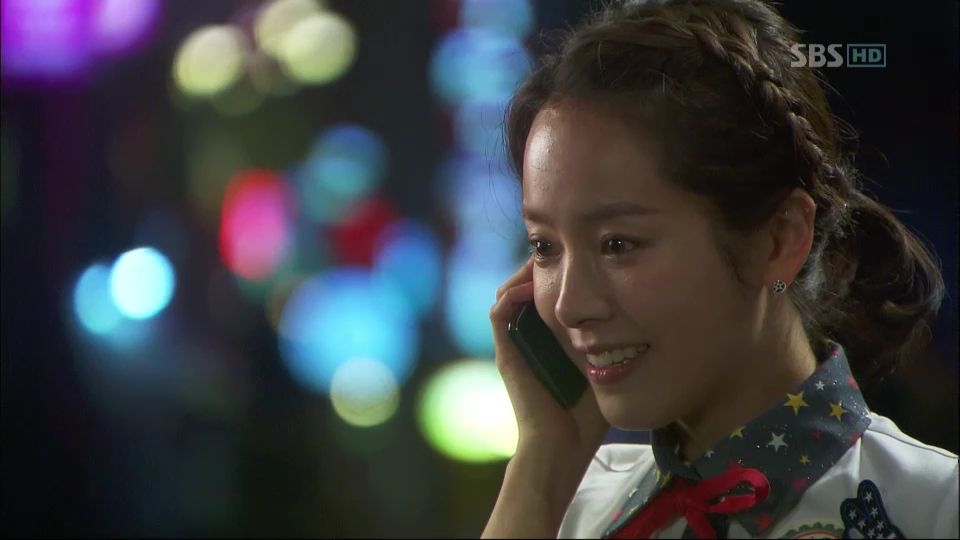 Park Ha, who got lost after her step-sister left her in the back of a delivery truck, somehow ends up in the States. She gets a call that her father has been located back in Korea. She happily heads back to her homeland.
Cousin and Prince go sailing. A family business call comes in and Prince refuses to take it, insisting he could care less about it. Cousin gets upset with Prince's entitled attitude and punches him. Prince hits his head and then falls overboard. Cousin is stunned, but turns homicidal but decides NOT to rescue Prince and to cover it up. Good one, suddenly evil cousin.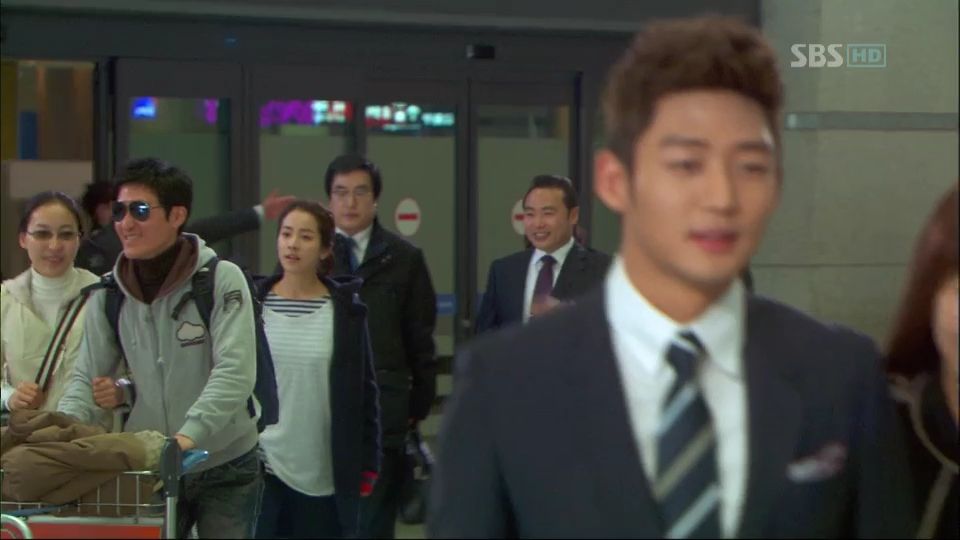 Cousin Tae Moo and Park Ha are on the same flight back to Korea. Of course they are, the laws of K-dramas dictate it.
So apparently cousin Tae Moo knows and likes evil older sister Se Na. Who is the reincarnation of evil older sister Crown Princess. Apparently evil passes through generations and reincarnations.
Chairman Grandma is told that her precious grandson/heir apparent is missing. Tae Moo conveniently forgets to mention he was the cause.
Park Ha returns to Korea to arrive just in time for her daddy's funeral. Cuz girlfriend can't have any happiness or good luck in her life. She cries, and evil sister Se Na continues to look unrepentant and loathsome.
Back to unhappy Joseon we go, where Crown Prince refuses to accept that his wifey died by "accident". He will go CSI on everyone and investigate himself!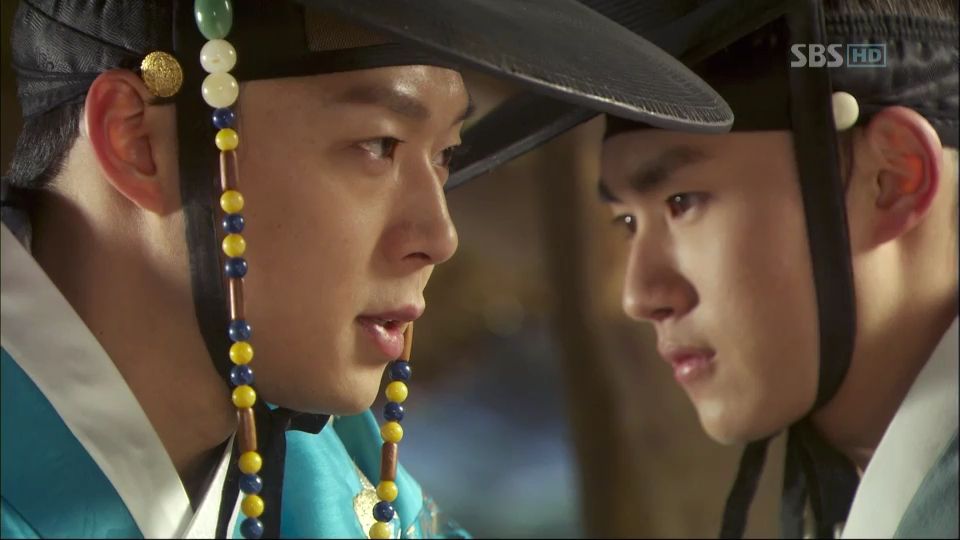 He starts by amassing his crack team. There is brilliant scientist scholar Song Man Bo (cutie pie Lee Min Ho), convicted warrior criminal turned bodyguard Woo Young Soo (Jung Suk Won), and gender-bending eunuch Do Chi San (Choi Woo Sik). Nice to see all the stereotypes being represented.
With the wind machine blowing, the fearless crime-solving foursome walk to nowhere in particular. The visual impact of this scene was really lessened by none of them having manes of glory to whip around their faces all slo-mo like.
During a nighttime investigation, they are pursued by unknown assailants and must flee for their lives. They end up riding their horses to the edge of a cliff and taking a flying leap, right over the moon. I hope no one runs into the cow up there.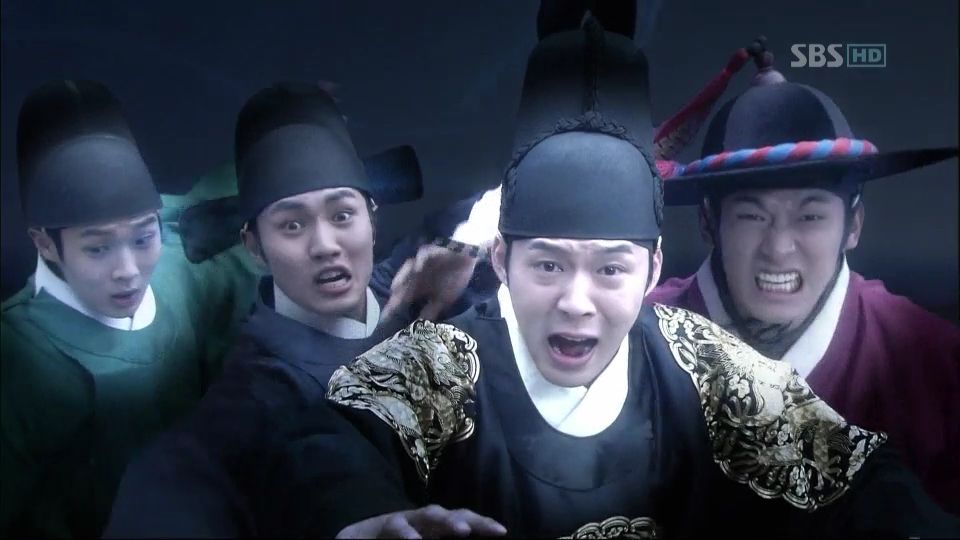 Everyone is understandably freaked out. See their extra intense freaked out faces!
Especially our intrepid Crown Prince. Betcha he's wishing he just accepted the accidental drowning story and left it at that.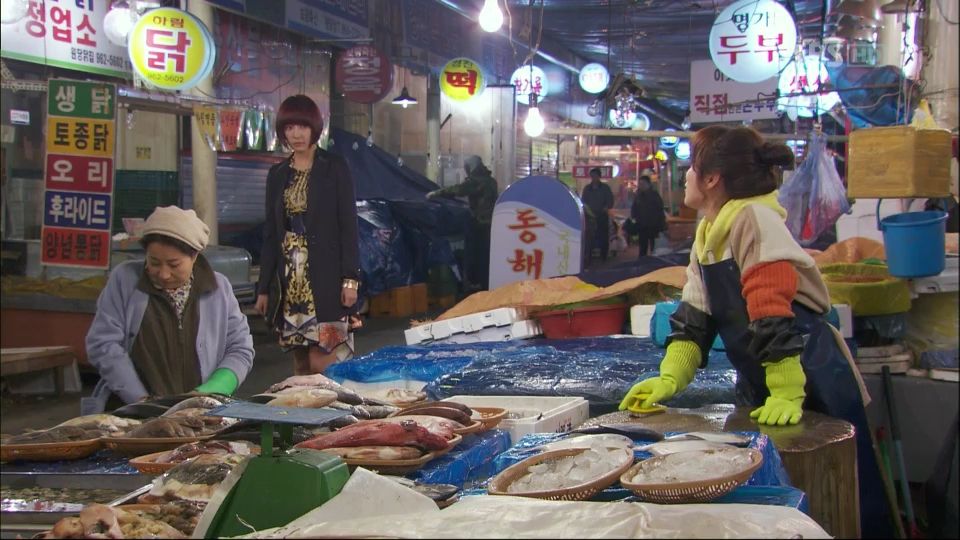 So after crying for her dead daddy, Park Ha has decided to reunite with her step-mom and step-sister, as if anything good will come out of it. She's also gone from selling fruit in Manhattan to becoming a fishmonger in Seoul. Good to see she's working her way up the grocery chain.
La la la, Park Ha comes home after a hard day's work to her rooftop apartment. Oops, she's not alone! Some crazy dudes wearing Joseon attire is sitting in her living room.
Operation: Protect the Crown Prince commences!
It's a plucky fishmonger girl with a frying pan vs. a quartet of Joseon-era time-travelers. Who will emerge victorious? Only episode 2 will tell.