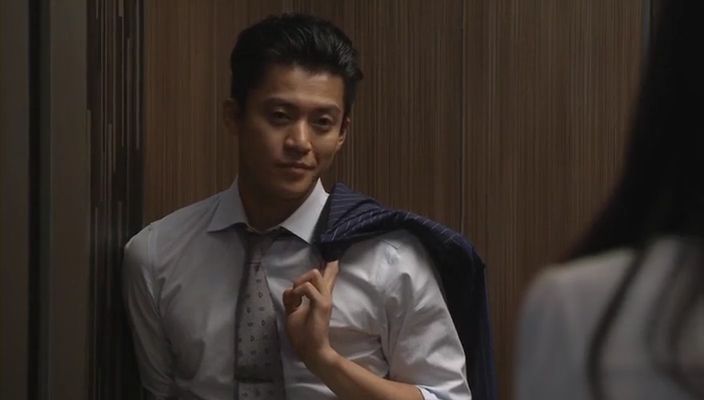 This dorama might be the death of me. What can I say about episode 4 of Rich Man, Poor Woman that doesn't resort to just throwing superlatives at it. It was magnificent from start to finish, an episode that took off from the jaw-dropping cliffhanger of episode 3 and never looked back. I felt like so much happened in a short period of time, but the pace was never frenetic or choppy. Hyuga tells Chihiro that he doesn't ever want to see her face again, and how does a lying liar like her come back from that. It's to the credit of Ishihara Satomi that she makes her character so endearing – book smart but practically awkward, a liar but a genuine little thing.
Playing off her is the odd method acting of Oguri Shun, which is so pitch perfect here I forgive him for sleep walking through Hana Kimi. It's wonderful that the drama refuses to keep the OTP apart, and why should it? I love how the issues are resolved realistically and sweetly, with Hyuga unable to resist roping Chihiro in to help him when he needs her idiotic mind to process how a normal person might think. By doing so, he accepts that he's not all that angry with her, and that he likes/needs her around as much as she likes being around him. So who is Chihiro? We'll find out her quite pretty real name in this episode so I can dispense with calling her Chihiro going forward.
Episode 4 recap: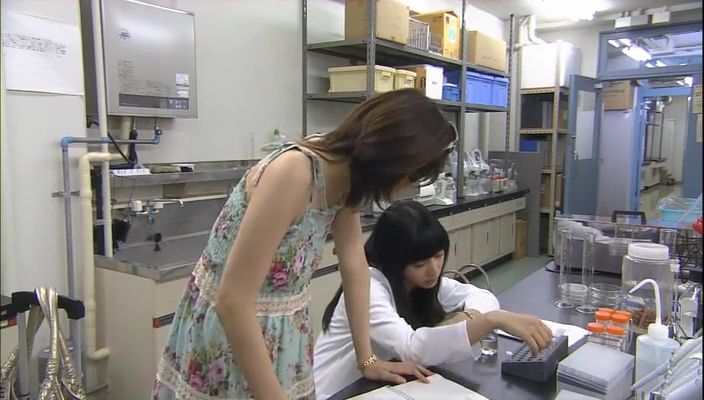 Chihiro is moping in the university lab, clearly unable to shake off the events that ended episode 3 when she accidentally let slip that she used a fake name to catch Hyuga's attention. Her friend Haruka commiserates over the terrible method by which Hyuga found out, and suggests Chihiro do something to make up for what she did rather than sitting here sighing.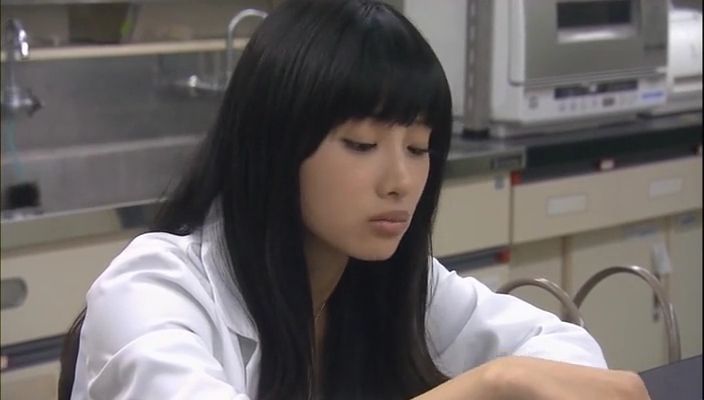 Chihiro's other friend asks her to take over his part time job shift at the gas station and she wanly agrees. Haruka encourages Chihiro to keep looking for a job now that her internship at Next Innovation has ended so abruptly. Chihiro sighs, her life suddenly back to square one.
Hyuga is sitting in the conference room with a few of his programmers and he's pissed. He looks at a trio of laptops before slamming the covers shut and sending it sliding across the table and crashing in a heap on the floor. Everyone in the office is tense and can hear the crashing of the hardware, each smash signifying Hyuga's displeasure.
Hyuga sends the final laptop flying and poor Yasuoka dives to catch it before it lands on the floor. Hyuga rips into his programmers for failing to come up with an eye-catching user interface for the new personal data registry. He reminds them that Next Innovation prides itself on thinking outside the box and they are recycling the same old ideas. They need to create something eye catching and functional, and they only have four days.
Hyuga asks about the server space issue (to keep the vast amount of data that will be in the registry) and Asahina assures him that the team is on top of it. We see Yamagami frantically grabbing an assistant who speaks better English than him and they go discuss with the India cloud computing company about acquiring a gym to use as server space. Land in Japan is too precious and expensive to use as server space, so they plan to move it abroad and all the data will be stored remotely in a cloud. Smart and practical.
Hyuga is told that another company JI Technology has thrown their hats in the ring to create the same network so now they have competition. Yasuoka wants to grab Chihiro since she's their in with the Vice Minister, but Hyuga curtly informs the team that she has been fired. He storms out and tell them to come up with something better on the user interface.
Later that night when they are alone in the office, Asahina and Hyuga discuss the project. Hyuga uncharacteristically asks Asahina if his method in pushing the programmers to aim higher is wrong? Asahina shakes his head and tells Hyuga to keep going, pointing to the wall filled with scribbles of people who admire Hyuga. Sadly Hyuga doesn't remember any of those people, and most have left because they can't keep up with him. Hyuga laughs that the wall has become a wall of hate. Asahina sits down and faces the wall, describing it as the wall that contains their souls.
Flashback to how Asahina and Hyuga met. A tech company wanted to acquire young Hyuga's website but he declines despite their offer to be hands off on the running of the company. Hyuga says that his website will surpass 1 million users shortly even if he doesn't do anything. He doesn't know why this company wants to acquire his website?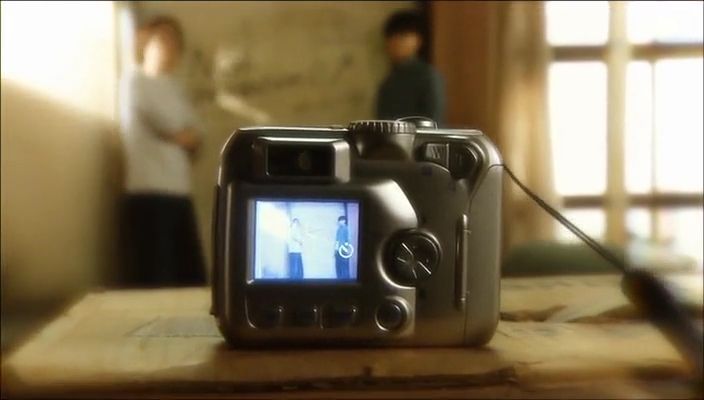 Asahina sits in that meeting and then runs out after Hyuga. He asks if Hyuga is interested in growing the site past 10 million users, to aim even higher. Asahina quits his job and he and Hyuga start their company in a small apartment. Asahina hands Hyuga a marker and asks him to name the company, and Hyuga draws Next Innovation on a white wall. The two men pose for a picture next to the name to commemorate their new company.
On the day their website gets its 10 millionth user, Hyuga is thrilled and walks out on the balcony to see Asahina shooting off fireworks in the backyard. Hyuga screams that they did it. The two men attend a meeting with their underwriters on taking the company public and Asahina thinks the company valuation is too low. The other bankers don't agree, except Yamagami does, which is how finance guy Yamagami ends up joining the company.
The company goes public at the higher valuation and the public eagerly buys up the stock. Haha, Facebook ought to learn a lesson or two from Next Innovation. The two men celebrate by taking a electric saw to the wall where Hyuga wrote the company name and cutting it out. They move the wall into their fancy new digs, which is the current office. Asahina and Hyuga stand in the middle of the office and fist bump, having finally made it. This sequence was totally spine tinging.
The next day, Asahina casually brings up Chihiro's firing and Hyuga points out that hiring an employee using a fake name doesn't bode well for a company wanting to manage the personal data of the entire Japanese citizenry. Asahina asks if Hyuga remembers meeting Chihiro in the past but he doesn't. Asahina says that's unfortunate and leaves. His comment makes Hyuga try to recollect where he could have met Chihiro before but he still can't remember.
Chihiro is working at the gas station for her friend when Hyuga pulls up. She has to duck to avoid being seen as she fills up his tank and wipes his windows. Her totally obvious attempts to not be seen are pretty adorable. Only when Hyuga is pulling out does he look in his rear view mirror and appears to recognize her, but he continues to drive off.
Yoko is working in the kitchen and her sous chef Nogi purposely bumps into her and makes her spill the food and burn herself. He mocks her for being a useless woman but she stands up for herself and refuses to be cowed.
Hyuga walks past the restaurant and sees his coveted table inside, reminding him of what he lost and making him pine for it. What's even worse is when he takes two more steps and sees the other table he coveted also sitting in the restaurant as well. He rushes inside to confront Yoko on why she has both tables he wants.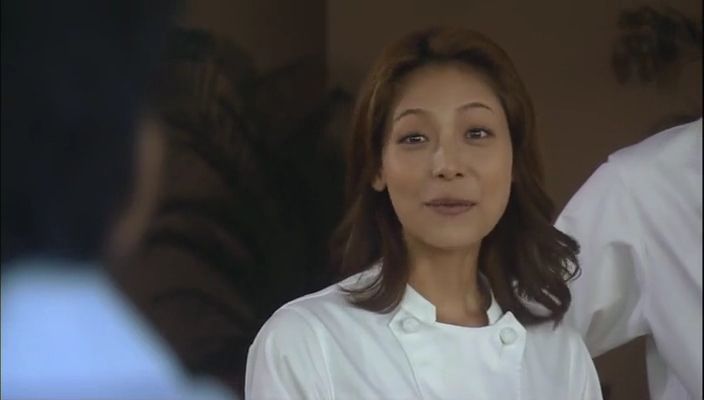 Before he can talk with her, he notices that her arm is burned but she brushes it off as no big deal. Nogi comes out to condescend to Yoko some more, asking if she needs to go to the hospital or perhaps she ought to just worry about selecting decorations for the interior instead of being in the dangerous kitchen. Yoko is not intimated and tells him to shove it before heading back to work.
As Chihiro is leaving the gas station job, the owner asks for her help on making sense of some government documents. She realizes how confusing it is for people to sort through reams of data the government requires from them. She goes home and researches on how to conduct surveys to get statistically valid data and realizes she needs 300 for this demographic. She vows to go out and get 300 surveys done for the Next Innovation project.
Chihiro heads to a government office building and starts asking people around questions about their gripes with the way the government currently works and their suggestions for improvement.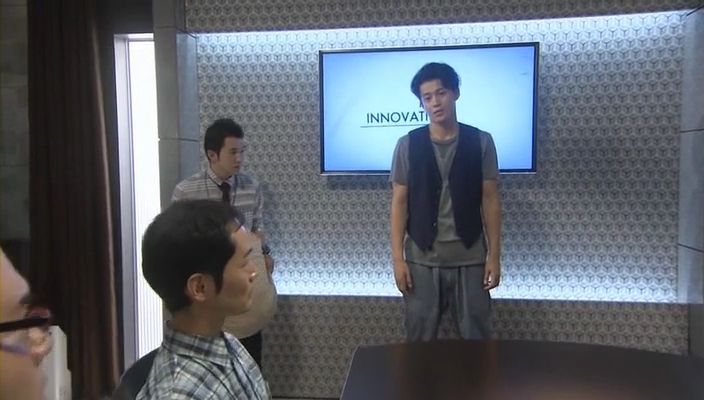 Back at Next Innovation, Hyuga tosses a few more laptops as he is shown unacceptable interface programs. He declares that if the programmers can't do it, then he'll have to do it himself. Yamagami wonders if Hyuga is even harsher on the employees now than ever before, but Asahina says to trust Hyuga will come up with somet hing extraordinary.
Hyuga gets to work in his office and he starts programming without stopping for the night or taking a break, even as the other employees all leave and then return to work the next morning. We see Chihiro is also hard at work sorting through her survey results.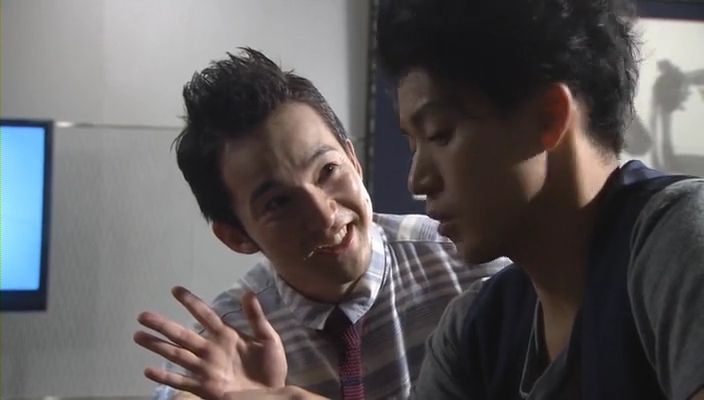 Yasuoka realizes that Hyuga has programmed for 32 hours straight and tries to get him to take a break. Hyuga allows him to wheel him away from the desk but sneaks back to type a few more lines of code when Yasuoka goes to grab his shoes.
Hyuga walks out of Next Innovation deep in thought and he passes Yoko without noticing her, and she doesn't appear to notice him as well. They both turn back after registering each other's presence and realize that both of them are looking wan and tired. They head off to take a 30 minute break and not thinking about programming or food.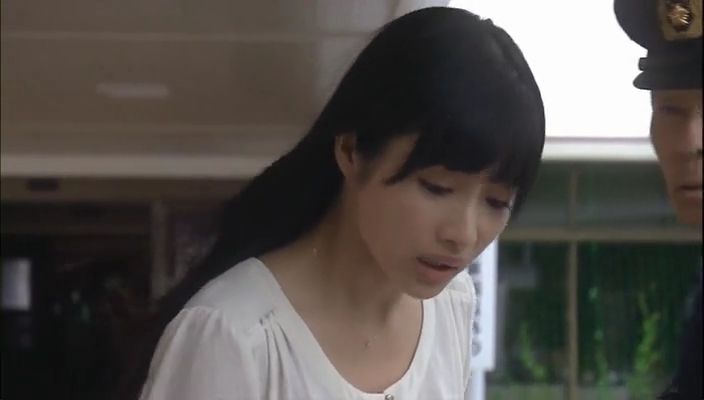 Chihiro is asking an obaasan about her problems with the government agencies and the old lady discusses how she has problem keeping track of her money. This is when a police officer happens by and hears part of the conversation and wonders if Chihiro is a swindler. Suddenly the old lady screams that her check book is missing, and thus Chihiro is dragged off by the cop.
Hyuga and Yoko sit by the river banks drinking some coffee. She enjoys this chance to just talk with him, which reminds her of their first meeting years ago. Hyuga turns to stare at her and she lets him look carefully, but he still has no memory of her. He apologizes and she looks disappointed but then smiles and drags him back so they can both continue their work.
Hyuga sits in the conference room and shows the team his interface design which is very futuristic with a circle landing page and links surrounding the circle on the side. The team oohs and ahhs over this interface, and one guy suggests that Hyuga should have done it from the get go since he's the best. This pisses Hyuga off and he dismisses the entire team, telling them that their involvement is no longer necessary.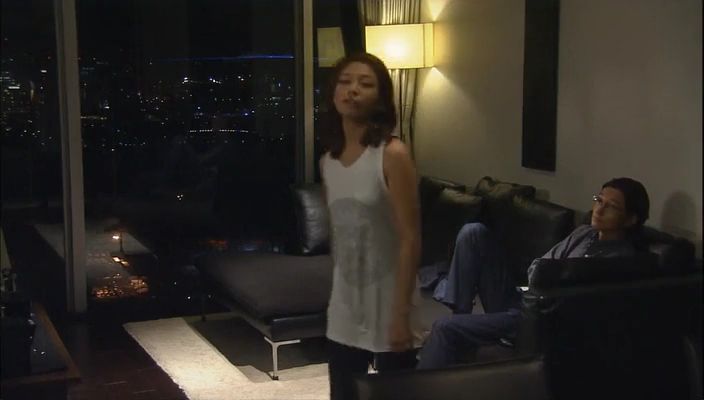 Asahina goes home and trips over Yoko laying in the entry way resting since she's so tired. She notes that he's home so late, is Next Innovation working on something big? Asahina says he's setting the stage so that Hyuga can wow the world with his creation. Yoko smiles and compliments her brother on being the perfect number 2 to Hyuga. Ouch. Yoko wonders if Hyuga really has memory loss but Asahina explains that it's not memory loss but an inability to remember names and faces. He asks if Yoko has done anything with Hyuga but Yoko says it's just her one-sided interest in Hyuga.
Chihiro finishes her meal in the police holding room when suddenly the door opens and she freaks out to see Hyuga standing there. The officer asks if Hyuga knows her, and Hyuga wryly says her face is one he's been missing for quite some time. Hyuga signs Chihiro out as a former employee of Next Innovation. The officers thought she was lying about working there, and Hyuga snarks that she's a master liar, this one.
The police learn that the old lady never lost her check book to begin with so Chihiro is free to go. Chihiro turns to give them a dirty look before running out after Hyuga. She apologizes for him coming here, she actually told the police to contact Asahina. Hyuga explains that Asahina isn't at work in the middle of the night and he's there to work on a major project. Hyuga suddenly has a revelation and drags Chihiro off with him.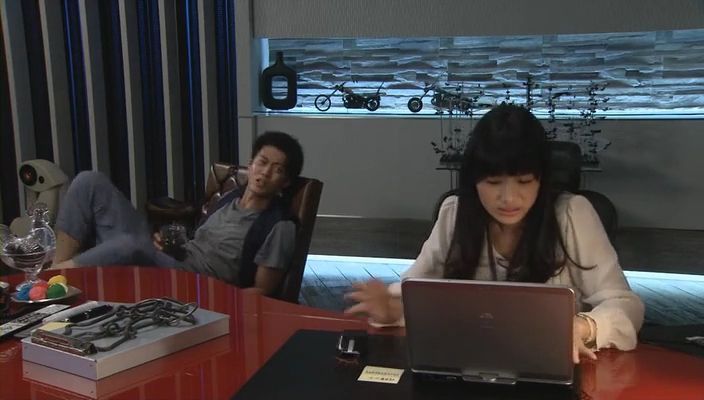 Chihiro sits in Hyuga's office and is suitably impressed with the snazzy interface he created. But when she goes to use it, she keeps screwing up and Hyuga tosses peanuts at her, yelling that even a kid knows how to use a computer log-in screen. Suddenly Hyuga gets up and realizes that Chihiro did nothing wrong.
Hyuga uses the following analogy – if tomorrow she can only drive a car forever and can't walk anymore, would she pick a decked out car that only a professional F-1 driver knows how to drive, or a simple car that has all the basic features so that even an idiot like Chihiro knows how to use it. Chihiro grimaces and answers that she'll pick the simple one.
Hyuga runs and deletes the program he wrote for the sophisticated interface and starts from scratch. Later he has Chihiro check out a simpler interface and she finds it very easy to use. He goes off to program the mechanism for entering the password and that leaves Chihiro sitting off to the side while he works.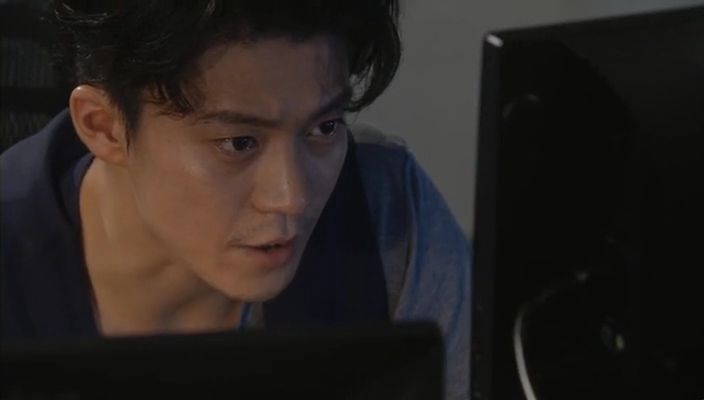 Chihiro offers to go downstairs and not bother him but he asks why she was out there conducting surveys. She explains how the information will help Next Innovation with this project. Hyuga says everything hinges on the users and not on what they produce, so Chihiro understands what's important in succeeding at this project. Chihiro is pleased to have her efforts thus acknowledged and she sits down happily.
Chihiro gets Hyuga a cup of coffee and then moves his tablet and laptop aside. The tablet turns on and Chihiro freezes to see that it shows a homepage with the name Sawaki Chihiro. Hyuga turns and sees her looking and asks if she created that homepage. Chihiro says she didn't and he dismisses her. Chihiro asks if his desire for his personal file database is to find his mother, but Hyuga doesn't answer her.
Chihiro goes downstairs to the office and waits for Hyuga to finish. To pass the time, she does exercises on the stairs and Hyuga pauses from programming to look at her. She notices him staring and gives an encouraging wave, which elicits a smile from him.
Chihiro sits with Hyuga and discuss how people constantly forget their passwords, especially the elderly. Hyuga has designed a password encryption method that involves the user setting the method of petting a dog onscreen with finger wipes and that will complete their log in. Chihiro is thrilled that this method is so cute. When Chihiro almost falls asleep, Hyuga has her log in again and then a masked skull guy pops up onscreen to freak her out, which makes him laugh hysterically. I love how his teasing as now gotten to the point where he plays practical jokes on her.
It's dawn and finally Hyuga has all he needs from Chihiro and tells her she can go. Chihiro slowly walks to the door and tells him that he worked hard, turning around to see if he'll say anything back or maybe ask her to stay. She repeats it again and he acknowledges it before she leaves, which brings a smile to her face.
Later Hyuga walks out to the main office and sees that Chihiro has written a note for him on the Next Innovation wall. The note is an arrow pointing to the bottom of the wall, where Chihiro has written the address where Hyuga's mom can be found. Hyuga reads it and mutters that Chihiro's writing is as prim and proper (i.e. uptight) as she is.
Asahina takes Hyuga to a meeting with JI Technology big wigs. Asahina wants to collaborate with this big and well established company on the personal data registry so that Next Innovation can gain some legitimacy. Hyuga stares disdainfully at the how the suited business men are enjoying their lavish meal and acting so full of themselves. Hyuga walks over and shoves their contract into a plate of food and announces that he's not interested in slowly dying along with them.
Asahina follows Hyuga back to the office and tries to argue that Next Innovation needs to partner with an established company to borrow their name recognition otherwise the public isn't going to entrust their personal data to an upstart like Next Innovation. If they can gain the confidence of the government and the public, then they can build the network they want.
Hyuga refuses to hide under the umbrella of a big company. Asahina asks whether Hyuga wants to grow even bigger, and Hyuga admits he does, but this is not the way he wants to do it. They two men go to Hyuga's office to talk privately. Asahina explains that he wants to build Next Innovation into one of Japan's top companies.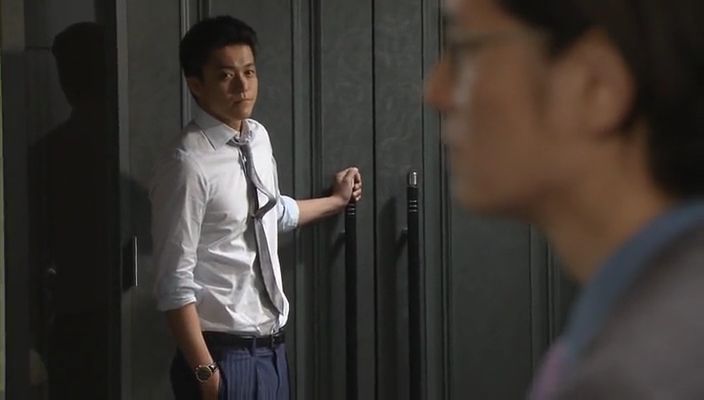 Hyuga shows Asahina the new interface he created with Chihiro, which upsets Asahina since the other one was better and showcases the company's technological prowess. Hyuga asks Asahina to remember that this interface is meant for the user, and the most user friendly interface is the best one. As Hyuga walks out, he repeats what Asahina's goal is for the company – to reach the top – and Hyuga tells Asahina that this is the first time Asahina has disappointed him.
Chihiro gets a call returns to Next Innovation and she uses the opportunity to apologize to Hyuga again. Hyuga wonders why she keeps mentioning using the fake name Sawaki Chihiro if she is trying to make amends, and why she wrote his mother's address in such a public place on the wall. Chihiro explains that she felt like she needed to tell him where to find his mother. Hyuga explains that she's only brought back because she's needed for this project and no other reason.
Hyuga shows her the new interface on his laptop and she swipes to log in. She smiles broadly when he tells her that she helped make this. She wants to look at all the features some more but Hyuga slams the laptop shut and says its closed for business. which makes Chihiro all depressed. Oh god they are so cute together.
Hyuga walks Chihiro out to the office and calls everyone's attention. He introduces her as the new intern and then turns to ask what her real name is. Chihiro says that her name is Natsui Makoto. Oooh, pretty name! Hyuga asks everyone to say hello to Ms. Natsui….Makoto, and then has everyone clap for her.
Hyuga introduces the new idiot-proof interface to the two programmers he initially dismissed from the project and has them each work on a part of the project. One guy will add color because that is his specialty while the other looks for weaknesses in the system. The two men are happy to be part of the project again.
Hyuga walks pass Makoto in the elevator lobby as she pushes some boxes. He hands her another box of business cards and holds it up high so she has to jump for it. I swear, these two are pushing the boundaries of cuteness.
Makoto grabs the cards and happily opens it to see that it has her real name, with a new avatar that says "An idiot is the best!" Makoto happily thanks Hyuga.
He casually notes that his mother did return to her hometown after all. Makoto apologizes for years ago when he asked her about his mother's whereabouts and she pretended not to know. That finally makes Hyuga recollect that he did ask a girl about his mother before, but sadly he doesn't remember who the girl was. Makoto's face falls but she pretends it's no big deal.
Hyuga turns and wants to explain that he cannot recognize faces but the elevator comes and he enters without explaining. He tells Makoto to do well in her internship as a way to make amends. She smiles and promises to do all that.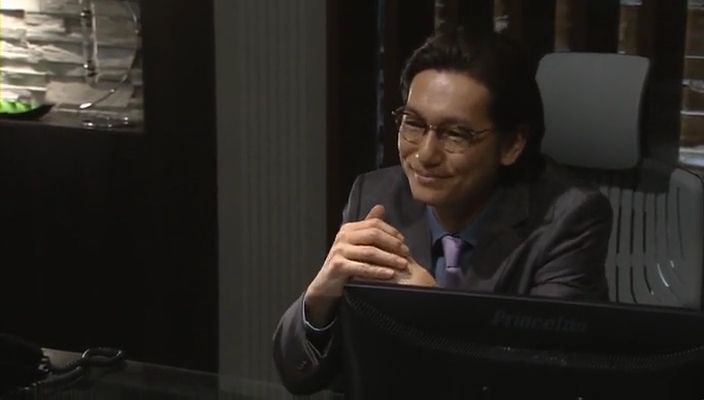 Asahina sits with Yamagami about how Hyuga scuttled the partnership with the big company right when the contract is about to be signed. Asahina smiles and says apparently this isn't Hyuga's way of doing things. Yamagami worries that Hyuga will run the company into the ground while he has two daughters to raise.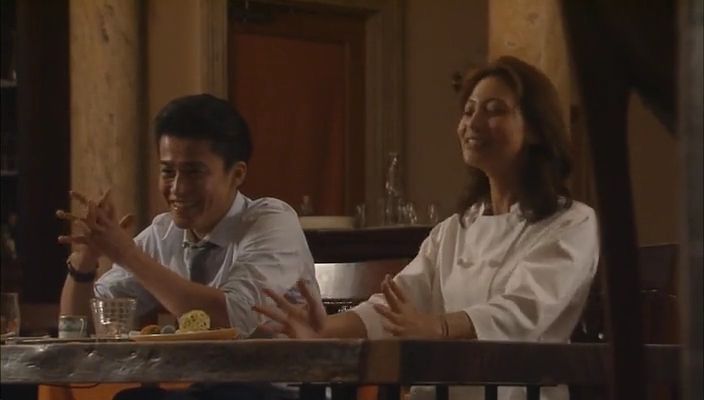 Hyuga sits with Yoko and polishes off a plate of omurice she made for him, telling her that its delicious. He tells her not to lock herself in the restaurant and work so hard. Yoko turns the tables and asks what Hyuga has been up to? Hyuga suddenly asks if he hurt Yoko in the past, and him not remembering her is probably something really cruel. Yoko explains that they met 9 years ago in a night train and talked for two hours, and then they both got off at the same stop. He asks why, and she says no reason other than they had a connection. He thinks it sounds fishy but she says they really got along and did make a connection. When they parted, they agreed to meet again one year later.
Hyuga suddenly remembers that he did make the promise, and then reveals that he did fulfill his promise and go back one year later. He asks Yoko if she went back? Yoko gets up and walks away, saying she didn't go. Hyuga stands up and laughs that he's the only idiot who went then.
Yoko suddenly grabs his arm and tells him that she lied. She's been waiting for him this entire time. Yoko leans in and kisses Hyuga. The camera pulls back and we see Makoto standing outside staring at this scene.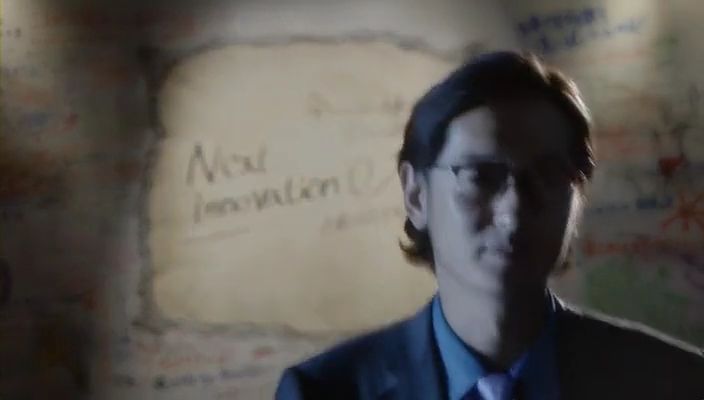 Asahina stands in front of the Next Innovation wall and punches it in frustration. He calms himself and then walks away, murmuring to himself that this wall is so filthy.
Thoughts of Mine:
Kyaaaaaa, I totally knew RMPW was a K-drama at heart, and now the end of episode 4 proves it with Makoto witnessing the kiss between Hyuga and Yoko. That's such a K-drama thing to do, but it works so well here because it raises the stakes all around. Yoko surprised me with her forwardness that doesn't reek of desperation, and her back story with Hyuga is actually even more compelling than Makoto's. Too bad I'm already rabidly on the OTP ship, otherwise the whole Before Sunrise meeting between Hyuga and Yoko is so utterly swoonworthy. I would love to hear what they talked about for two hours that led to them getting off the train together at some random station, and then promising to meet one year later.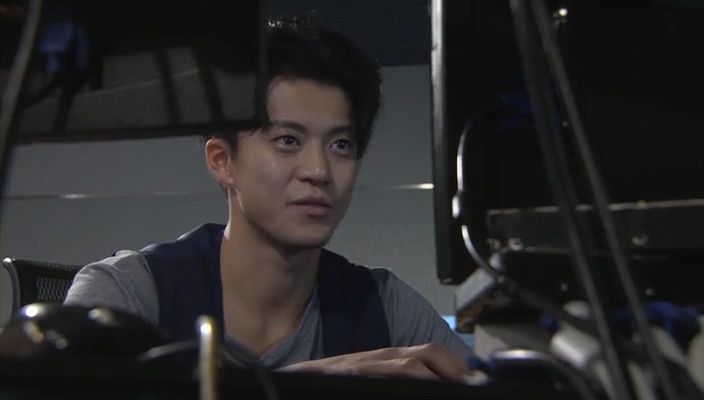 I'm glad Hyuga's face recognition condition is shown to have emotional consequences as well, and now RMPW is delving into the question of lost memories. Looks like Hyuga doesn't remember Yoko, but when prompted, he remembers making the promise with her and actually going to the meeting a year later. So why didn't they meet up? Yoko said she didn't go, but then she claimed that was a lie and she has been waiting for Hyuga this entire time. What does that mean? Did she show up but then not meet him, or did she not meet him because he didn't recognize her? It's impossible to dislike Yoko for liking Hyuga, not when he's confirmed that they did have a back story that he appears to have forgotten (ouch!), but that doesn't mean I think she's right for Hyuga. I want to see both girls fight for the guy they like fairly, and let him decide which one has his heart.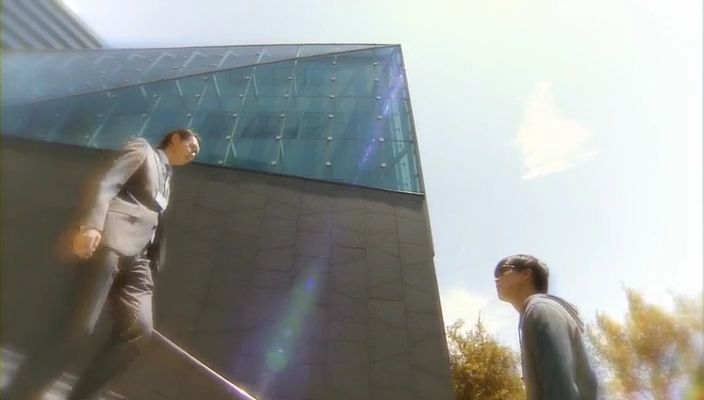 It was thrilling to watch how this episode dropped back story left and right while pushing the big business project forward. Now we know how Hyuga and Asahina met and started Next Innovation, and despite feeling like Asahina is going to go the dark side soon, it was really heartwarming to glimpse how two guys with talent and confidence could succeed by challenging the normative way of doing things in Japan. It's also nice that even Yamagami joined the group because he isn't necessarily toeing the line as a finance guy. This segued smoothly into Hyuga being frustrated with his programmers for not creating a more snazzy interface, only to create the interface himself and then come to realization that it wasn't right. What I love about Hyuga is how his arrogance doesn't manifest itself to wanting to always be right. He is open to change and doing things differently once he reaches the conclusion that his original path may not be correct.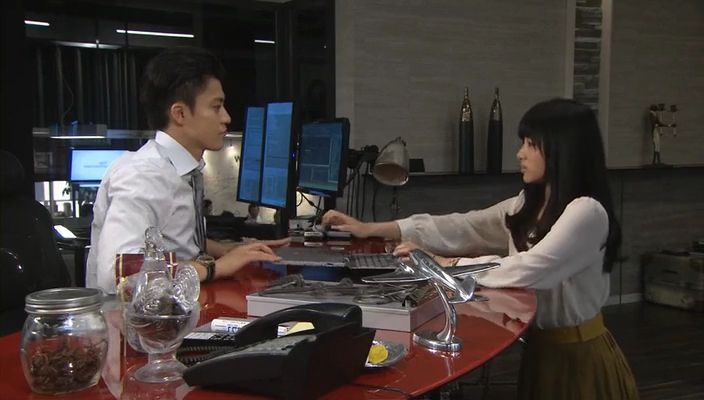 I was a little taken aback at how Hyuga appeared to have gotten over Makoto's lie and taken her back, but that's why I love this drama so, because ultimately he sees past the act of lying and appears to know she's a good person inside. Once he listened to her explanation, it made sense and he gave her another chance. i don't buy his excuse that she's back at Next Innovation because he needs her for the project. He can find an ordinary girl anywhere, but he wants her because she's extraordinary under the veneer of ordinariness. I swear my knees got weak when he gave her another set of business cards with her real name Natsui Makoto on it, and took the time to design a new avatar and new catchphrase for her. He really enjoys making fun of her, but she intuitively understands that he does it because that's his way of connecting with people. His bluntness takes some getting used to, but she appears to have gotten quite comfortable with all his quirks and outbursts by now.
Despite the sledgehammer of a title and the references in promotional materials that this is a riff of Pretty Woman, I actually don't get any similar vibes between the two stories, other than the male lead being filthy rich. In RMPW, Hyuga and Makoto are equals in intelligence in their own strengths, and both have draw backs in their respective personalities. But so far Hyuga's wealth hasn't come into play, and a lot of the Cinderella elements are presented in a wink-wink way. Makoto's make over was company-financed and meant to help Next Innovation. She's not offered the role of princess to sit in the lap of luxury, she's a functioning member of the project that will take the company to the next level. She uses her brains every step of the way, and Hyuga notices that as well as absorbs her kindness and empathy for others. They are quite simply perfectly in sync with each other because they are so very different.