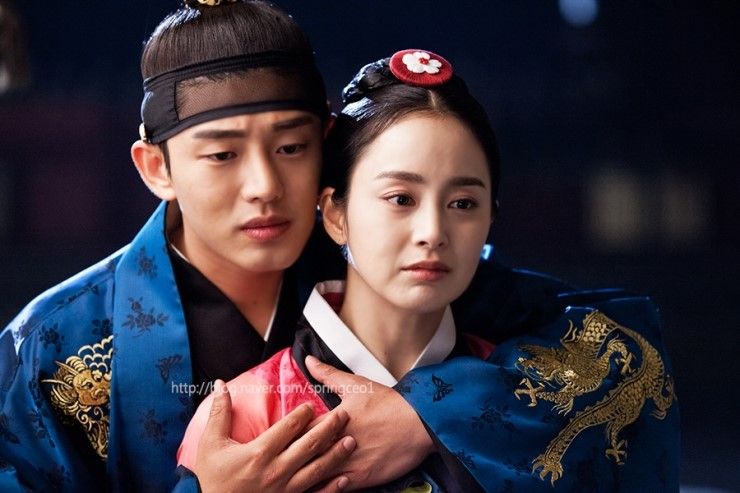 When I watch Jang Ok Jung, Live in Love, I feel like way more episodes have aired then it really has. The character and narrative development have been so action-packed, without feeling rushed or glossed over, in four short weeks I feel like I've spent months with these people. Idealistic dreamy Ok Jung is turning smart and decisive before our eyes, while ruthless and aggressive Lee Soon becomes a lovelorn puppy for the first time in his life. Their slow transformation feels real because we have witnessed each step of their journey so far and am now totally invested in taking it to the end with them. I continue to like In Hyun a lot – she's the quintessential yanban-born lady with lots of pride and patronizing but she's not underhanded or clueless. She really would make a very good Queen to Lee Soon, but for the fact that her dad is completely power-hungry and self-serving. I don't even care that Lee Soon doesn't love her and loves Ok Jung, if she wasn't Minister Min's daughter then I would be all for Lee Soon marrying both woman and having one for political use and the other for personal gratification.
I'm starting to get the sense that Ok Jung is a formidable opponent once she sets her mind to it. Back when she decided to go to court, she had a stare down with evil Lady Jo that was a prelude to what levels of smack down she can bring if she wants to. In this episode, she starts to use her wits and pull underhanded tricks of her one to get even with Ja Kyung for setting her up earlier. It was satisfying and also frightening to contemplate. Could this drama quite possibly succeed in the continued development of all these great characters without any shades of black and white and is instead all filled with self-preservation and ambition? So far its been a rousing success in my mind, the romance and the political battles running hand-in-hand and filling up every minute of screen time with the most satisfying K-drama I've watched this year to-date. This drama has the cohesiveness and grandeur in storytelling I've been dying for, so despite coming mid-year into 2013 it revitalizes my hope that the rest of the drama year can continue this trend.
Episode 9 recap:
Lee Soon steps down into the dirty water and tells Ok Jung to look carefully at him. If she thinks he's not a man and is instead the sky, then right now the sky is falling because of her. He pulls her in for a passionate kiss.
Prince Dongpyung arrived at the laundry department moments before, but his happiness at seeing Ok Jung disappears the second Lee Soon steps into view, and then turns into shock at seeing Lee Soon pull Ok Jung in for a kiss. Whatta way to find out your bromance bestie loves the same girl as you.
The kiss ends and Ok Jung composes and excuses herself. She scurries away while Lee Soon stands there, likely shocked at what he just did.
Prince Dongpyung calls Ok Jung as she runs out of the laundry department, but she's too frazzled to talk with him and also quickly excuses herself saying she has work to do.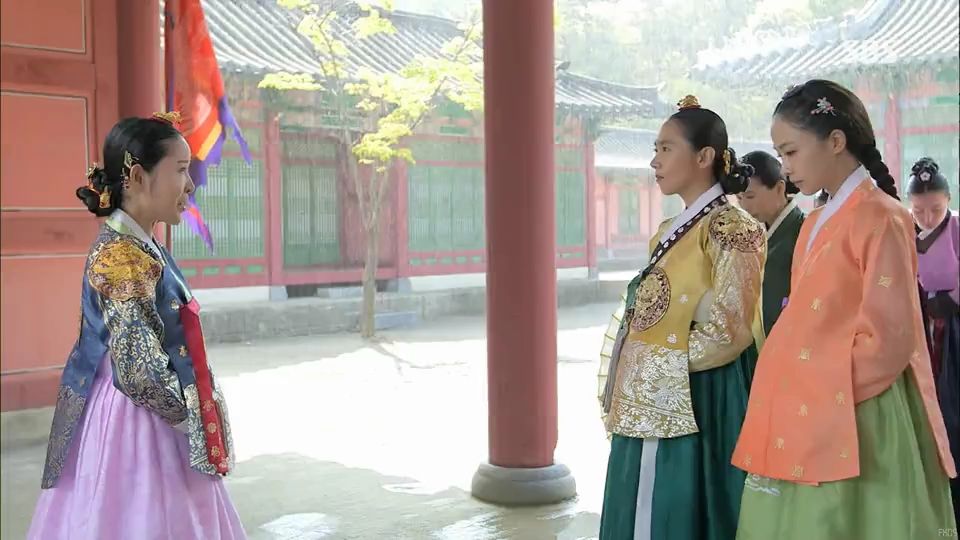 The two Dowager Queens meet up and sparks continue to fly as they butt heads. Great Dowager Queen Jo is annoyed In Hyun is always in the Palace when she's not even the selected next Queen. Dowager Queen Kim says she's already picked her and her son is so filial he'll agree with her choice. In Hyun looks very torn to be caught in the middle.
Dowager Queen Kim cautions Great Dowager Queen Jo from getting too involved, pointing out the Noron faction and Prince Boksun have all been eradicated and she's the only one left. If she wasn't careful, she might get tossed out of the Palace, and the royal family can just make up an excuse that she's recuperating for health reasons.
The Great Dowager Queen Jo is furious about being thus disrespected not to mention threatened and screams for Minister Jo and Prince Dongpyung to be called in to see her. She meets with them and discusses how Ok Jung is their remaining chip and she needs to quickly set up another opportunity for her to be alone with the King. Prince Dongpyung's face falls to have confirmation that Ok Jung is being set up as Lee Soon's woman, and wonders if no one else can do it. Minister Jo says Ok Jung is perfect, and Prince Dongpyung ought to agree since he's known her for so long.
Lee Soon sits in his chambers and thinks about Ok Jung. He decides to go out to start making the first moves in stripping power from the ministers.
Lee Soon meets with Jang Hyun, who has now been providing monetary support to Lee Soon. He's asked Jang Hyun to investigate the source of the Soron faction's funds and learns that the faction controls the liquor trade in Joseon.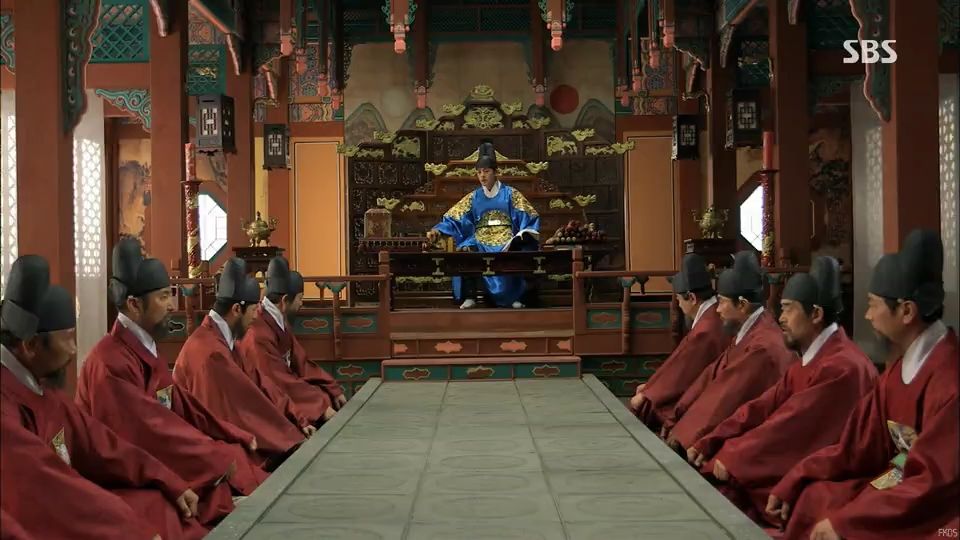 Lee Soon goes to court the next day and tries to change the law so that yanbans are no longer exempt from military service and the payment of military taxes. The ministers understandably freak out and claim that this will shake the foundations of the Joseon class system.
Lee Soon's proposal is shot down and afterwards when he passes Minister Min in the hallway, who asks the King to just focus on finding a new Queen and making heirs. Lee Soon huffs away and then loudly asks for Prince Dongpyung to be brought to the Palace so he has someone to drink away his frustrations.
Ok Jung's has started to grow a strategic brain and some backbone. She runs into her nemesis Ja Kyung in the laundry department and spots Head Court Lady Cheon walking in unbeknownst to Ja Kyung. Ok Jung cleverly gets Ja Kyung to admit that she set Ok Jung up to wear the outfit intended for In Hyun.
Court Lady Cheon is furious and punishes Ja Kyung this time while allowing Ok Jung to resume her duties as a seamstress. Ja Kyung gives Ok Jung a vengeful look as she heads to her punishment. Court Lady Cheon reminds Ok Jung that she better be here just to make clothes, because if she had any other intentions then she needs to leave now.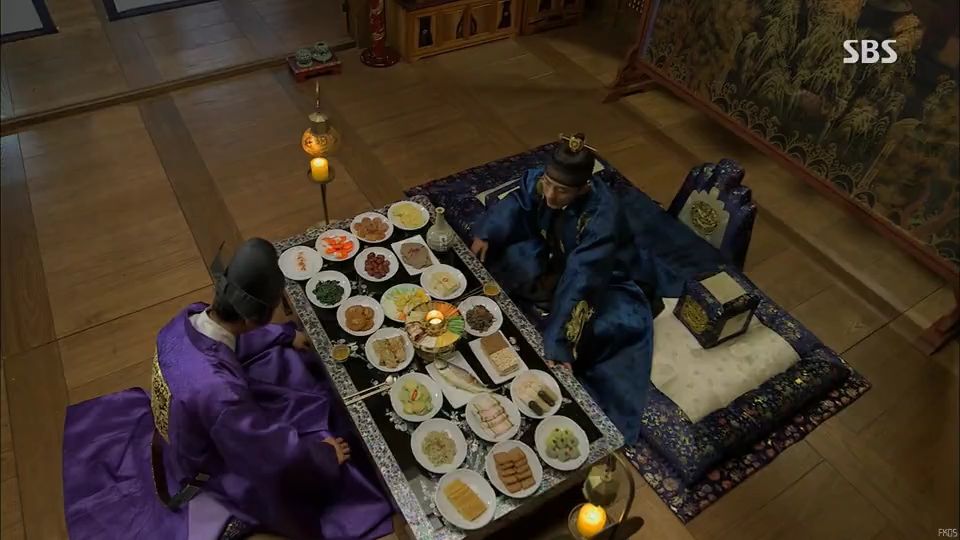 Lee Soon and Prince Dongpyung sit down to a quiet feast and a night of drinking.
Conversation turns to a game of guessing and Lee Soon talks about a female that stares at him with these emotional eyes but then she can also lose her temper with him just like that. Dongpyung asks if Lee Soon is talking about a cat? Lee Soon laughs and says initially he was scared she would get close to him, but now he's scared she won't get close to him.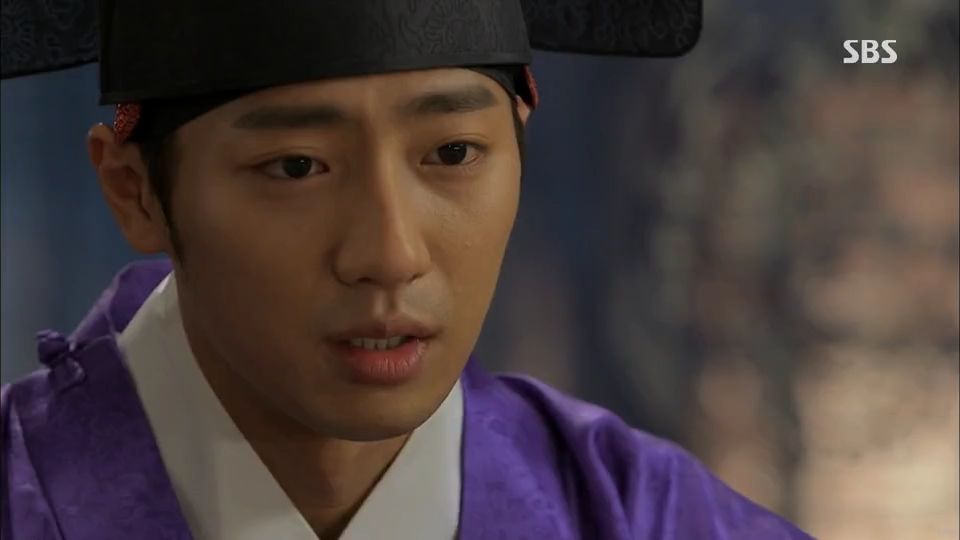 Prince Dongpyung asks if Lee Soon's fear of losing this girl is his real feeling? Lee Soon says yes, she's not from a good family and someone he could be with, but she's the first woman that he's ever wanted to embrace. Prince Dongpyung's face falls and he takes a drink. Lee Soon promises to introduce the girl to Prince Dongpyung soon.
The two guys get rip roaring drunk and stagger outside. They hilariously take a whizz by the wall while the poor eunuch tries to get the right royal receptacle for the King to use.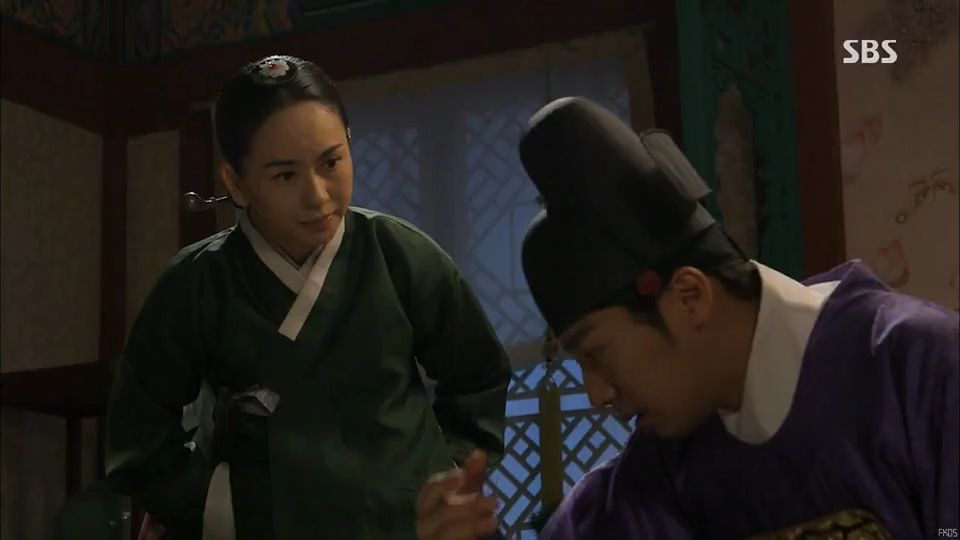 Afterwards the two guys are deposited in Lee Soon's chamber, the King drunkenly asks for Ok Jung to come bring him tea since last time he didn't get to drink her tea. Lee Soon passes out while Prince Dongpyung is urged to leave the Palace now since soon the doors will be closed and at such time no men are allowed in the Palace.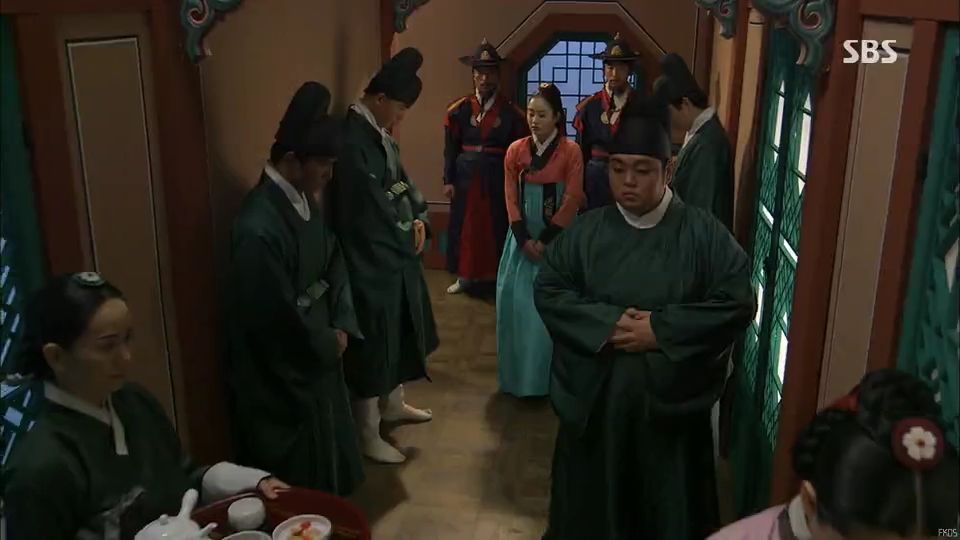 Ok Jung comes to Lee Soon's chambers and a tray of tea and snacks is shoved at her. She goes into his room and finds him totally asleep.
She ends up making his bed and tucking him in. As she's arranging the blanket on him, he wakes up for a moment and wonders if he's dreaming.
Ok Jung leaves Lee Soon's room and touches her heart as she walks away. Poor Prince Dongpyung stares at her but she doesn't see him.
Lee Soon wakes up the next morning with a hangover and his eunuch hurries him to attend the morning court session and not be late.
Lee Soon walks into court and confesses to all the ministers that he is hung over from a night of drinking with Prince Dongpyung. The ministers urge him to take care of his health and drink less, drinking is bad. Lee Soon awesomely works them over by running with that sage wisdom and says he will abstain from drinking for now. It's bad for his health, and bad for the economy since the grain that the people could eat are being used to make alcohol.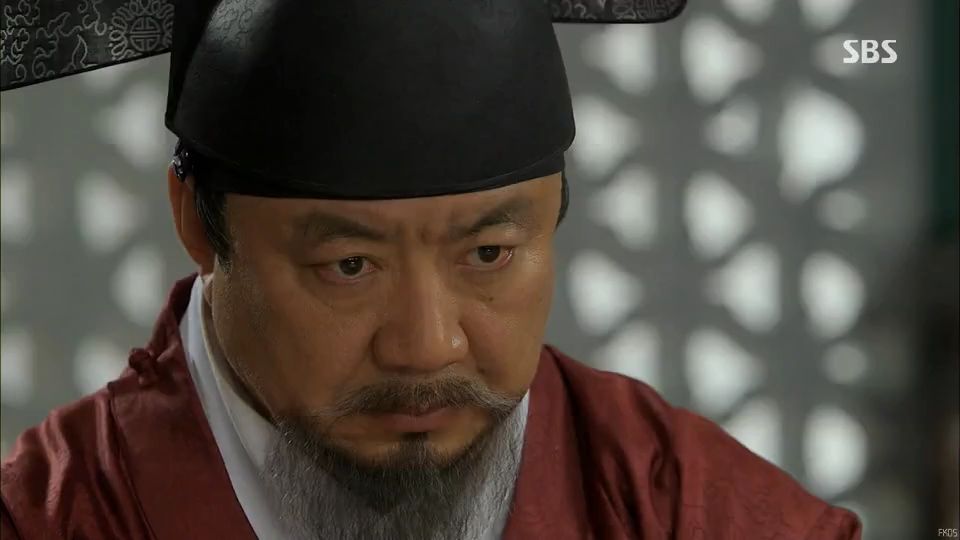 In fact, one person abstaining isn't going to help the current food crisis much, why don't ALL the ministers and yanbans all abstain from alcohol. He has them by the balls and they know it, reluctantly agreeing with Lee Soon's Alcohol Prohibition Decree. Minister Min is furious.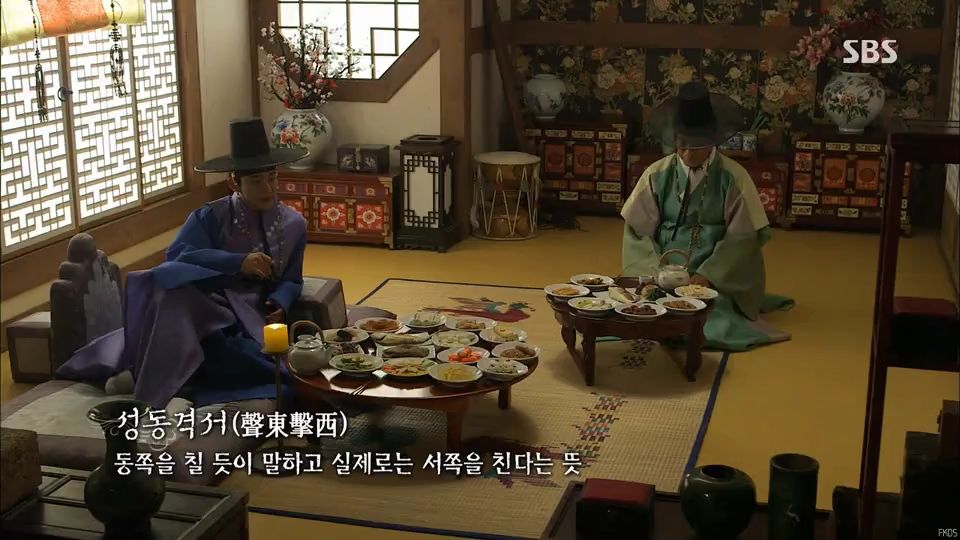 Lee Soon meets up with Jang Hyun, who is impressed the young King so cleverly used the yanban military exception issue to get all the ministers to worry about that, when in truth it was alcohol prohibition he was after to cut off their source of funds.
Lee Soon asks Jang Hyun about the "flower" he is nurturing, when is he going to introduce her to the King? Lee Soon cautions that he has ever high tastes, but Jang Hyun laughs and says with certainty and he knows his "flower" will be exactly to his majesty's taste.
The ministers are all meeting about the alcohol prohibition and discussing what to do next. Minister Min looks stressed out.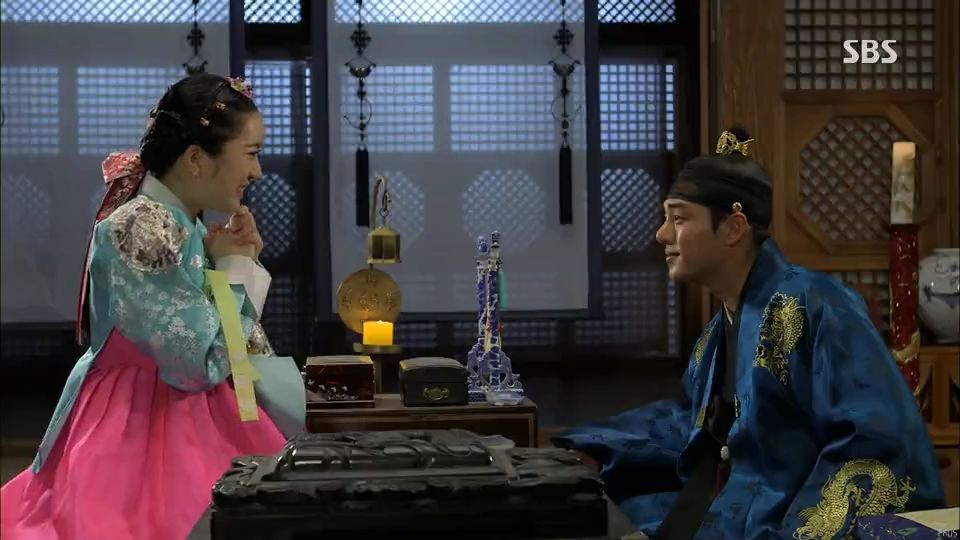 Lee Soon sits in his room and wonders if he dreamt that Ok Jung put him to bed that night. Princess Myung An's birthday is coming up and she goes to see Lee Soon to ask for a certain birthday present. He worries it might be dangerous but agrees to buy it for her.
Ok Jung sits in the Palace courtyard thinking about Lee Soon and their kiss in the rain. She recites a poem and Lee Soon comes out and finishes the poem for her.
The poem is by Chinese poet Li Bai about a court lady waiting the person she loves. Lee Soon asks Ok Jung what her name is? She replies that her name is Jang Ok Jung. He repeats it and asks if the person she is waiting for can be him?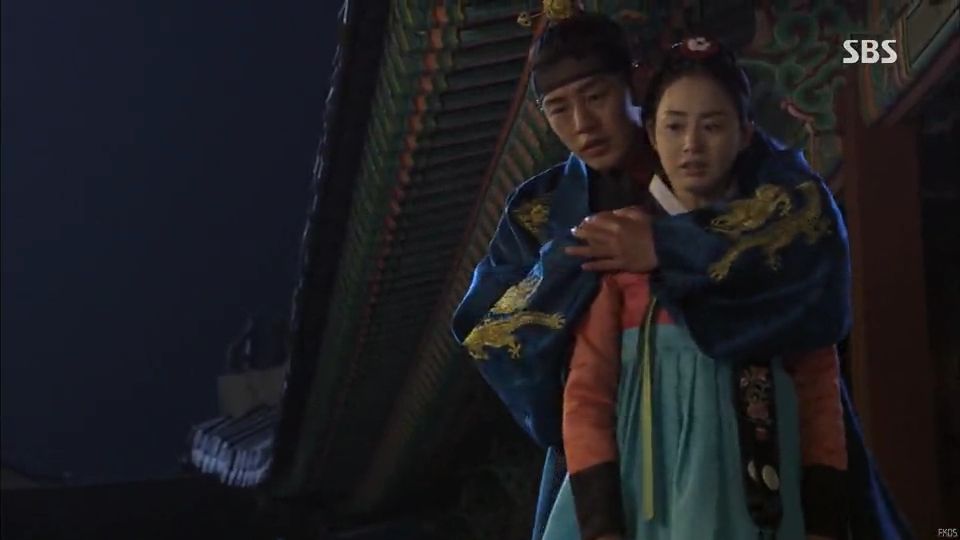 Ok Jung moves to leave and Lee Soon grabs her for a backhug. He begs her never to show him her backside and never to walk away from him. He will pull their distance close, little by little and step by step. It won't be too fast or too slow, he will become her Head Palace Guard and man Lee Soon. She asks him if he can promise never to discard her.
Lee Soon says he will promise, and not as a man, but he's promising as the King that he will never discard her. Ok Jung holds his hand and cries, thinking to herself that she will never let go of his hand then.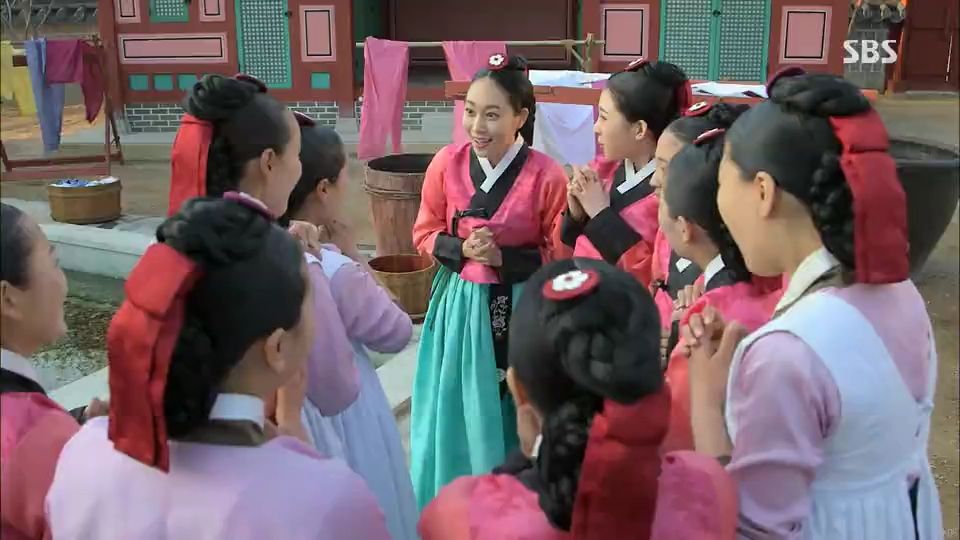 The Palace has eyes and word spreads like wildfire that the King was backhugging a court lady last night. No one knows who that court lady could be but everyone is curious.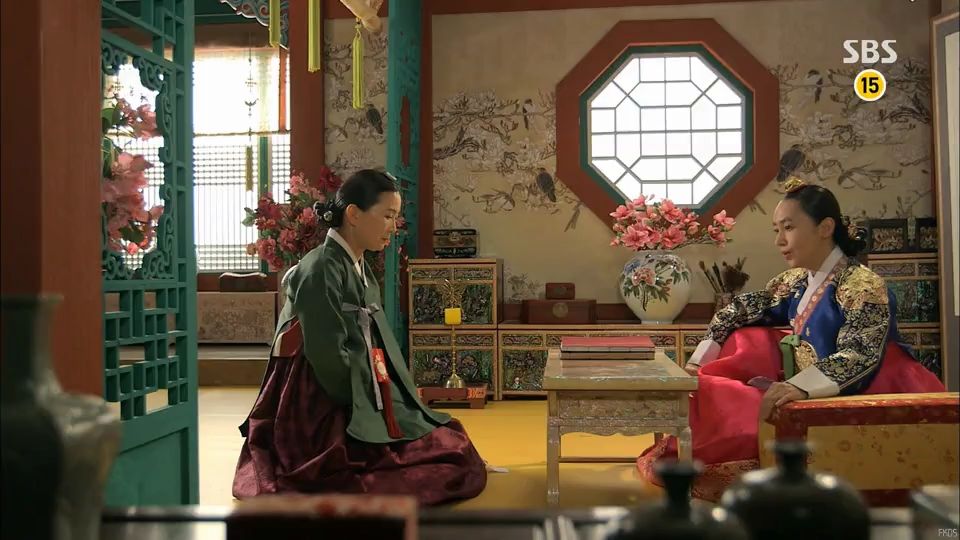 Dowager Queen Kim gets word that Lee Soon is interested in a court lady. She's not that upset since the more concubines in the back Palace the more progeny the King will have.
Jang Hyun asks Ok Jung's brother to go select a horse for Princess Myung An, continuing to throw his money behind Lee Soon.
Ok Jung continues to get picked on by the mean court ladies, but she has an ally of her own in court lady Uhm.
Ok Jung tells Lady Uhm that she will remember this kindness and perhaps one day she will appear in a different persona.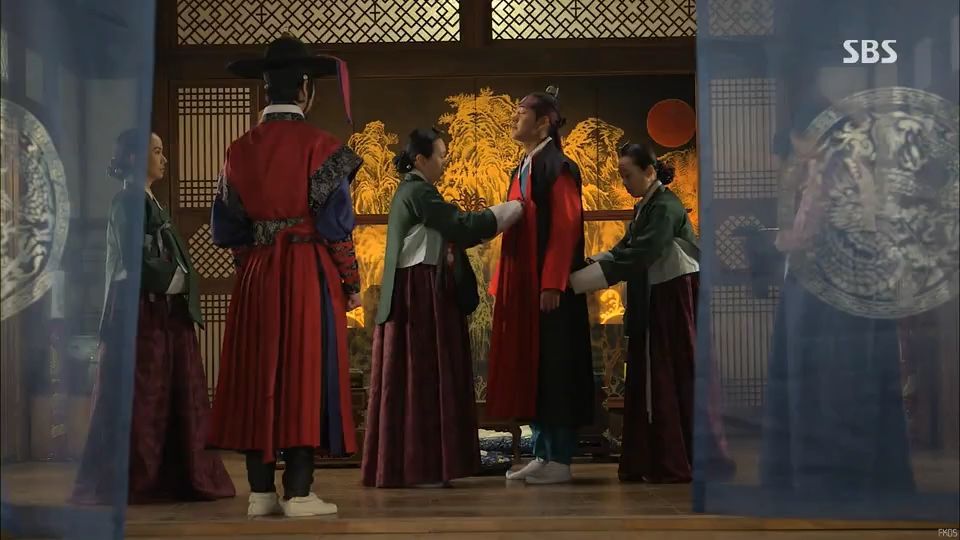 Lee Soon is getting dressed for an intramural sporting event to be held in the Palace today. He tells Hyun Moo to go prepare but he needs to go somewhere first. Lee Soon goes to the seamstress wing and makes the excuse that other court ladies are throwing their support behind Prince Dongpyung's team, he needs the sewing ladies to come out and cheer for him. He thanks them for making such beautiful clothes for the royal family.
Lee Soon walks down the line of court ladies and turns around right in front of Ok Jung, his hand secretly holding hers behind his back. Ok Jung is startled but smiles, allowing him this little caress.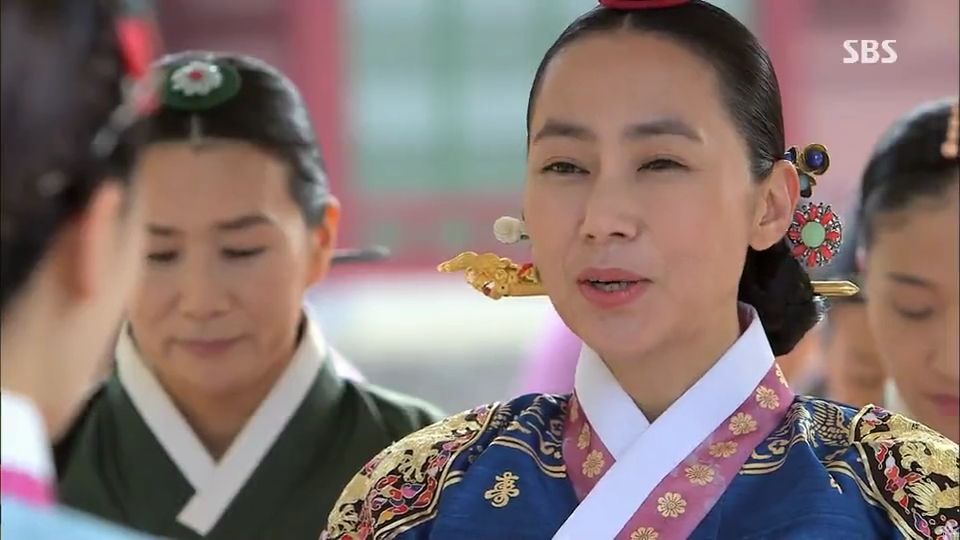 Dowager Queen Kim welcomes In Hyun to the Palace and tells her to go to the sporting arena and spend more time with Lee Soon.
Minister Min is told the alarming news that the King is interested in a court lady, and the lady is none other than Jang Hyun's niece. Jang Hyun happens to arrive with the horse for Princess Myung An and goes to greet Minister Min, who continues to be rude and condescending to Jang Hyun.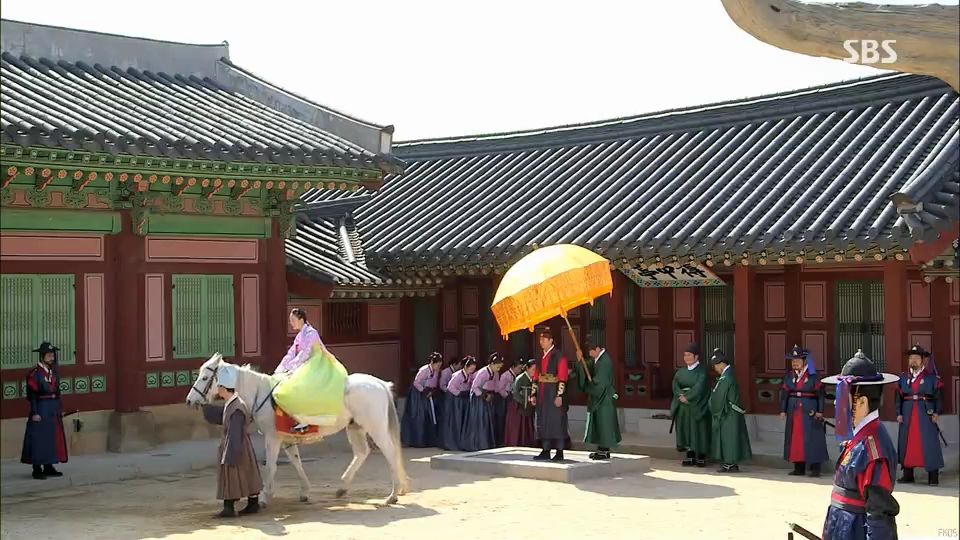 Lee Soon gives the horse to his sister and watches as she happily rides on it.
Ok Jung is walking through the Palace carrying clothes when she runs into In Hyun, who remarks that they seem to run into each other a lot despite the Palace being so big. In Hyun thinks they have a unique fate with each other and one that will deepen when In Hyun becomes Queen and Ok Jung will be making clothes for her. Ok Jung thinks to herself that she hopes her fate with In Hyun is very light. She hopes that she will not have to compete with In Hyun one day because of Lee Soon.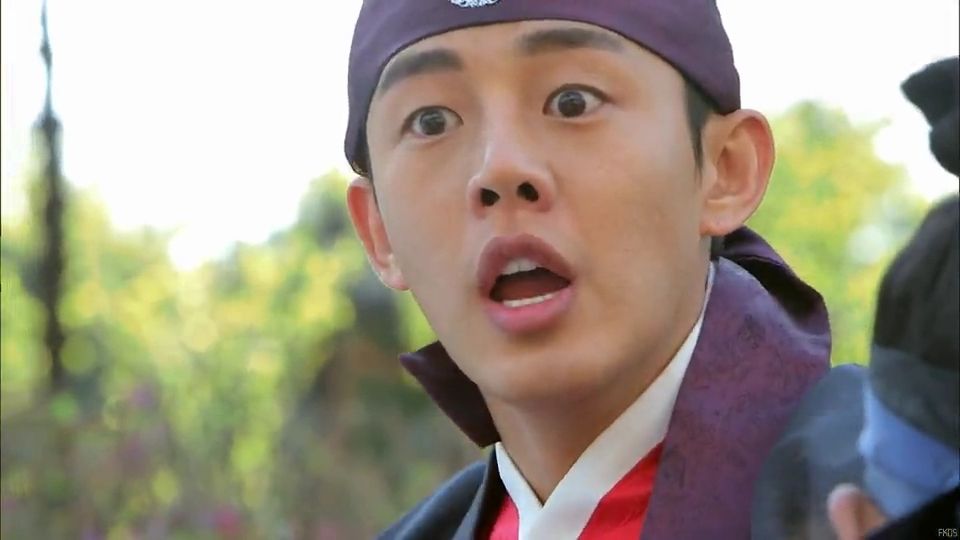 Lee Soon walks to the sporting arena and passes by the two ladies talking. He turns around and stares curiously. Suddenly Princess Myung An's horse holts after she kicks it into a trot. Princess Myung An is tossed from her horse as it rides straight towards Ok Jung. Lee Soon stares in horror and screams her name "Ok Jung-ahhh, Jang Ok Jung!"
Lee Soon rushes past In Hyun and all the servants to pulls Ok Jung out of harms way. He goes flying towards the wall and hits his head before fainting.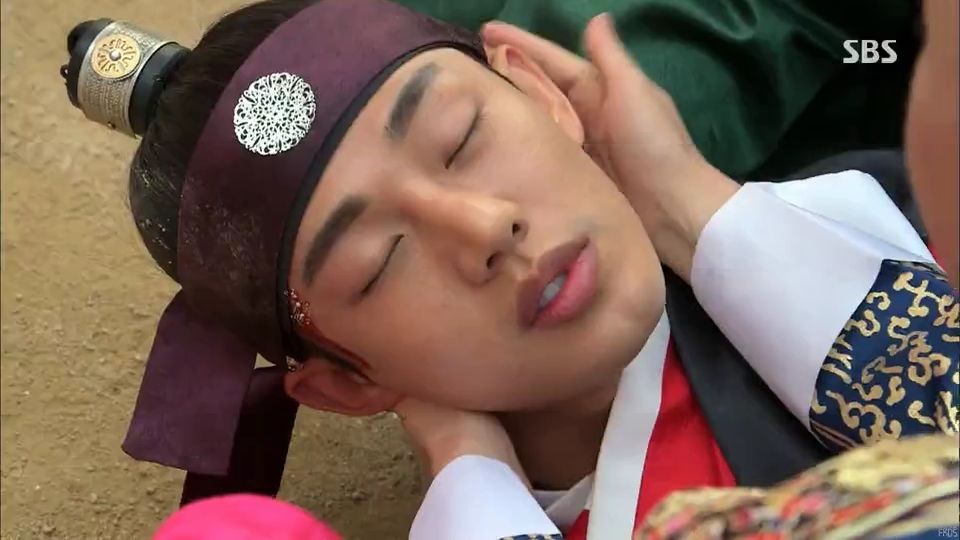 Ok Jung rushes over crying and trying to help him. Everyone stares in shock and horror and the Dowager Queen arrives and demands Ok Jung be dragged away. Minister Min shows up and now recognizes Ok Jung as the niece of Jang Hyun, who is also staring in shock at the accident.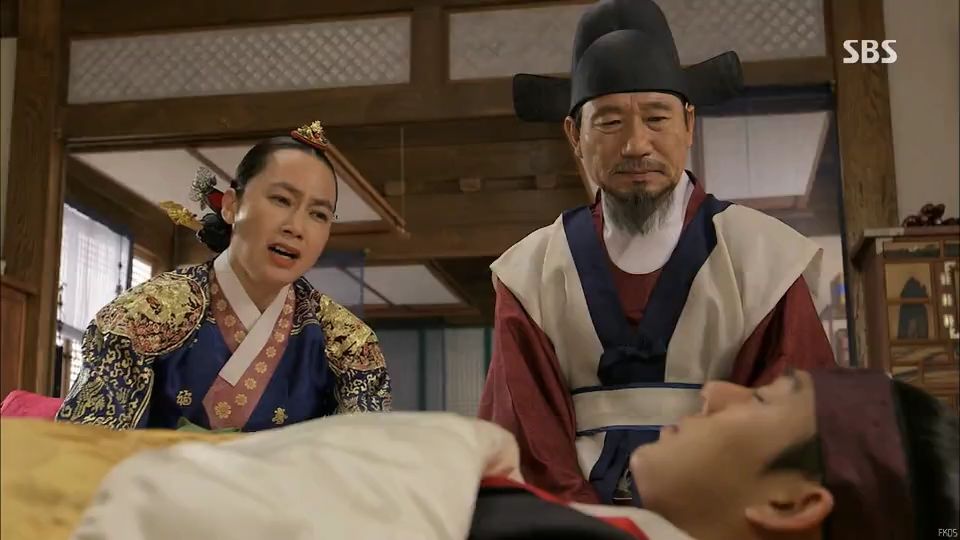 The royal physician tends to Lee Soon but says the King is in a coma.
Minister Min tells the Dowager Queen that Ok Jung is the niece of the man helping the Noron coup, and she's also the daughter of the slave woman. That's a double strike against Ok Jung and the Dowager Queen vows that Ok Jung be tossed out of the Palace and never seen by Lee Soon again. The Dowager Queen is pleased that sending Ok Jung out of the Palace will mean she cannot be assured that she is a virgin therefore she will not be able to be with Lee Soon later on even if he wanted her.
The Dowager Queen personally goes to bitch slap Ok Jung and toss her ass out of the Palace front door. Ok Jung cries, begging to be allowed to see the King one last time and make sure he's okay.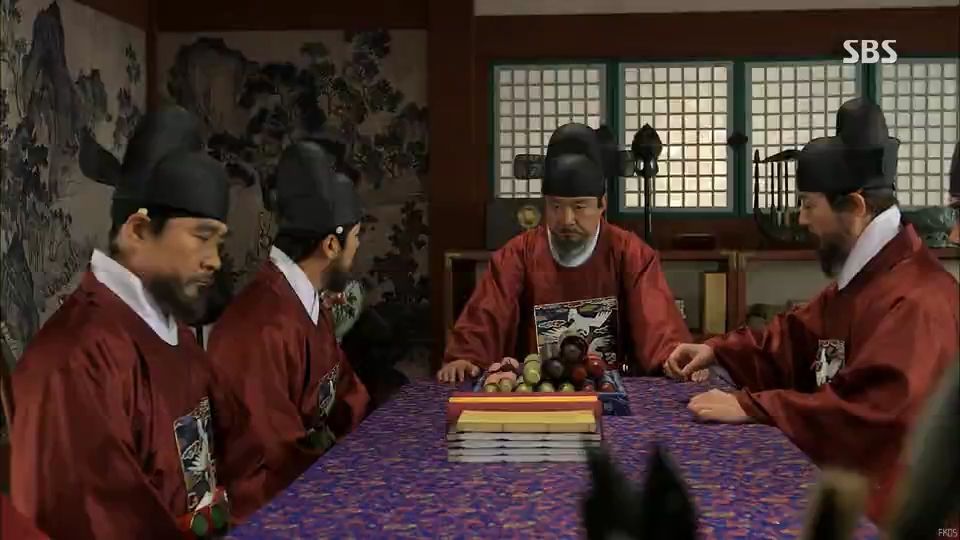 The minister discuss what to do with the King in a coma and Minister Min suggests that the Dowager Queen be the surrogate ruler of the nation in the King's stead, i.e. ruling behind a curtain.
The Dowager Queen is told she needs to do this otherwise people might start to look for another rightful ruler. She agrees and then asks what is the most important thing going on right now? She is told that it is the successorship.
Lee Soon is checked by the royal physicians while Ok Jung sits outside the Palace crying and refusing to leave.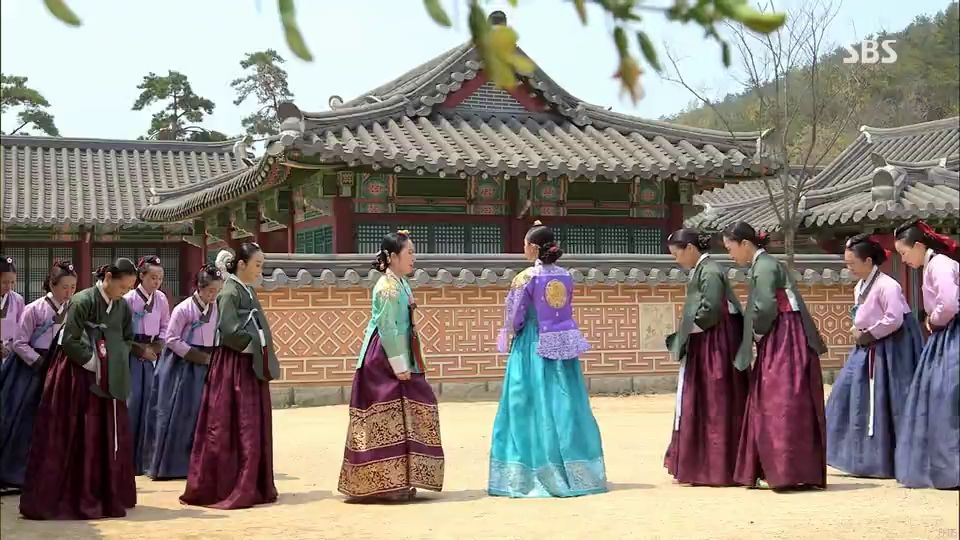 Great Dowager Queen Jo confronts Dowager Queen Kim on striping away the legal right for her to be the surrogate ruler since she is the highest ranked person in the royal family. Dowager Queen Kim agrees she has the title but none of the ministers will listen to her rule so it doesn't matter. In truth Dowager Queen Kim has the highest power and authority in the Palace. Great Dowager Queen Jo has no choice but to accept such an insult.
The Dowager Queen sits before the minister in court and makes a decree that Minister Min's daughter In Hyun be selected as the next Queen. Minister Min acts all humble and says he accepts this arrangement. Dowager Queen Kim calls In Hyun into the Palace now to take care of the King despite it being outside the traditions of the court. Minister Kim stares at Minister Min for finally succeeding in making In Hyun the Queen.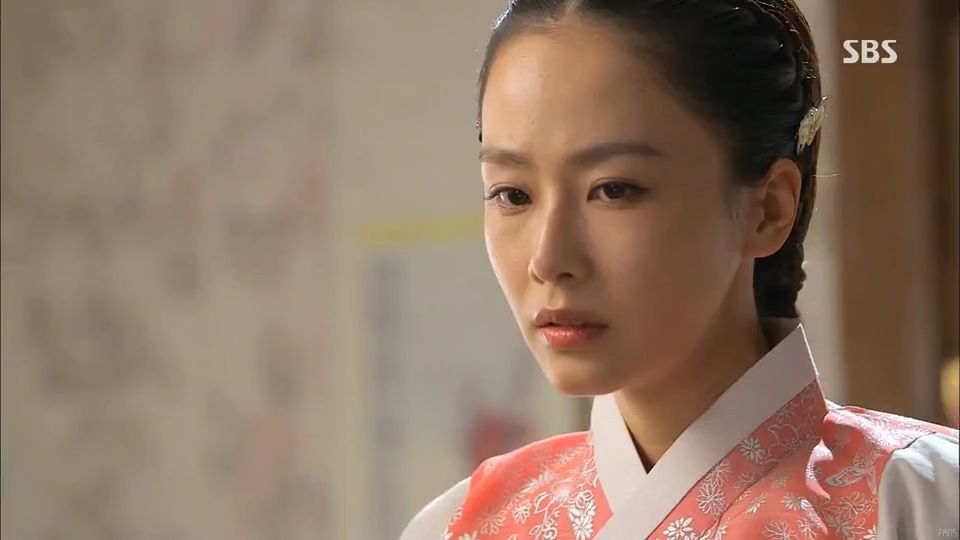 In Hyun paces in her room and thinks back to Lee Soon goes to protect Ok Jung from the runaway horse. Minister Min comes to inform her that she's been made the next Queen.
In Hyun leaves her home and is welcomed by all the court ladies who are here to bring her to the Palace in queenly style. In Hyun's procession arrives at the Palace and Ok Jung is still sitting outside. She turns and hears that the new Queen has arrived.
Ok Jung stares at In Hyun and looks very determined. It's on, ladies. It's so on now.