Kyaaaa~ Jang Ok Jung, Live in Love is so good that I want to run around asking random people to pinch me in case I'm dreaming. I am actually loving a drama that is qualitatively good, which requires some sort of planetary alignment. Usually I love crap, or there is a good drama that just doesn't capture my heart. I don't have a single quibble about this drama from story to acting to directing to music, it's all coming together like the best executed meal one could hope for. The only oddity is that we're at episode 10 and still no Jae Hee. What the heck is going on, SBS? I don't need him but if you promote the heck out of him as the second male lead and integral to Ok Jung's life before the drama started, then it's truly weirding me out that he's been a no-show to the point where Ok Jung is about to become Lee Soon's consort soon and we still haven't learned anything about whatever happened to her and Chi Soo from their teenage years until now.
If I watched this drama without any knowledge of its set up, I'll probably wonder who Chi Soo is and why he is in the drama once he pops up mid-way through the show. I hope the producers really know what they are doing here, because I would hate for his late arrival to suddenly tinker with the great chemistry and flow of JOJ so far. This drama takes all the major events of the historical life of King Sukjong and his women and infuses it with real emotional substance, so we're seeing the fictional yet wholly plausible incarnations of Lee Soon, In Hyun, Ok Jung, Minister Min, and Jang Hyun. These people have ordained roles in life and some want to preserve the status quo while others want to shake it up. In the midst is Jang Ok Jung, one of the best sageuk heroine depictions I've come across in a long time. She's both a product of her time yet willing to adapt to circumstances and follow her heart. JOJ is her story and the drama and Kim Tae Hee have made the character of Ok Jung complicated and winning.
Episode 10 recap:
Future Queen-to-be In Hyun arrives at the Palace gates in style, while conversely tossed-out Ok Jung sits there worried over comatose Lee Soon. The two women exchange pointed glares and then Ok Jung is literally shoved aside to make room for In Hyun to enter.
Great Dowager Queen Jo meets with Minister Jo and Prince Dongpyung and is furious that Dowager Queen Kim tossed Ok Jung out, especially since Ok Jung came to the Palace under her protection. But right now the Dowager Queen is flying high and has all the power and there is nothing for them to do. Prince Dongpyung says not quite.
Dowager Queen Kim goes to welcome In Hyun as her future daughter-in-law.
Prince Dongpyung walks to the front gate and confronts Dowager Queen Kim for tossing Ok Jung out. He knows the Dowager Queen wants to sully Ok Jung's presumption of innocence so now he's officially taken her under his family protection. He will protect the King's beloved woman in the King's current incapacitated state.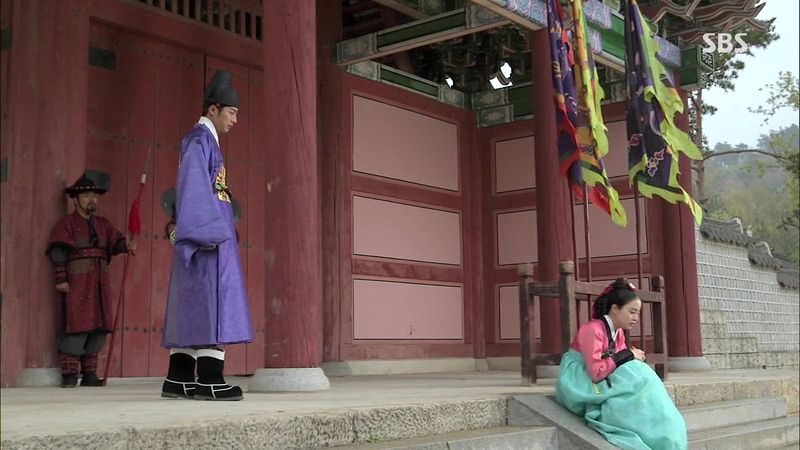 Prince Dongpyung walks over to Ok Jung, who only has on her mind Lee Soon.
Prince Dongpyung watches Ok Jung crying over Lee Soon and his heart keeps on breaking because of her.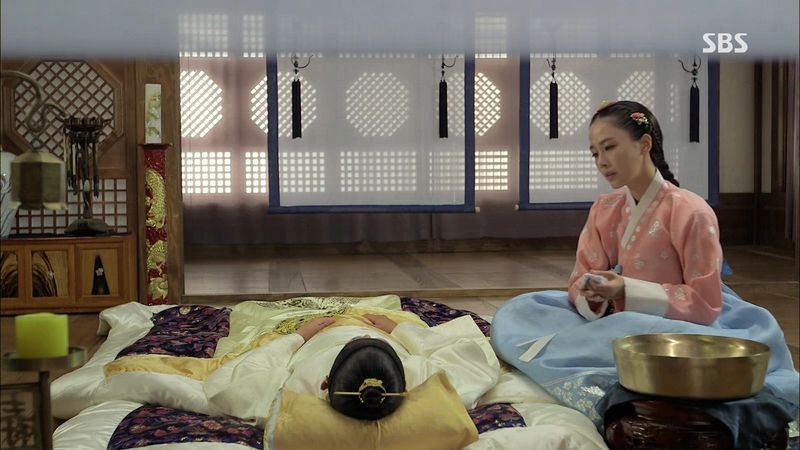 In Hyun is brought to Lee Soon's bed chamber and proceeds to be his nursemaid.
Ok Jung's mom and brother are pacing and worried about her. Ok Jung comes home and cries in her mother's arms. She asks why Ok Jung got kicked out of the Palace and hears the alarming news that Ok Jung fell in love with the King.
Hee Jae confronts Uncle Jang Hyun about sending Ok Jung to the Palace to be thus mistreated. If he knew, he would have taken her to the Qing dynasty. Jang Hyun reveals that Ok Jung and the King are in love and she's their greatest weapon.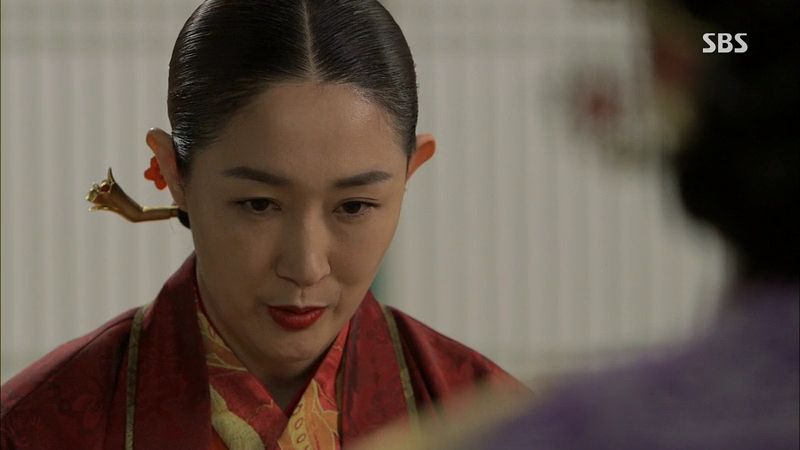 Dowager Queen Kim summons the shaman to inquire about how to cure Lee Soon and wake him from his coma.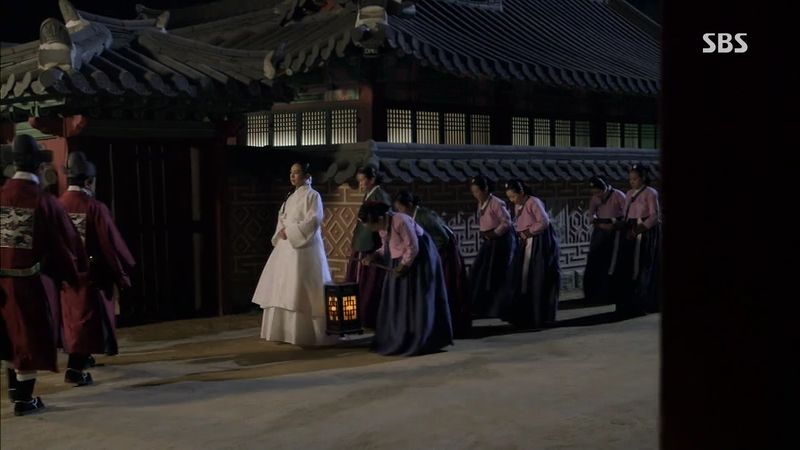 Dowager Queen agrees to don simple garments and go to pray in sufferance for her son's recovery as a way to show the Heavens her genuine heart. Dowager Queen Kim runs into Minister Min on her way to pray. The ministers don't want her to do it but she insists.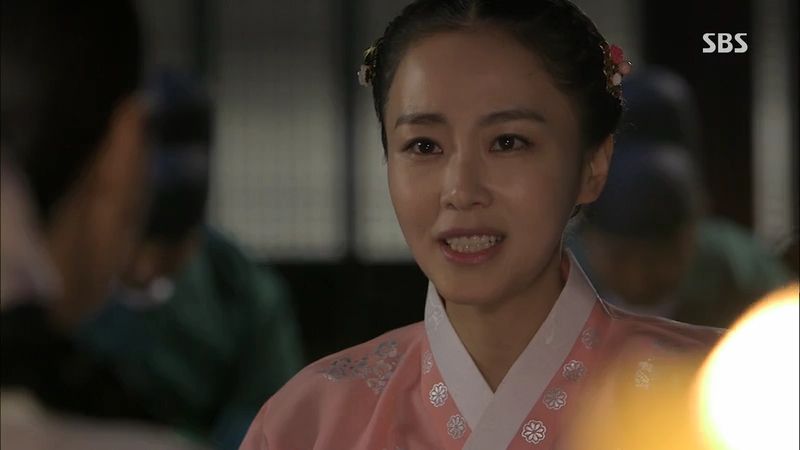 In Hyun watches as the Dowager Queen goes to pray for her son's recovery. She offers to do it for the Dowager Queen but she says as the King's mother she needs to do this personally. She asks In Hyun to take good care of Lee Soon.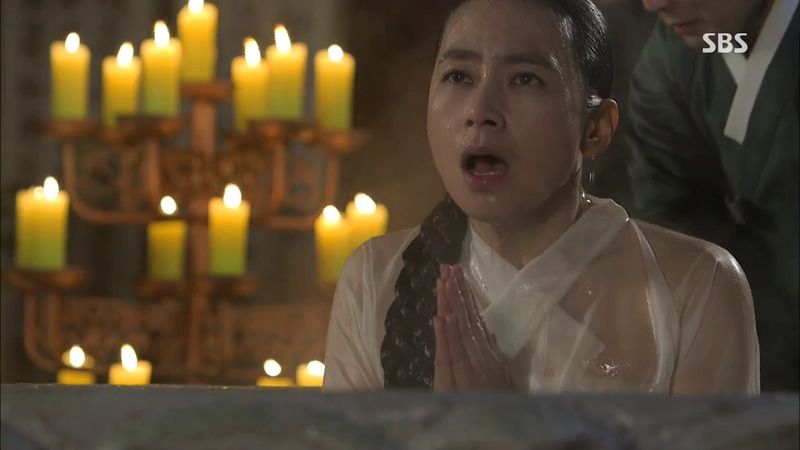 Dowager Queen Kim means business as she kneels before the temple while cold water is poured over her as she prays.
The royal physician uses acupuncture on Lee Soon, who is currently dreaming about all his childhood encounters with Ok Jung. Lee Soon awakens from his coma and thinks Ok Jung is sitting beside him. He calls her name only to see that it's In Hyun.
Dowager Queen Kim hears that the King has awakened and rushes to see him. He can tell she seems ill but she says it's just a cold and nothing serious. She urges Lee Soon to quickly hold the wedding ceremony with In Hyun.
Lee Soon goes to court and meets with his ministers, who are all chanting for him to quickly marry In Hyun and make it official. Lee Soon isn't ready to agree to make In Hyun his Queen which rankles Minister Min since he knows it's because of Ok Jung.
Dowager Queen Kim and Great Dowager Queen Jo have a confrontation over Lee Soon's choice of wife. Dowager Queen Kim is giddy with happiness that Lee Soon has agreed to marry In Hyun, but Great Dowager Queen reminds her that if Lee Soon learns that Ok Jung was tossed out of the Palace, he's going to be furious with her.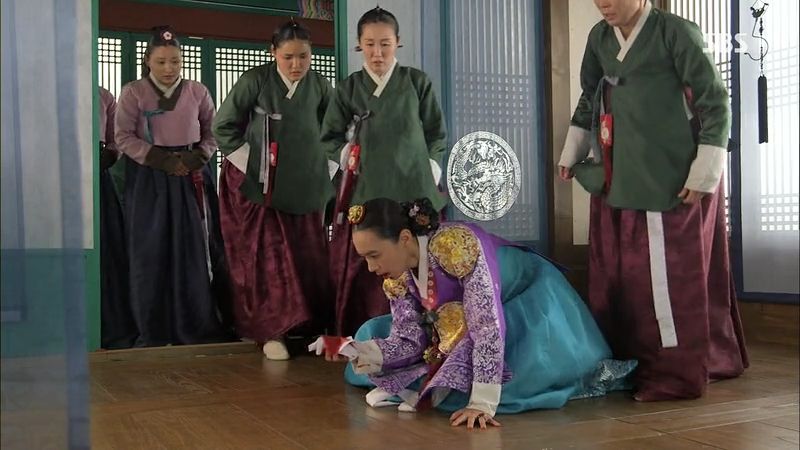 Dowager Queen says he doesn't about that girl but Great Dowager Queen Jo points out he almost died to save Ok Jung. She tells Dowager Queen that the King's feelings for Ok Jung are fated and should not be thwarted. After she leaves, Dowager Queen Kim is so incensed that she spits up blood. She orders all the servants to stick to the story that Ok Jung ran away from the Palace and cannot be located.
Lee Soon stands in the courtyard and this time thinks back to all his encounters with teenage Ok Jung and finally makes the connection between the two. He remembers promising her that he would marry her and raise her up from her low class status.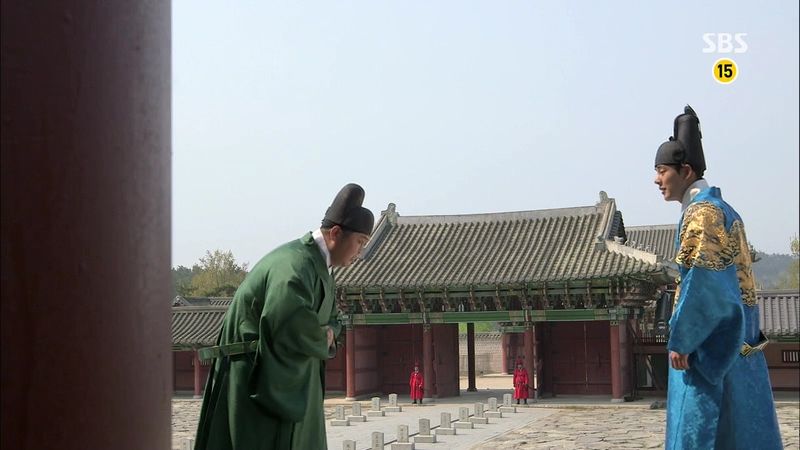 Lee Soon summons his eunuch and finds out that Ok Jung has disappeared from the Palace and he heard she went to the Qing dynasty.
Ok Jung is staying with Prince Dongpyung and he goes to see her. All Ok Jung can think about is Lee Soon and she's relieved that he's awakened from his coma. She wants to go see Lee Soon and she knows he doesn't care about her low status. Prince Dongpyung says the Dowager Queen cares and hates Ok Jung.
Prince Dongpyung tells Ok Jung that the worst fate for a woman is to fall in love with a King. She will never ever hold onto his true heart. He tells her that Lee Soon has agreed to marry In Hyun and is preparing for the wedding ceremony as they speak.
Prince Dongpyung asks Ok Jung to go to the Qing dynasty with him. Ok Jung turns Prince Dongpyung down, she vows to return to Lee Soon's side. There is nothing she wants in the Qing dynasty. He asks what she wants and she says with all certainty that she only wants Lee Soon.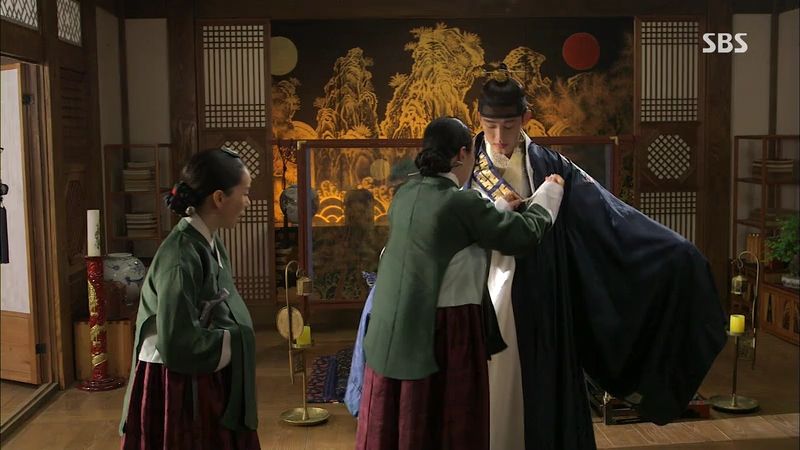 Lee Soon is getting fitted for his wedding robes for the upcoming ceremony with In Hyun, who is similarly trying on her wedding robes. Ok Jung sits in her room and ponders her path in life.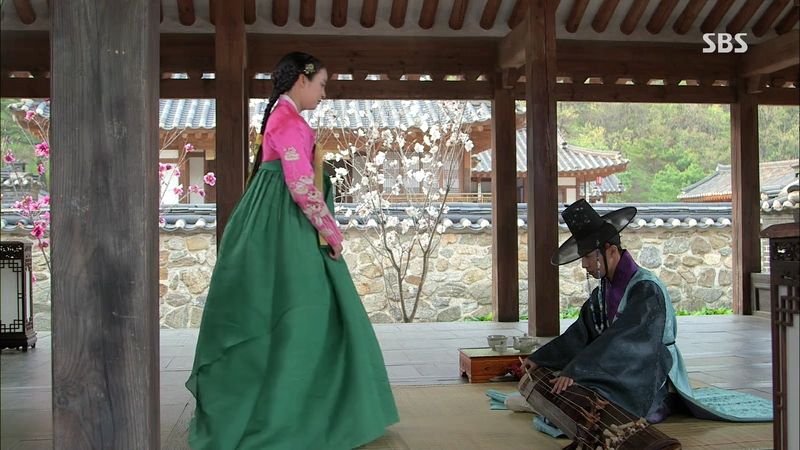 Ok Jung goes to see Prince Dongpyung and agrees to go with him to the Qing dynasty but in return all she wants is to see Lee Soon one last time. If Lee Soon knows her whereabouts and still doesn't come see her, then she will give up and go to the Qing dynasty with Prince Dongpyung. He asks with tears in his eyes whether she really doesn't care one whit about his feelings. How can she not see how he looks at her? Ok Jung looks stunned while Prince Dongpyung tosses the zither aside and storms off.
Heartbroken Prince Dongpyung walks away to go see Lee Soon. He is blocked at the Palace gates under orders from Dowager Queen Kim, but he grabs a sword and barges in to see Lee Soon.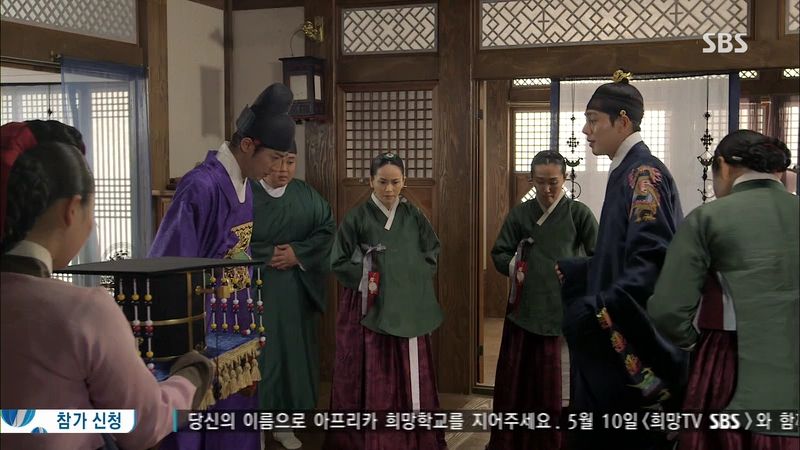 Lee Soon is happy to see Prince Dongpyung, who starts off by asking if Lee Soon is willing to give up his throne to be with the woman he loves, when before he said all woman around him can be used and must be of use. Lee Soon says that woman is the exception, and his royal throne he will treat it like it never existed in his life before if he can be with her.
Prince Dongpyung then reveals that Ok Jung is staying at his Palace after being kicked out of the Palace.
Lee Soon strips off his wedding robes and rides out of the Palace with Hyun Moo to go find Ok Jung. Prince Dongpyung sits in Lee Soon's chambers staring at the discarded robes, saying to himself that he has used his own hands to send Ok Jung somewhere he can never protect her anymore. Sobs, poor baby.
Dowager Queen Kim learns that Lee Soon has taken off and the wedding ceremony cannot take place now, which is a grave insult to Minister Min and In Hyun. She falls ill again while In Hyun is totally crushed. Minister Min vows that he will get Lee Soon back for this grave insult.
Lee Soon rushes to Prince Dongpyung's residence and walks in to see Ok Jung standing there waiting for them. They tenderly stare at each other.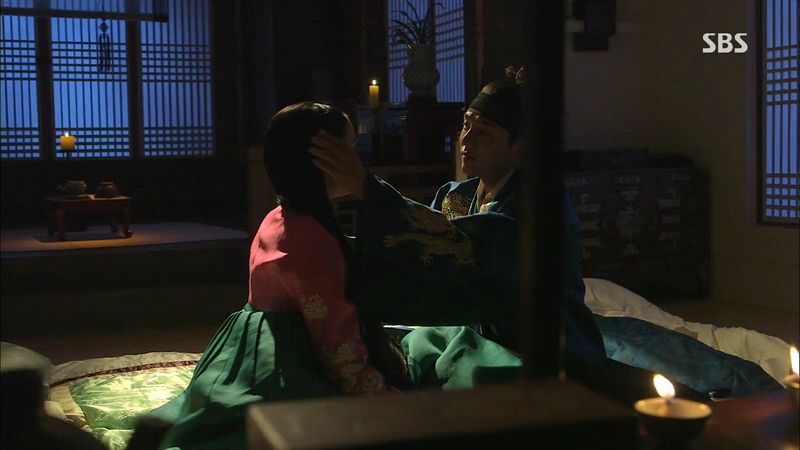 Apparently the King works fast, or else a near brush with death has made him take advantage when allowed, because Lee Soon and Ok Jung are in bed preparing to consummate their relationship.
Lee Soon unbraids Ok Jung's hair and tenderly pulls her in for a kiss before pressing her down on the mattress. Elsewhere In Hyun is dressed like a Queen and crying at the humiliation and sadness that her future husband left her on their wedding day to go find another woman.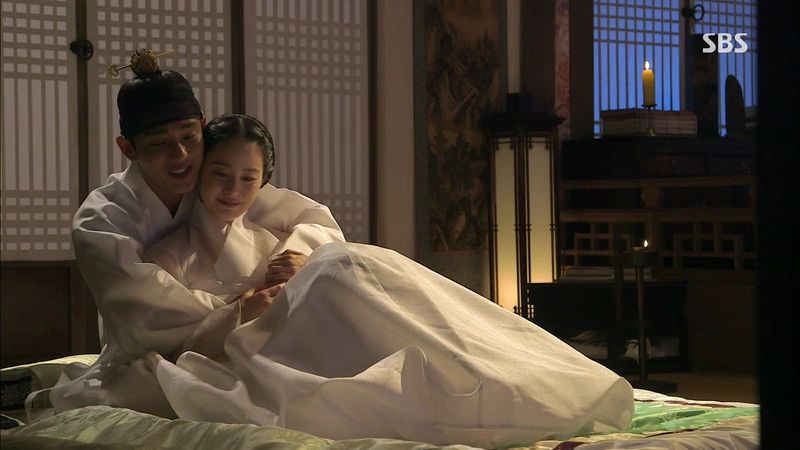 Ok Jung and Lee Soon are wearing bed clothes in bed as he fixes her hair into that of a married woman. Lee Soon tells Ok Jung that she is so beautiful how can he not think of her constantly. He pulls her in for a back hug. He wants to build her a side residence in the Palace where they can be happy together and make lots of babies like rabbit. LOL.
He wants to make her his Consort but she doesn't want it since it will place him in a difficult position. All she wants is to be by his side. He tells her that he promised her when they were kids to marry her. Ok Jung doesn't remember.
Hyun Moo suddenly calls from outside the door saying that the Dowager Queen is very ill and Lee Soon needs to quickly return to the Palace.
Minister Min is at the gisaeng house and hears about Lee Soon ditching In Hyun on their wedding day and rushing to find Ok Jung. He is furious and decides Ok Jung must be eliminated.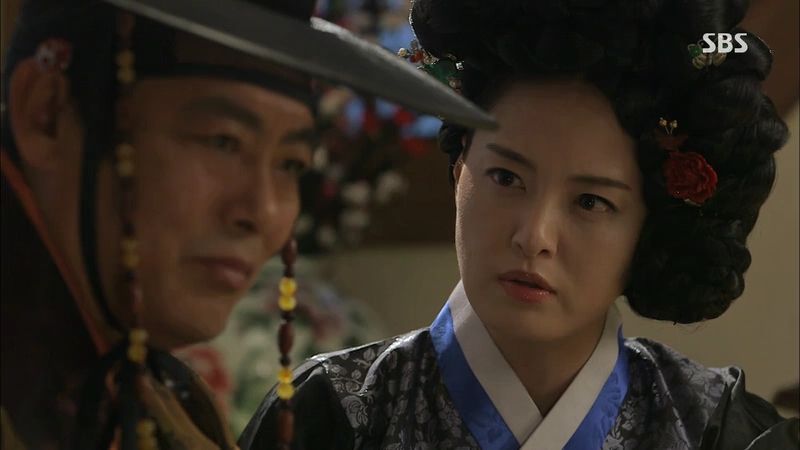 A gisaeng in Jang Hyun's pocket hears this and later goes to report to Jang Hyun that Minister Min is planning to off Ok Jung.
Lee Soon returns to the Palace and goes to see his mom. He informs her that he loves Jang Ok Jung and she is never to harm her. Dowager Queen Kim is so angry she gets even sicker. That wench is clearly sent to seduce the King and is from the Noron faction. She vows to never let Ok Jung step one foot in the Palace while she is still alive.
A woman purporting to have served Queen In Kyung comes by to pick Ok Jung up to return to the Palace. She goes with this woman having remembered Lee Soon's promise to come pick her up soon.
Ok Jung is taken to a remote village shack where Minister Min and his men in black are waiting for her. He notes that she looks a lot like Jang Hyun's dead daughter Hong Joo. He derides her for daring to use her wiles to seduce a King and overreaching. Ok Jung doesn't back down and says she is already the King's woman, and even a low class person like her as the right to love.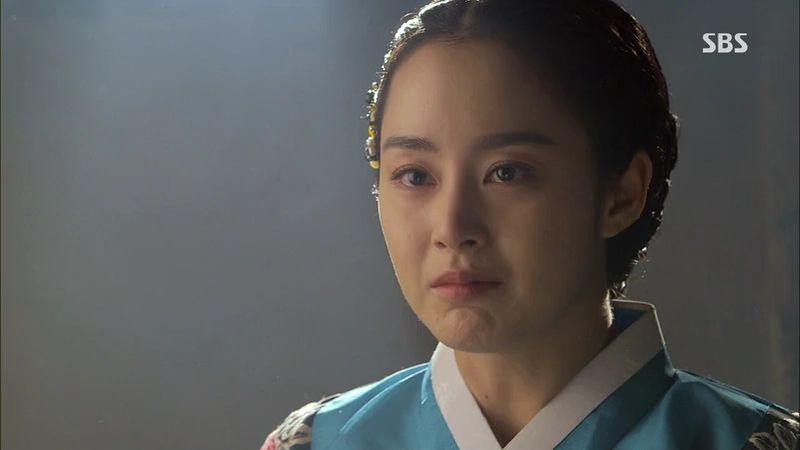 Minister Min says only Queen In Hyun is the King's woman, not someone as low class as she is. He offers her one chance to live if she leaves for the Qing dynasty now, otherwise he will burn her alive. Ok Jung refuses since she made a promise with the King. Ok Jung warns Minister Min that the King will not allow him to get away with this. Minister Min orders Ok Jung tied to a pole and the hut set on fire.
Minister Min is carried away as Ok Jung is being burned alive. Thankfully Jang Hyun's minion was keeping an eye on Ok Jung. She passes out in the fire but has flashbacks to her teenage meeting with Lee Soon, finally remembering their childhood promise. Ok Jung is rescued by Jang Hyun's minions.
Prince Dongpyung discovers Ok Jung is missing and supposed a court lady came to take her away. He rushes to the Palace to tell Lee Soon, while Minister Jo also goes to inform Great Dowager Queen Jo.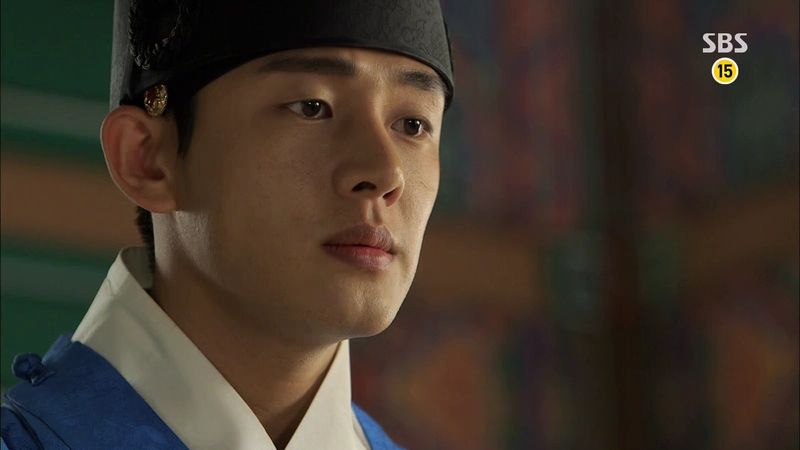 Lee Soon thinks his mom did it and rushes off to confront her in her sickbed. In Hyun is there taking care of Dowager Queen Kim and hears Lee Soon's warning that Ok Jung is never ever to be harmed. He loves Jang Ok Jung and even the Dowager Queen cannot harm a hair on her head.
In Hyun hears this and is totally shaken. Dowager Queen Kim is so angry she bursts into tears that her son could talk to her thusly over a low class woman.
Lee Soon orders his guards to go search for Ok Jung, he doesn't care if they turn Hanyang upside down, they need to find her.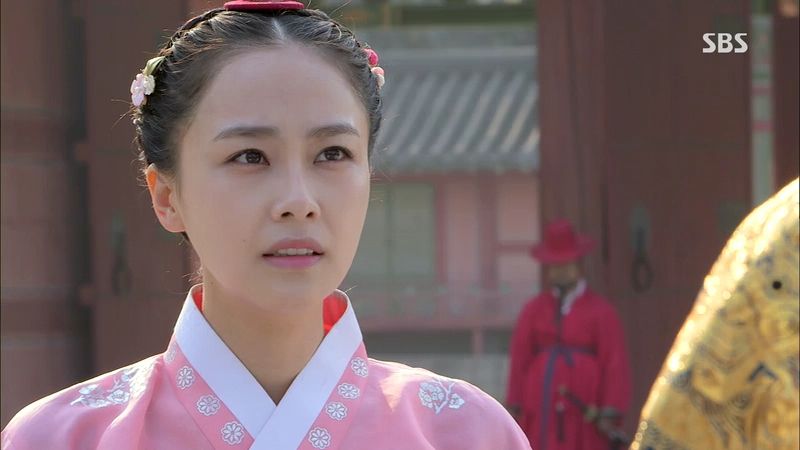 In Hyun goes to talk with Lee Soon, chiding him for being an unfilial to his mother over a woman. Lee Soon scoffs that only the Queen can deal with back Palace matters and she is not yet his Queen.
In Hyun goes back to Dowager Queen Kim who urges her to quickly marry Lee Soon. She promises Dowager Queen Kim that she will get Lee Soon to quickly agree to the marriage and she will endure him keeping other women by his side The Queen doesn't want her to risk bringing Ok Jung into the Palace but In Hyun says passion and looks will all disappear with time. She is confident she will be the victor in the end.
In Hyun goes to talk with Lee Soon about Ok Jung. Lee Soon calmly tells her that Ok Jung is the person that even if he has to turn Hanyang upside down he will find her and protect her. Even knowing how much he loves Ok Jung, In Hyun still wants to become his Queen? In Hyun calmly says that she will put down her pride and accept any woman he wants to have, as long as he makes her his Queen.
She offers him a deal – if he makes her his Queen, she will pave the way for him to bring Ok Jung back to the Palace without any one complaining or making it difficult for him. She will be his Queen, and in return she will bring him the woman he loves.
In Hyun is ready to leave her family home to enter the Palace officially as the Queen. She exchanges a look with her dad as she's sent off by all the family retainers.
Jang Hyun sits at home and discusses with Hee Jae about the next steps.
Lee Soon and In Hyun hold their royal wedding in front of happy Dowager Queen Kim and poker-faced Minister Min.
Ok Jung finally awakens after her fiery ordeal. She goes to stand under the same tree that Lee Soon once made a promise to meet her under but never showed up.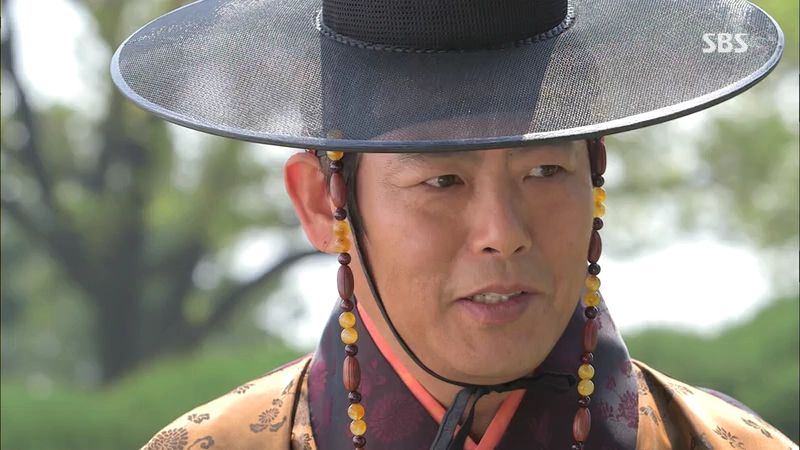 Jang Hyun walks up to her and goads her by revealing that Lee Soon is currently holding a royal wedding to marry Minister Min's daughter In Hyun. He asks if she now knows what it feels like to want something but not be able to have it? Ok Jung's controls her tears and frustration and says with certainty to her uncle Jang Hyun that she want to align with him now. She will achieve her uncle's dream of becoming the father-in-law to the King, but in return he will make it so she can become the King's woman.
She will make herself so powerful and strong that no one can never harm her again. For everyone who told her that she was a lowly person who could not live the life she wants or love the man she wants, she will show them that she can. For that to happen, she vows to return to the Palace and she wants Jang Hyun to help her. Pissed off Ok Jung, I love it!
Thoughts of Mine:
I am having so much fun watching JOJ, which isn't something one normally can say about watching sageuks. Usually it toddles between tedium and tension, with lots of important things happening but hardly any joie de vivre. I find JOJ entertaining even in the midst of so much plotting and push-and-pull. This story makes me worried not about how it'll all end (rocks fall down, anyone?) but instead plops me fair and square in the right now. Poor Prince Dongpyung (that ought to be his full name from now on) does the honorable thing and reunites Ok Jung and Lee Soon after ascertaining that they are really in love with each other. It doesn't make his warning to Ok Jung any less true, but if she wants to pick the King despite knowing the odds are high she'll end up heartbroken or six-feet-under, then by golly she should be allowed to do so. Ok Jung really is fearless once she makes up her mind, announcing to everyone who asks that she's the King's woman and that's that. Lee Soon is also rising up to the challenge and expertly balancing reality and his dream romance, exchanging In Hyun as Queen for Ok Jung as Consort. He can have it all, so why not go for it. He's going to need In Hyun to keep the Sorons at bay, and hopefully In Hyun will turn out to be a Queen who puts the nation first over either her husband's needs or her father's will.
I loved how Lee Soon finally made the connection between teenage Ok Jung and adult Ok Jung, in his subconscious memory and without a lot of fanfare. I also appreciated that the drama didn't dwell on them falling in love because of residual teenage attraction, which was fleeting and forgettable, but it's their adult journey together that has paved the way for me to root for their love. I am thrilled at seeing In Hyun obtain the position of Queen by strategic insight rather than underhanded dealing, because so far she's been truly a worthy opponent for Ok Jung not to mention having an edge at being a capable future Queen. The drama is setting them up to be a redux of the power struggle between the two Dowager Queens, except this time both are married to the same man. Will In Hyun find herself falling in love with Lee Soon down the road, or will it purely be a political winner-takes-all game for her. I'm actually not looking forward to the arrival of Dong Yi/Choi Sukbin at all, mostly because her character in history never appealed to me and I'm so taken with the current dynamic that throwing another woman competitor in the mix might take away from the compelling battle between Ok Jung and In Hyun. This drama isn't just about the OTP getting together and having romantic moments (which are all good), its about how a love story that cannot be is given an chance to come true even if it cannot have an ultimate happy ending.