At what point do I just throw in the flag and declare defeat? Tell SETTV that their devious and totally effective plan to put me in a mental salad spinner worked. I am now completely dazed and confused, and when I see new goodies for King Flower I'm left cooing like a puppy getting my belly rubbed even if I ought to have my guard up. Is this week's episode 20 the last episode or not? The official wiki page says no, but all signs point to yes since there is a wedding coming up and whether it goes to the end uninterrupted or gets torpedoed for an ending that defies all logic and heart, this thing must end thereafter. Right? I suppose asking SETTV to follow some sort of rational game plan is asking too much. I ought to take what I get and go with the flow. Which is why when these official stills hit the news wire a few hours ago, I simple squeed and got about preparing to post it. I'll translate the interview and article, which states that Nikki Hsieh did her first ever wedding dress acting scene for this drama, and then proceeded to don wedding wear three more times for a total of four times for this performance. Chris Wu laughed and said "Me too, don't forget I had to wear it four times as well" and they both laughed.
Because honestly, they must be as perplexed as we all are that as Liang Yen or as Da Hua, Nikki does every romantic scene under the sky with Chris and yet there is still the horrific possibility that James Wen's Lin Guan Jun might get the girl at the end. One viewer wrote "What is this crazy shit – Da Hua has done everything short of rolling in the sack with Terry, how could she possibly end up with Guan Jun at this point?" Word. This wedding picture taking scene was done outdoors as opposed to the last time when it was done in a studio, and both Nikki and Chris mentioned that it was more fun but conversely a lot more work and takes longer to shoot. I'm sorry my pretty babies had to work hard, but good GOD do they look stunning together and I love love LOVE the grassy picturesque background way more than the fake studio scenes. I simply have run out of superlatives for how amazing Chris is as Terry, and honestly if he loves Da Hua, then I love that he loves Da Hua even if lately she's got as much personality as a rabbit munching on a carrot in cage. KF might also have set some sort of record in getting Chris and Nikki in four separate engagement/wedding outfits.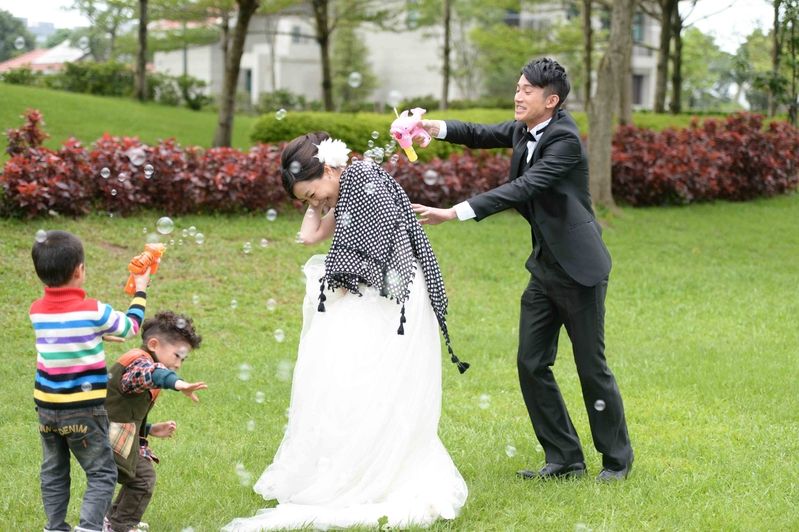 I don't even want to contemplate the possibility that Da Hua leaves Terry at the altar and runs after that dude, because who has time to devote to gag-worthy possible endings when really I can easily end this drama right here and now. And that is totally Chris and not Terry going after Nikki with the bubble gun. I think those two might have had so much fun doing this drama the writers had to keep writing more Terry-Da Hua scenes. Which allows James to run home for husband and new daddy diaper duty. Win and Win.