This episode of Marry Him If You Dare (Mirae's Choice) was simultaneously better yet more frustrating. I'm back to loving Shin wholeheartedly, he's a man who isn't just principled yet emotionally aware, he's also reflective and capable of change. Mi Rae continues to waffle back and forth between Se Joo and Shin, but this was the episode that showed me how emotionally needy she is and planted the seeds for how she could turn into future Mi Rae one day. Yoo Kyung finally wises up to future Mi Rae and I was fist-pumping at the end when she found future Mi Rae's diary, because finally she stops being the casual roadkill in future Mi Rae's plot to marry present Mi Rae to Se Joo. And Se Joo doesn't fully turn bad but he shows us that he's definitely Miranda's grandson when he ups his own plotting to win Mi Rae's heart. I like it, don't get me wrong, I think he's fully entitled to do whatever he wants to win Mi Rae. I just think it's all so wrong on principle because it's all due to future Mi Rae's time meddling. To change present Mi Rae's life, future Mi Rae is actually hurting three other people – Shin, Yoo Kyung, and Se Joo – and she doesn't seem to care.
When future Mi Rae told Yoo Kyung that her chance with Se Joo was over, I actually wished Yoo Kyung pulled her arm back and decked her. If Se Joo was a rich guy in the future who never married, then future Mi Rae can try to push her present self into his arms. But he was happily married to Yoo Kyung! What future Mi Rae is doing is so wrong on so many levels I can't even. The only consolation is that Shin is actually falling for Mi Rae with full realization of so much about who he is. That might actually save and transform their relationship in the future. I like to think the same goes for Yoo Kyung and Se Joo, if they get together they will be even better off. But there is no guarantee, and right now I'm so upset and angry at all the machinations going on. Episode 9 of MHIYD got better again, but it also succeeded in raising my blood level. I was actually starting to not care how it all ended towards the end of episode 8, but now I'm back to being totally invested in this story. I love the character development of Shin and Yoo Kyung in this time line, and it's just sad those two don't have feelings for each other because right now they would be my OTP from an emotional and practical standpoint.
Episode 9 recap:
Kim Shin leans in for a kiss, and in the last second before their lips touch Mi Rae remembers Se Joo doubting that her feelings for Shin are genuine, so she turns her head. Ugh, though I am glad this is not their first kiss since they are currently in a house with cameras everywhere. I want their first kiss to be super intimate and private and totally in the right moment, not when Mi Rae is all hurting on the outside and confused on the inside. Shin takes the rejection in stride and tells Mi Rae that they need to continue filming now.
Future Mi Rae tells Oppa that she is his sister, Na Mi Rae, but here from the future year 2038.
Oppa thinks future Mi Rae is crazy and needs to see a doctor. Future Mi Rae reveals that he was the one who gave her the shoulder burn when they were kids. Their parents lied and said she did it so she didn't hate her brother. Turns out Oppa told future Mi Rae this secret on her wedding day to Shin. Oppa know believes her and Future Mi Rae says what's important now is stopping Shin and present Mi Rae. Oppa gets called back to the network for an urgent matter and he tells future Mi Rae he'll talk with her later about this.
Shin and Mi Rae continue investigating the haunted house. They freak out when they enter the master bedroom and see a wedding dress hanging by the window. Shin asks if people hear a man screaming and think they see a female ghost. They chance upon a dusty wedding picture of a young couple and see that the wedding date anniversary is the same as the date of their first broadcast. A quick look at the bookshelf reveals all sorts of books on cancer and Shin says the husband likely got sick with cancer and it must've been really painful towards the end.
They find the diary of the wife and turns out she married the man she loved but he got stricken by cancer very young. It was painful and debilitating and her husband was difficult to take care of. Towards the end, he screamed every night from the pain and the medication no longer helped.
They find a suicide note in the diary where the husband ended up killing himself to free his wife from the burden of taking care of him, setting her free. He asks her to promise to be happy even when she is alone. But the wife loved him so much she killed herself to be with him, leaving her suicide note in the picture frame behind the picture. In it, she wrote that the sea is an innocent thing that gave them so much happiness. She wants to meet again in the sea and apologizes to her husband for not keeping their promise.
Mi Rae and Shin realize this isn't a haunted house at all, just a house filled with a very painful and sad love story. Mi Rae thinks back to her convo with future Mi Rae, who asks if she's okay loving Shin if someone she loves dies. Mi Rae asks if this couple was happy because they loved each other dearly? Shin says yes, he believes so. Mi Rae says she has the words for the conclusion of the segment "There are no ghosts here, only a very tiring very sad love story of a couple who loved each other dearly." Shin smiles when he hears this.
They sit on the window sill until the sun comes up. When the light filters in the window, it's lovely that Shin and Mi Rae are framed in the hazy light and on either side of them hanging on the wall is a groom's tux and a wedding dress. Very apropos symbolism indeed.
Se Joo sits and watches the video footage from the haunted house shoot. He pauses the scene right when Shin is leaning in to kiss Mi Rae. This is a tad voyeuristic though he is just doing his job.
Shin comes in and Se Joo says he's going through the footage and there is a lot of useless stuff. Ha, Se Joo is snarky indeed. Shin asks if he's not uncomfortable watching the footage? He tells Se Joo that he needs to take out his personal feelings, or else Shin can do it himself. Se Joo says sure, then it can be called Pandora's Melodrama instead of Pandora's Box. He gets up and thanks Shin for giving him one less thing to do, walking out of the video room.
Se Joo goes to see future Mi Rae and asks what her true intentions are? Future Mi Rae says she is on Se Joo's side completely, and can serve as his strategist. She tells Se Joo that she is from the future and that Kim Shin is her husband. Se Joo laughs and asks if she's here to change the future, and if so why him? Mi Rae says he has a good personality and future. Se Joo asks if Mi Rae knows if he is a chaebol? Future Mi Rae says no, and if Mi Rae knew he was a chaebol she would run away. Se Joo thinks she's already run away because she knows but future Mi Rae assures him that present Mi Rae doesn't know his real identity. But her heart is wavering right now so he just needs to capture her heart. Future Mi Rae tells him that she will share what Mi Rae likes but Se Joo says that time has passed. Future Mi Rae offers to do whatever Se Joo needs and he smiles and nods before leaving. Future Mi Rae wonders if he believed what she said.
Mi Rae and Shin meet with PD Lee who is upset the story isn't scary like they wanted. Mi Rae says a heartwarming story about a sad couple is also very good. PD Lee is stuck on the planning for a horror story but Shin says they can change the program based on this new information. Mi Rae promises to do a good job on it.
Shin sits with Mi Rae as she writes her script. He sees she's still bleeding and changing her band aids. She lies that she's been to the hospital already to see a doctor. He's a busy body and wants to check to see if her foot is alright but she laughs and says she's fine.
Oppa stands outside the room and watches them inside.
Oppa remembers going home to talk with future Mi Rae. He asks to see her scar and she says it's been removed. Oppa says she's crazy but Mi Rae says that with the invention of a time machine of course there is a machine to remove a small scar. Oppa asks for her hair to do a DNA test and she gives it to him. Oppa doesn't know why she's here for a husband because present Mi Rae is not a girl who just talks about money, money, money all the time. Mi Rae sighs and says she'll tell him the truth, there is more things she didn't tell Mi Rae yet. I knew it!
Oppa calls Mi Rae outside to talk. He's arranged for her to go to another production company that is looking for a writer. She doesn't want to go. He reminds her that its very hard to become head writer at the network and she doesn't want to be an assistant for her whole life. He's found a road that she can walk down for the long run. Mi Rae pulls out her phone and texts Shin to meet her to discuss something. Shin heads down and Oppa pulls him aside.
Oppa pulls Shin aside to talk. He reveals that he is Na Mi Rae's real oppa and even shows Shin their family registry to prove it when Shin doesn't believe him. Shin asks why Oppa is always mean to Mi Rae and he says he does it because he is her oppa. Oppa reveals he's sending Mi Rae to another production company.
He asks what Shin thinks about her. If he likes her, is he ready to marry her? Shin is like "woah, hold your horses there" but Oppa is serious. If he's not going to marry her, then he needs to butt out because Oppa is family and can tell Mi Rae what to do with her life. He's just the announcer in their team and has nothing to do with Mi Rae so he needs to not interfere with her life. Oppa storms off and Shin gets another text from Mi Rae asking what she should do.
Shin goes to meet Mi Rae who asks why it took so long? Mi Rae reveals that Oppa wants to send her to another production company and asks what she should. Shin remembers Oppa telling him not to butt into Mi Rae's life and tells her to decide for herself. It's hard to come by an opportunity to be head writer. Mi Rae knows this but wants to hear what Shin thinks? Shin remembers Oppa says that if he's not going to take care of Mi Rae's life, then he needs to back off. Shin says this is her life and she needs to make her own decision.
Mi Rae is really upset with Shin's response to her possibly leaving the network. Mi Rae asks if this is really her decision, it really has nothing to do with him? Shin says they work in the same team but Mi Rae says she already made her decision to stay. But she feels like everyone is always trying to push her away. All she wanted was for someone to tell her to stay, to make her feel wanted. Can't he provide some support and encouragement? Shin says people in teams don't keep in touch after it disbands and he's used to it. She needs to make her own decisions in life. Mi Rae wipes her tears away and leaves.
Mi Rae is crying outside when Se Joo, who heard about her leaving, goes to find her and tells her forcefully that she can't leave and she needs to stay here. He pulls her close and says even if she goes elsewhere it will be tough. He wants to work wit her and asks her not to leave. Mi Rae smiles and says that she's asked others but no one would say this to her and it's really tough on her.
Mi Rae and Se Joo go to the convenience store to have ramyun. Yoo Kyung encounters them but doesn't go talk to them when Se Joo sees her and pretty much tells her to move along. Se Joo asks Mi Rae if she's in a better mood? Mi Rae is and Se Joo asks if she's figured things out yet? He tells her not to think too much anymore and he just wants to get along with her comfortably going forward. Mi Rae smiles and says sure.
Se Joo and Mi Rae return to the network to find PD Lee sitting with another writer and re-writing the script. PD Lee is a total jerk and decides the story Shin and Mi Rae learned is not tantalizing enough. He gets another writer to re-write it to his orders.
Even Writer Bae is upset but she can't do anything since PD Lee calls the shots.
Se Joo goes to talk with PD Lee but he shoots Se Joo down as a lowly VJ. Mi Rae asks PD Lee to just read her script but he says no need since he doesn't plan to use it.
Oppa hears from Writer Bae what PD Lee did but he can't do anything either. Writer Bae says this is wrong to do even to a newbie like Mi Rae and tells Oppa to talk with PD Lee. He can't because PD Lee has the choice on which writer to use. Shin walks in and hears this and is furious.
Shin storms off to talk with PD Lee but Oppa stops him. Oppa is Team Leader and Shin is the announcer, the decision on content is made by PD Lee and neither of them can do anything. Oppa says he feels even worse as Mi Rae's oppa and he wants to throttle PD Lee. But he's endured it and Shin has no right to be mad on behalf of Mi Rae. He reminds Shin of what he said earlier today. Shin looks at him and asks what Oppa would do if Shin really really likes Mi Rae. Oppa looks really sad when Shin says that. Oh god, what happened in the future! Tell me!
Mi Rae is outside tending to her injured ankle and Se Joo comes by with fresh gauze for her. He's such a good friend to her.
Oppa and Shin continue their conversation, with Oppa saying it can't be and he won't allow it. He doesn't trust handing Mi Rae to Shin. He reminds Shin of what future Mi Rae said on the program, and how everyone actually laughed because it could happen with Shin's stubborn principle-driven personality. He will only make it difficult for the person he marries in the future. Oppa won't put Mi Rae in that position. He walks away leaving Shin very shocked.
The Pandora's Box program airs and Shin is sitting at the announcer's table with Yoo Kyung as she reports on her segment with the poor family that got a house makeover. During the airing, Yoo Kyung whispers where Mi Rae is and Shin says she's at the hospital getting her ankle checked.
Se Joo takes Mi Rae to go see a doctor for her ankle burn. Se Joo asks if it'll leave a scar and the doctor said for sure. Se Joo asks Mi Rae what to do, she's added another scar. Mi Rae says this is a memory and not a scar since she worked hard. She learned something and that is working hard and putting her mind to it. One day she will show PD Lee that she's made something of herself.
Se Joo and Mi Rae return to the network as their haunted house segment is airing. Writer Bae helps Mi Rae sit down. PD Lee changes the screen to Shin as he live narrates. Mi Rae is getting really upset that her debut writing isn't getting aired and she gets up to use the bathroom. Which is when Shin changes the script to Mi Rae's final written portion and she pauses and turns to stare at him in the camera. Mi Rae smiles to realize that Shin actually remembered what she said to him in the haunted house. She starts to tear up and runs off.
Mi Rae limps to go look for Shin. There is a new OST that is just perfect for this scene. Shin walks off the set immediately and so she misses him. She calls him but he's driving and doesn't answer. He pulls up right outside the network and sees Mi Rae standing there calling him.
Shin remembers what Oppa said, that his principles will make it very difficult for the person who loves him to live beside him. He drives off.
PD Lee goes drinking with his buddies. Shin is at home and reading the dictionary.
Writer Bae puts her kid to sleep and checks the ratings. So does Oppa. Yoo Kyung is doing a segment but she's also thinking about the ratings. Oppa wakes up in the morning and checks, and their program got a 9.8% nationwide, a smidge below 10% that Miranda required. But Mi Rae runs over all excited that it got 10.2% in ratings
Se Joo talks with Miranda and says the program averaged 10 and it should stay. Plus this was a bad time slot anyway and the program did well. Miranda says the final segment ratings dropped and the writer should be removed. Se Joo asks if she means Mi Rae? Miranda says Mi Rae might be a nice girl but she can't hack it at work. Se Joo stands up and says he can't inherit YBS because the company is too petty. The boss gets mad over the little things. Se Joo reveals Mi Rae didn't write the last segment despite what it said in the pre-production. Se Joo doesn't want to inherit a company that will make him feel ashamed taking it over.
The Morning Team gathers around the phone and gets a call from Miranda. She allows the program to continue and everyone cheers.
Shin gets a call from the Team informing him about the program. He hangs up and looks really relieved.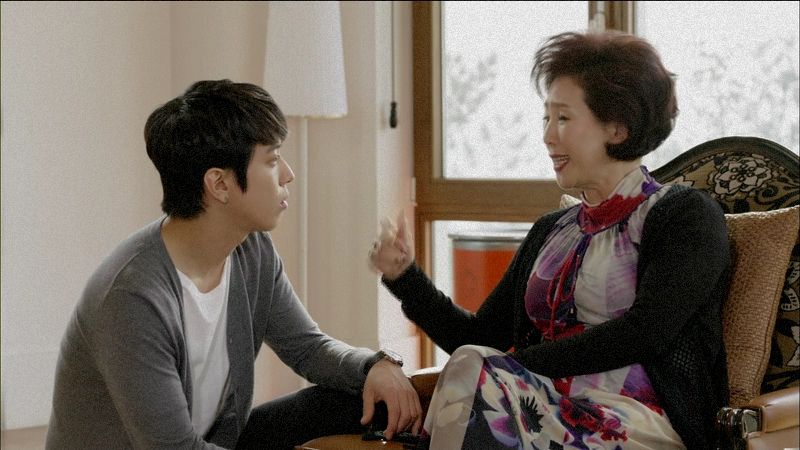 Se Joo thanks Miranda after the call and she reminds him to keep his promise to return to his position in one month. He agrees. Miranda asks Se Joo about Mi Rae and wants to meet her. Se Joo agrees but tells Miranda not to reveal his real identity since Mi Rae thinks he's just a lowly VJ. Se Joo asks Miranda if she really liked Mi Rae the first time she met her?
Se Joo goes to talk with his grandma's minion and he says Miranda really liked Mi Rae? The minion says Miranda spoke highly of her but keeps messing up when they met. Se Joo realizes that Miranda didn't really meet her properly.
Se Joo calls future Mi Rae for help and asks if she really will help him is he asked for her help? Future Mi Rae says yes.
Future Mi Rae is on the phone with Se Joo and Yoo Kyung overhears. She asks why future Mi Rae is on the phone with Se Joo? Future Mi Rae tells Yoo Kyung that she needs to give up on Se Joo now, the game is over. She fake apologizes to Yoo Kyung and walks away. Ugh, I HATE future Mi Rae!
Shin goes to ask a friend to check on the family history of Yeon Gwang Group (YG Group) that owns YBS network. He gets a text from future Mi Rae to meet him at a Chinese restaurant.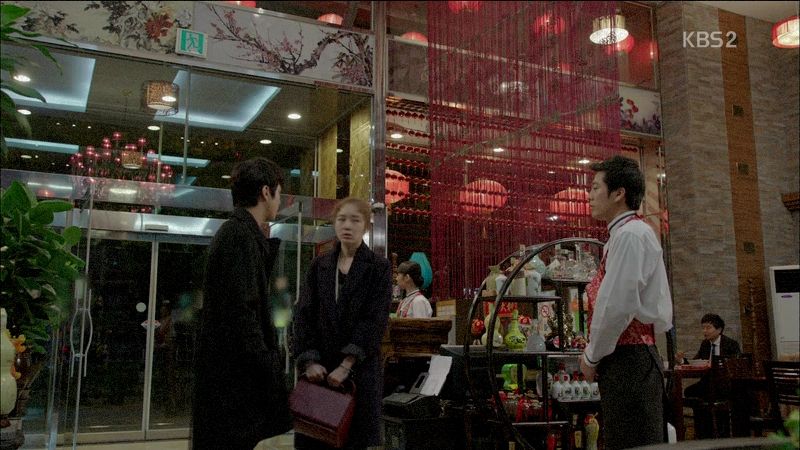 Se Joo takes Mi Rae to dine at a very fancy Chinese restaurant.
Yoo Kyung walks through the parking garage and thinks about all her weird conversations with future Mi Rae. She sneaks into the maintenance staff rest area and opens future Mi Rae's locker. She takes future Mi Rae's diary and flips through it.
Shin arrives at the Chinese restaurant and future Mi Rae goes to join him. She says a room has been prepared and they can go.
Miranda goes to the room where Se Joo and Mi Rae are sitting. She immediately gets up and recognizes Miranda as the Chairman of YBS Network. Se Joo lies that Miranda was the philanthropist who supported his education. Miranda claims she was dining here and say Se Joo so came in. Se Joo welcomes her to join them and Miranda sits down.
Yoo Kyung flips through the diary and reads about Mi Rae and Kim Shin falling in love in the hospital after the car accident. Yoo Kyung wonders why the ahjumma is writing about present Mi Rae. She sees the phone number written on back of the journal and it matches present Mi Rae's phone number. She flips to the end and reads about how Director Park Se Joo's wedding date has been set and the bride is Seo Yoo Kyung. Mi Rae thinks Yoo Kyung looks like a sly fox and was totally plastered to Se Joo in the lobby. When she saw them, Mi Rae felt a little bit envious. She writes that she's sorry to Kim Shin for thinking this way.
Shin is being led to the dining room when the door to Se Joo's dining room opens and Shin sees who is inside. He gets a text right at that moment form his friend that Se Joo is Miranda's grandson.
Shin notices Mi Rae is also in the room, and then Se Joo turns his head and locks eyes with Shin in a very smirking and challenging manner. It's clearly "game on" in earnest now.
Thoughts of Mine:
This episode finally ratcheted up the stakes and knowledge for all four leads and I couldn't be happier. If future Mi Rae is the villain of this tale (so far), then Yoo Kyung and Shin are the heroes fighting for their desired happiness. I can't wait to see Shin go ape-shit when he realizes that he was supposed to be Mi Rae's husband. I love how he and Yoo Kyung fell for their spouses in a different context but with the same purity of attraction. No strings attached and no manipulation. Whereas Mi Rae is being manipulated all the time, and that is why it's so hard to connect with her character because she's a prize to be won or strung along by future Mi Rae, Oppa, and even Se Joo. I want her to wise up and realize that if she loves Shin in this time line, then she needs to fight for him and their future together. Not let future Mi Rae dictate her path, if the path together is a rocky one but she accepts the consequences, then she's happier for it. The entire haunted house sequence turned out to not be a random foray and clearly the sad love story of the couple with the sick husband is a giant foreshadowing of Shin and Mi Rae. There is a chance Shin could the one who died, in episode two when future Mi Rae accused him of killing "that person" she didn't use a gender specific pronoun. He could have killed himself, and we could be seeing future Mi Rae's time travel in a much darker light and one tinged by both love and suffering. Marrying Se Joo may be critical if she needs the money to help Shin in the future, ergo this isn't about money at all for her own comfort but for the aid of the man she loves. I dunno, just more conjecturing, but now Oppa knows I'm curious that he's attitude is now aligned with future Mi Rae.
I am soooooo happy Yoo Kyung found the diary and read the truth about her future with Se Joo. Booyah, go kick some future Mi Rae ass, Yoo Kyung! Mi Rae can change her own future, fine, but not at the expense of breaking up another couple. I can't stress enough how selfish and unacceptable that is, especially when she sees that present Yoo Kyung is also falling in love with Se Joo. In addition to Yoo Kyung finding out the truth, Shin also learned that Se Joo is Miranda's grandson, and the two men staredown at the Chinese restaurant was awesome at the end of episode 9. I want Shin to actually feel like he has to overcome obstacles to be with Mi Rae, rather than the fairytale love story they had in the original time line. This time around, he has Se Joo as a rival, Oppa in opposition, and future Mi Rae sabotaging him every step of the way. If this isn't going to make Shin change in order to win his love, then I don't know what will. I even like Se Joo being a direct competitor to Shin now, despite wanting him to quickly fall for Yoo Kyung. If Yoo Kyung knows Se Joo is supposed to be hers, then I trust she'll win her man in the end right and good. Despite the lack of romance in this episode, I felt all the emotions really heightened between all the characters. The way Mi Rae's heart just warmed over when Shin read her dialogue on air, he is making her words become reality on TV to touch the audience as opposed to Se Joo's way of merely giving her emotional encouragement. Se Joo's prickly side makes him way more interesting, but it's Shin's slow and steady character development that is carrying the narrative core of this drama.
Click here to watch Marry Him If You Dare.