Is anyone sick of doctors and/or vampires in your K-drama diet these days? Recent doctor dramas like Good Doctor and Dr. Stranger, or the selection of vampire dramas like Vampire Flower (see above poster) and Vampire Prosecutor. I sure hope combining the two genres is a good idea because KBS is on the verge of commencing production on Blood, the follow up drama from the production team of Good Doctor. It's the story of the battle between good and evil taking place in a hospital where the chief of a medical department is actually a vampire. DC gall is lighting up with news this week, some of which are details about the lead characters and the storyboard, both of which are exactly the spoilers I love to get my hands on.
Production is reportedly starting background filming at the end of October moving into a Jeju shoot in early November. Considering the drama hasn't been cast yet, I'm not sure what filming can actually take place. The drama is slated for Mon-Tues following Healer which hasn't even aired yet since it's following the just started airing Tomorrow's Cantabile. The two lead characters in Blood are confirmed to be in their thirties (male lead 37, female lead 31) and the vampire concept is written as a virus that infected the male lead's parents before being passed on to him. Check out all the Blood(y) spoilers below. My interest is officially piqued.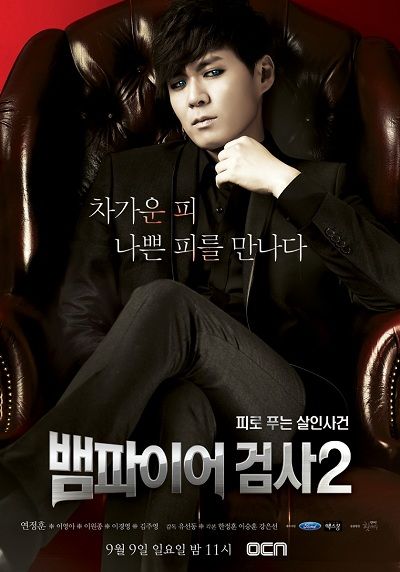 Male lead (37 years old). Chief of the oncology department at the hospital. Son of the couple who was infected with the vampire virus. He researches for the cure to become a human being. He has good looks, wealth, and smarts. He's a hero who uses his vampiric supernatural abilities to help others.
Female lead (31 years old). Resident doctor at the hospital. She is also the niece of the hospital chairman, growing up in wealth and security. Has an arrogant spoiled personality due to her background, smarts, and beautiful looks. When she was a kid, she went on a field trip and got lost in the woods. The male lead used his ability to rescue her from wild dogs and she's never forgotten the boy who saved her life.
Second male lead (he likes the female leads and appears to have a warm personality). He is 55 years old but lives as a 41 year old due to his youthful looks. He is also a vampire. He was friends and colleagues with the male lead's parents and all three were researching the vampire virus when they were infected together. He realized the power of the new ability and decided to use it to his full advantage. He looks gentlemanly on the outside and appears to have a great sense of humor. He is also very wealthy and everyone thinks he's the perfect guy. But he's really the devil inside.
Setting: Tae Min Hospital.
DC gall chatter is hit-and-miss but the Korean industry insiders often post there so there is always a nugget of real news from time to time. The male K-actors that is getting mentioned the most as potentially being cast are : Kim Jae Won, Lee Jun Ki, and Park Shi Hoo. Blood is not scheduled to premiere until early February 2015 so if there is filming starting soon it's probably location scouting and the like. Scheduling-wise all three of the actors mentioned above can do it though Lee Jun Ki has Asia fan meetings lined up for November-December of this year. Some other names that fans have mentioned who legit have a chance of landing this project are: So Ji Sub, Ji Sung, and Kang Ji Hwan.