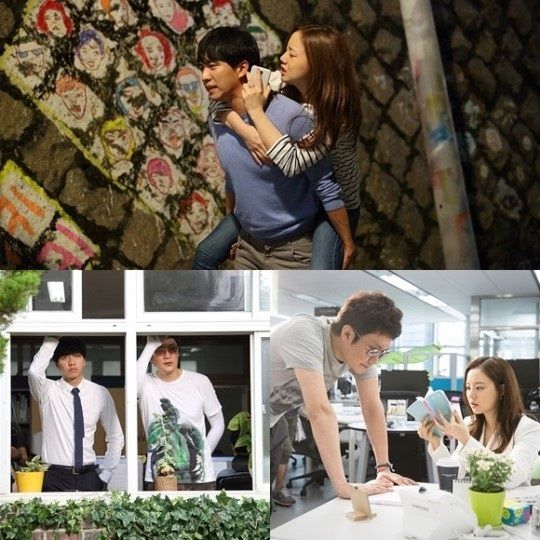 Having a measured expectation towards Lee Seung Gi's first movie is a good thing because I found the just released first teaser absolutely charming. Sure it's got nothing that hasn't already been done before in countless rom-coms but once again it's all about execution rather than freshness and here it's plenty smooth going down. The movie is called Today's Love and reunites Lee Seung Gi with his Brilliance Legacy/Shining Inheritance costar Moon Chae Won and boy are they ridiculously adorable together.
Lee Seung Gi seems to have resurrected the hideous bird's nest front mop hairstyle from BL, but there it was to indicate his character Hwan's hipness but here appears to show what a square school teacher his movie role is. That explains why Moon Chae Won's weathercaster fun gal can only friendzone Seung Gi, calling him when she needs a drinking buddy and a piggyback ride home but saving all the flirting for other guys. I don't feel bad for Seung Gi since he drops her right on the tush after getting fed up, and if they both dish about equally then this is the perfect dynamic believable romance sparks to fly.
First teaser for Today's Love:
Lee Seung Gi complains about why Moon Chae Won's character calls him out to drink but then flirts with other men. He's been following behind her for 18 years and he still doesn't understand her! A guy like him who's considerate, caring, and doesn't lose his temper, isn't he a great guy? Moon Chae Won's character whispers that the critical flaw is that he doesn't excite her.