Count me in with the group that is not surprised Song Joong Ki landed the male lead role in Kim Eun Sook's big budget high profile upcoming drama Descendants of the Sun. I love him as an actor and a genuinely nice guy, but even then I'm still constantly taken aback at how popular and beloved he is in Korea. Case in point, lately there is an unending stream of articles about Song Joong Ki whenever he does anything, aside from substantive acting updates, basically if he sneezes the K-media will write glowing articles about it.
He was spotted at the wedding of good friend Kwang Soo's little sister last week, and this week he secretly attended the wedding of also good friend Kim Moo Yeol to actress Yoon Seung Ah. Song Joong Ki will be discharged in May and has accumulated lots of leave time, so the media is reporting how he's using it up solely to attend celebratory events for his good friends. What makes the industry love him is that he really goes go to support friends in a low key way, never announcing it beforehand and always dressing incognito as to not take away from the attention on the happy couple.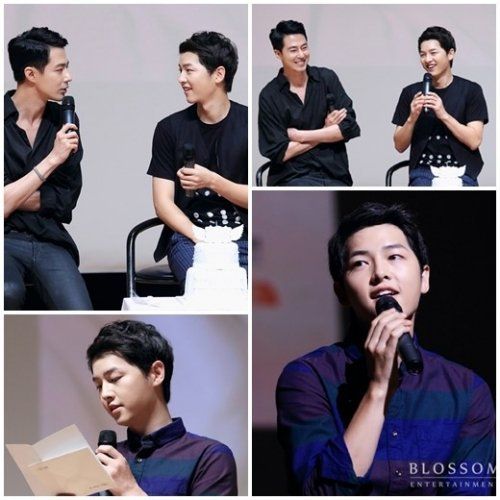 Aside from attending weddings of close industry friends, the media is reporting that back in February, while Song Joong Ki was on the standard army leave for lunar new year, it so happened that the father of Jo In Sung's manager unexpectedly passed away. Jo In Sung and Song Joong Ki are super good friends so Song Joong Ki spent a day of his vacation break at the memorial hall along with Jo In Sung to support the manager.
Going to the army right after the movie and drama successes of The Werewolf Boy and Nice Guy, respectively, definitely put the brakes on a breakthrough that didn't have a ceiling in sight yet. That he got tons of drama and movie offers thrown at him while he was still half of year out from discharge confirms that the industry is dying for his comeback as much as the public still remembers him fondly.