Of all the excessive milking of the cash cow that is Descendants of the Sun, no extension but adding pointless special episodes, it was inevitable that talk would emerge of a second season and/or a sequel. Both writers have previously expressed their finality with this drama, Kim Eun Sook said it was too difficult to plan a part 2 and Kim Won Suk said he's told all he wanted with this story, so the discussion of a possible second season is coming solely from the Head of Drama Programming at KBS.
In discussing with the media about 2017 dramas in the works for KBS, the department head expressed a desire for more DotS as a way to thank the fans who loved it so much. Of course it's that, and not because it was such a moneymaker for the network. He explained that the project could move forward with or without the original production team and cast, but he's proceeding with discussions with the original participants first to see if it's doable. This seems so much like giving a great toy to a kid who proceeds to destroy it by playing with it outside the parameters of it's intended use.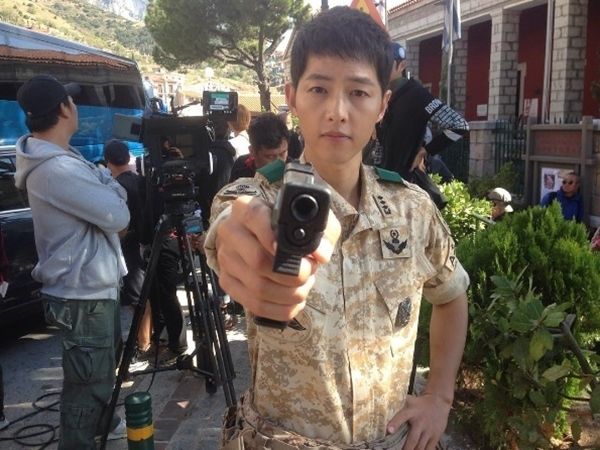 DotS is a bit of a lightning in a bottle, using all the classic ingredients of Hallyu drama hitmaking but also having it's own momentum that can't be cloned even by itself. So don't be a wanker, Mr. Head of KBS Drama Programming! Don't do this imbecilic second season of DotS otherwise Captain Yoo Shi Jin will shoot you.