I've been quarantine baking for two months and finally decided to tackle the Mount Everest that is sourdough bread, complete with raising my own starter (lil' EJ is his name). My first loaf was an unmitigated disaster, looked good with the crust but was a hard solid glop inside. It didn't rise *cries*. So much experience goes into the crown jewel of baking bread and I don't mind the failures and flops because it goes into making the next one better until I succeed one day. The rise is what I equate to a drama storyline coming together, the right speed and the layers are all so important. The King: Eternal Monarch has been like unrisen dough for 12 episodes and finally in the 13th it's like a phoenix rising (sorta) and for that I am truly grateful.
Whatever story Kim Eun Sook had in her mind that was terribly conveyed so far with poor directing, bad chemistry, limited acting, and intrusive PPL finally reared its cute head. The time travel element is just as important as the parallel worlds as both Lee Gon and baddie uncle Lee Rim are responsible and participated in setting things in notion 30 years ago. I'm guessing things are coming to a head where Lee Gon needs to force a reset even if it means losing Tae Eul because their love won't have happened or she doesn't remember him. I'M SO GOOD WITH THAT! The romance has been the weakest of weak links in this drama and episode 13 had the least amount of it and the most amount of actual plot progression. I'm finally hooked.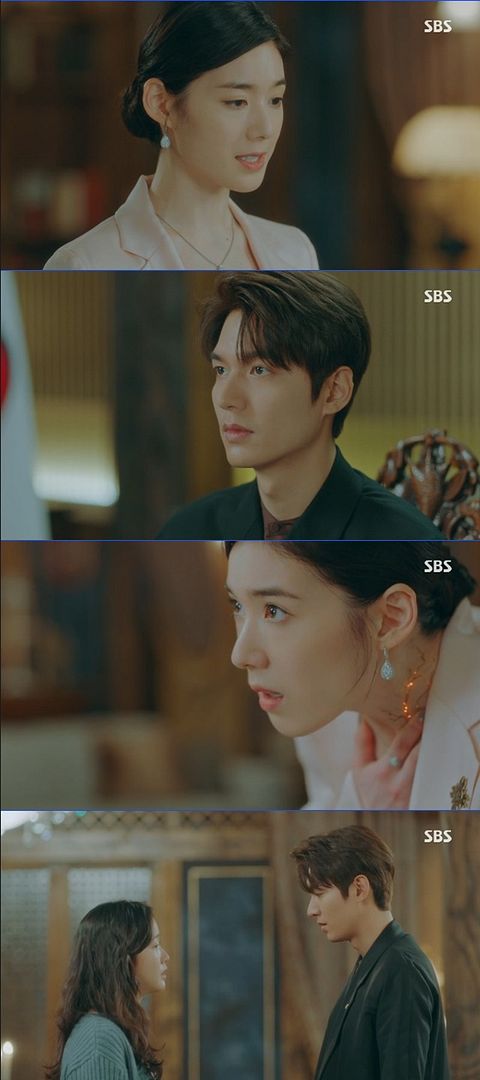 I feel like the drama is going towards a Back to the Future 2 trajectory. We learn the hero and the baddie go back in time and set forth their previous selves motions and will therefore need this new time line to go back yet again and reset to before all the events took place, namely the killing of Daddy King and the splintering of the flute.
It will likely mean Gon and Tae Eul as we know them probably won't end up together but their selves in the new time line and perhaps even in both parallel worlds we see will end up together. Maybe Luna was orphaned by Lee Rim's killing spree otherwise she would grow up like Tae Eul and fall in love with Gon. And Ji Hoon would not be killed and Shin Jae won't be in ROK so Tae Eul would be with Ji Hoon.
The events as we have seen it need to be reset because what Lee Rim is doing is splintering the balance between the worlds, hence the lightning scars on people whose dopplegangers have died and who have traveled between worlds. I hate the idea that so many people agree to help Lee Rim to go to the other world, kill their own counterparts, and take over their lives. The PM doing is so casually is such a cheap conceit in turning her character fully evil.
I also wouldn't be surprised if Gon and Tae Eul have been lovers in prior lives and prior lifetimes, or maybe as their own ancestors, ala Legend of the Blue Sea. A lot more context and background however cheesy or trite would have made this OTP actually make sense. With only 3 episodes left and so much to explain and wrap up, I hope the drama doesn't waste more time on maudlin moments and PPL and just charge full speed ahead.