(LMHMG – you've got a loooong ways to go before you can do goth and still look as manly as these two)
I guess I can write something about these two gentlemen, but then I doubt anyone would be reading it, since I've just performed a humongous fan service for both Jung Woo Sung and Lee Jung Jae fans alike (and I am happily a member of both groups).
Before you lay an array of photographs, all some so exquisitely fine that it will be a long long time coming before another two HUGE movie stars who happen to be best friends in real life together act as a spokes model for a menswear brand.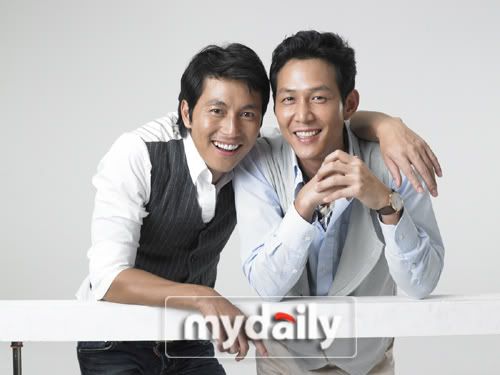 (Look at them smile!)
These pictures are to be treasured, savored, and secreted away to a safe place so that it never gets lost. My I Lub You is filming Athena as we speak, and pretty soon he'll be on the small screen, and a generation of K-drama watchers who don't know him from Jung Il Woo will suddenly make his acquaintance.
I foresee a collective shriek of MINEs to start around November 2010 – and I want to say today: Back Off, Ladies! Enjoy him, but no touchy touchy, because I called mine long before you did. Yes, others may have called mine before me, but ain't no one come to challenge me yet. And if they did, beware a koala's sharp claws. 😀
This is just an excuse to picspam the hell out of JWS and LJJ (and I threw in an awesome picture of The Good, The Bad, The Weird at the end of the post as well). I wish I could write fun captions and be all droll and entertaining. But to hell with that. All I can say is: I love these two guys!

(look how handsome they are even when they are being nerds)