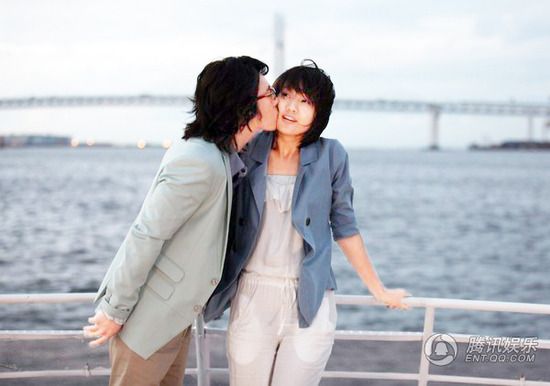 The C-drama All About Eve remake In Love With A Female Anchor is set to premiere on September 19, 2010. The production has released some new romantic stills of the OTP, Jang Hyuk and Zhu Dan, kissing.
It's not exactly a spoiler, since you have to be extremely dense or living under a rock not to know the All About Eve story. Clearly the OTP are getting together, but not before Zhu Dan gets tormented left and right, up and down. But she has Hyukie to comfort her and protect her, so I think at the end of the day, she's a lucky lady indeed.
I'm looking forward to this drama, because it's a change of pace for Jang Hyuk. And because I'm a newly-converted Cheryl Yang admirer (from her current performance in Zhong Wu Yen), and because Zhu Dan looks like she's doing a swell job based on the trailers I have watched.