Leader is back! Well, technically Leader came back two weeks ago (and I spent an entire day with my twitter feed being inundated with squeals from my drama friends about his return from two years of exile military service), but today he's really back. Eric literally put on his civilian clothes and walked right into filming for the upcoming marine police procedural drama Poseidon.
Poseidon doesn't yet have a network or a broadcast spot, but this baby is a big-budget action drama and I wouldn't be surprised if it got picked up quickly. Co-starring with Eric as his friend and work rival is Kim Kang Woo, and their leading actress will be Kim Ok Bin. U-Know Yunho rounds out the youngster portion of the cast, and lots of heavy-weight actors have also signed up for Poseidon.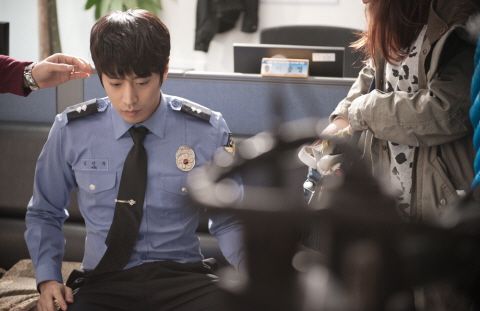 A very intriguing cast, to say the least. The three leads are all intense and methodical actors, with Eric the least actors-actor of the bunch. Shinhwa fans don't stone me, but I love actor Eric way more than I love boyband Leader Eric (though he was so fine I am not complaining). I feel the same way about former boybander (G.O.D. member) turned actor Yoon Kye Sang, whom I feel like just has this natural connection with the camera. Eric and Yoon Kye Sang are shining examples not to write off boybanders-turned-actors, because you never know when one might break-out and wow us.
On an unrelated note, seeing Eric reminds me of the complete media circus when he was dating Park Shi Yeon. That, my friends, completely overshadows the fan reaction over Shin Se Kyung dating SHINee's Jonghyun. I thought Park Shi Yeon would never make it out alive for dating Leader. Glad to see that both survived the relationship, breaking up, and moving on.