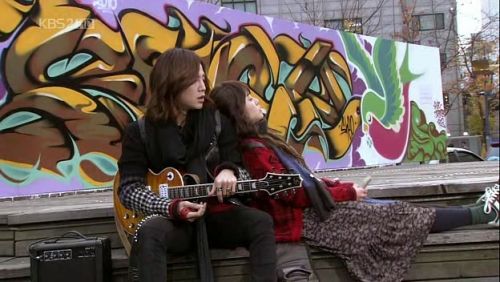 KBS seems to understand that you can't go too long without feeding the insatiable craving of the hordes for more of their favorite drama, especially if said drama got preempted by a handball game. I always thought handball was a game you played in elementary school where the shrimpy kids got picked last – apparently its now a regulation sport. Mary Stayed Out All Night (Marry Me, Mary!) dropped two more behind-the-scenes videos – one of the drunken dad and his two son-in-laws scene, and the other a SUPER cute interlude between Moon Geun Young and Kim Jae Wook.
Drunk Dad BTS:
[youtube=http://www.youtube.com/watch?v=z6-IZ74H5f0]
MGY and KJW BTS:
[youtube=http://www.youtube.com/watch?v=LVixJo096xA]
Watching the BTS, its patently clear that Moon Geun Young looks adorable and has chemistry with both her male leads. Which means that my inability to connect with Jung In is neither due to Kim Jae Wook (lovelovelove) or a lack of chemistry between these two. I simply must have to accept that I think Jung In is currently a giant douchebag. I hope he snaps out of it soon and becomes a real boy.