I wonder if SBS is doing the right thing, dropping a mid-week premiere date for Midas. Dream High continues to climb in ratings and is nearing the end of its run, while The Duo is just getting started and is a genuinely well-made sageuk, and I expect the ratings to jump once the adults lead by Chun Jung Myung show up.
I hope there are enough ratings to go around, because (1) I automatically want any Jang Hyuk drama to do well because I love him so, and (2) Midas really does sound more interesting than I initially gave it credit for. On the heels of its premiere, the stars of Midas showed up for their press conference, so let's check out some pictures!
Visually, none of the pairings jump out at me in a wow way, and I'm actually a teeny bit dismayed that Hyuk's co-stars keep getting young and younger. To the point where I think Lee Min Jung is right at the fine line where I think she looks too young standing next to him, hence I'm not feeling the romantic chemistry. It's strictly oppa-dongsaeng between them based on the stills. But once you split the leads up, Jang Hyuk and Kim Hee Ae look lovely, and No Min Woo and Lee Min Jung look charming.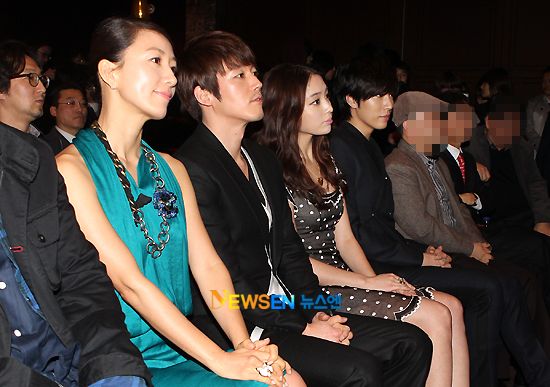 I'm definitely watching Midas, but unless this drama blows my socks off, I doubt I'll recap it since I haven't finished My Princess yet and work has me swamped up to my neck in projects.
I also wished the entire cast had made even a smidge of effort to coordinate their outfits, because it's just all over the place as is, what with the ladies rocking the bold colors next to the soft prints, and the men going for edgy but really hodge-podge suits.
Midas premieres tomorrow on SBS, but frankly I'm more pleased that this means Athena has finally ended and my I Lub You has been freed from the clutches of Taewon Entertainment. *throws confetti* Though after what SBS just did to What's Up and Poseidon, I am technically upset at the station, but I still want SBS dramas to do well since the production companies worked so hard on them.
[Credit: all pictures from the respective news agencies as indentified]