Wow, what a great final episode of a drama. Dream High episode 16 took everyone full circle, and then full speed ahead. All the loose ends were fluidly tied up with some open interpretations to make for food for thought. This drama is definitely a keeper for me, a story about dreams, friendship, rivalry, talent, hardwork, sacrifice and overcoming adversity. But all told in a way that kept the viewers attention and never felt like preaching. I found the ending lovely and poignant, and totally tailor made for me.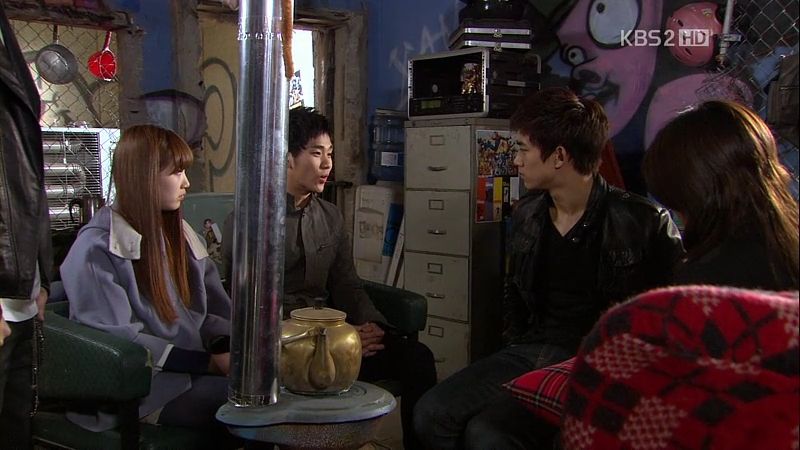 The episode started off with the kids debating whether to stay together or split apart in order to debut. Sam Dong once again proves to be the glue, declaring that it's all or nothing. He's got his determination back, and he was always a loyal guy.
I love how this episode doesn't even hide the fact that Hye Mi likes Sam Dong, albeit in an unsure and somewhat reluctant way. It's like she expected to like Jin Gook, or expected to always like Jin Gook, so this subconscious change of affection takes her off-guard. And makes her feel guilty and confused.
The kids organize a flash mob to promote their single, and it's totally cute and entertaining in an "only in a drama" way that makes me grin in happiness.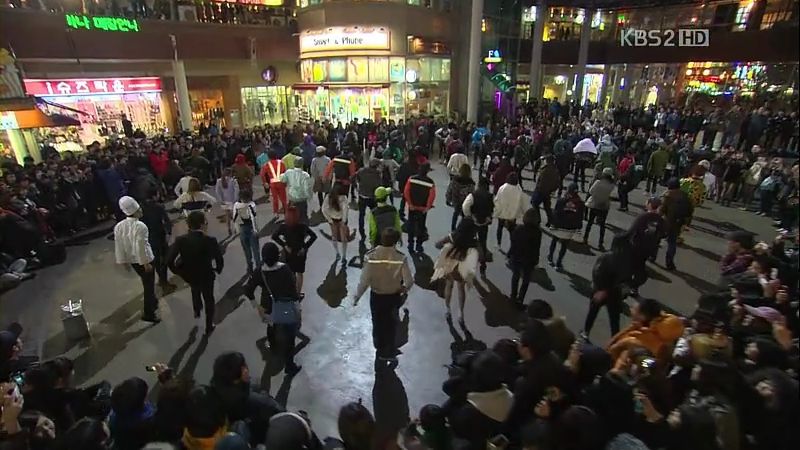 The drama predictably but sweetly sets the stage for two older couples to find their happily ever after.
I love how Baek Hee and Hye Mi are really, genuinely, friends again. Friends learn to forgive and move on, if that friendship is worth preserving. And both girls reached that maturation point in their friendship, and that was wonderful to see.
At their first performance as a group, Sam Dong loses his hearing right before he gets on stage, but Jin Gook signals the beat for him (I love their bromance). What I loved THE MOST about this scene was that the performance was narrated from Jin Gook's point of view. This was his first time onstage with Hye Mi (who has performed with Sam Dong many times), and a culmination of his dream that involved her.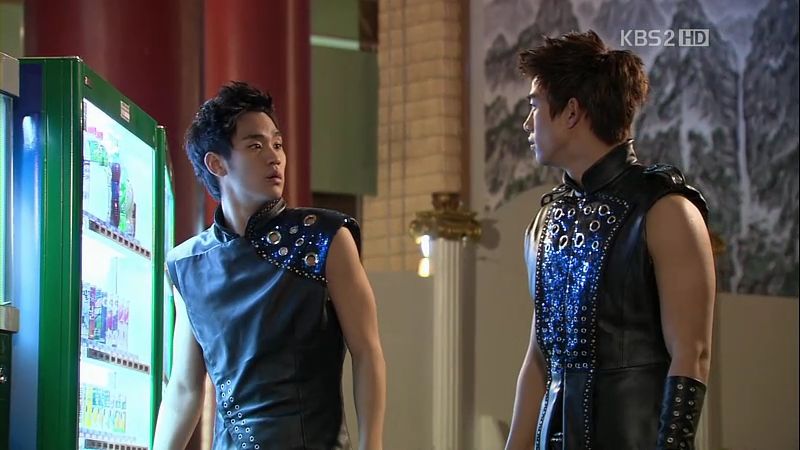 Jin Gook narrates that he isn't just happy looking back on this moment, he is happy in the here and now. He smiles as he has fulfilled yet another dream, and found contentment in his life with respect to everything – his dad, his music, and even Hye Mi.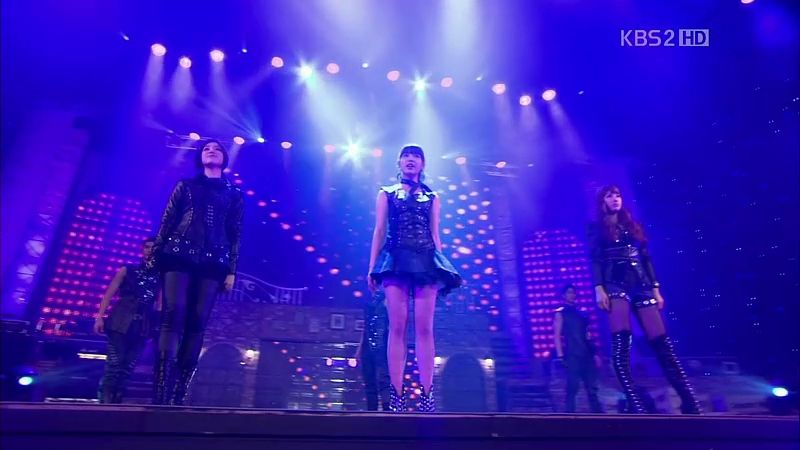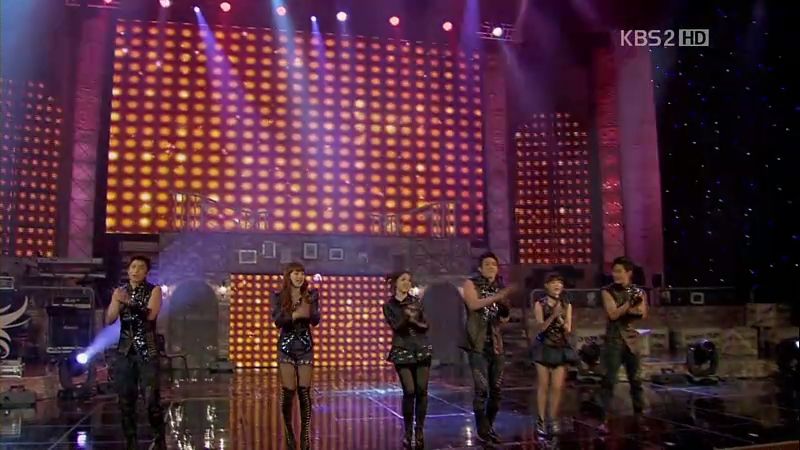 Sam Dong unexpectedly finds out that Hye Mi likes him when he picks up her wallet and looks inside to find a picture of himself tucked behind a picture of the six of them.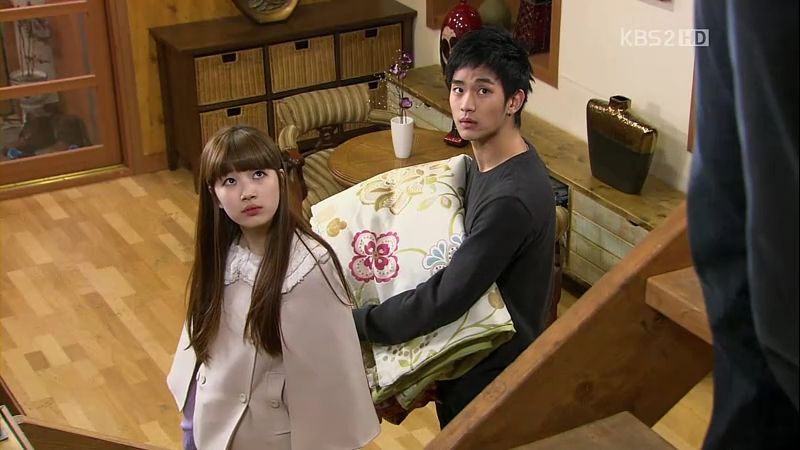 Jin Gook and Hye Mi's story reaches its tender and poignant conclusion when he takes Hye Mi to the river bank where they went in episode 2. He broaches the topic of Hye Mi's feelings, and gives her the out to be honest with herself. I loved Jin Gook-Hye Mi from the beginning. They had amazing chemistry, and I would have been just as happy if the drama never went to Sam Dong-Hye Mi. However, when Jin Gook left for 10 months, that to me was when Hye Mi subconsciously began to open her heart to Sam Dong. She probably liked both of them simultaneously at some point, but it was a believable plot development for her heart to finally choose Sam Dong.
Jin Gook puts his helmet on Hye Mi, and tells her that after a good cry, they will go back to being friends and classmates, able to see each other without any reserve. Jin Gook – you are an awesome guy!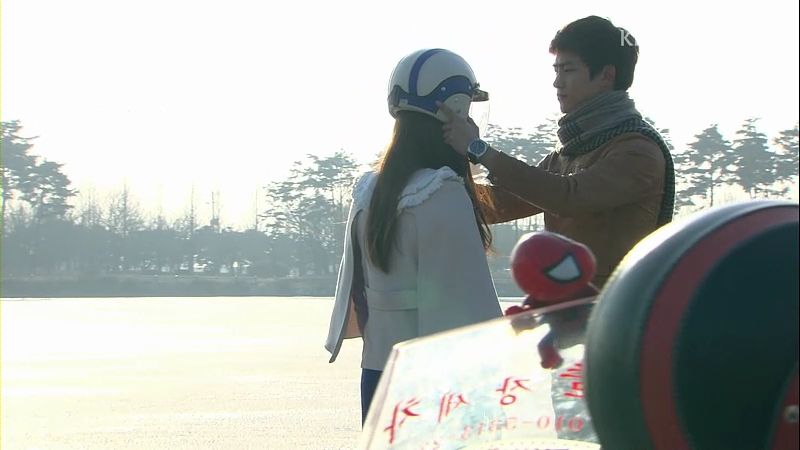 All six kids get through round one of the EMG auditions, and round two requires them to perform solo on stage.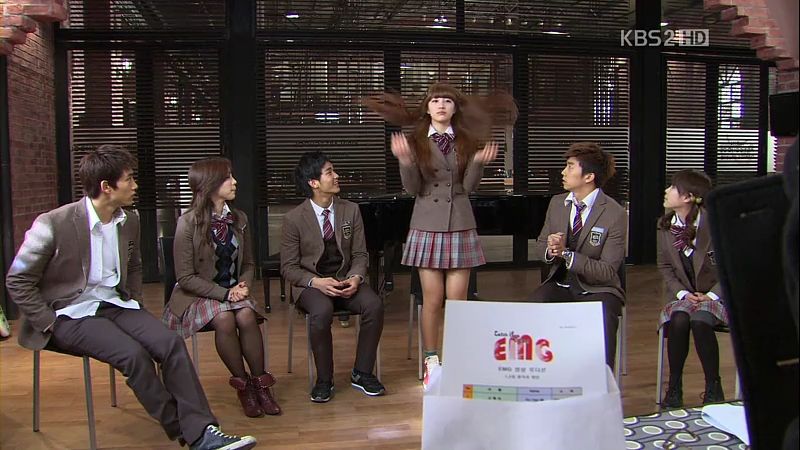 Cue 7 years later, and we're at 2018. Pil Sook is a pre-school teacher, after having had a popstar career at some point. She's gained back some of her weight, but Jason comes to get her and they head off to a concert.
Baek Hee is teaching at Kirin Arts High, and I love it! The girl who gained the most love and acceptance at that school is giving back the to place that nurtured her.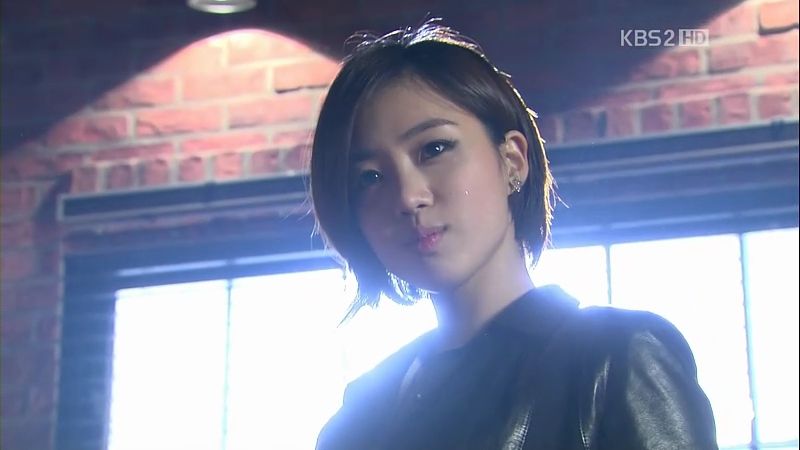 Jin Gook is a super famous pop star, and I love his all-black entourage, including his manager.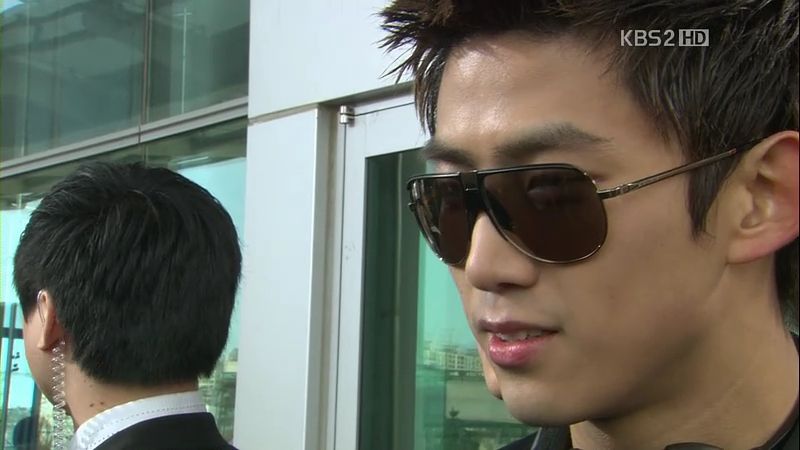 That leaves only Sam Dong or Hye Mi who could be K, and the drama doesn't even wait and drops the reveal that Sam Dong is K. He puts on his K pendant and then takes off his hearing aid. He readies himself to go on stage, and with a giant leap he's flying high.
We flashback to 7 years earlier, when Sam Dong found out that he was selected by EMG to go to New York. He refused to go, but Hye Mi was the one who told him to pursue his dreams. He tells her that his dream IS her, and that there is no music without her in his life. They both cry rivers of tears, as Hye Mi tells Sam Dong that he has a chance to make the biggest dream of all come true.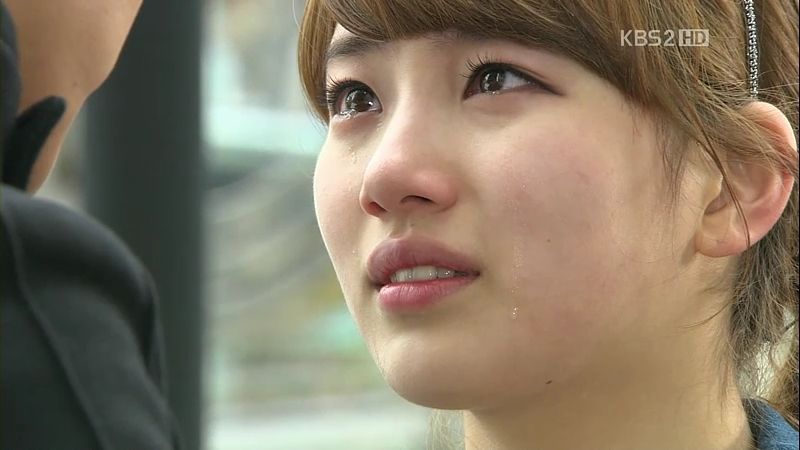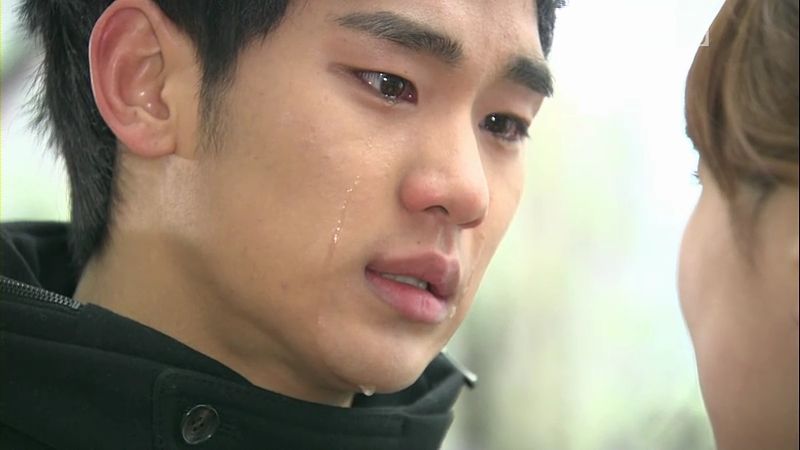 Back in 2018, Hye Mi is performing her 100th concert, and all her friends and loved ones are in attendance. She thanks her family and friends, and dedicates a song to a friend who is not here, who is walking the loneliest road of all.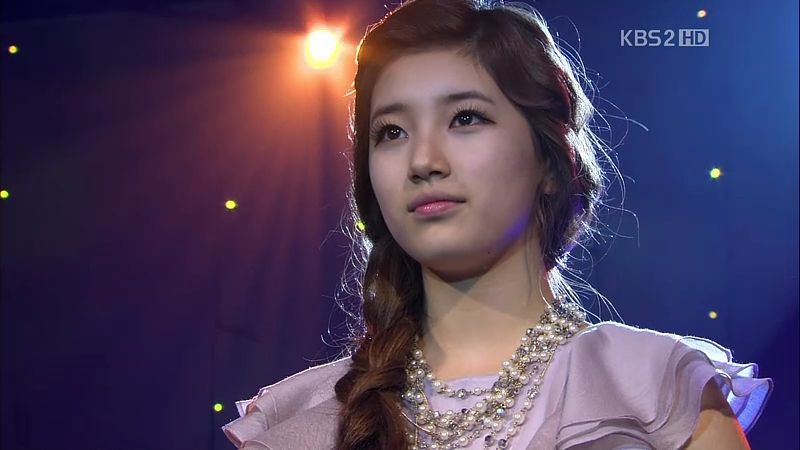 We see that Hye Mi's little sister Hye Sun is now a student at Kirin Arts High, and she approaches Jin Gook to boldly introduce herself. Jin Gook smiles, and I love it.
The final scene finds Sam Dong boarding the bus, and Hye Mi runs after him, a reverse of their bus scene from episode 3. She catches up to the bus, and he opens the window and leans out. She puts the K pendant around his neck, and he grabs her head and leans in to kiss her.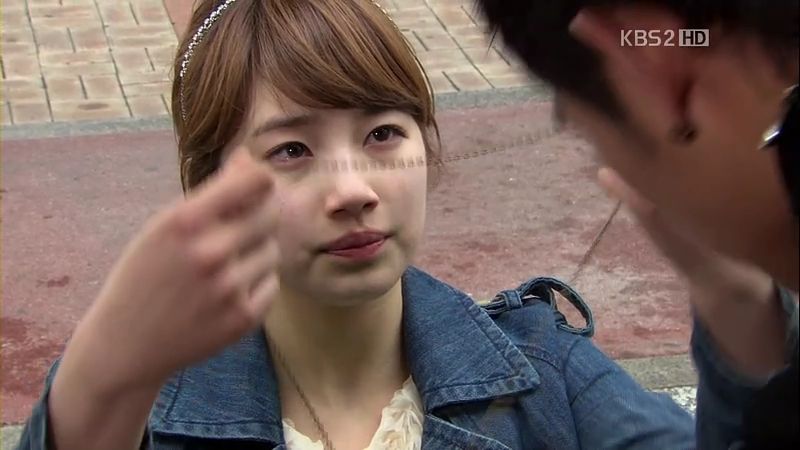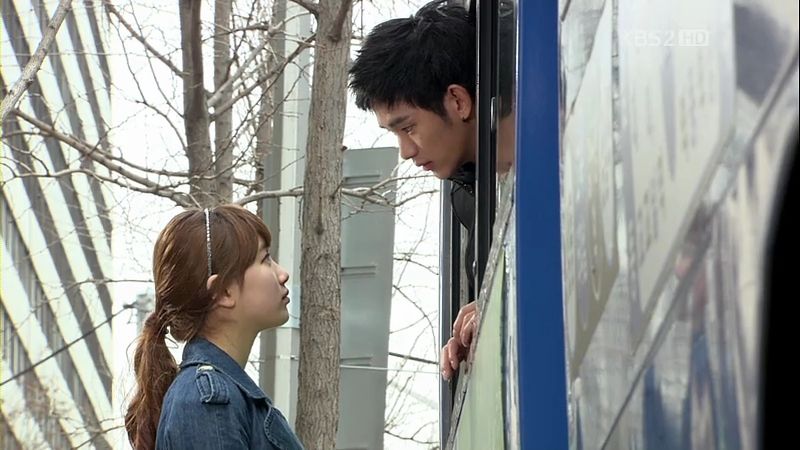 They kiss, and break apart to look at each other. And we end at that moment of perfection (for me). I know half the DH fandom is disappointed that Hye Mi didn't end up with Jin Gook, and part of me actually wishes that were Sam Dong to be K, Hye Mi should be with Jin Gook since they wouldn't need to be apart the way 2018 Sam Dong and Hye Mi are an ocean away from each other.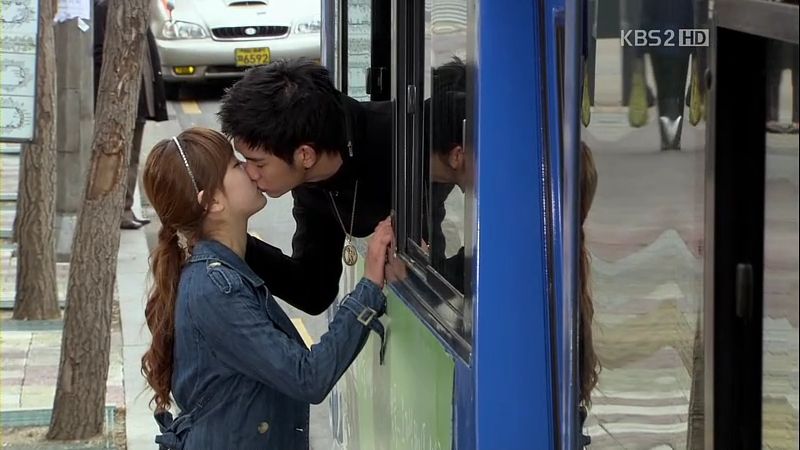 But I find Hye Mi and Sam Dong's relationship to be the one that was the most endearing, because it grew from friends into something that is built on the basis of their friendship. I thoroughly enjoyed every minute of DH, a drama that may be chock full of cliches, but gave me enjoyment in best of ways.
Thanks, Dream High, it was a blast spending time with you (I totally wish I recapped you instead of My Princess, but shhhh, don't go telling everyone I said that). For everyone, young or old, I say to keep on dreaming!