I really don't know what's going on with Wu Zun and Fahrenheit (with conflicting reports left and right as to whether he's left the group or not), but I do know for a fact that he'll be back on the small screen on May 22, 2011 on CTV! His long-completed Sunshine Angel with Rainie Yang has snagged the coveted post-Sunny Happiness time slot, and I couldn't be happier. Clearly I'm in the mood for another potentially cracky TW-drama, and everything about SA screams either total awesome crack or utter and complete failure. Either way, middling is not a possibility.
I posted about SA a month ago to give a brief synopsis of the set up and some BTS stills from the drama (click here). The production hasn't released any trailers or official stills yet, but some more BTS pictures have come my way. While I know Wu Zun is going to be stiffer than a board, I'm in a forgiving mood recently I'm just going to pretend his acting will at least have improved.
What makes me dying to watch SA are some filming interviews Rainie and Wu Zun did for the TW entertainment programs – they have such fun chemistry, and some of their off-color jokes have me dying of laughter. I've linked to the videos below, so watch for some lulzy fun.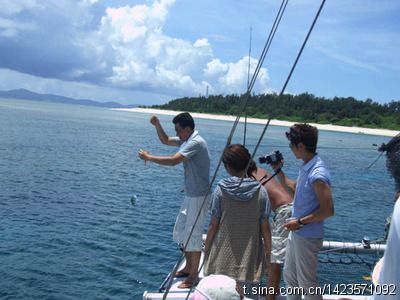 The second leads in SA (pictures above) are two rising young Chinese actors I've not yet watched before. Considering how Li Yi Feng blew my mind in SH, I'm totally game for what the Jeon Tae Soo-lookalike second male lead can do in SA. His name is Zhang Jun Ning, and like Li Yi Feng, he is also an singer-actor. Second female lead Liu Zi Yan I've heard of before, and she looks pretty enough that it'll be easy to love or hate her depending on how her character is written.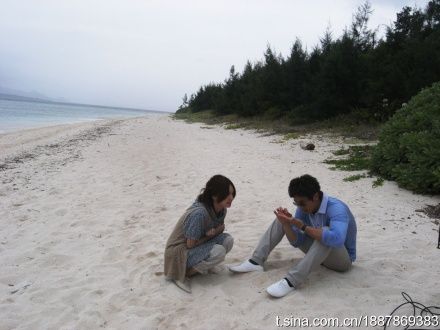 Wu Zun and Rainie were interviewed while filming their characters' first meeting, which involved Wu Zun parachuting into a bathing outdoors Rainie (dude, Successful Story of a Bright Girl totally needs to sue for blatant copycatting). Rainie makes fun of Wu Zun's "package" and he teased her about her cleavage. These two are like 12 year old adolescents.
[youtube=http://www.youtube.com/watch?v=d8qSn_Omvko]
At the wrap party Sunshine Angel, Rainie and Wu Zun got totally toasted, and then flirt with each other like you wouldn't believe. They were both late together, because after their last scene required them to be completedly drenched, they had to go shower and change. Everyone oooohed them and said that they checked into the same hotel and showered together. Rather than deny it, Rainie says that in the future, they will just say yes whenever people insinuate that she and Wu Zun have something going on.
The director says that if the ratings break 7, he will buy tickets and send Wu Zun and Rainie to Okinawa where they will go skinny dipping. Both agreed, and Wu Zun one ups him by promising that if the ratings break 7, he will play volleyball naked! And then they both keep drinking, and she grabs Wu Zun's chest and says that he has bigger boobs than she does.
[youtube=http://www.youtube.com/watch?v=I8fv3jOWB7A&feature=related]
On a serious note – Rainie says that there is not a moment of her performance that she is not happy with on SA, and she really loved the chance to work with Wu Zun.