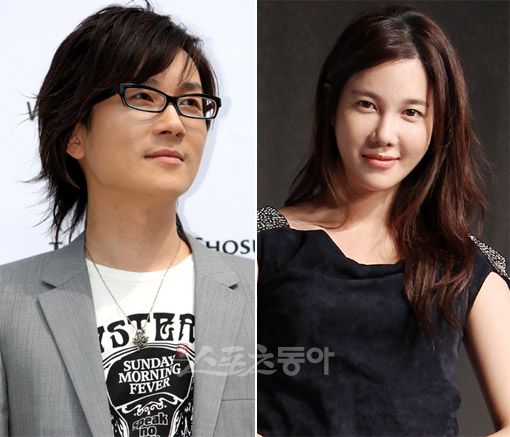 [Edit: KeyEast just made a formal statement, and clarified the marriage, divorce, and the fact that the couple did not have any children together]
Don't worry everyone, I'm fine. I'm in a helluva pissed off mood, but could hardly be upset when I find truth is always preferable to a lie. News broke yesterday that actress Lee Ji Ah has been secretly married to famous 90s rockstar Seo Taiji……beginning in 1997 (when she was either 16 or 20, depending on which of her birth year listed is correct). During the course of the marriage, they had no kids, and Lee Ji Ah filed for divorce in 2oo6 and the divorce was granted in 2009. The current lawsuit is over alimony, and isn't it ironic that it's always money (dirty, good ole money) that has outed this entire shocking story.
I have no beef with someone else's secret marriage, secret dissolution of said secret marriage, and secret alimony battle. It's tawdry, and I can't help but rubberneck, but I have no opinion on the entire secret marriage and dissolution thereof. I have a huge fucking problem when it involves Jung Woo Sung, whose management has issued a statement that he did not know about her past marriage, and if these revelations turn out to be true, then the new relationship is clearly over. And let it be known that if I were Jung Woo Sung, I'd be ending the relationship not because Lee Ji Ah was married before, but because she LIED to him and never told him about her past. A relationship built on a foundation of one great big lie is doomed to fail, and I'm glad this news came out now so that Jung Woo Sung didn't get further involved with her.
When the news broke, I had worried that Lee Ji Ah's marriage to Seo Taiji failed because she cheated on him with Jung Woo Sung (which would make him complicit in her failed marriage), but luckily that was not the case. For now, I have no desire to stabbity anyone, but I do wish my I Lub You a quick recovery from his shock at being involved in this huge mess, and a speedy exit from this scandal that really doesn't involve him.
And do you guys know how fucking much I hate Athena: Goddess of War? Not only was it a steaming pile of dog shit of a drama (which wasted every single actor involved that I liked), it was also the drama that introduced Jung Woo Sung to Lee Ji Ah. I am going to burn my copy of that drama, and perhaps afterwards perform an exorcism on it.