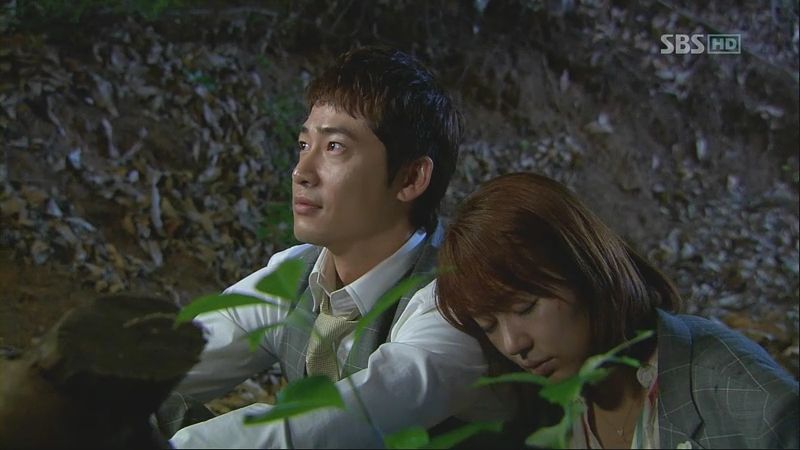 Good gracious, did the writer of Lie to Me have an epiphany today? Or maybe she got replaced by a writer with a bone-deep understanding of narrative drive and character consistency? Whatever the reason, episode 9 of LTM was DAEBAK from start to finish. It felt like a whole new drama. Not that I didn't already love LTM to pieces, but now it feels like the training wheels are off and the writer knows what story she wants to tell. We also got some new OST songs and background music to spice up the mood. Truly it's a day to rejoice in LTM-land.
I can scarce believe how relatable and sane everyone appears to be behaving now, especially after episodes of silliness and immaturity. Even words spoken out of anger and frustration quickly give way to honesty and questioning candor. I can safely say that if you are not watching LTM, you are missing out on the best OTP of 2011, both on and off-screen. The chemistry between Kang Ji Hwan and Yoon Eun Hye burns. And if the story keeps ramping up in its level of awesome, we might get one of the best rom-coms of the year as well. I could not be more pleased.
Episode 9 Recap:
Ki Joon, formerly public enemy #1 in LTM-land, sits in his house and drinks. Drinking alone in the house normally makes me fear my male lead is turning into an alcoholic. But in the world of K-dramas, it just means he's really really frustrated. He thinks back to what Yoon Joo said to him that night. Damn I want to give her a nasty nickname, but thought better of it since it's quite unprofessional as a recapper to hate on her so much.
Yoon Joo cries her crocodile tears and confesses to Ki Joon how difficult it was for her to have made it through the last three years. She even thought about dying to ease her suffering. But what kept her going was the thought of Ki Joon. She thought if enough time passed, then Sang Hee would be fine with them being together. She thought if she can endure it, she and Ki Joon can eventually be together. Ki Joon keeps downing shots.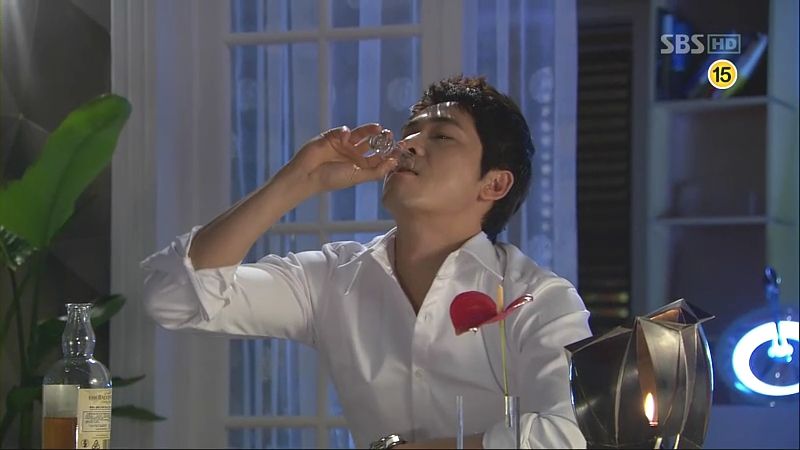 Clearly Yoon Joo needs to have a convo with a certain Ms. Ryu Hee Jin and get the inside scoop on expecting male leads to wait around for you. Even cancer wasn't enough to keep Heon Ji Hyun around afterwards, much less this situation. I also think it's hilarious the media kept comparing Ji Hwan's Ki Joon to Binnie's Joo Won in Secret Garden before the drama premiered, when all signs point to Ki Joon being Samshik v2.0.
Ah Jung sits in her room and cuts off her hair to shoulder length. She replays her confession to So Ran that the marriage was just a lie. She tears up, but she repeats what she said to herself that it's okay, and it's a combination of saying her new haircut looks okay, and that she'll be okay.
The next morning, Ah Jung's dad wakes up to find breakfast waiting for him and Ah Jung already left for work. She leaves him a cheerful note reminding him not to forget to eat breakfast since he's been so busy lately, and that she loves him. Perceptive daddy wonders if something happened with his Ah Jung?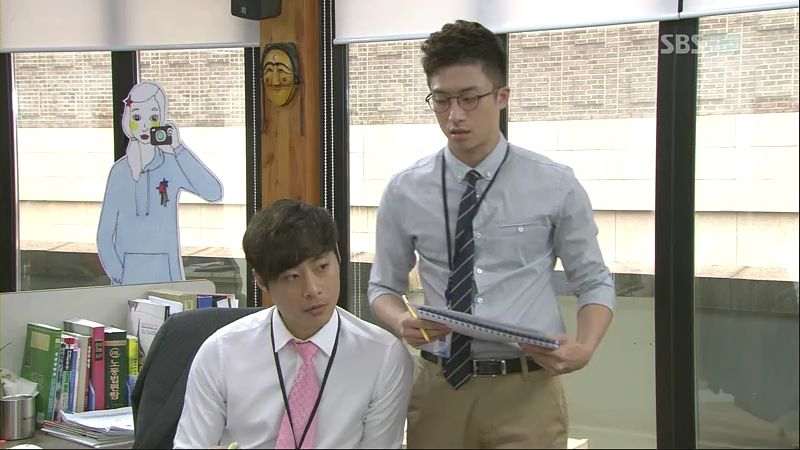 At work, Ah Jung throws herself into her projects with a new steely determination likely to keep her mind occupied. Her co-workers wonder if she's working too hard, since she's taking on all this extra work. Ah Jung says she can handle it. So Ran calls Ah Jung and they meet outside Ah Jung's office.
Over cups of iced coffee, So Ran again asks if Ah Jung's marriage to Ki Joon was a lie? Ah Jung sighs and says yes, she was just joking about the marriage. So Ran wonders why the housewarming took place, and why Hyun Ki Joon went along with the pretense? So Ran wonders if the guy was a substitute, but Ah Jung says it's the real Hyun Ki Joon. Ah Jung sighs and says she doesn't know why Ki Joon agreed to help her.
Ah Jung tells So Ran that it's always like this with her. Just like when So Ran took Jae Bum away from her, this time Ah Jung is once again the third party who loses out in love. It's the second time she's lost to another woman. Ah Jung feels so stupid.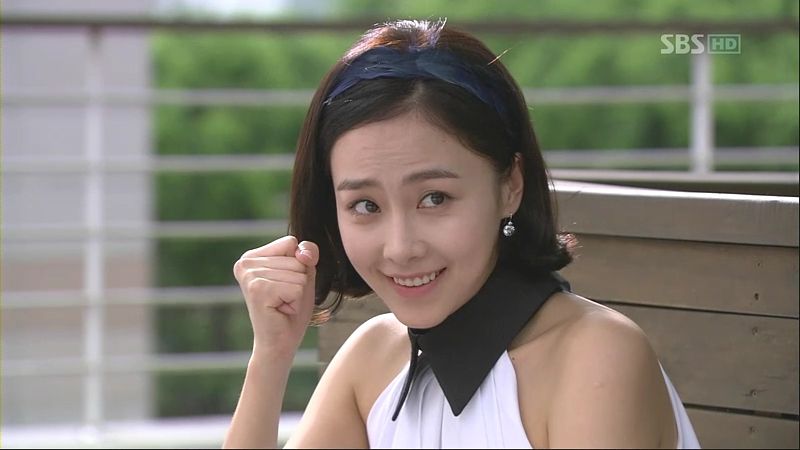 So Ran looks a little guilty, but she holds up her fist and tells Ah Jung "hwaiting." Ahhhh, Ah Jung and So Ran getting past their rivalry and finding the original core of their friendship is really a very nice development. After Ah Jung walks away, So Ran then looks shocked that Ah Jung would dare prank her.
Ki Joon keeps calling Ah Jung, who ignores all his calls. When her co-workers leave for the day, Ah Jung stays to work overtime. She has to prepare for an upcoming business trip to a resort that is hosting the next international tourism convention. Her boss reminds her to be careful and thorough.
That night Ah Jung goes to Ae Kyung's café, and runs into a gathering there which includes Yoon Joo and Sang Hee. Ah Jung is introduced to Yoon Joo, who smiles and says that she knows Ah Jung already. Ah Jung is invited to sit down, but she quietly leaves when everyone is in the middle of chatting. Sang Hee notices she's gone and looks a little thoughtful.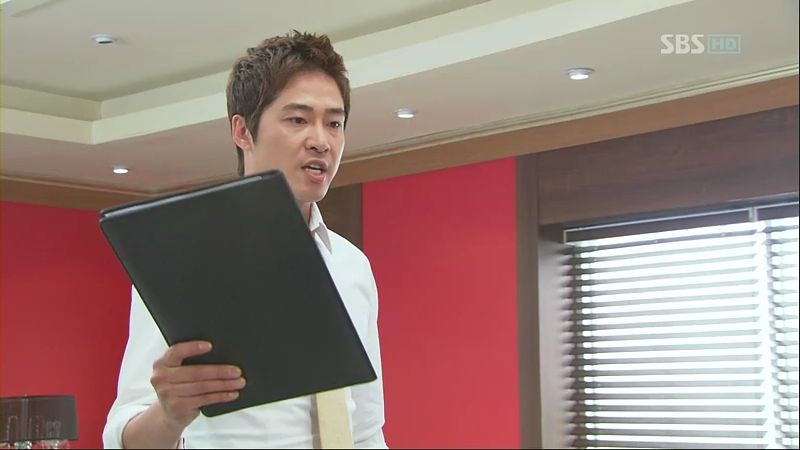 Ki Joon is a total bear at work, yelling at his subordinates and even other hotel directors. Apparently there is a problem with the Gold Resort, a facility owned by the World Group. Ki Joon agrees to head down to the resort himself to handle the problem. He takes over the management of the Gold Resort from the bunch of inept directors for the time being.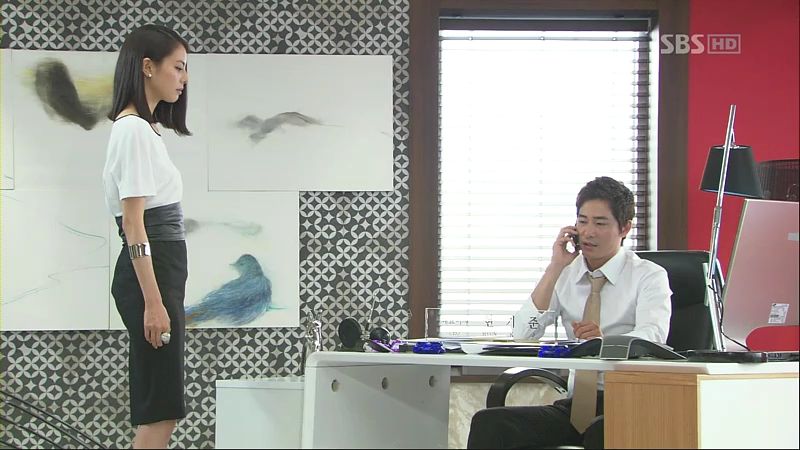 Yoon Joo calls to ask Ki Joon out to lunch, but he declines her invitation claiming he's too busy. He hangs up and tosses the phone down and rubs his face in fatigue. The hotel manager (Manager Park) gives Ki Joon a knowing look. He asks her what she wants to say?
She tells Ki Joon that people can either stay constant for three years and they can also change. She tells Ki Joon to follow his heart right now. She used to think Ki Joon and Yoon Joo were good together, but now she's not so sure. Ki Joon sighs and says he simply doesn't want to hurt Yoon Joo again. Manager Park asks Ki Joon if this means he's planning to start over with Yoon Joo, and Ki Joon SHAKES HIS HEAD NO. Oh thank god I don't need to go to Korea and beat his ass six-ways to Sunday. Manager Park tells him that sometimes being cruel is the most human thing to do.
Suddenly Yoon Joo calls again (have you no shame, serpent woman?) and Ki Joon ignores her call. Then she ups and walks right into Ki Joon's office (OMO I freaked out, it's like watching The Ring and Sadako popping out of the TV). The best part is when Yoon Joo walks in and sees Ki Joon's expression when he sees her, she asks him why he has an expression like he just saw a ghost. Mwahaha, if the shoe fits, Oh Yoon Joo. She acts all aegyo (cutesy) and begs Ki Joon to feed her lunch. Sure Yoon Joo, I'll feed you…..to the sharks.
Ki Joon reluctantly agrees to have lunch with her. They are walking down the hallway when Yoon Joo grabs Ki Joon's arm and he pulls it away. Then she ups and grabs it again, and this time he just lets her. He stops walking when So Ran shows up, having come to the hotel specifically to talk with Ki Joon. In the elevator, So Ran is thinking through the situation – perhaps Ah Jung is lying about the fake marriage to shock her, or she married Ki Joon and got divorced.
So Ran notices Yoon Joo holding Ki Joon's arm, and she gives Yoon Joo the dirtiest look ever. I newly love you, So Ran! Ki Joon asks Yoon Joo to wait outside for him, and Ki Joon and So Ran have a face-to-face chat. He tries to make small talk about having another house party, but So Ran lights into him, asking him what the heck is going on? She can't believe he likes another woman and yet would agree to tell such a lie about being married to Ah Jung.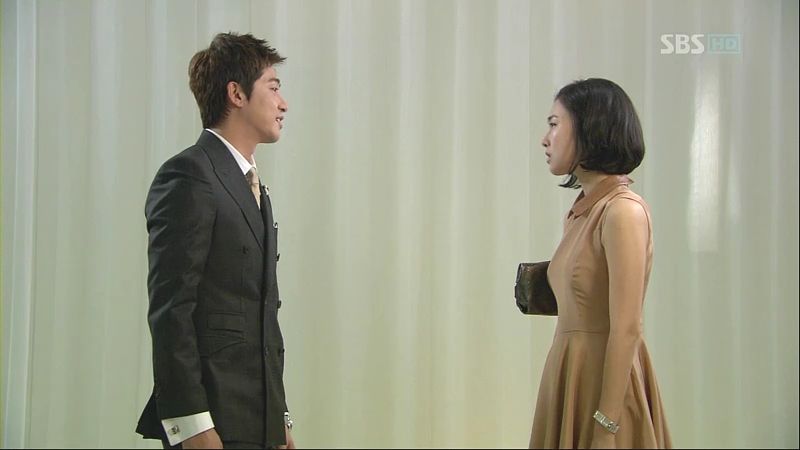 If the marriage to Ah Jung was just a pretense and a lie, why did he make Ah Jung fall for him? Did Ki Joon work with that woman to turn Ah Jung into an idiot? Ki Joon is shocked that So Ran knows that his marriage to Ah Jung was a lie. So Ran informs Ki Joon that Ah Jung told her the truth. Ki Joon runs off. He sees Yoon Joo outside the hotel waiting for him, and apologizes to her and leaves.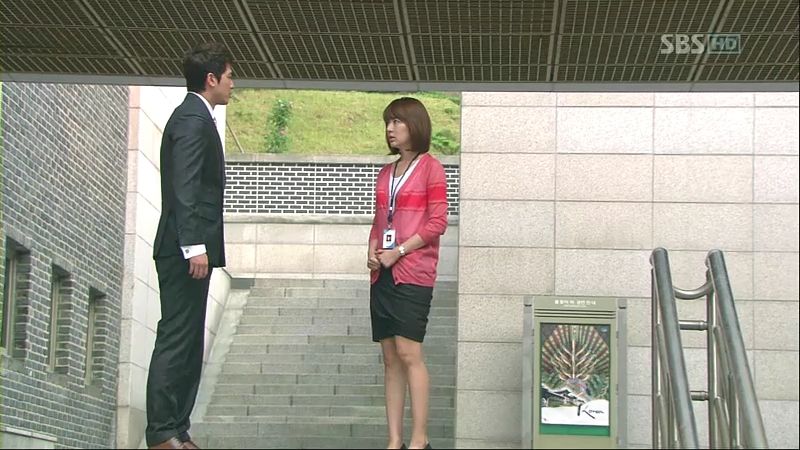 Ki Joon calls Ah Jung from his car. When she finally picks up, he asks her to meet. Ki Joon goes to Ah Jung's office and they meet outside. Ah Jung finds out that So Ran went to the hotel and confronted Ki Joon. He in turn asks Ah Jung why she told So Ran the truth? Didn't she trust that he would keep his word and maintain their marriage façade? Methinks someone wants to stay married to you, Jungie!
Ah Jung looks away and says she was always planning to reveal the truth to So Ran before So Ran left for Canada, She did it now because it's not fair to Ki Joon's fiancée. Ah Jung tries to joke that Ki Joon should have seen So Ran's face when she told her the truth. So Ran was so mad, so Ah Jung's lie did accomplish its purpose. The Shanghai Chairman has agreed to partner with World Group, and Ah Jung got back at So Ran. In the end, their charade was success for both of them.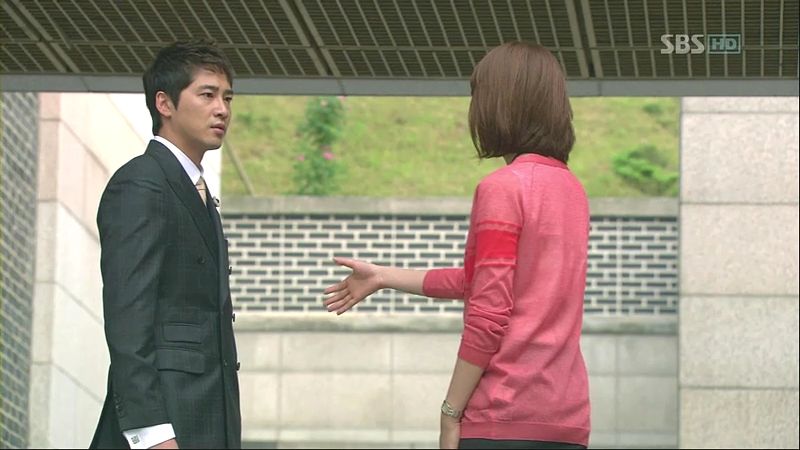 Ki Joon asks Ah Jung if she really means what she's saying? She says yes, and thanks him for everything. Ki Joon asks again if it was all just an act? Ah Jung says "of course it was, did you think otherwise?" Ah Jung moves to leave, saying she's so busy at work these days and needs to head back. Ki Joon calls her name, and she pauses and turns around.
Ah Jung tells him that she knows it's really the end of them now. She extends her hand to shake his, thanking him for everything. She tells him this is goodbye. He doesn't shake her hand, but when she turns to leave, he grabs her wrist to stop her from leaving. Ki Joon tells Ah Jung to be angry, to get mad at him instead rather than have this weird expression on her face.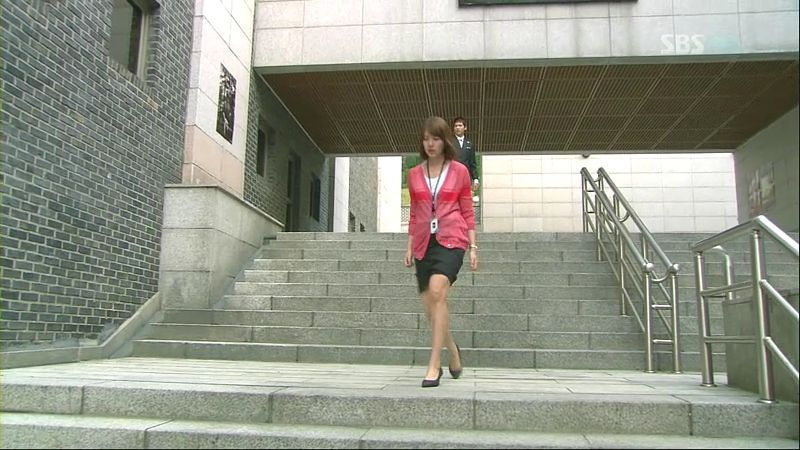 Ah Jung tells Ki Joon that she's not angry. What is there to be angry about when they both were acting? She pulls her hand free from his grasp, telling him that she would prefer they not meet again anymore. Ki Joon watches as Ah Jung walks away. Ki Joon goes home and grabs a drink of water from the fridge. He thinks back to the conversation with Ah Jung about how it was all just acting. He throws his bottle in frustration.
Ah Jung walks home, reminding herself over and over again that it was just acting. She passes by their bench sees that all the cherry blossoms have disappeared. She starts to sob and sits down, which is when her dad finds her doubled over and crying. He sits down and holds her, asking why she's so upset? Ah Jung just says that all the cherry blossoms have fallen and are gone now. Dad tells her it's going to be okay. The cherry blossoms will fall and it will blossom again next year. Ah Jung sobs that her cherry blossoms are gone, and that it won't be okay.
Ah Jung has breakfast with her dad the next morning. She's off on the business trip and promises to call him when she gets there. Dad asks Ah Jung if she will consider going on a matchmaking date? Ah Jung is willing, which surprises her dad that she didn't decline. Ah Jung says the guy has to be great. Dad thinks it's a waste to just give his daughter away since she's kind, beautiful, and a hard worker. He wants her to live with him forever. Ah Jung laughs but she's serious, she wants to go on the blind date.
Ah Jung and her co-worker drive to the resort. He asks Ah Jung what's been going on with her recently? She says nothing, and he asks why she's taking on so many projects, and cut her hair as well. He asks if she's going through a bad break up?
Sang Hee meets with Aunt, who wants to confirm that he's really okay with Yoon Joo being with Ki Joon now. Sang Hee wonders if Ki Joon and Yoon Joo are back together. He asks Aunt to allow them to be together. He says they are really in love. Er, not anymore, Sang Hee. Ki Joon has been so hurt because of what Sang Hee did, so he just wants Ki Joon to be happy now.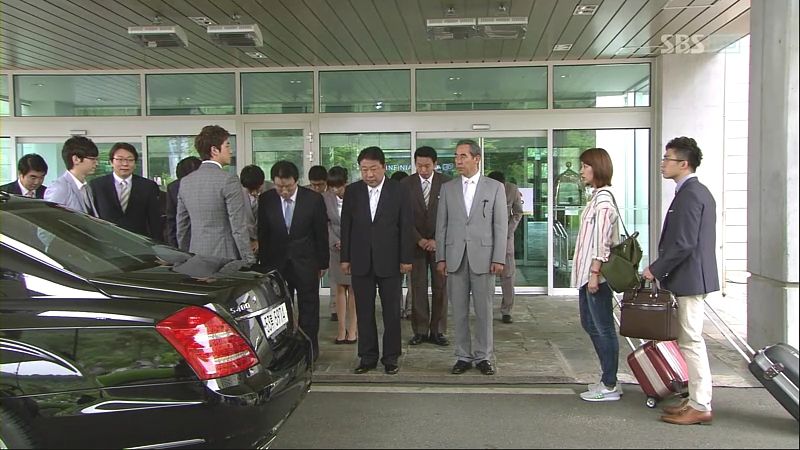 Ah Jung arrives at the Gold Resort at the same time Ki Joon. They look at each other, then Ah Jung goes inside to check in. Her co-worker asks if that guy was World Hotel's President Hyun Ki Joon? Ki Joon goes to the front desk and asks why those two are here, and is told it's on official ministry business to coordinate an upcoming international tourism convention.
Ah Jung goes to her room, sitting down and fretting over seeing Ki Joon again. She asks herself what she's supposed to do now? I dunno, but more kissy kissy is never a bad idea between you two. Ki Joon tours the hotel premises. Behind the hotel is a backwoods mountainous area. A warning sign is missing that is supposed to warn guests not to head up that hiking route.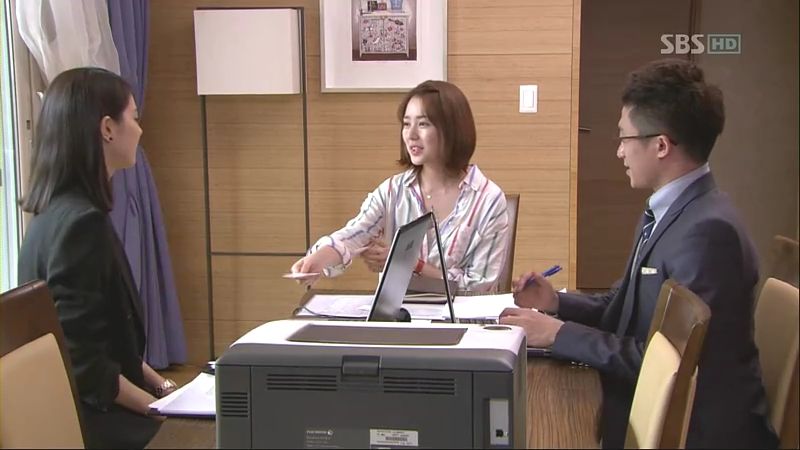 Ah Jung goes to a meeting room where her co-worker and Manager Park are waiting for her. She and Manager Park introduce themselves to each other. Ah Jung explains the convention specs and they go on a tour of the meeting rooms. Inside a banquet hall where Ah Jung and her co-worker are taking pictures, Ki Joon walks him with his retinue of associates in tow.
He gives Ah Jung a hard look. Manager Park introduces the two ministry employees to Ki Joon, and Ah Jung politely bows and says "nice to meet you for the first time." Best part is Park Hoon's wide-eyed look when he hears Ah Jung pretend she doesn't know Ki Joon. She asks to be shown to other rooms and quickly leaves. Ki Joon can't contain himself and follows her, calling out her name. What did I say about him always losing his cool around her?
He asks Ah Jung if she likes acting? The hotel has many facilities that are great for using as a stage. He asks Ah Jung what play she is putting on now? Manager Park, Ah Jung's co-worker, and the rest of the hotel associates are staring slack-jawed at this very pointed exchange between Ki Joon and Ah Jung. He asks her what act she's putting on right now?
She tells Ki Joon that he may think it's just an act, but not everything is so easy to dismiss. She came here to work, not to put on an act. Ki Joon asks Manager Park to explain what the official business is? He listens to proposal and then tells Ah Jung that the hotel won't do this event. He tells her to leave, and then walks away. Ah Jung tries to chase after him, but is restrained by her co-worker.
Up in the office, Manager Parks yells at Ki Joon, asking if he's lost his mind? Uh, yeah, sorta. She lights into him for speaking so poorly with a very important customer of the hotel. She doesn't care what happened between him and Gong Ah Jung, but the convention is a huge national event and important business for the resort. She tells him to go apologize to Ah Jung, and not let his personal feelings interfere with his work.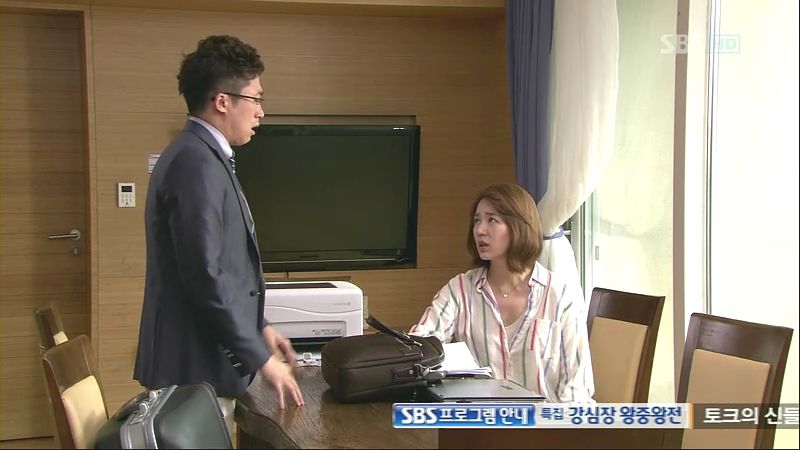 Ah Jung's co-worker is angrily packing. She tells him not to overreact, but the poor dude reminds her the president of the resort just told them to get out. The co-worker is shocked at how poorly the president behaved back there, he's never experienced this in his three years working.
Ki Joon shows up and personally apologizes to both of them. The co-worker accepts his apology, and explains again they are here for ministry business and are not some swindlers pretending. Ki Joon says he knows, and asks for a moment to speak with Ah Jung privately. Ah Jung asks the guy to stay, but he leaves once Ki Joon asks for privacy as a favor.
Once they are alone, Ah Jung says an apology is not necessary. Ki Joon says he's not here to apologize, he wants Ah Jung to leave. When he sees her face, he's uncomfortable and upset. Ah Jung is fuming and asks him why he ought to be the one who is upset? If anyone should be upset, it should be her. Ki Joon tells her to get angry then.
Ki Joon should be the one who feels bad towards Ah Jung. She demands to know why he keeps making her confused. Why did he kiss her? And not once, but twice? Ki Joon looks at her and makes the confession we've all been waiting for: "because I like you." Ah Jung isn't so quickly wowed by his swoony declaration, because she repeats the confession, but then adds "what about that girl then?" Ah Jung asks if Ki Joon likes her a little, and Yoon Joo a lot, is that it?
Ah Jung angrily gets up and runs out of the room. You go, girl! Make him suffer for his actions which send conflicted signals. She rushes to the elevator and frantically pushes the button, needing to get away as quickly as possible. She takes the dangerous unmarked hiking trail into the backwoods for some time to think. She keeps hiking higher, in the process dropping her cell phone accessory.
She's sweaty and out of breath by the time she stops. She thinks back to what Yoon Joo said to her, that she's back with Ki Joon thanks to Ah Jung. She flashes back to Ki Joon confessing he is a good actor, but then telling her that it was all real before he kissed her again. Suddenly the bench she is sitting on topples over and Ah Jung tumbles down a small incline. She lands in a heap on the bottom and passes out.
Ki Joon sits in the room and puts his hands over his face and takes a deep breath. Dude, you got to work through what you want to do. Ah Jung's co-worker is searching for her all over the hotel. He alert the staff that she's missing and not answering her phone. Ki Joon finds out and heads out to look for Ah Jung along with some hotel employees. They head into the woods when someone notes that a woman was spotted headed up there.
Ki Joon breaks from the group to keep searching for Ah Jung. It's dark by the time Ah Jung wakes up. She has no cellphone reception and her ankle is slightly hurt. When Ki Joon is looking for her, we see that he appears to intuitively sense which direction she turned, and always picks the correct path to follow her trail. Ki Joon walks around calling her name. She hears him and responds. Ki Joon spots Ah Jung at the bottom of the incline, and he quickly slides down. He asks if she's okay, and she's upset he just slide right down so dangerously instead of slowly climbing down.
Ki Joon calls Manager Park that he's found Ah Jung. He wants to help Ah Jung up, but she's hurt her ankle and can't put pressure on her foot. Ki Joon offers to piggyback her, but Ah Jung's not so keen on more contact between them and asks to just wait for the rescue party to arrive. Ki Joon waits with Ah Jung, taking off his jacket and putting it over her shoulder when it's clear that she's getting cold.
Ah Jung slowly nods off, and Ki Joon adorably scoots over so that she can rest her head on his shoulder. Ah Jung senses his movement but doesn't scoot away. She allows her head to rest on his shoulder and she closes her eyes. She grabs his jacket that is around her shoulder with one hand, as she sleeps on his shoulder. Ki Joon smiles.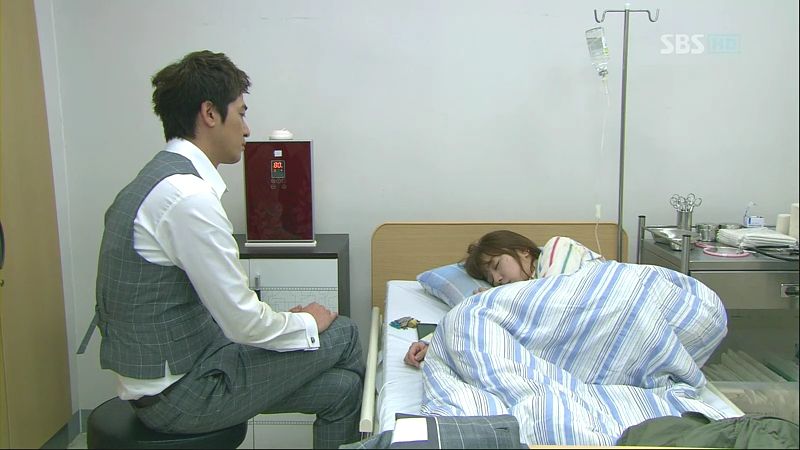 Ah Jung is sleeping at the hospital. She wakes up to see Ki Joon sitting next to her bedside, staring at her. This is totally a repeat of the hospital scene from episode 1, except with brand spanking new emotional issues. Ki Joon tells Ah Jung that she's not hurt anywhere else, her ankle will be fine in a few days.
Ah Jung moves to get off the bed and leave, but stops with Ki Joon tells her "it's not like I like you a little, and I like Yoon Joo a lot." Oh rilly, Hyun Ki Joon? Please explain to Ah Jung and the rest of LTM-fandom. Ah Jung just tells Ki Joon not to think people are idiots. She doesn't want to misunderstand again, and she doesn't want to continue to be stupid anymore.
Before they can continue the conversation, Ah Jung's co-worker runs in and anxiously asks how she's doing? Ki Joon leaves without finishing the conversation. The co-worker wonders why the president is so aloof and cold today when he was nervously looking all over for Ah Jung yesterday?
Ki Joon drives home, arriving to be surprised by a party with Sang Hee and Yoon Joo. Ki Joon says it's not his birthday, and is reminded that it's Sang Hee's birthday. They sing happy birthday, and Sang Hee asks for an expensive present from Ki Joon. Sang Hee asks Ki Joon to change Aunt's mind, she wants Sang Hee to go work at the company.
Ki Joon watches as Yoon Joo and Sang Hee tease each other. He smiles and says it's a very happy day for him. Sang Hee teases Yoon Joo, asking why she likes Ki Joon? Ki Joon drives Yoon Joo home. A song plays on the radio, and Yoon Joo asks Ki Joon to sing it. He refuses, and she wonders why he's changed since he used to sing it at her request.
She asks to go to an overlook spot they used to frequent. She sees the night view and remarks that nothing has changed. Ki Joon finds out her work is ending soon, and he asks her to go back to Paris when her work is done. Compared to Korea, she has more opportunities there. Ki Joon tells Yoon Joo that they can't start over again. Yoon Joo wonders if Ki Joon doesn't like her now? She thinks he's joking, and she doesn't find it funny. I don't find you funny either Yoon Joo. You know what would be funny? If you fell in the Han River. Yoon Joo tells Ki Joon to stop joking with her.
Ki Joon quietly says "there is someone I like." OH DOUBLE HELLS YEAH. Okay, does everyone forgive Ki Joon now? Told you guys to chill out una momento. Yoon Joo guesses that it's Gong Ah Jung. Ki Joon doesn't answer and just looks at her.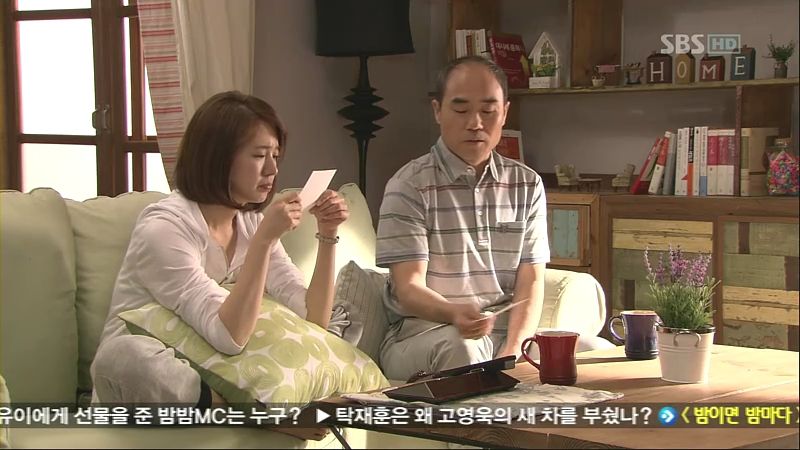 At the café, Ae Kyung is angry at the singer, who wants to go on a matchmaking date but Ae Kyung doesn't think she should. The singer is upset that Ae Kyung found a matchmaking date for Ah Jung, and thinks she gives Ah Jung special treatment. Sang Hee finds out that Ah Jung is going on a matchmaking date. Ah Jung looks at the guy's picture and is told the guy is the son of Ae Kyung's friend. Aunt comes to see Ki Joon in his office, only to find him adorably passed out on the recliner. She watches his sleep and smiles.
So Ran is packing and on the phone, telling her mom that it's her life and she can handle it. She tells her mom not to come to the airport, Jae Bum will take her. He walks in, asking what will happen to the house? He doesn't want to live there, and will move out. He tells So Ran to go back and live with her parents. He wants So Ran to decide soon what she wants to do. So Ran is upset that Jae Bum is acting so determined, when he was the one in the wrong.
Sang Hee and Ah Jung hang out at the playground. He asks why she didn't send him a text on his birthday? She wishes him a belated happy birthday. He asks about her upcoming matchmaking date, and finds out the guy is an analyst who is wealthy enough to even own a personal yacht. Sang Hee asks again if she's really going on the date, and she says yes, it's for real. Sang Hee walks away, and Ah Jung wonders if she's gone overboard with puffing this date up.
So Ran is eating with Jae Bum. He finally speaks up, saying they aren't going to see each other much anymore, and not to eat with such a down face. He apologizes, for making her lose face in front of Ah Jung. Jae Bum says that if he were Hyun Ki Joon, So Ran wouldn't be like this. He apologizes for being a weak husband. So Ran tells Jae Bum that Ah Jung is not married. He's shocked, and is told the marriage was just a lie.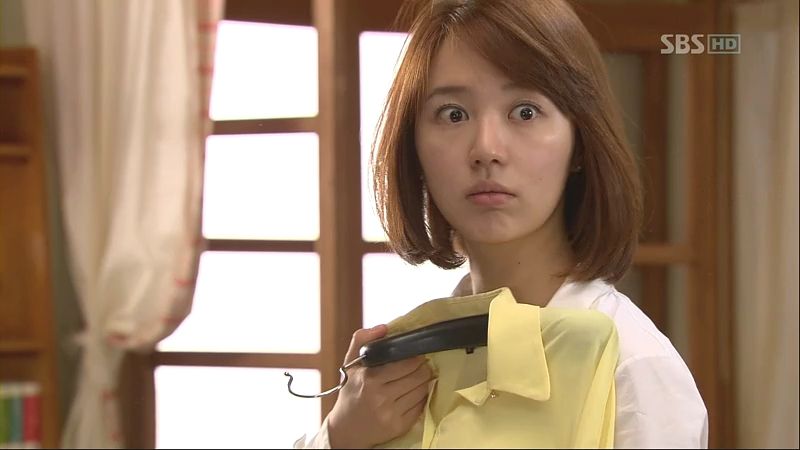 Ah Jung tries on outfits for her date, but thinks she still looks like a civil servant. Her dad comes in and reminds her that the date is at 7 pm at the World Hotel lounge. Ah Jung stammers, asking why the World Hotel? She's told the guy is having meetings there all day.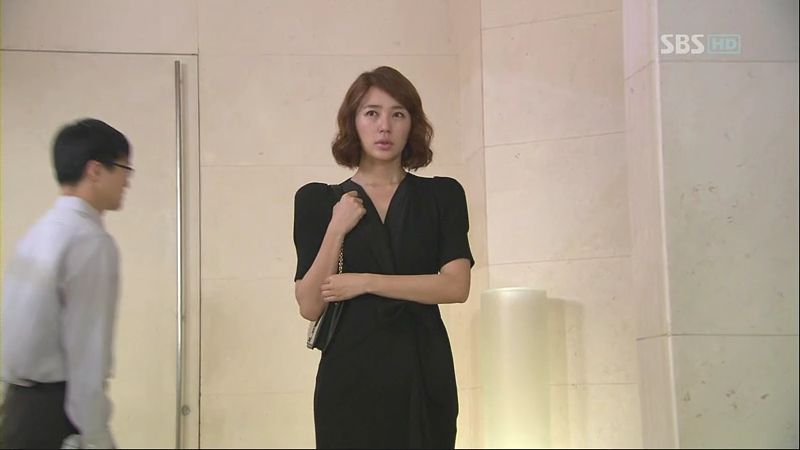 Ah Jung, looking massively gorgeous in a black wrap dress with a slit on both sleeves, and her hair artfully arranged in waves, arrives at the hotel. She walks up to her date, who is already sitting at the table in the restaurant. She apologizes for being late, but is told that she's actually early.
She's making small talk with him when Ki Joon walks into the restaurant and sees her. Immediately his face tightens. He walks past Ah Jung, who sees him, and heads to the back of the restaurant where he is meeting with two foreigners. He sits down and dines with them. Ah Jung's date asks her if she knows Ki Joon, and she says no.
Ah Jung tries to be cute and bubbly, asking her date about his work. She says being an analyst is better than being a hotel president. Ki Joon and his party walk out of the restaurant. Ah Jung cuts her food a little too roughly, leading her date to ask if the food is too tough? Ah Jung says no and excuses herself to use the restroom.
Sang Hee is driving and thinking about Ah Jung on a matchmaking date. He makes a u-turn (WOAH, our first K-drama abrupt u-turn of this drama) and arrives at the hotel. He presses the call button quickly and then rushes into the elevator, looking anxious and determined.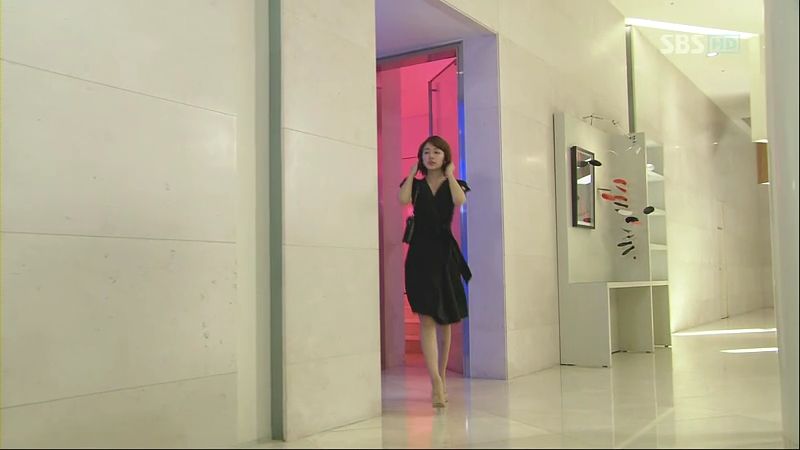 Ah Jung freshens up and walks out of the bathroom. She's walking back to the restaurant when suddenly Ki Joon swoops up behind her and grabs her hand (read: he holds her hand, this is no patented wrist grab) and leads her away.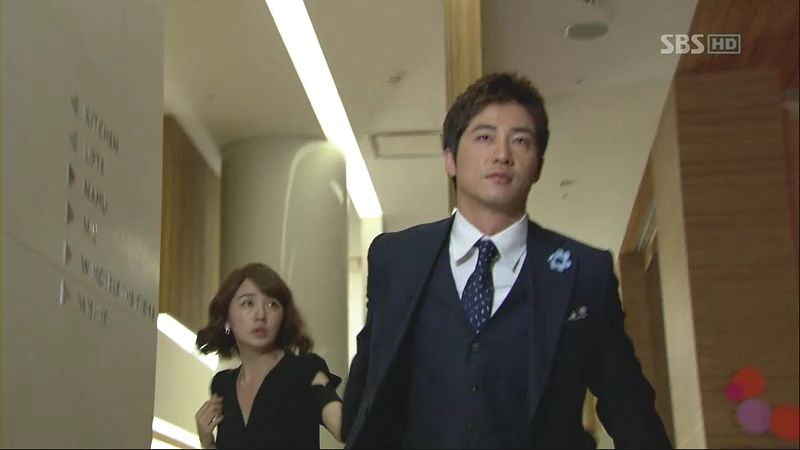 Thoughts of Mine:
I'm so happy I could cry. I can't believe LTM has turned into a drama this substantively awesome after floundering for so long, and barely finding its footing only in the last few episodes. This episode was everything I could have hoped for, both in terms of conflict and resolution, as well as nothing I expected. It's better than any fanfiction I read last week. Brava to the writer for finally understanding her characters and the impetus of the situation she created.
So I'm betting dollars that in episode 8, Ki Joon wanted to tell Ah Jung that he needed to deal with the Yoon Joo situation, and perhaps wanted some confirmation from her that she felt the same way about him and could give him some time to handle the mess Sang Hee created. But Ah Jung never gave him the chance to speak, and jumped the gun in wishing Ki Joon and Yoon Joo happiness together. Not that Ki Joon bought it outright, but the man definitely got even more conflicted and upset to start this episode.
I can't say Ah Jung was presumptuous, she was just really confused, and emotionally worn out, and trying to salvage her pride and the situation. So she came clean to So Ran and gave Ki Joon an out. I'm so glad the writer didn't even hint at the possibility that Ki Joon would get back together with Yoon Joo, even out of noble idiocy. If somehow this plot device does happen, it has to happen after he and Ah Jung have a candid confession about their feelings. Instead of dragging it out, the writer is letting everyone talk. Some of the talk is angry hurtful words, but it gets everyone to admit the truth regardless.
I scarce believed my ears when Ki Joon just flat out told Ah Jung that he kissed her because he liked her. OMFG, most of the time you have to drag the "I like you" out of K-drama alpha males like Hyun Ki Joon with a pincer and some tow cable. But you know why this story is getting even more amazing? Because Ki Joon saying he likes Ah Jung is nowhere near enough for Ah Jung to just say hell with it and get back with him.
Ah Jung is operating out of a combination of self-preservation and heartbreak. Ki Joon's confession doesn't change anything, because Yoon Joo is still around. Ki Joon sent so many mixed signals in episode 8 that she may believe him when he says he likes her, but what does that mean? He likes her but loves Yoon Joo? He likes both of them equally? He likes Ah Jung more? How are they going to move forward? A confession without a resolution in sight is like a leaf blowing in the wind for Ah Jung. She can catch it in her hand, but it's still just a leaf, not a tree planted in her backyard that can grow into a lifetime together.
I have to say So Ran's character change (however abrupt) is truly a welcome respite for me. I figured she'd let go of her competitiveness with Ah Jung and become a real friend at some time, just not so suddenly. But I'm not complaining, because it moves that friendship forward in ways that finally resemble reality. If So Ran were so bitchy why would Ah Jung stay her friend? Clearly So Ran does love Ah Jung, and now she stands up for her in ways that make me forgive her earlier poor behavior with Ah Jung.
Ah Jung may have been hurt that So Ran took Jae Bum away from her, but (1) Jae Bum never belonged to her, and (2) Jae Bum is not an inanimate object that So Ran can take. I agree it was shitty of So Ran to date a guy she knows Ah Jung likes, but in the unfair world of love, if So Ran and Jae Bum did love each other, then they ought to be together. So Ran's only fault was the way she went about it, and then lording it over Ah Jung. But that's water under the bridge now between them, and I want So Ran and Jae Bum to work through their issues like adults, whether stay together or divorce.
Yoon Joo and Sang Hee are finally becoming full-fledged second leads in the traditional K-drama methodology. I confess to never really feeling that Sang Hee liked Ah Jung, other than an interest in her friendship, and a teeny spark of possibility from his side. But I can't see when that tiny bit of interest developed into driving to the hotel and take her away from a matchmaking date? I won't belabor the point, since I know going forward we're going for Hyun Brothers Want Same Girl, round 2. Theoretically I can see why Sang Hee would like Ah Jung, I only wish I saw it more onscreen.
Yoon Joo I can't stand, not because she's doing anything I condemn (yet), but because I can't stand her attitude. She's like Sang Hee in reverse. They both pressure and whine when they can't get their way in love. Sang Hee makes his brother feel guilty, but same with Yoon Joo. Her "oh I wanted to die those past three years" speech had me throwing up inside my mouth.
I hate girls who can't move on. Oh, I give her all the time and space she needs to mourn her lost love, and even allow her a chance to get it back. But when her first overture to Ki Joon was rejected back in episode 7, she needed to stop. To keep pressuring the point, with Aunt, with Sang Hee, and finally with Ki Joon, annoys the fuck out of me. Now that Ki Joon has told her, flat out, he likes someone else, she has ZERO right to want him to be with her.
Thank god Ki Joon told her the truth, instead of beating around the bush. Too bad I don't think she'll give up, and for that I'm getting my hand ready to slap-a-bitch if she says or does anything to Ah Jung that hurts her, whether or not on purpose. A funny aside, there are many Chinese characters to choose for the name Oh Yoon Joo, but the adorable fans at Baidu purposely now use the Chinese characters so her name reads "stormy cloud pig" or "dizzy pig", and then they've stopped using her entire name and it's just "pig" anytime they refer to her. For that, I both LOL and then kinda feel bad for her. But mostly LOL.
I'm a little frightened at how much I love LTM, and this love transcends itself to actually making me worried before I watch a new episode. It's like I need to make sure Ah Jung and Ki Joon will be fine, will find a way to work through their newfound and hard to rationalize feelings for each other, and then ultimately find a way to be together. It's like Kang Ji Hwan and Yoon Eun Hye's undeniable chemistry with each other actually makes Ki Joon and Ah Jung feel alive and real to me. So when they hurt, I hurt.
This might just be the number 1 reason everyone is so addicted to LTM – the relationship and love story between Ki Joon and Ah Jung (however fraught with early bad plot from the writer) nevertheless feels so palpable and reaches out from the screen and just smokes us with the intensity. I simply can't look away.