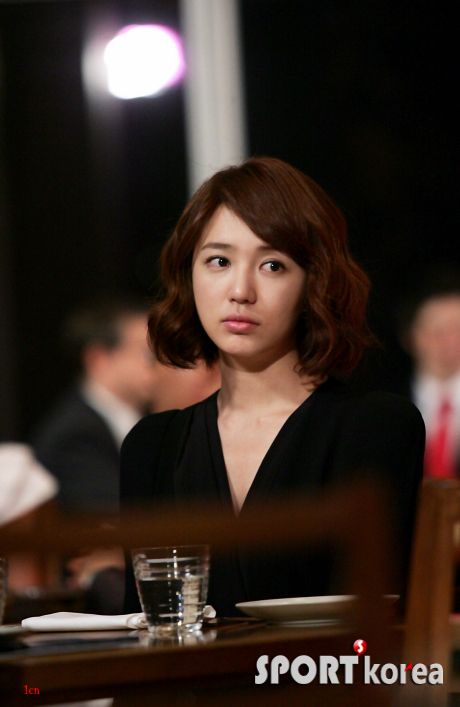 One of the most interminable weeks of our lives is finally over, and Lie to Me episode 9 is either going to make or break our insatiable craving for this drama. Will the drama go downhill? Will people refuse to admit the truth or talk to each other? Will Koala want to grab her pitchfork or will Koala grab Ki Joon for a kiss? I breathed out a huge sigh of relief, because Episode 9 of LTM was AMAZING.
The preview for episode 9 was a feint, and the truth is in the pudding. We've got lift-off on the entire story, the OTP, and a set up for a boatload of angst coming up. Everyone's getting their hackles up, including Sang Hee and Yoon Joo. Imma be good and write the recap now, but wanted to bring you the video preview for episode 10. And since I'm in such a good mood, y'all get a baby recap to tide you over. Also, I saw the live ratings this morning – LTM had a noticeable big bump from last week. If the ratings rises even by 3 percent I wouldn't be surprised.
Episode 9 baby recap:
No time jump, no forced separation, just some hair cutting involved. Ah Jung lobs off her locks and vows to move on. Ki Joon is not exactly happy with his predicament, nor is he back with Yoon Joo. He hasn't told Yoon Joo to bugger off yet, but he's also not officially dating her either. Ah Jung tells So Ran again that it's all a lie, and So Ran comforts Ah Jung, who cries to So Ran and confesses the extent of her feelings for Ki Joon.
Ki Joon is irritable at work, and not keen on entertaining Yoon Joo, who comes to bug him to have lunch with her. So Ran goes to the hotel to confront Ki Joon and reveals that Ah Jung is really hurt. Ki Joon ditches Yoon Joo and goes to find Ah Jung at her work. She refuses to be honest with him and tells him it was all just acting by her.
Ki Joon goes home and throws stuff in anger, while Ah Jung goes to their bench and cries. Her dad asks her to go on a matchmaking date and she agrees. Ah Jung heads to a hotel with her coworkers to plan a tourism convention to be held there. The hotel is owned by World and Ah Jung runs into Ki Joon. He's angry at her, asking if she's here to act some more, and then he asks her to leave because he's not comfortable seeing her.
Ah Jung demands to know why he kissed her, not once, but twice! Ki Joon responds "because I like you." OMFG – HELLS YES!!! But then Ah Jung asks what this means – he likes her a little and Yoon Joo a lot? Is that it? Then she runs out and goes on a hike in the backwoods. Ah Jung has a little tumble down the hill. Ki Joon is frantic and goes to find her. He stays with her until the rescue party arrives.
Ki Joon goes home and Sang Hee and Yoon Joo are having a party at his house. He drives Yoon Joo home, and refuses to sing for her when he used to if she asked. He asks her to return to Paris when she's done with her work in Korea. He tells Yoon Joo that he likes someone else. Yoon Joo immediately guesses that it's Ah Jung.
Ah Jung goes on her blind date, which at World Hotel. She tells Sang Hee beforehand, and he rushes to the hotel. Ruh roh, little brother has feelings for wuri Jungie. Ki Joon sees her at the restaurant and pointedly ignores her. Ah Jung is nervous and goes to the bathroom to freshen up. When she walks out, Ki Joon grabs her hand from behind and takes her away.
I just have word for this episode – HALLELUJAH.
Video preview for episode 10:
I hate Oh Yoon Joo, this version as much as I hated the one in My Princess. The moment Ki Joon told her he likes someone else, she needs to back the fuck off. And since she's asking Aunt to allow her and Ki Joon to get married in the preview, and then lords it over Ah Jung, she is officially persona non grata in my world. But Ah Jung and Ki Joon = LOVE, pure unadulterated LOVE.