Anhui Television has started filming the third drama in it's Happy Trilogy, and the first teaser pictures have been released. Cheryl Yang and Blue Lan are the leads of Happy Michelin Kitchen (I like them both), but I was rolling around squealing when I saw the first pictures of Li Yi Feng's look for the drama. *rubs eyes* OMG, he looks just like Binnie circa Ireland crossed with My Name is Kim Sam Soon.
I'm happy to report that he has a cameo role and is not the second lead for the third time as I previously posted. In fact, all the other leads from the first two Happy dramas will be back in cameo roles as well, including Ming Dao and Annie Chen (Happy and Love Forever) and Mike He and Janine Chang (Sunny Happiness).
Cheryl dons a custom made super-short wig for her role, as her character is a tomboy who will be mistaken by Blue for a guy for the early part of the drama. I smell Coffee Prince all over this drama.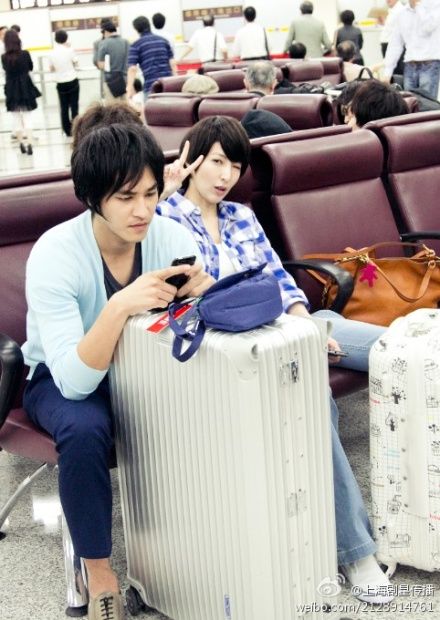 I think it's freaking hilarious that Blue and Cheryl have the same haircut in the drama. Cheryl keeps challenging herself with her roles, and I have no doubt she'd make a convincing tomboy. As much as I'm interested in the drama, really all I want to do is stare at my Feng Feng more. And maybe stroke his pompadour.
Have some more stills of Blue and Cheryl filming a mouth-to-mouth rescue scene.